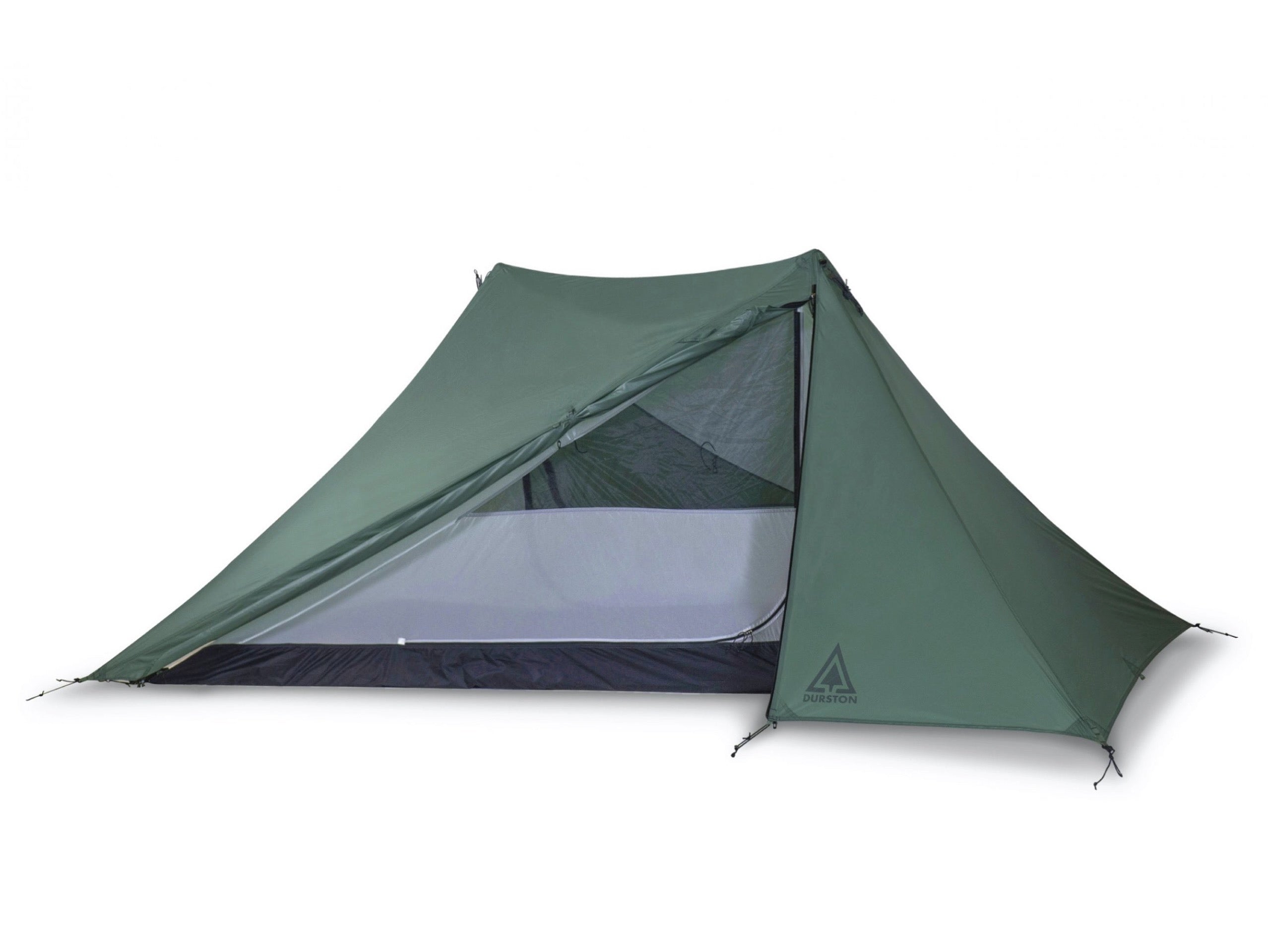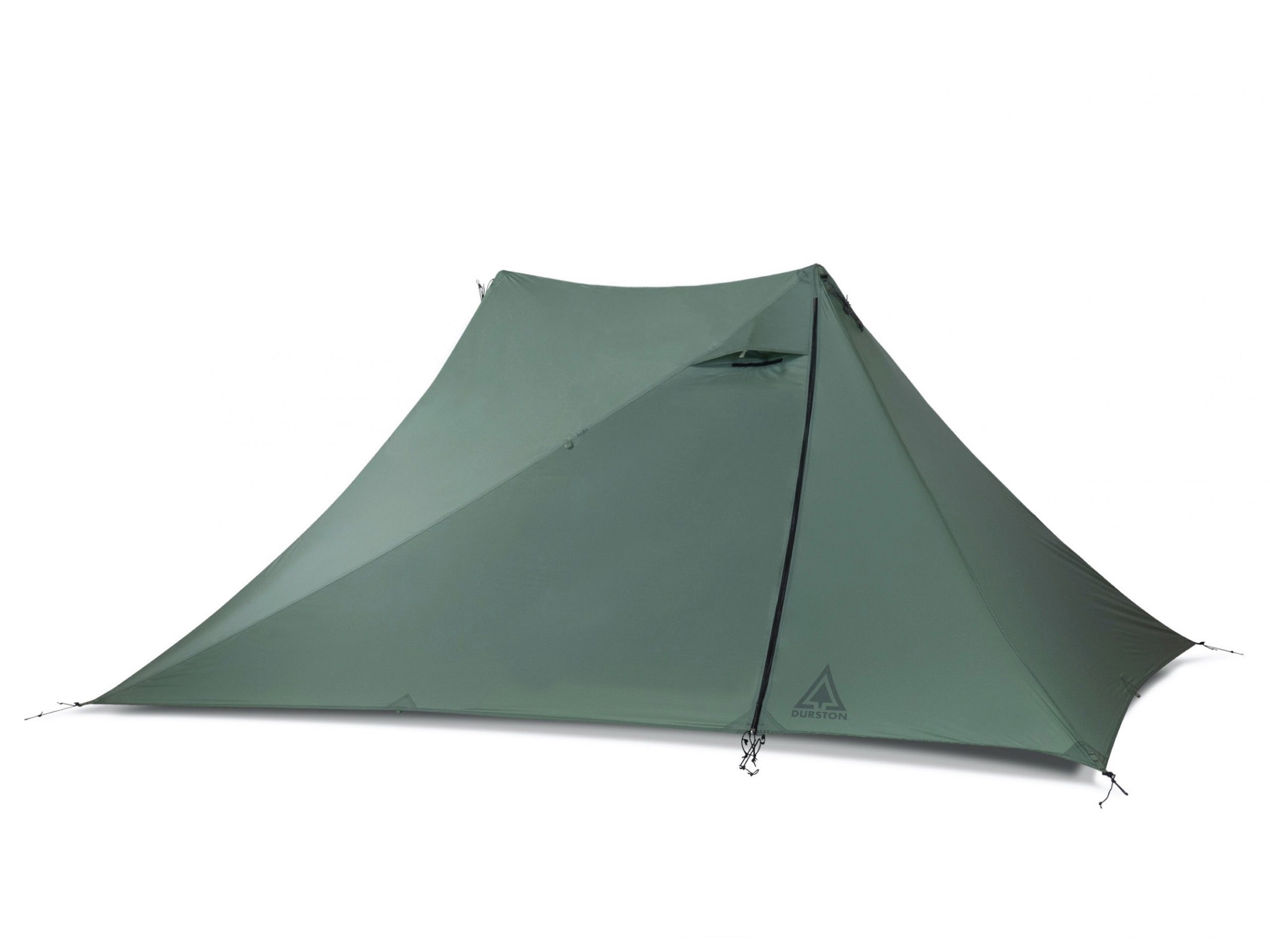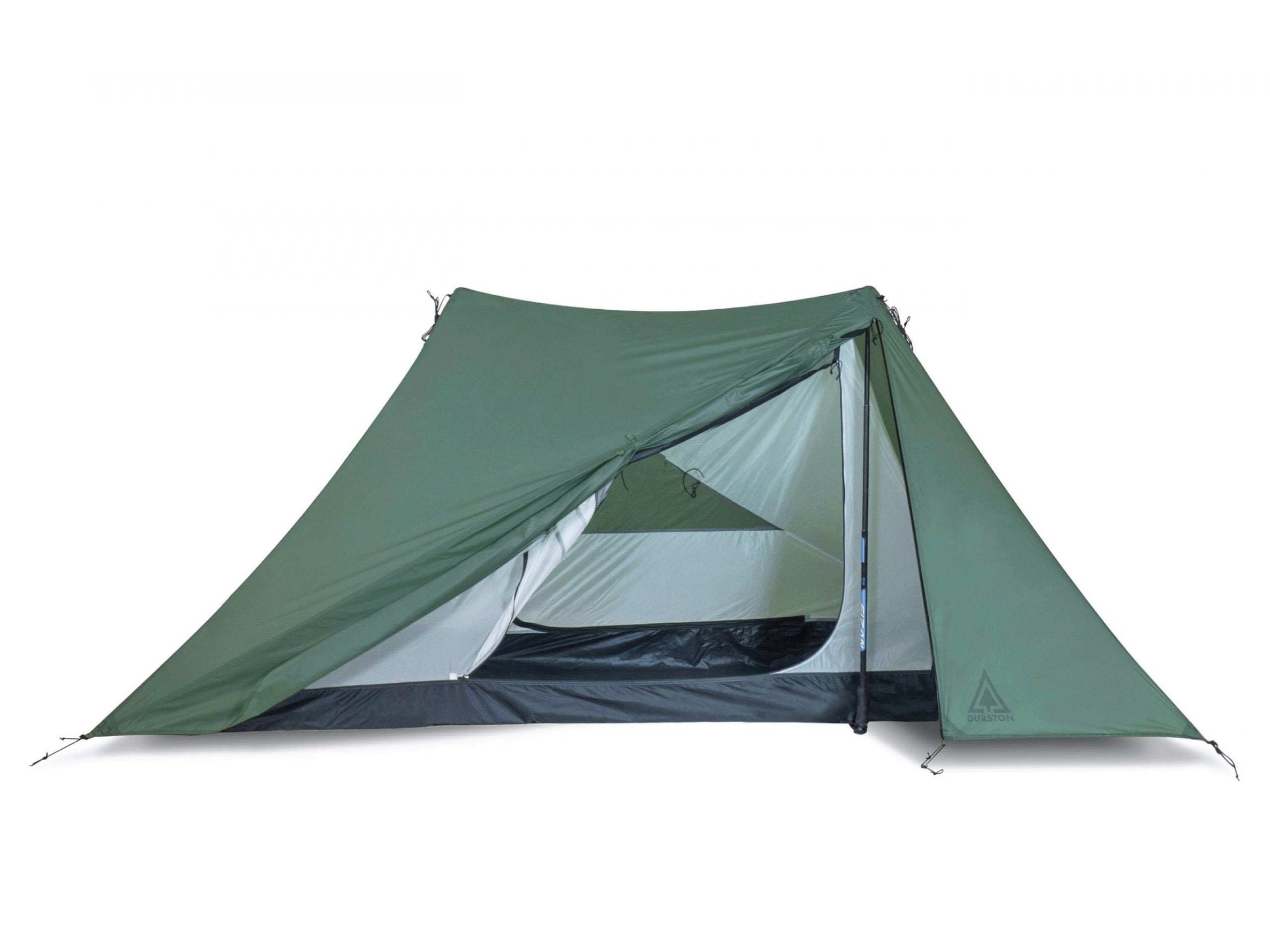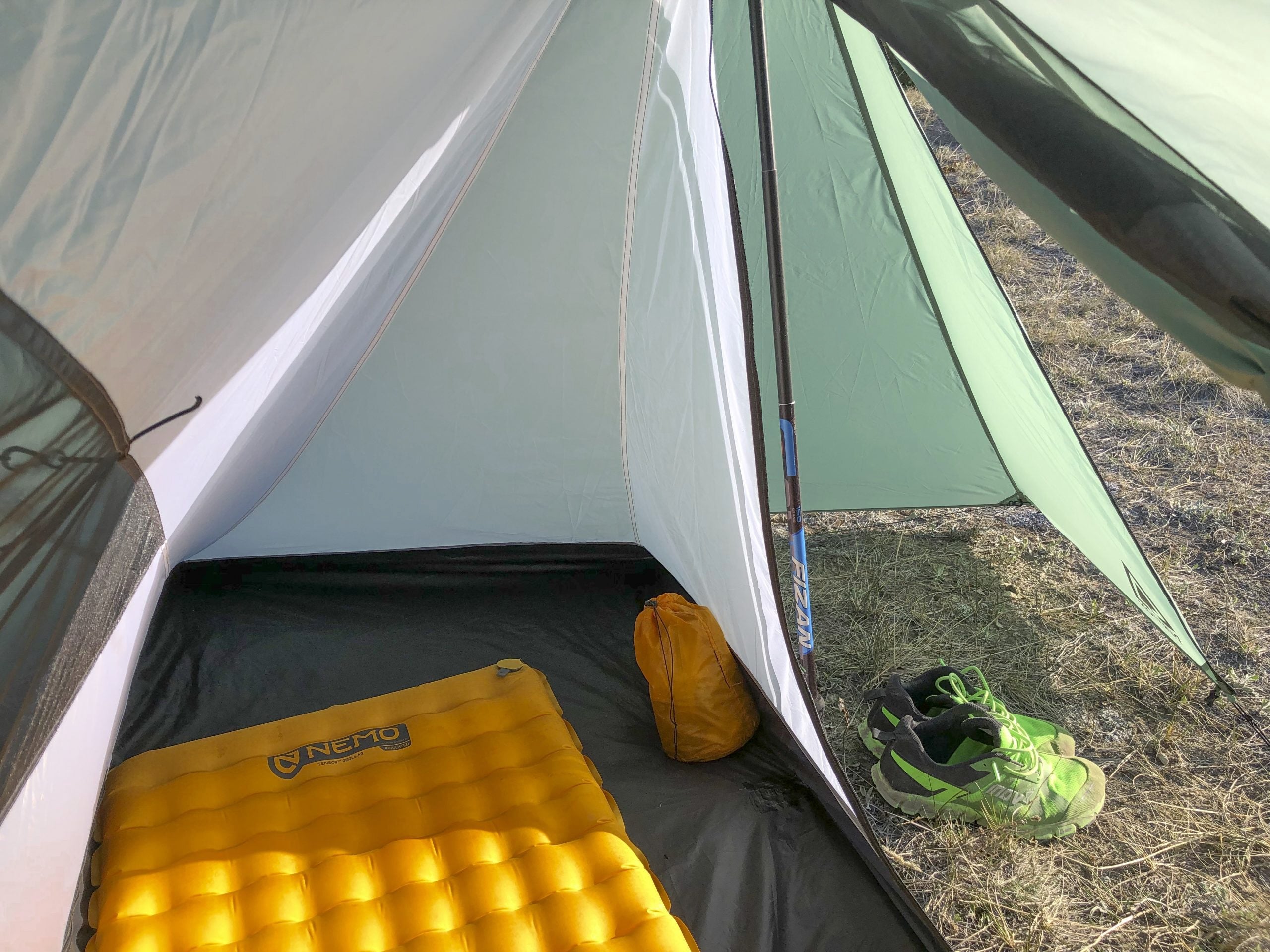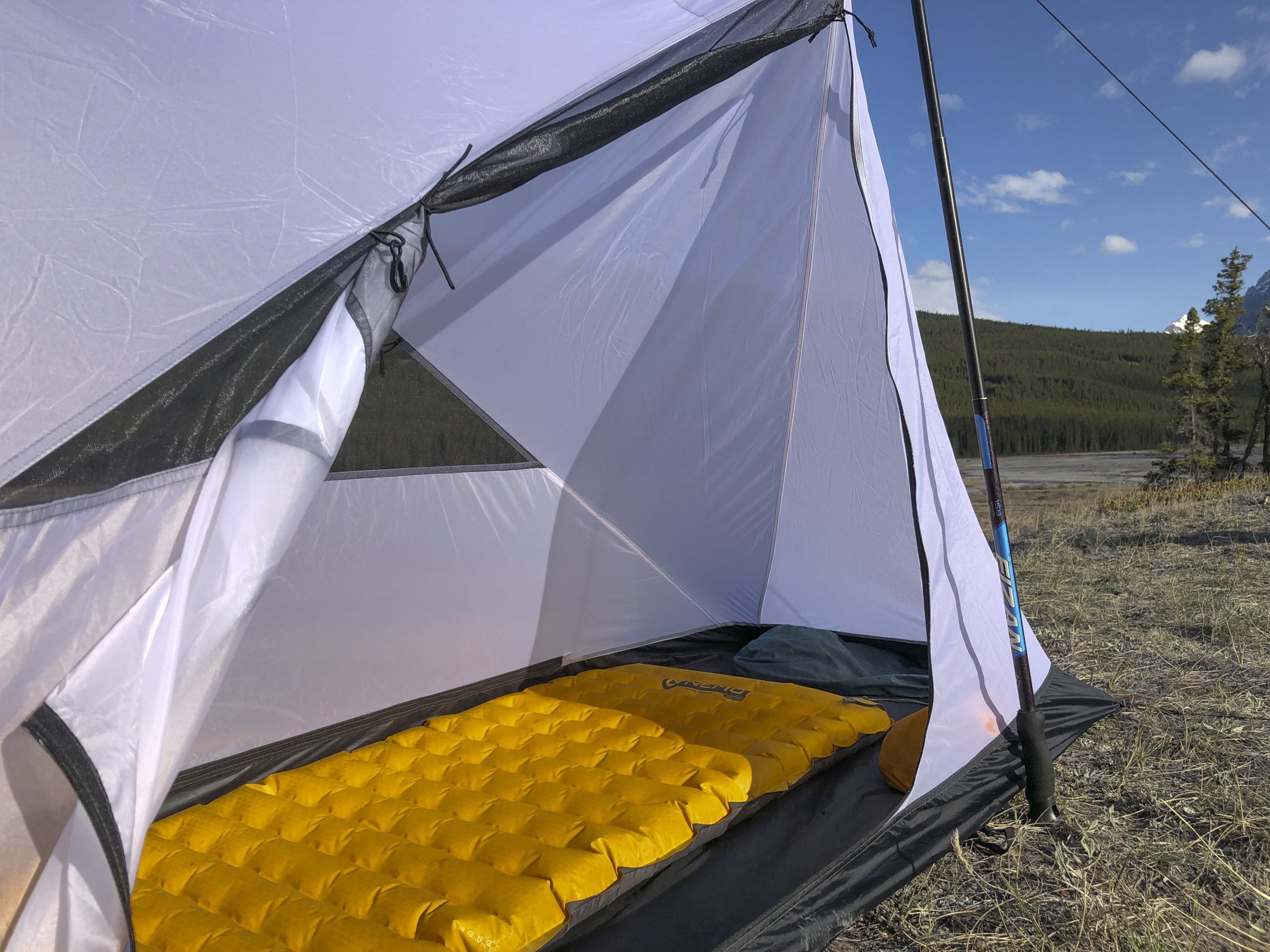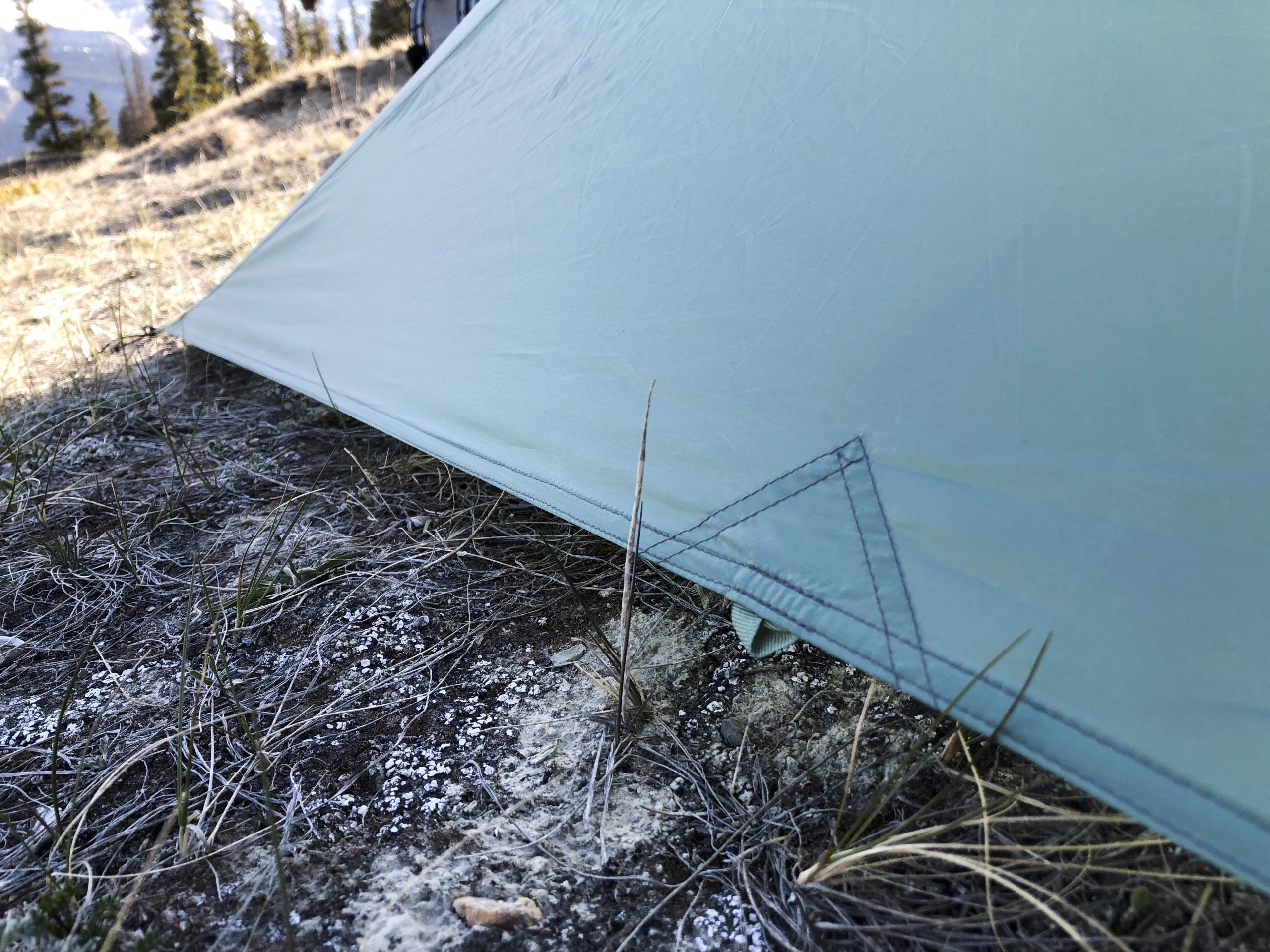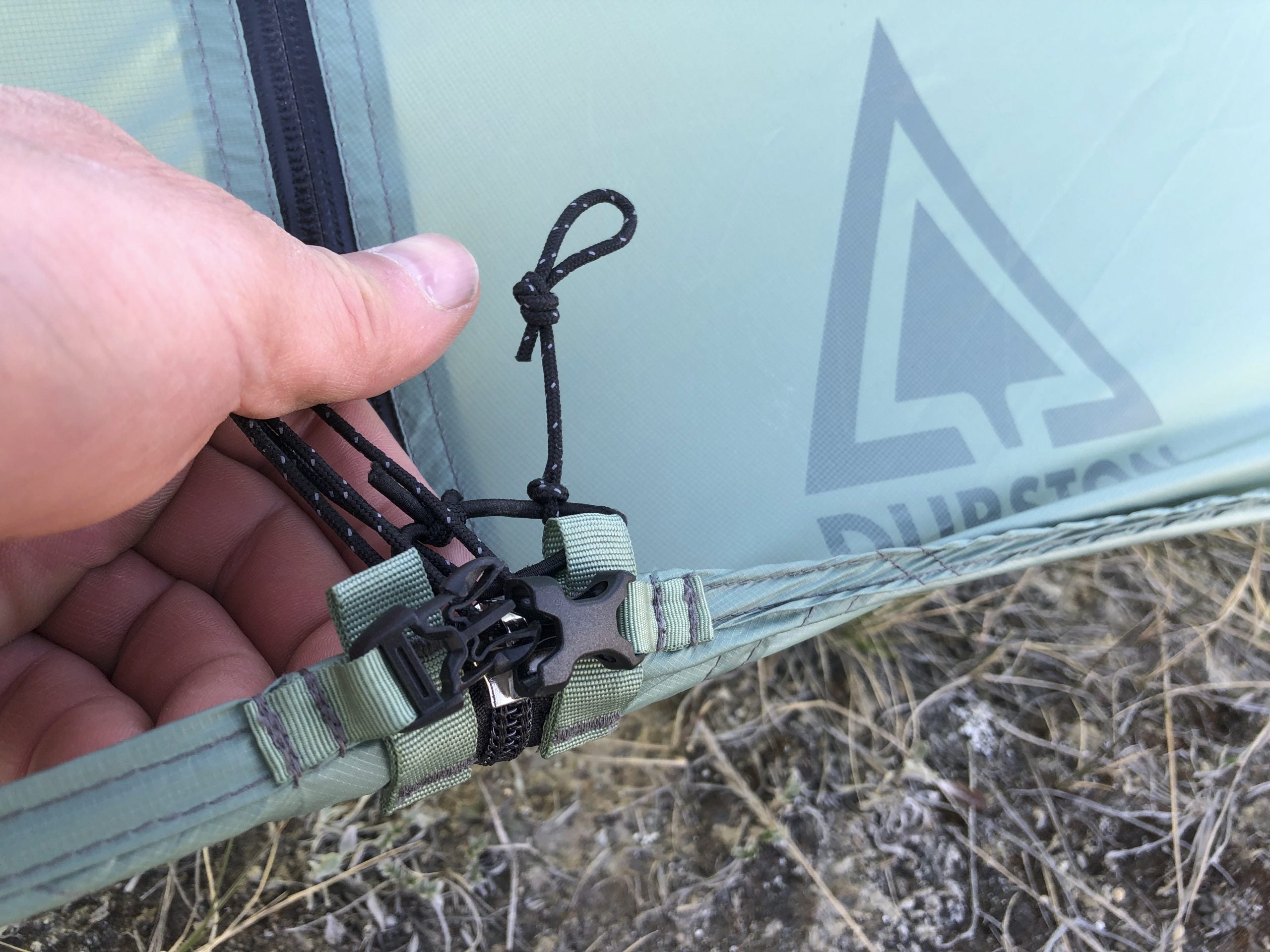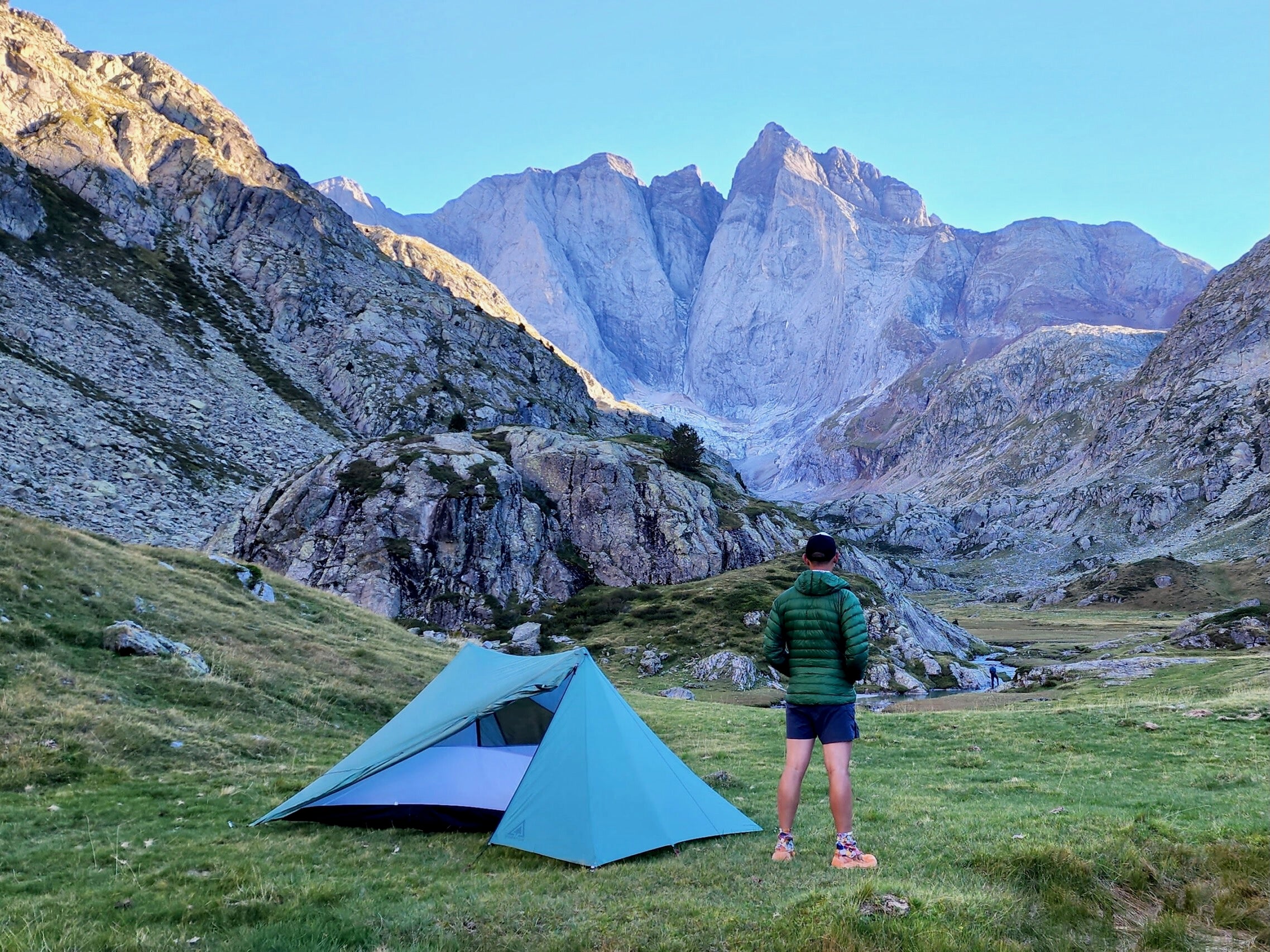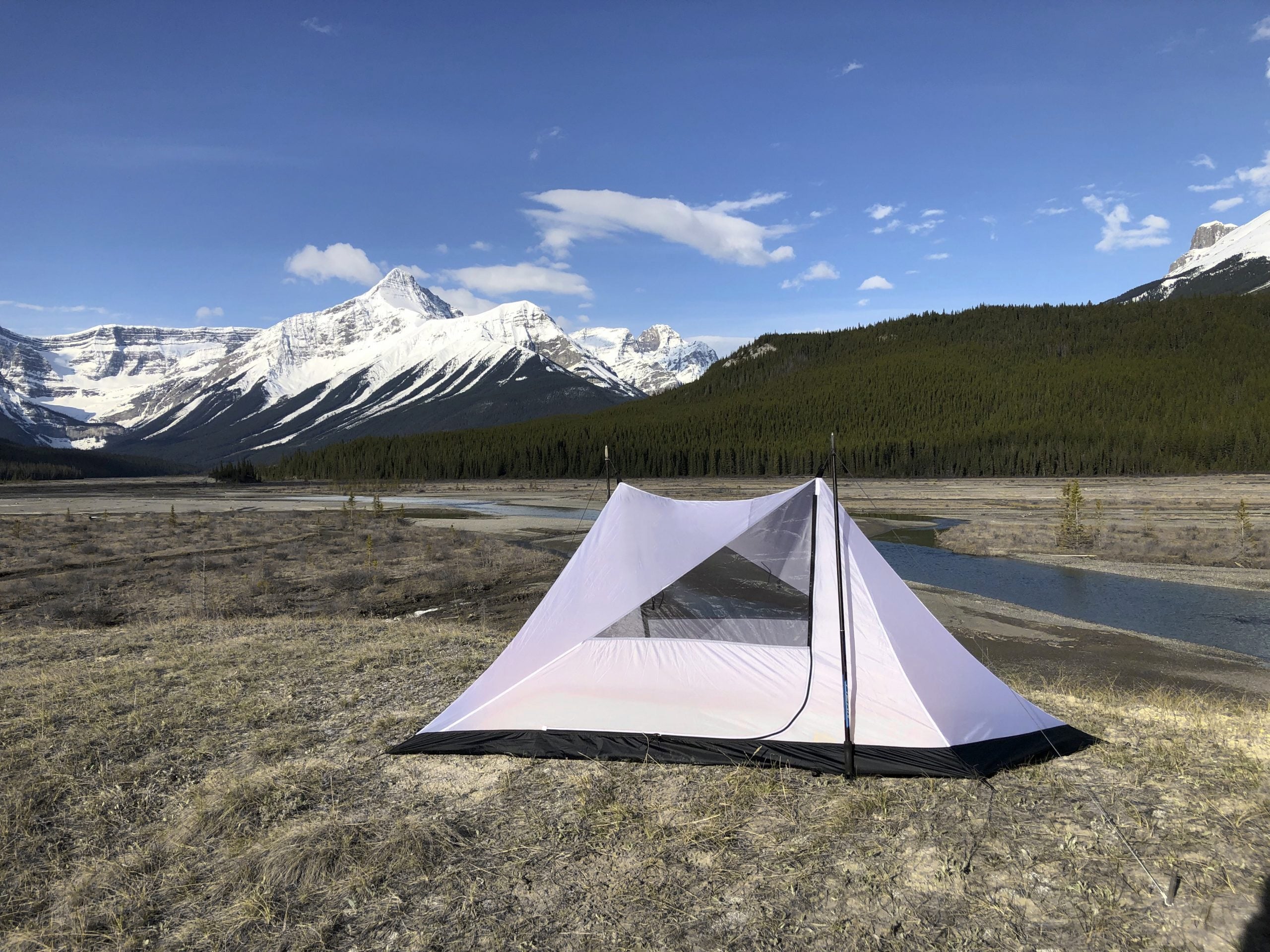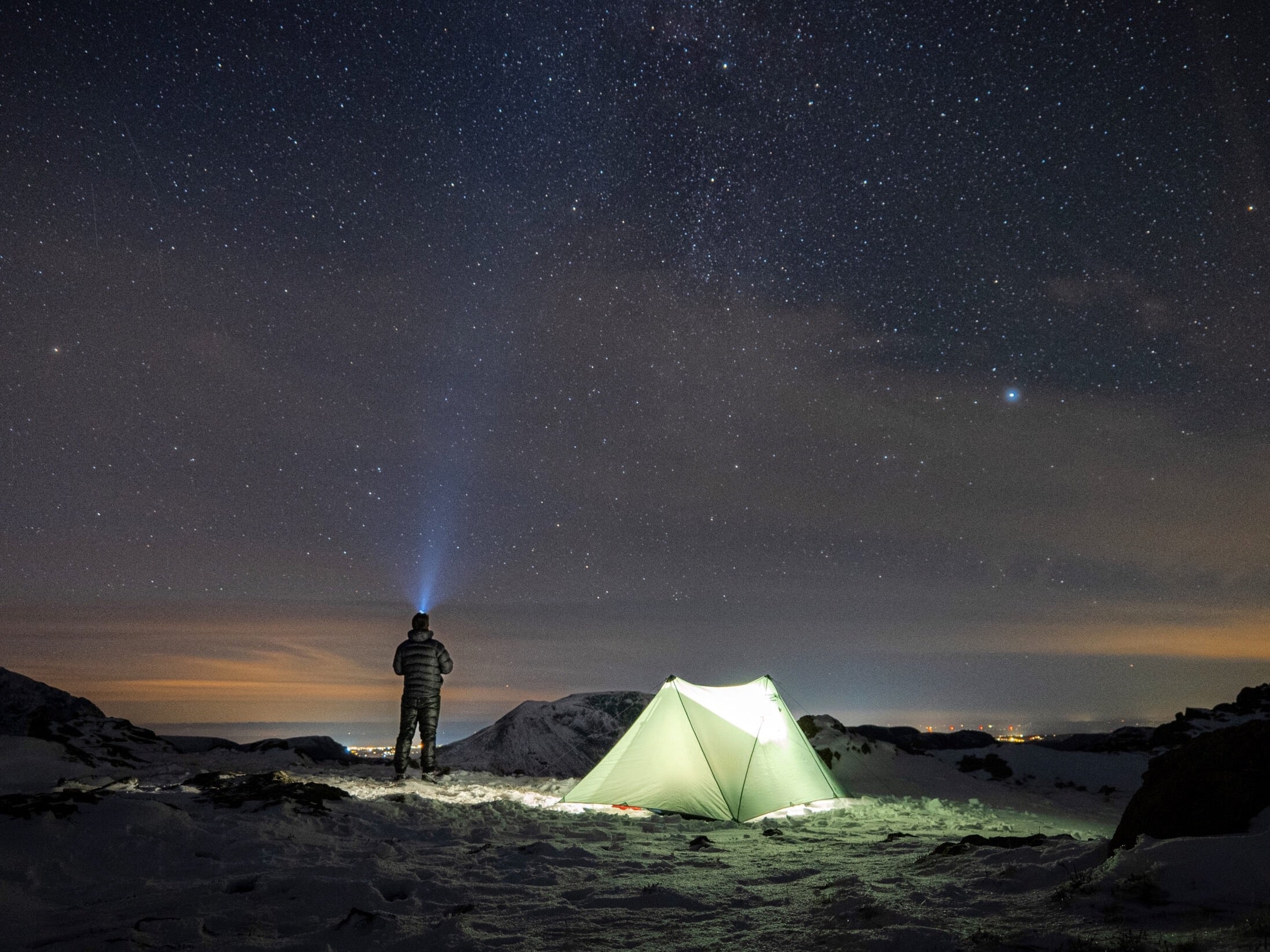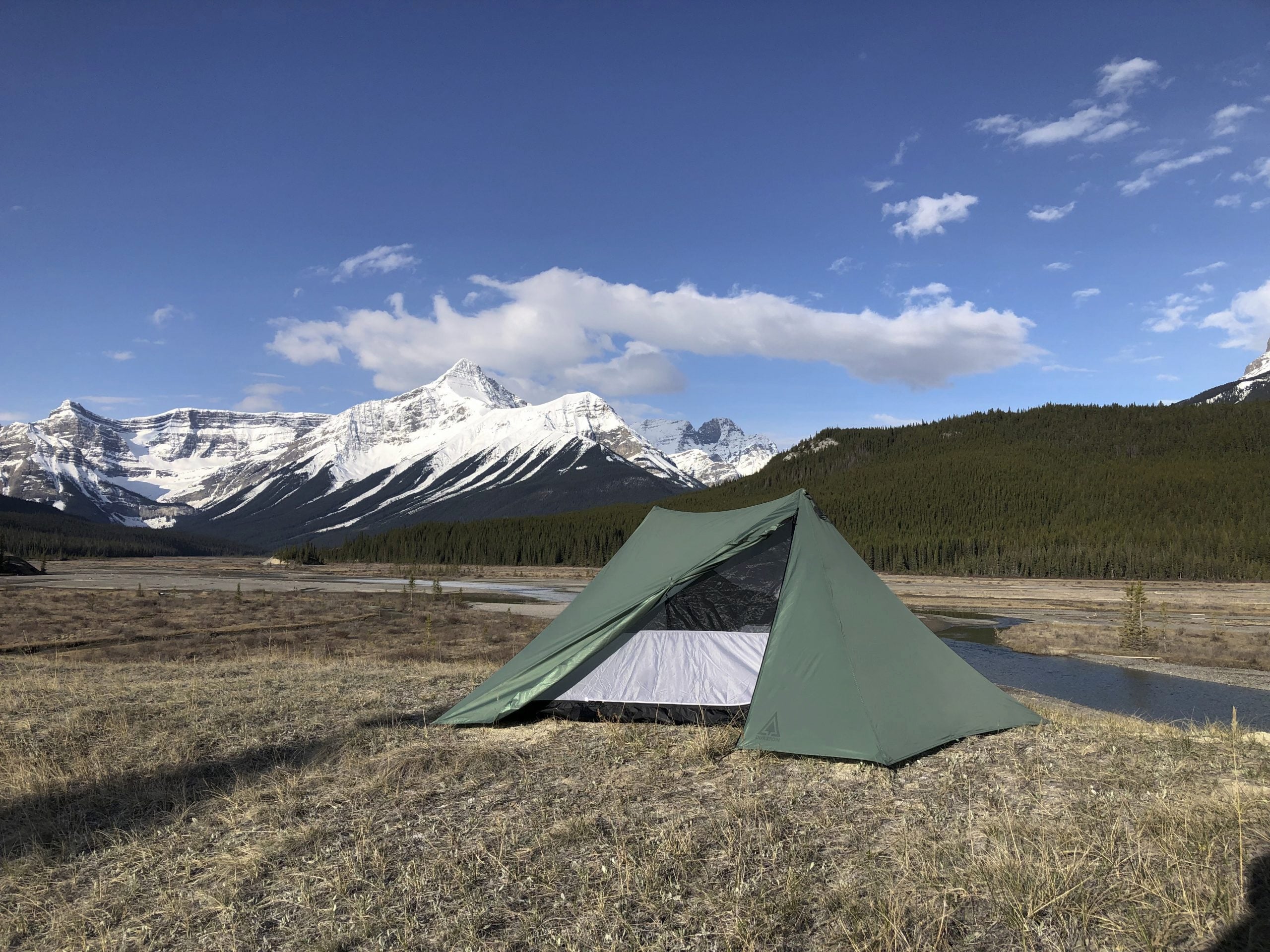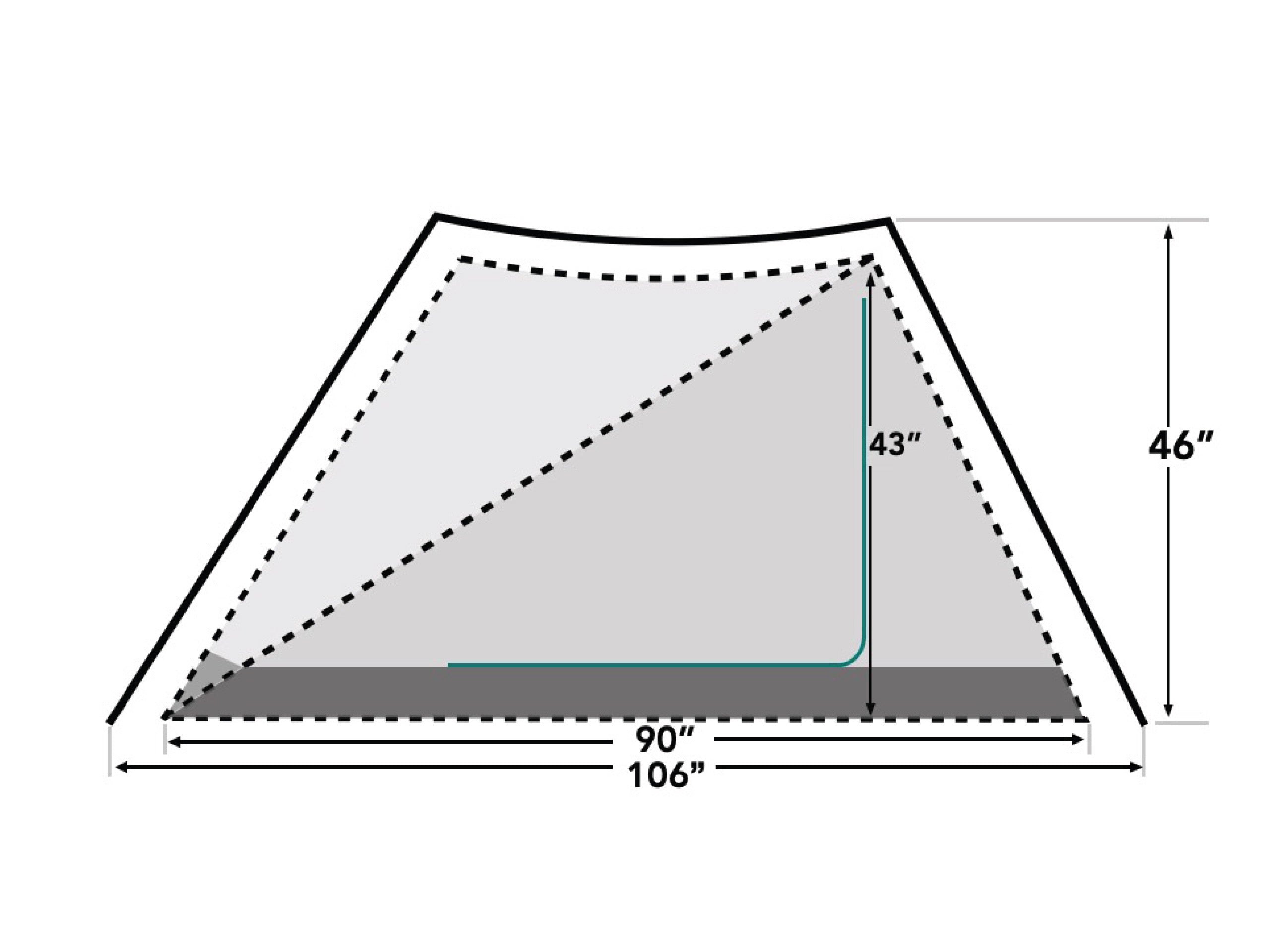 X-Mid 1 Solid
---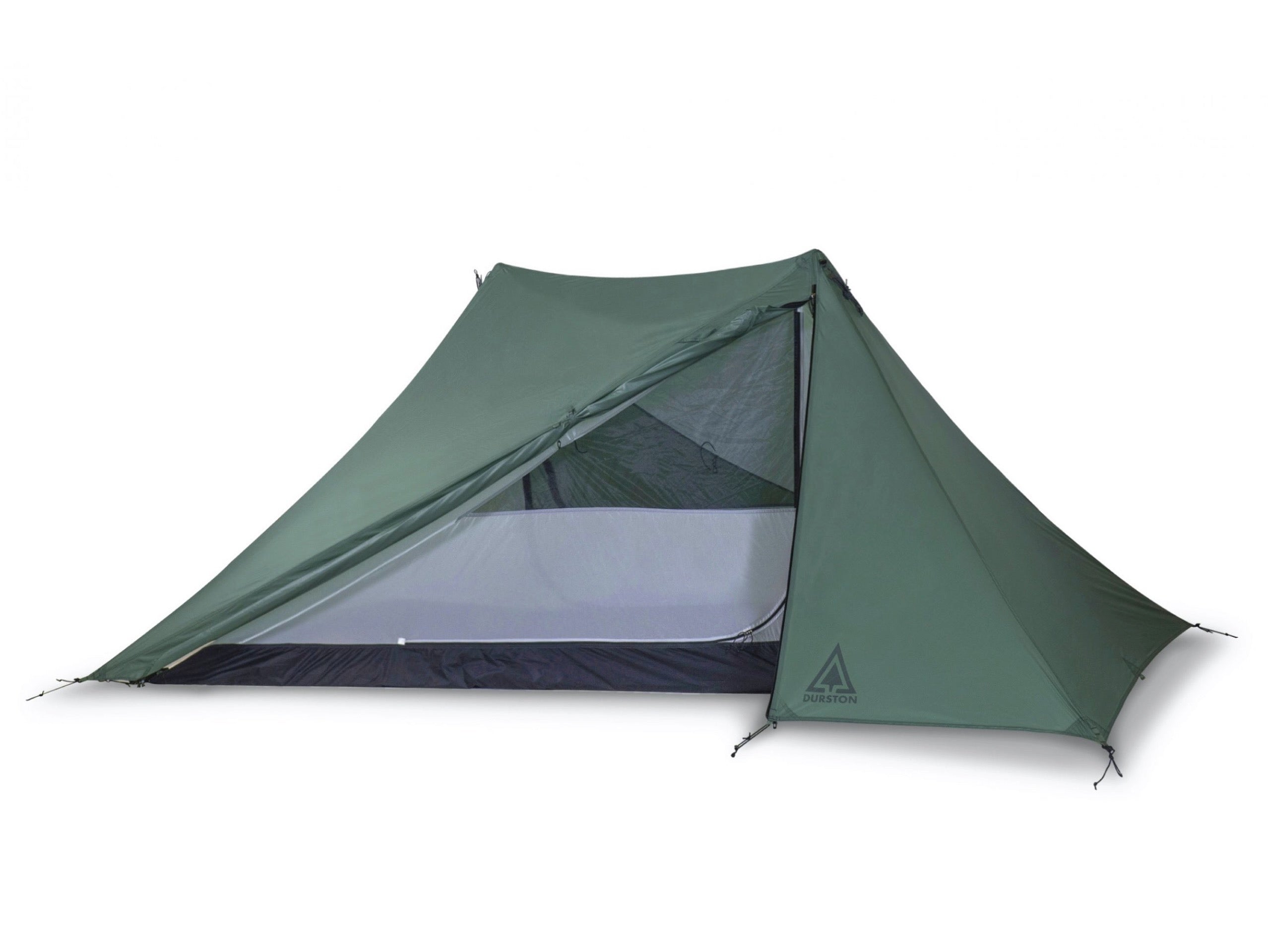 Pinnacle of Lightweight Tent Design
The X-Mid 1 Solid is a variant of the X-Mid 1 that is oriented towards use in colder conditions including winter use and trekking in windswept areas like Northern Europe and Patagonia, while still being an excellent all around backpacking tent. It is based on the X-Mid 1 which has been developed from the first principles of geometry to possess the most weight efficient, simple, and stormworthy architecture for a trekking pole shelter. The result is a tent weighing just 29 oz (825 g) while being incredibly stormworthy, user friendly, and spacious. As a very well rounded tent, the X-Mid 1 has become one of the most awarded tents in recent years, including awards for best tent from The Trek, Outdoor GearLab, and Section Hiker.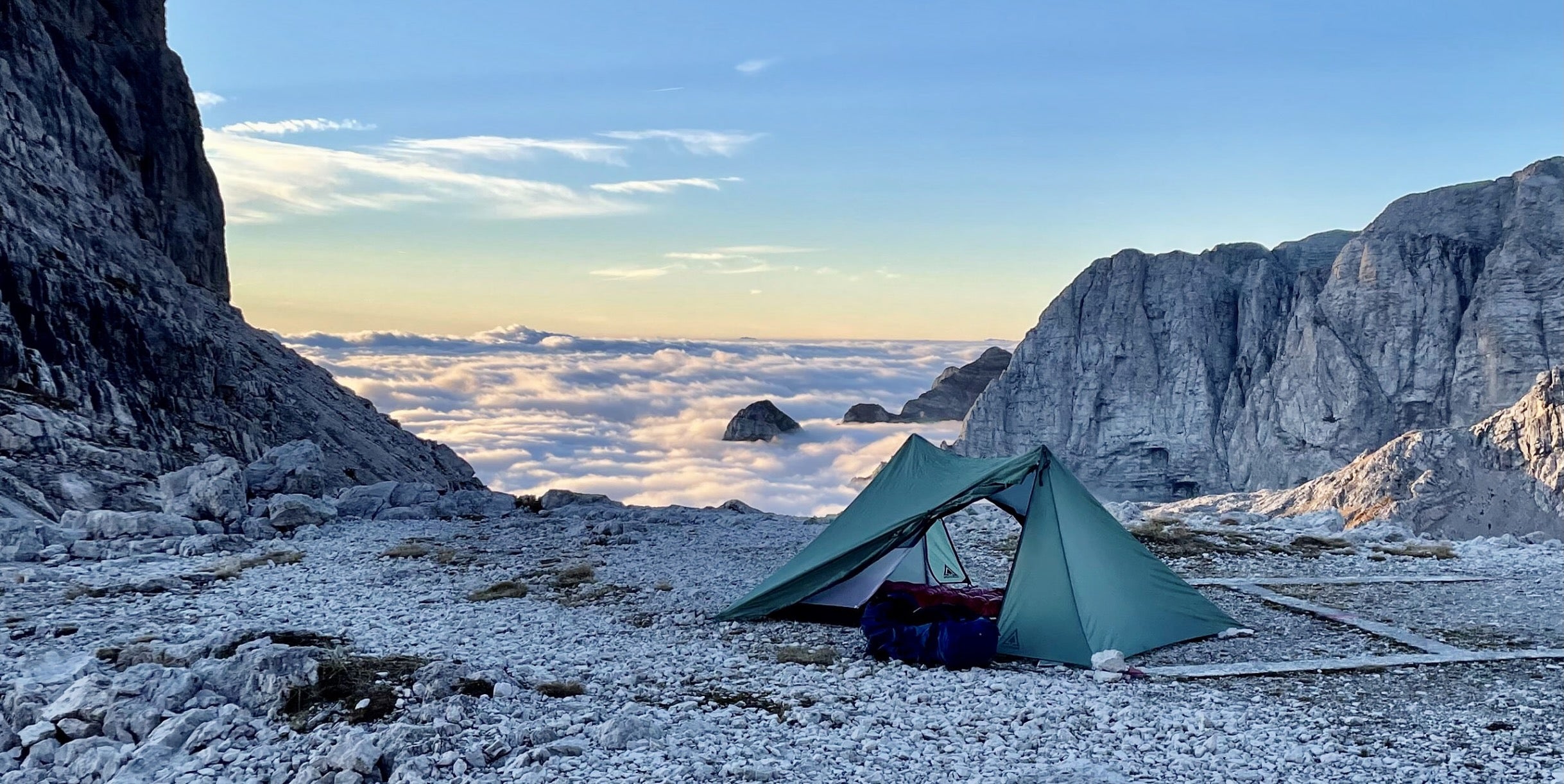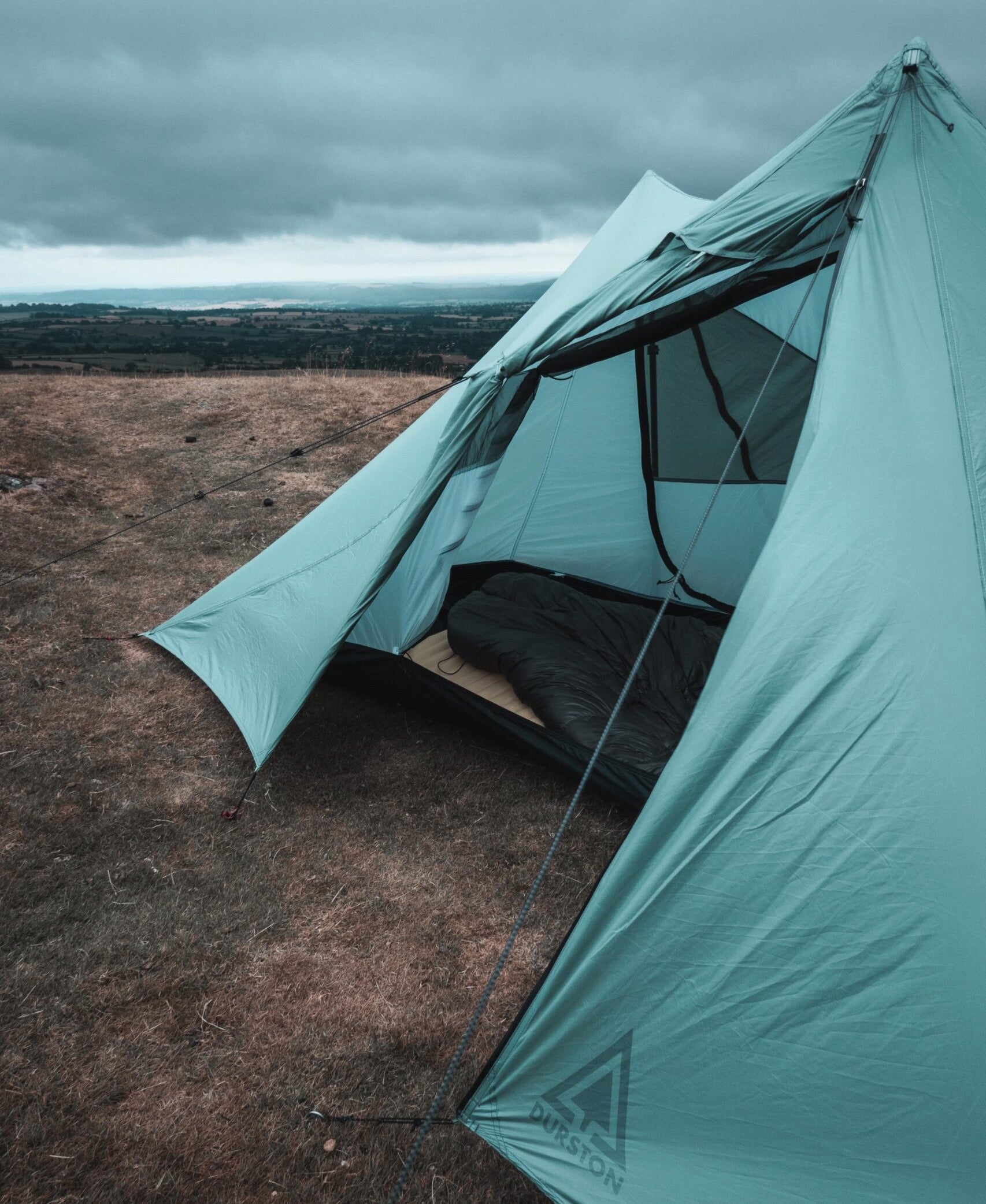 STORMWORTHY
Many ultralight tents are designed for fair weather conditions and thus make major concessions in stormworthiness in pursuit of weight savings. That includes questionably thin fabrics, weak pole structures, thin coatings that are barely waterproof, and trimming away vents, guyout points, and even areas of the fly.
With the X-Mid the focus is on creating a tent that is ultralight while also thriving in tough conditions. To create a tent that is both light and capable, we focus on saving weight through efficient design with our X-Mid geometry that makes more efficient use of fabrics and structural elements.

The result is a tent that stands out in tough conditions with its fly first pitch, full doublewall design, non-sag poly fabric, robust coatings, large adjustable vents, factory waterproofed seams, full-coverage fly (blocks rain splatter and drafts), stormworthy shape, and protected entryways that prevent rain from falling inside. No other tent can claim that list. It is among the lightest doublewall tents on the market while possessing the stormworthiness of much heavier tents.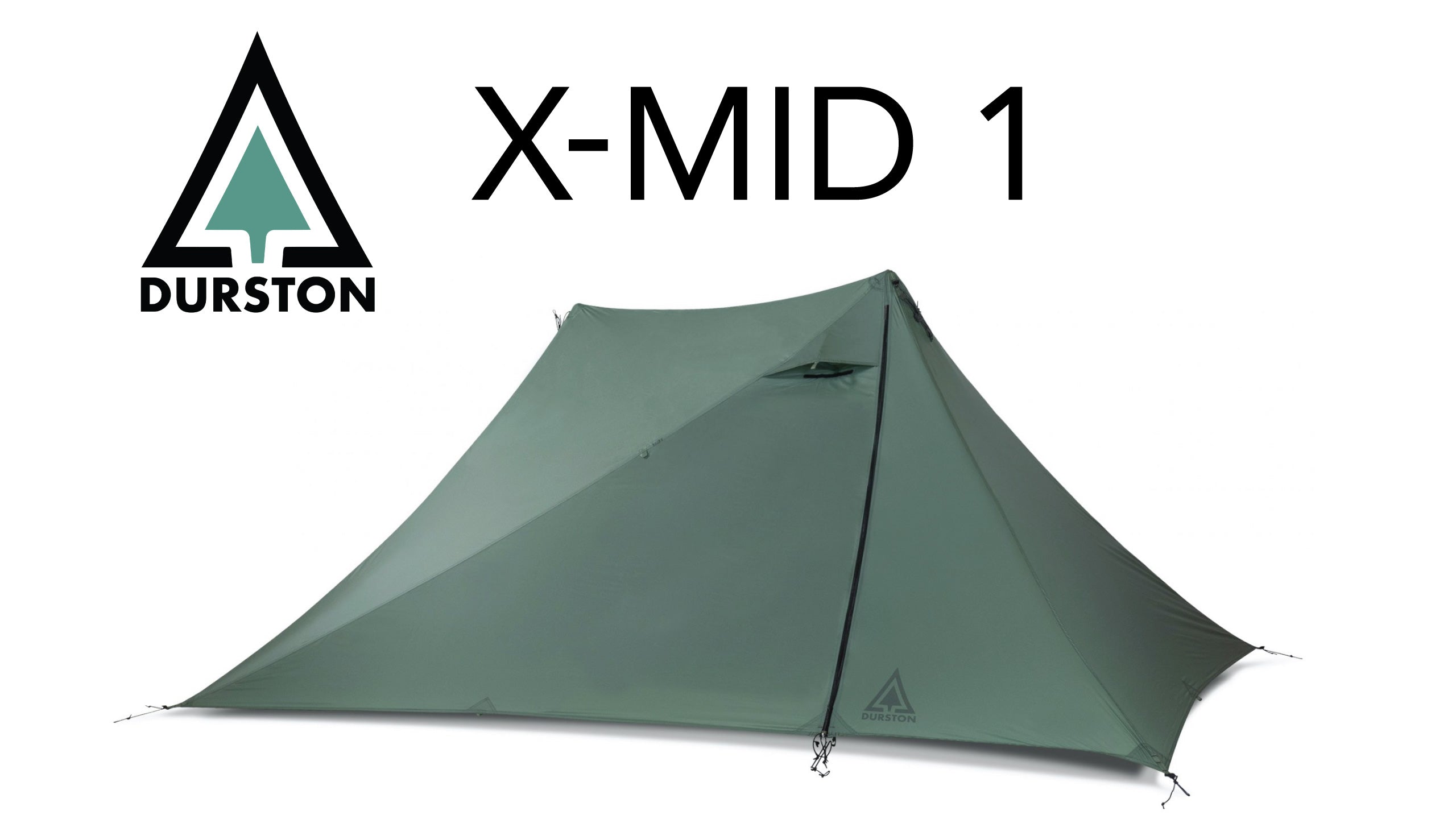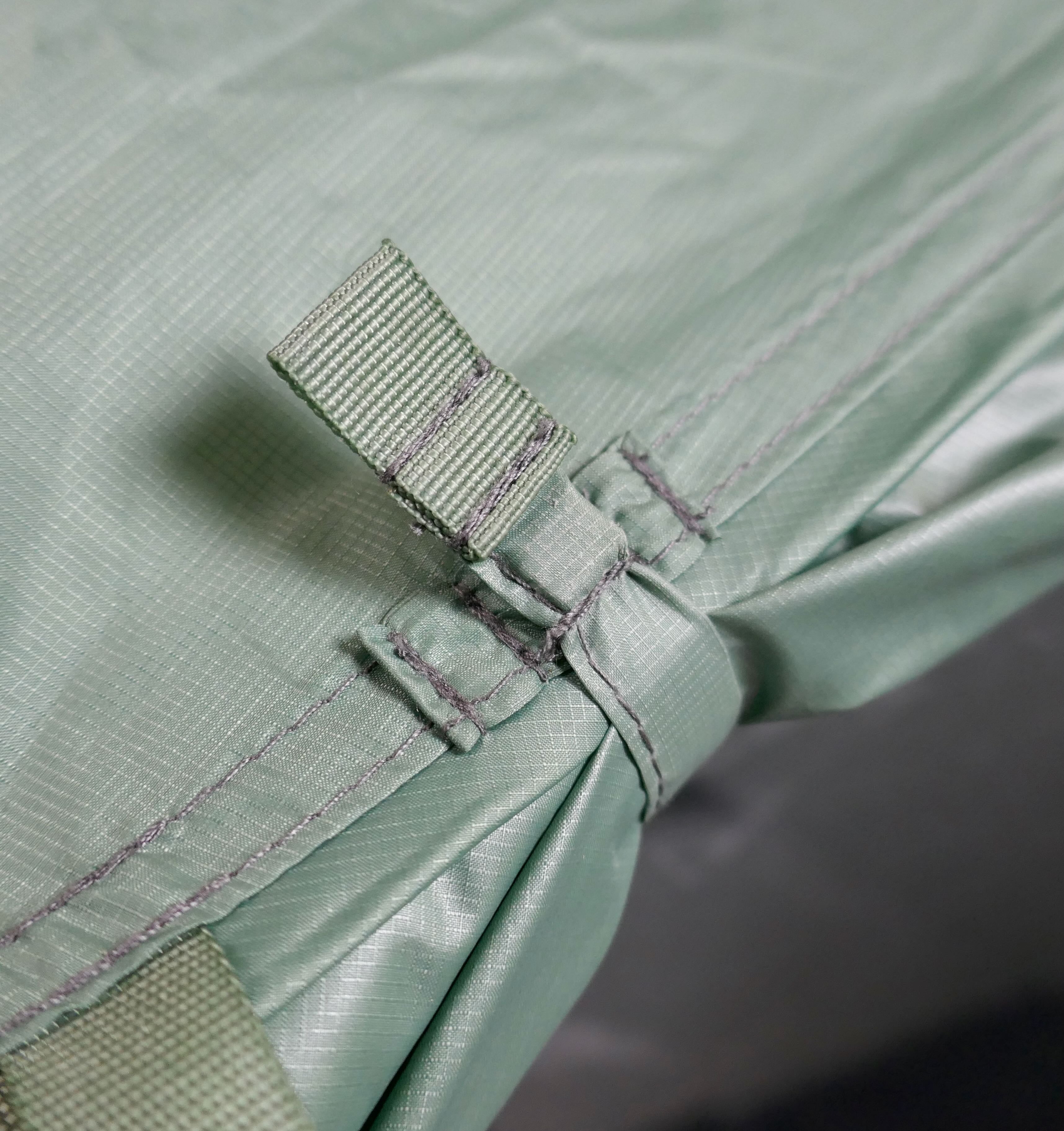 USER FRIENDLY
Simplicity and user friendliness are a major focus for the X-Mid because when a storm rolls in the last thing you want is a tent that is a hassle to use. The X-Mid improves this experience with a design that is rooted in simplicity and refined through our extensive backcountry experience and obsessive attention to detail.
The ease of use starts with the X-Mid's ultra simple 4 stake pitch that has no mandatory guylines, no odd angles to estimate, and no need to measure anything. With a bit of practice, it can be pitched in under a minute with just 4 required stakes and 2 poles that are extended without measuring.
Once pitched, the ease of use continues with large doorways that aren't blocked by poles, vestibules that are large and put the main area beside the door instead of blocking it, magnetic door toggles that are quick to operate, intuitive pockets, and one handed operating zippers.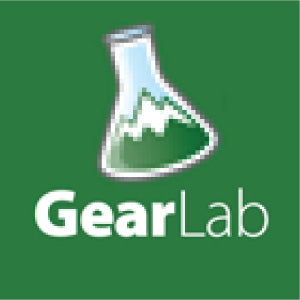 Best Ultralight Tent
It's still hard for us to believe that such an easy-to-set-up tent can be so delightful to spend camp time in while also being almost invincible to storms....it's our favorite 1P tent.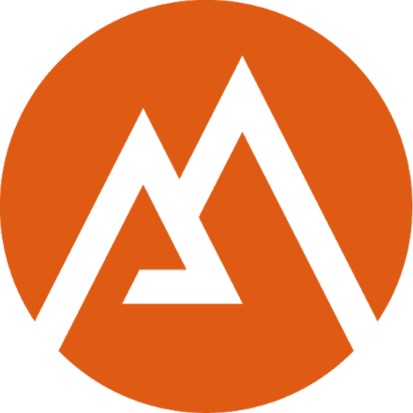 Best 2023 Tent
"A brilliant tent.....there's been a lot of hype around this tent and I think it's justified. It does everything really really well....the X-Mid ticks more boxes than any other."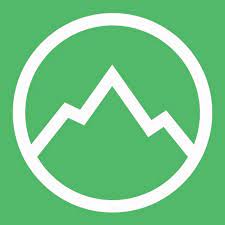 We Love This Tent
"A laundry list of well-thought-out details makes this tent exceptional in rough weather....it is our all around best thru-hiking tent of 2023."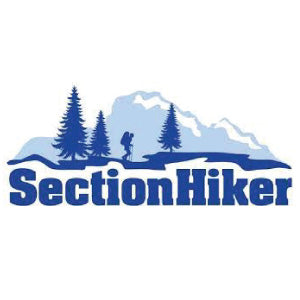 Editors Choice
"The X-Mid 1 is my favorite tent...it is a great shelter if you want a trekking pole tent that is affordable, spacious, stormworthy, and packs up small."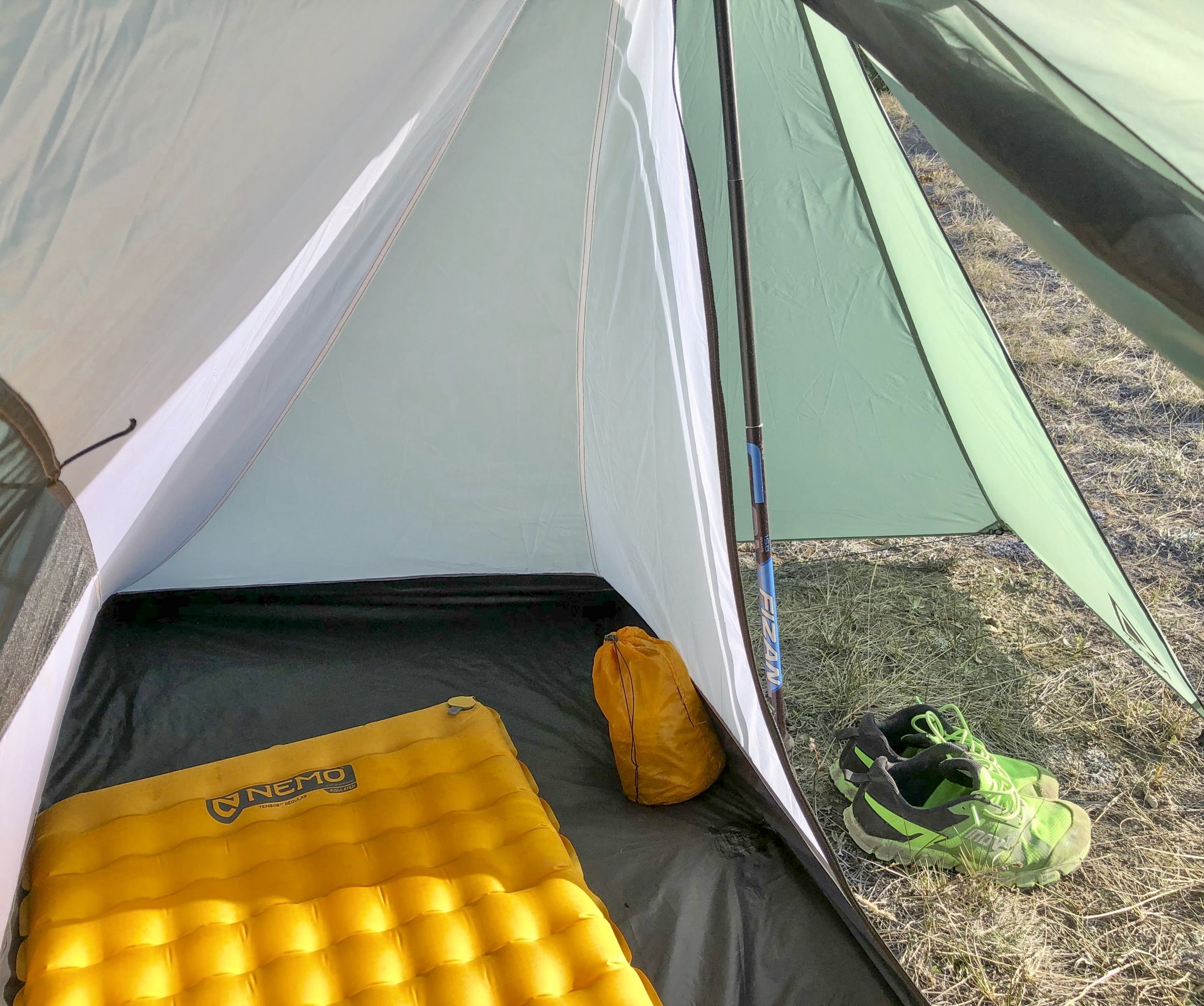 SPACIOUS
The X-Mid geometry is the most space efficient use of two poles possible. It does this using a diagonal ridgeline and opposite diagonal floor so the two poles can be positioned further apart for increased headroom and volume.
The result is a nicely sized 1P tent with ample headroom throughout the length of the tent so you can sit up anywhere and easily move from laying down to sitting up without hitting the walls.
We recommend the X-Mid 1 Solid for hikers up to 6'4" (193 cm) thanks to the generous 90" length combined with steep end walls that increases the useable length. The floor width is a comfortable 32" that fits all pads with room to spare, while the dual vestibules are generously sized.
QUALITY
Our focus on creating a highly functional and stormworthy tent means we also focus on quality. It's imperative that you can trust the build of your tent when you're headed into uncertain conditions.
To achieve this, the X-Mid 1 Solid is crafted the most experienced tent factory in the world who have built nothing but tents for over 60 years. There our tents are assembled using premium components, double stitching, double folded edges, and generous bartacking.
We're not aware of any other trekking pole tent that uses double stitching to the extent that we do. While this premium quality gives the X-Mid a higher cost of production than comparable tents, we price it affordably because we sell it to you directly (no middle man) and with only a modest markup ourselves.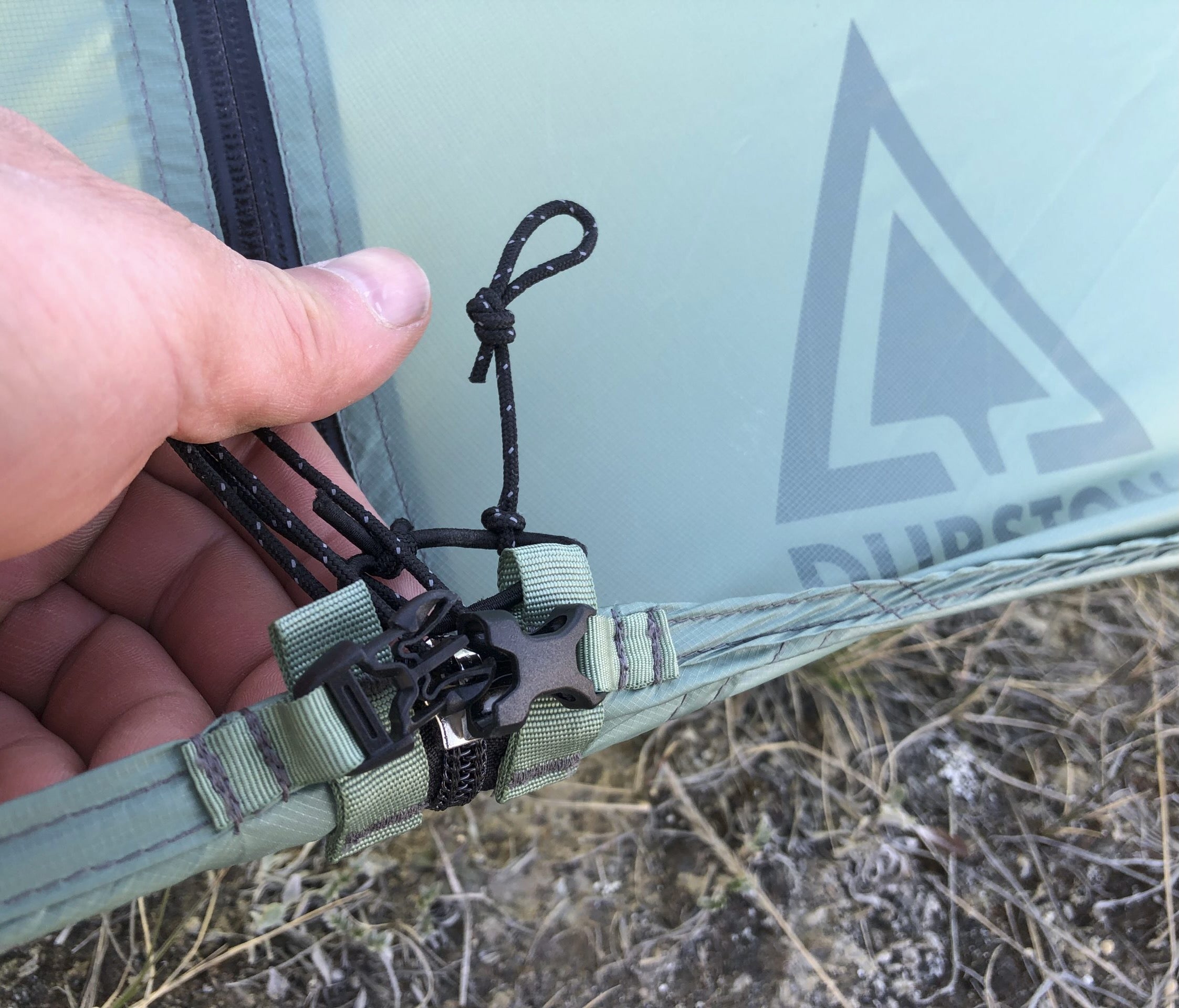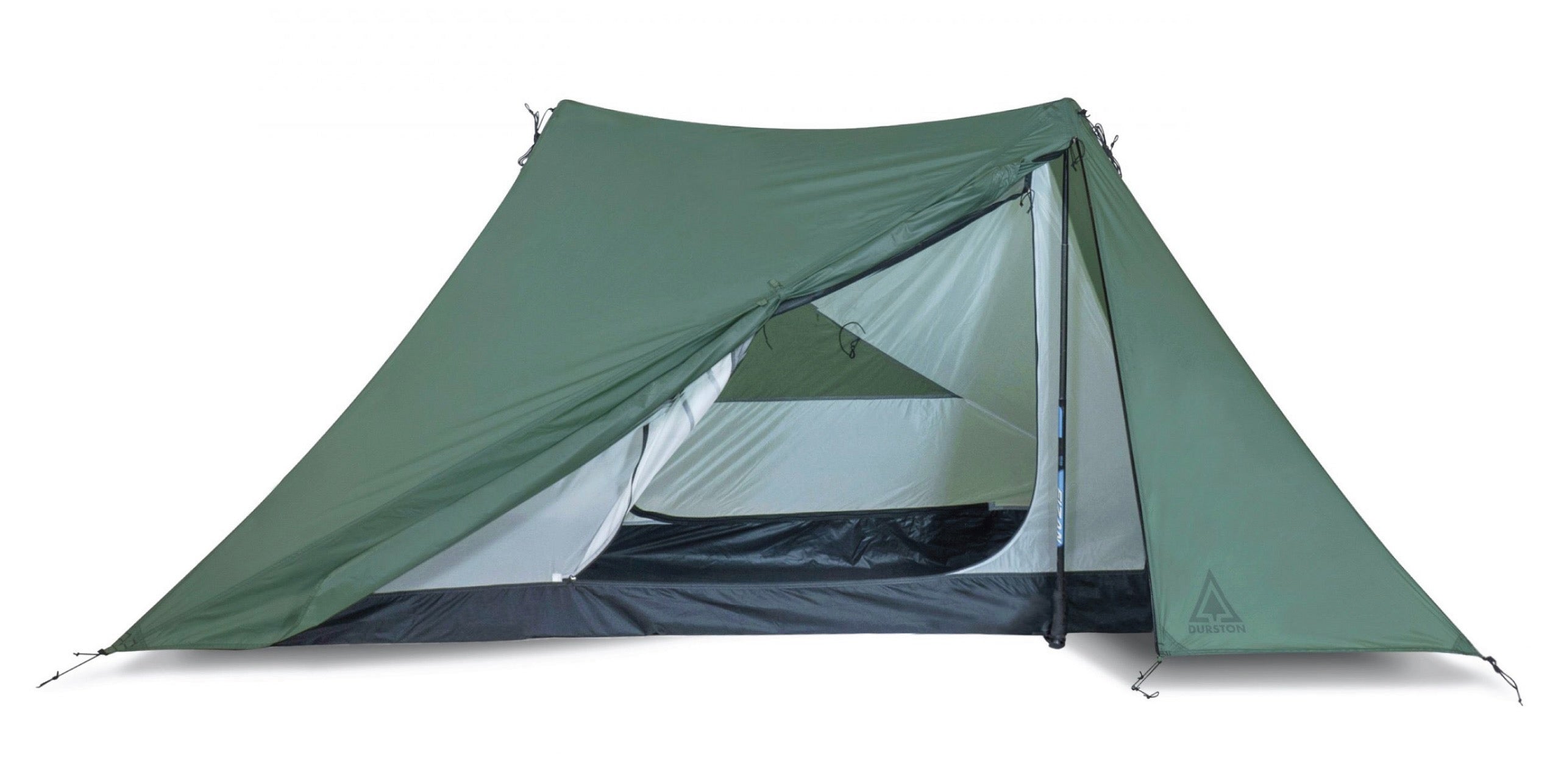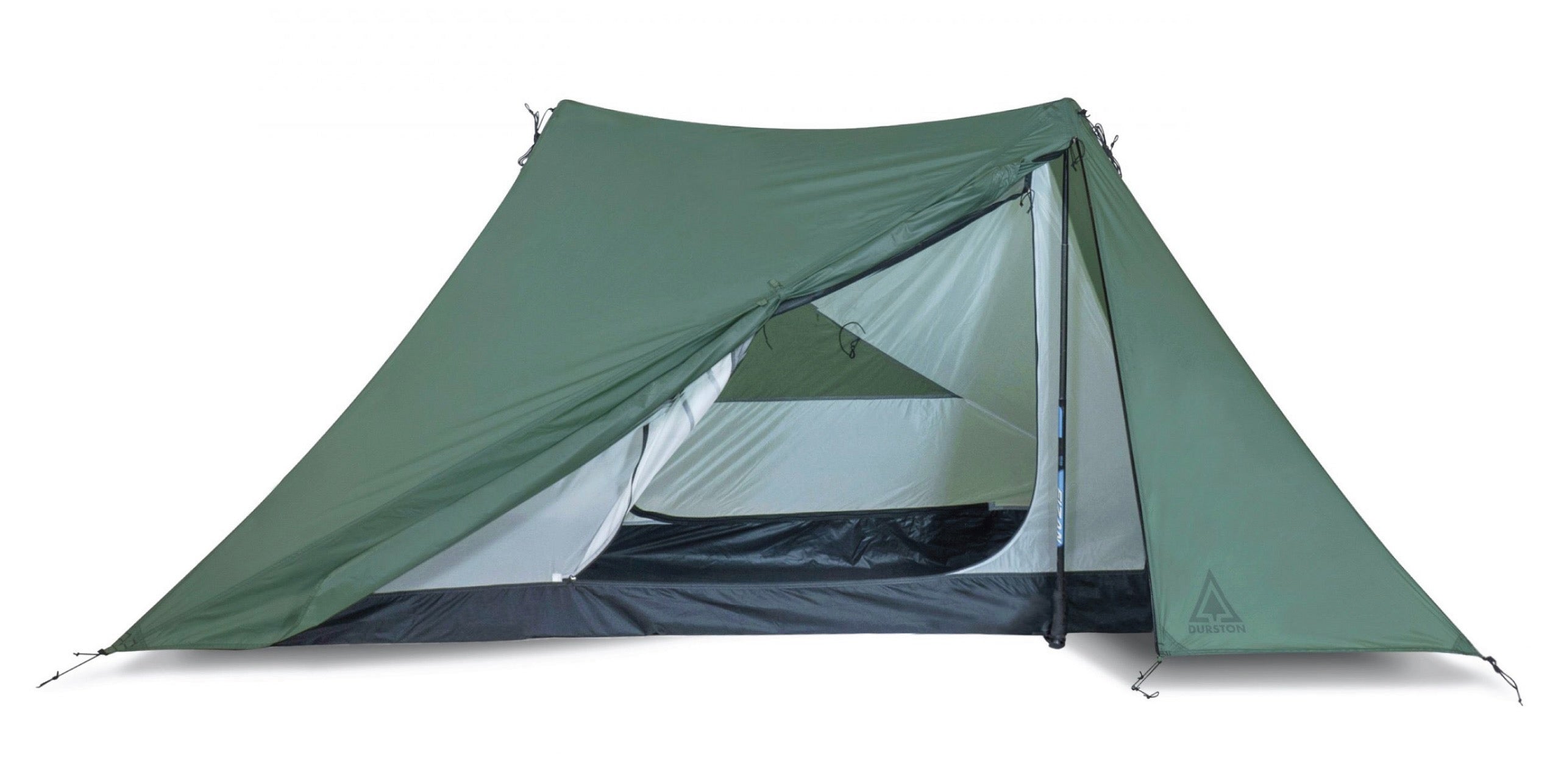 Magnetic Toggles
Magnetic door toggles with pull tabs provide easy one handed-operation.
Large Doorways
Unlike most trekking pole tents, the doorways are large and not blocked by trekking poles. They also have a protected design to keep rain out even when open, and can be propped open with a stick or pole to create a 'porch'.
Full Coverage Fly
The fly extends low to the ground to block drafts and rain splatter, yet can be raised higher for more ventilation. Other tents cut away the bottom of the fly to save weight but it leaves you more exposed.
Stormworthy Shape
The X-Mid provides the ideal shape with consistent and moderate panel slopes. All the panels are an ideal 50 - 55 degrees which balance wind and snow shedding to provide excellent all around performance. Most tents are less consistent with a mix of shallower panels (worse for snow shedding) and steeper panels (worse for wind performance).
Ample Headroom
The X-Mid's offset poles provides a longer diagonal ridgeline that extends the headroom over more of the tent. There is ample clearance to transition from laying down to sitting up without hitting the tent, and room to sit up anywhere in the tent.
PATENTED GEOMETRY
The X-Mid shape has been developed from the first principles of geometry to be as weight efficient, simple, and functional as possible.
The X-Mid manages to avoid all the common pitfalls of trekking pole shelters such as a complicated pitch, mandatory guylines, poles blocking the doorways, and a lack of interior volume.

Read the story about how the X-Mid geometry was developed: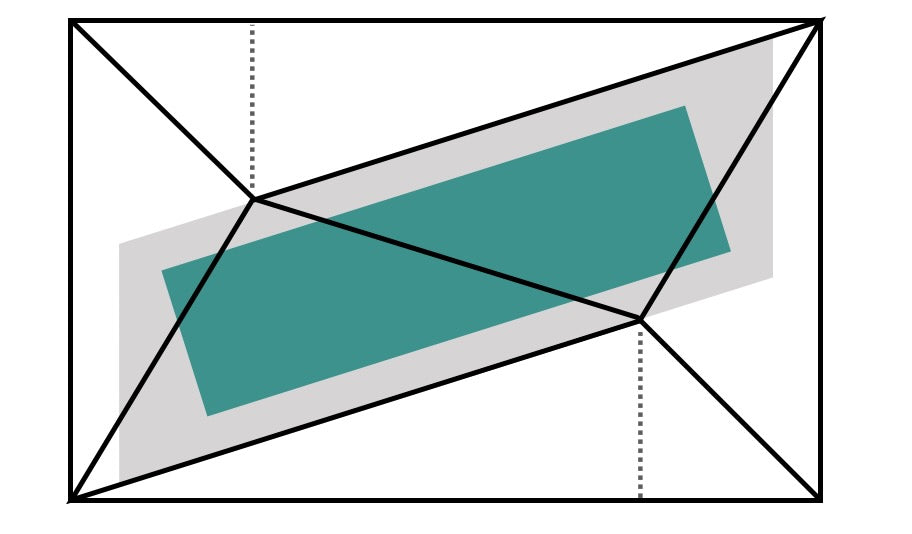 As an incredibly stormworthy, spacious, and user friendly shelter, the X-Mid 1 Solid is the ideal lightweight tent for everything from walks in the UK's Hill District and crossing Sweden's wind-swept Sarek National Park, to ski touring and fast alpinism in Canada's Rogers Pass.
This product is rated 5.0 of 5.0 stars.
It has received 5 reviews.
This product is rated 5.0 of 5.0 stars.
It has received 5 reviews.
My Second X-Mid
Had an original x-mid 1P and loved it then added to my hiker closet the 1P Solid - I love the new solid as well and prefer it in colder weather. Both hold up to wind and rain really well. The set-up is so easy, I couldn't be happier with my 1Ps and strongly recommend the tent.
Sold all other tents and use only Xmids now!
I've owned several versions of the XMid over the last few years and keep upgrading as newer versions come on the market! The set up is so easy, the tents are lightweight and incredibly well made and when there's an issue, the customer service is outstanding. I'm currently rocking the XMid 1P SOLID and the Xmid 1P PRO and couldn't be happier. I've noticed the solid does provide additional warmth especially at high altitude (5,000+ elevation) but when temperatures are above 40 degrees the PRO is my go-to. Attached photo shows my XMid Solid in the foreground (before the PRO was available) plus another Solid and a Mesh owned by friends!
My favorite tent
Love my 1P solid inner. It's easy to pitch, easy to pack, and the white solid fabric makes for a brighter inside when it's all zipped up, not to mention, helps with warmth and wind chill on those chilly nights. The design is excellent, every detail meticulously thought out. The angle of the inner gives two huge vestibules, the inner fits a wide pad, and I love the option to get out either side as needed. I usually pick a side, then put all my gear on the opposite side and nothing is in my way.
Can't wait to take it out again next time.
Versatile, Strong
I orginally bought the X-mid 1 person regular (mesh) and switched to the solid when they came out. I think it keeps me warmer compare to the original one. I like that I can take out the tent inside separately to protect it from getting wet in the rain. I was worried about condensation but haven't had issues. I like that it has two doors and I can pitch it higher to allow more air flow and lower to get more warmth. The tent is roomy enough that I put my backpack inside. It had gone through wind gusts in 50 mph with rocks over stakes and it survived. Of course, you will need to learn some skills in pitching a tent correctly in such conditions. Overall, I am really happy with it.
2nd X-Mid, still 1st choice
I have a gen1 X-Mid (pre-Durston Gear, from Mass Drop) that quickly became my go to backpacking tent. One thing I've always wanted was a solid inner option. So when Dan offered a gen2 solid version, I bought it immediately, along with the Z Flick Poles.
I had a chance to test it out during an April trip to the Chain Lakes area up by Mount Baker. I did add four foot guylines to the corners so I would be able to use deadman anchors. Setup was relatively easy since I've had a lot of practice with the previous version. You need to pay attention to where you're going to bury the anchors. Also, you need to carry something to place under the tent pole to prevent them from sinking. This is true even if you are using trekking poles as your tent poles. I did not deploy the peak guylines on purpose to test out the tent. It was not necessary despite the wind picking up the next day.
During the night, the temperatures dropped below freezing but the lowest it got was around 28F. It also snowed but only a few inches. The wind also picked up as it got closer to morning. I had buried the edge of the tent on the windy side so that definitely helped prevent too much spindrift from entering. And the solid inner construction was great. There was frozen condensation but I could brush most of it off.
Here are some things I noticed. The gen2 vent size is reduced compared to gen1 as the gen2 zipper goes nearly to the peak. Gen2 magnetic toggles worked remarkably well despite some wind gusts in the morning. The gen2 inner tent was more spacious with the wider floor and the internal pull outs. The pole ties on the inner also keep the floor shape more stable. The ridgeline pockets are now just at the peaks. In the gen1 it went all the way across and heavier items tended to make it sag as it moved away from the peaks. The inner solid is a black color while the fly is a dark sage. The gen1 was a light sage for both inner and fly.
Overall impressions. Great! Improvements everywhere. And the solid inner option expands the use of the X-Mid into the colder shoulder season days and even into winter.