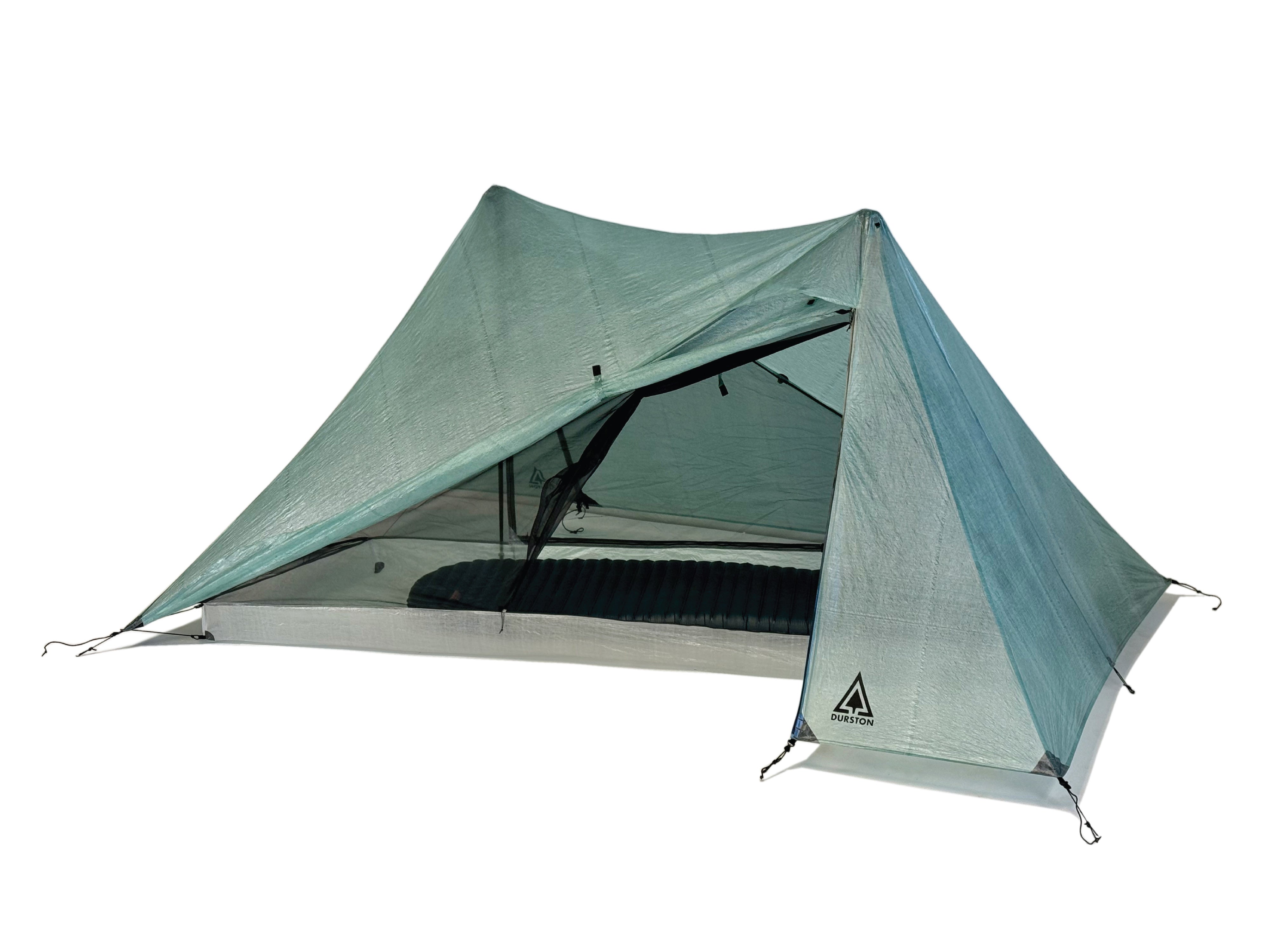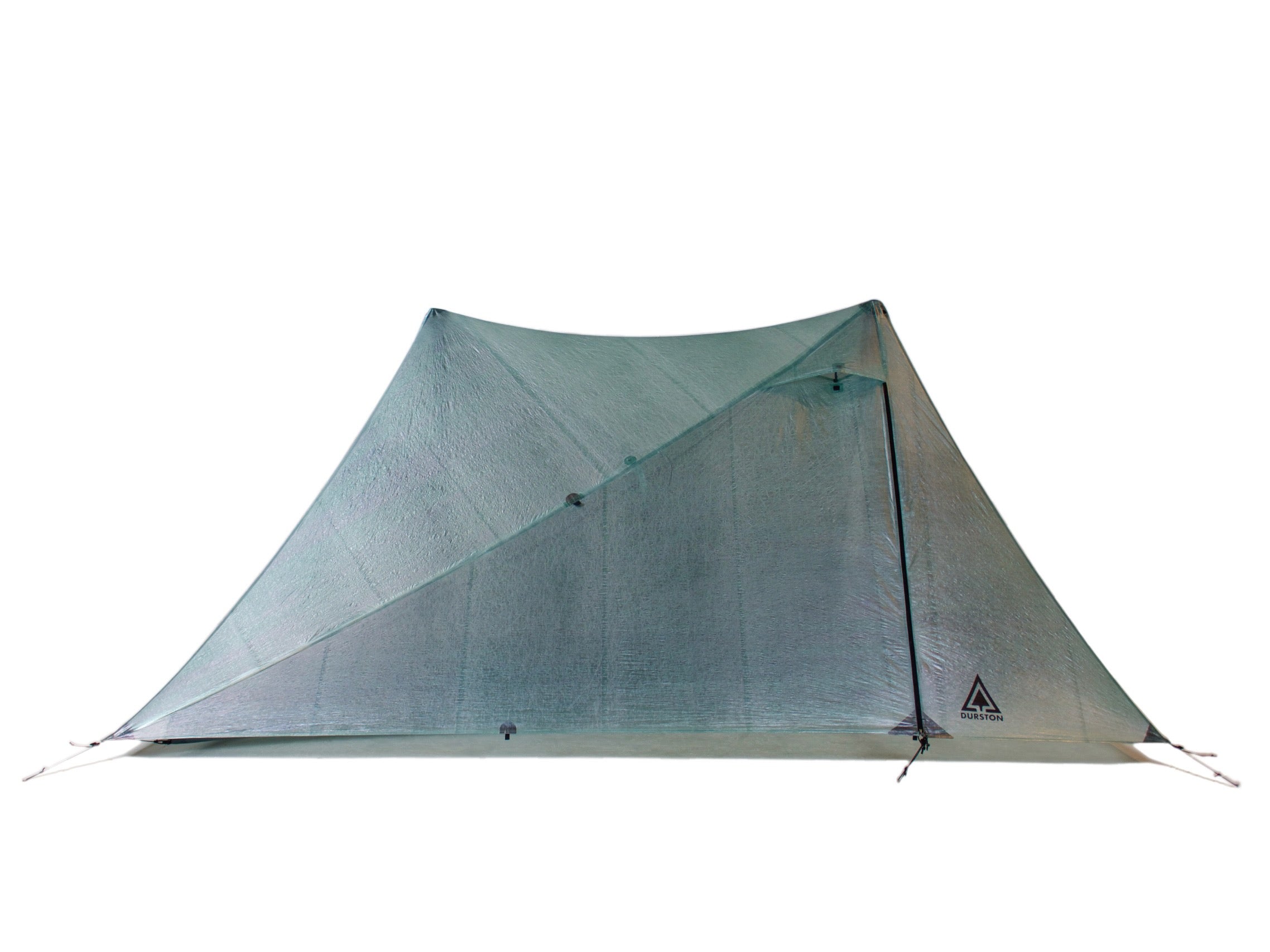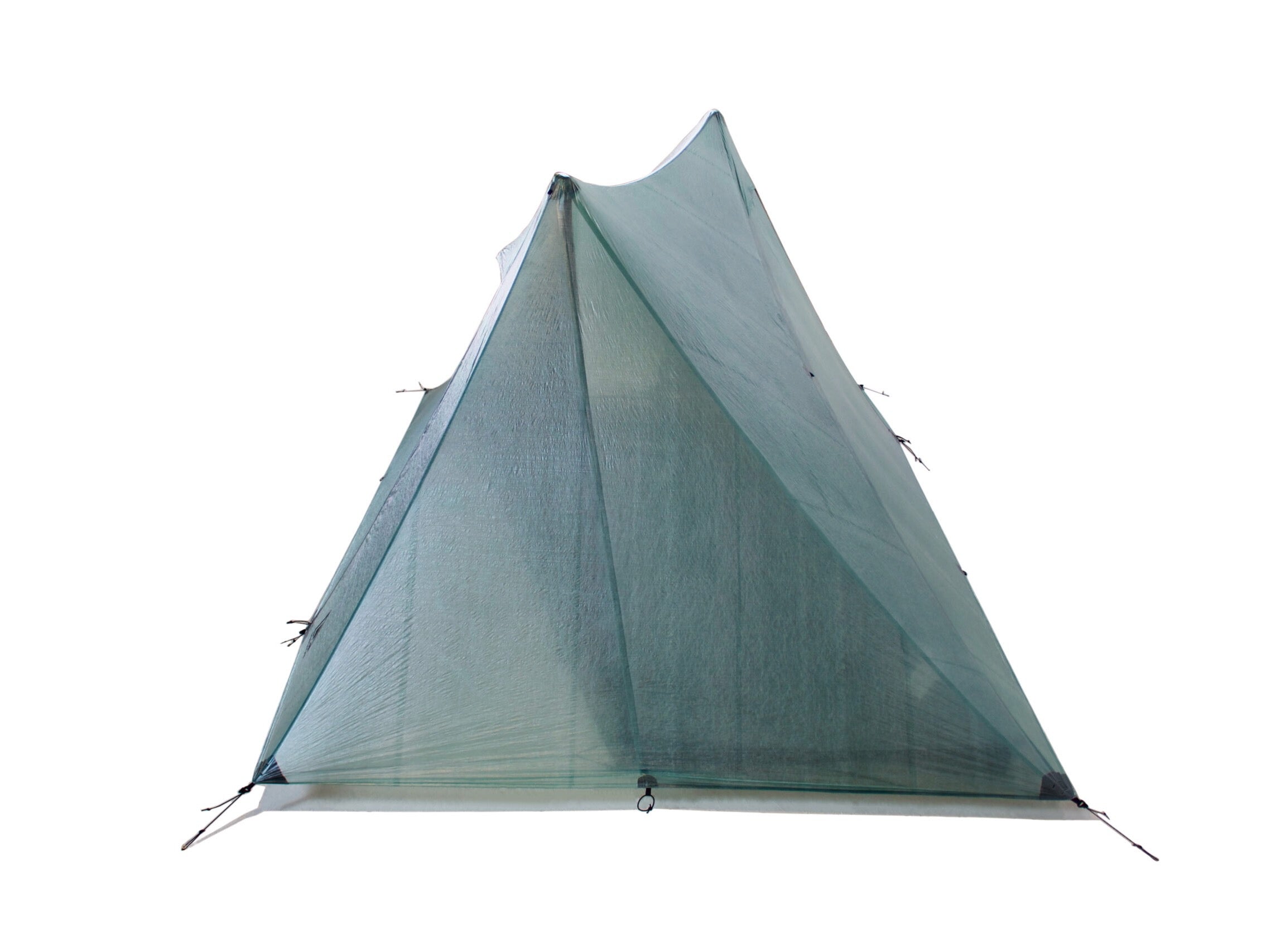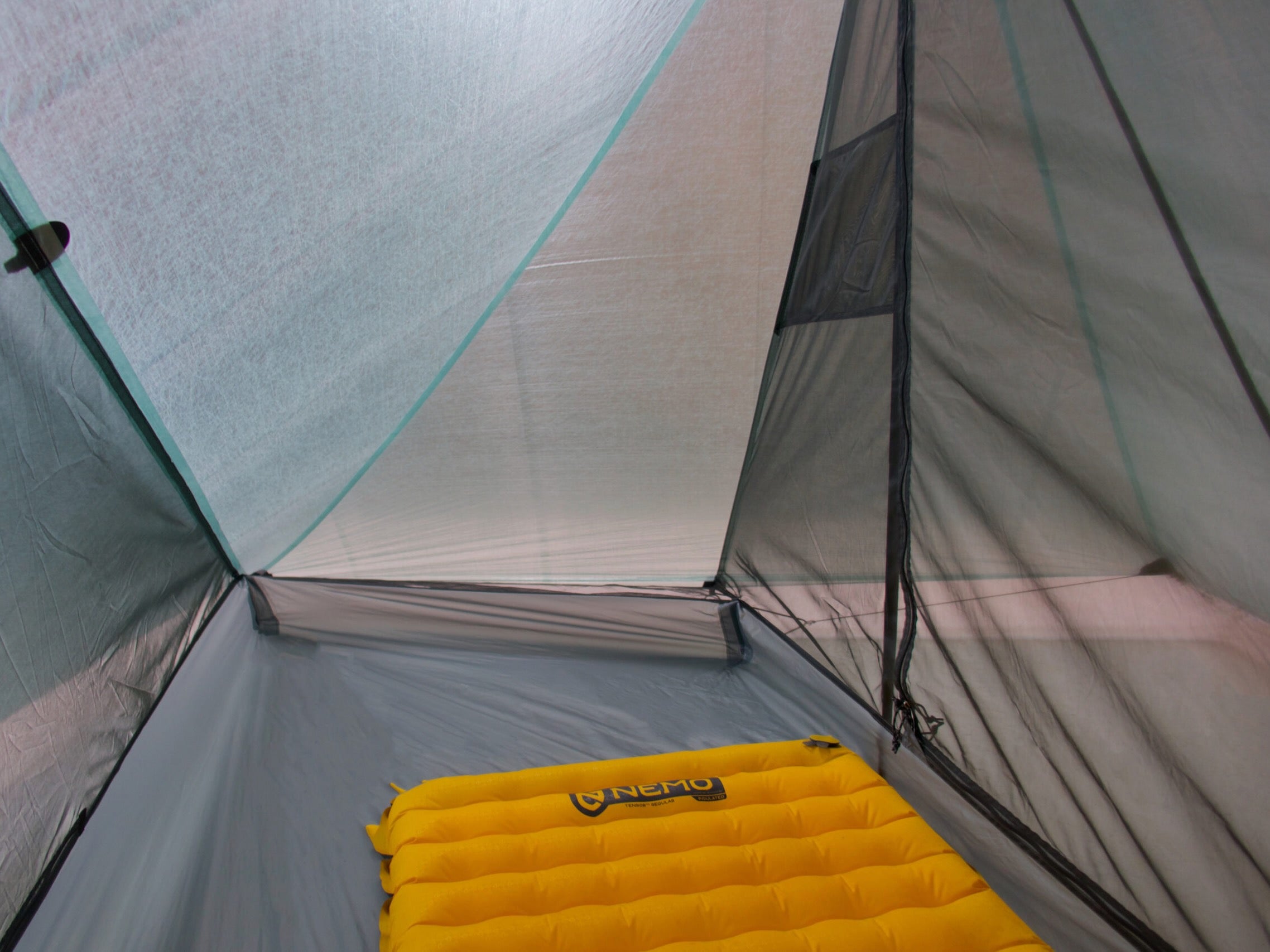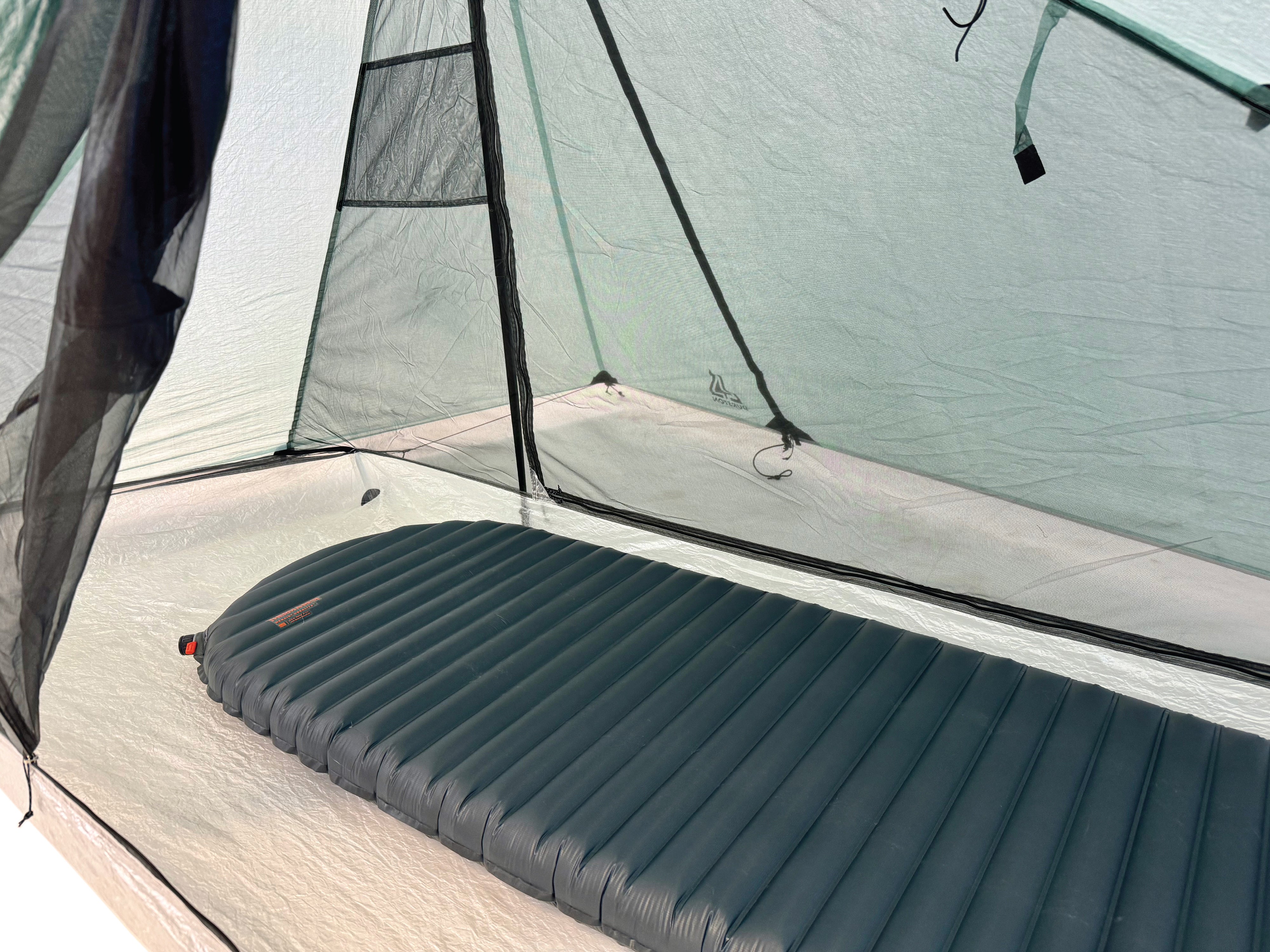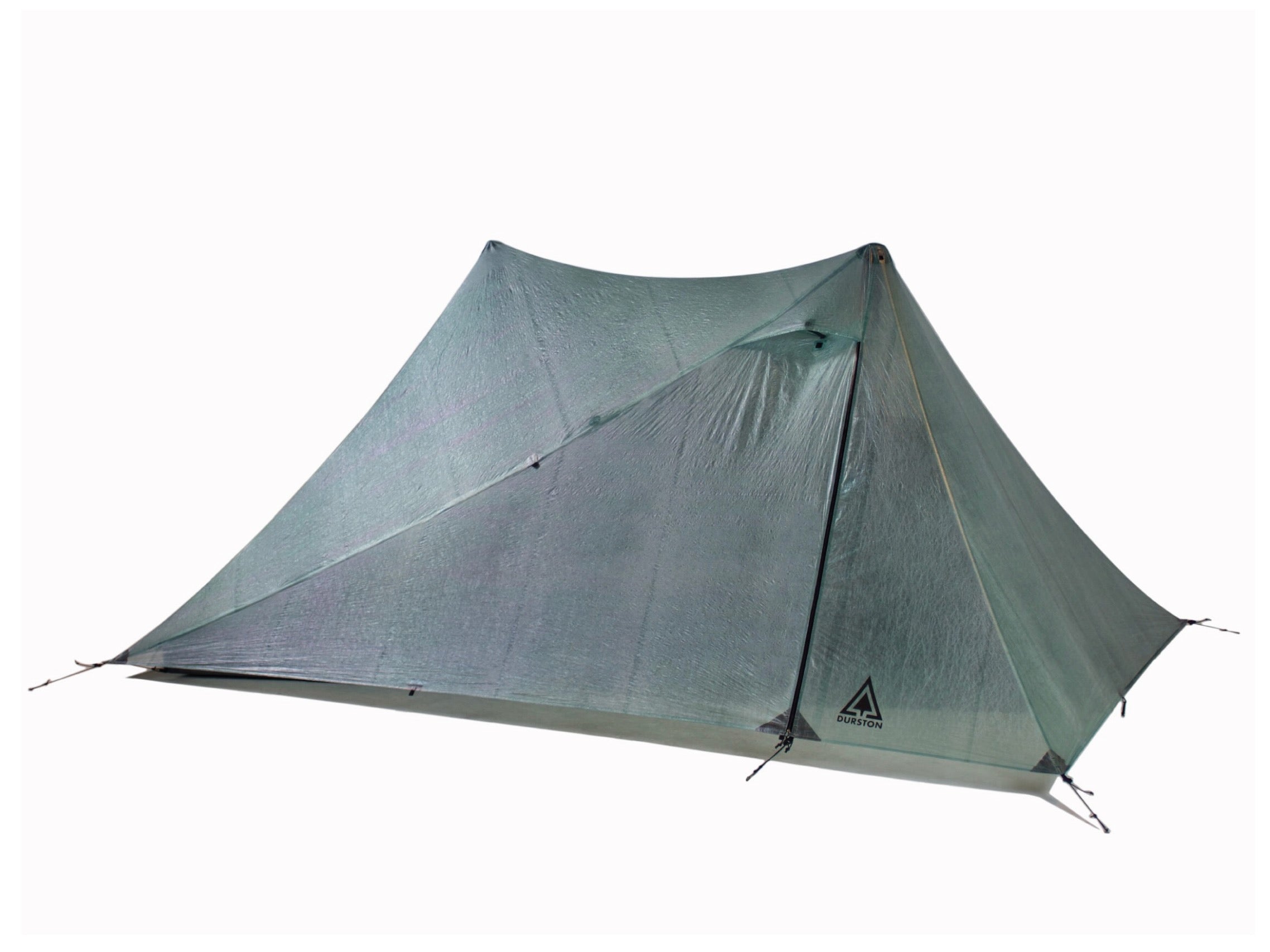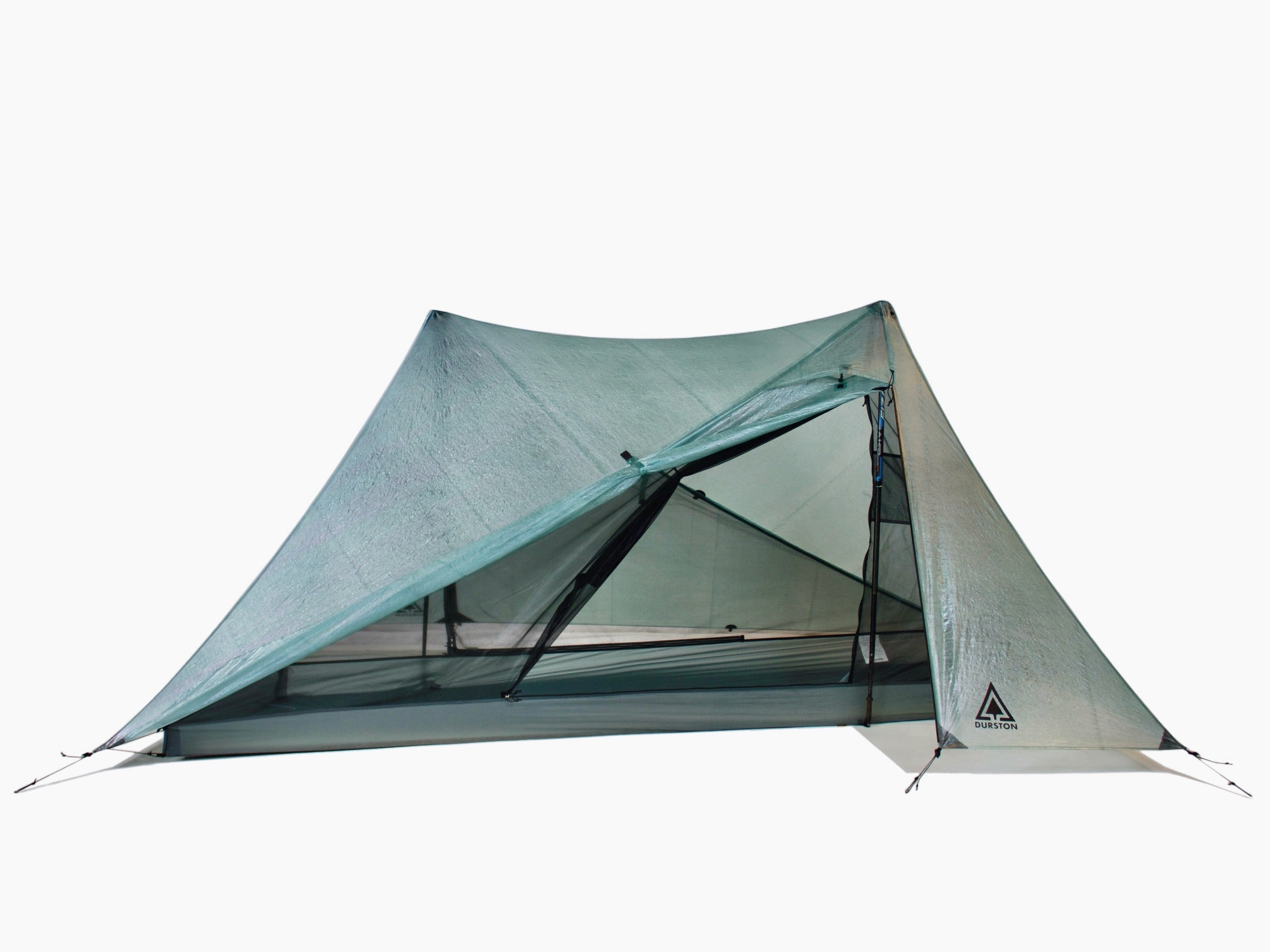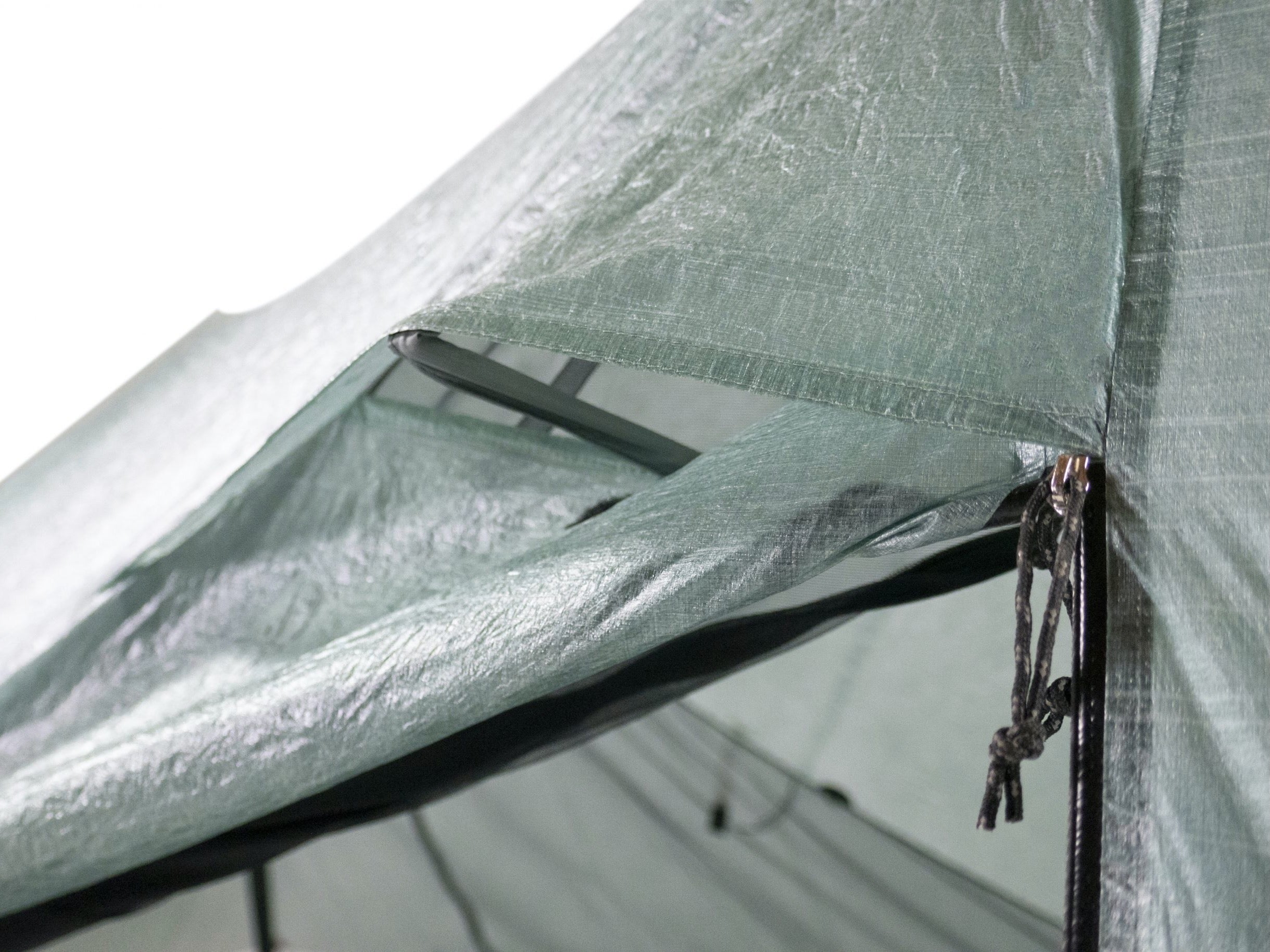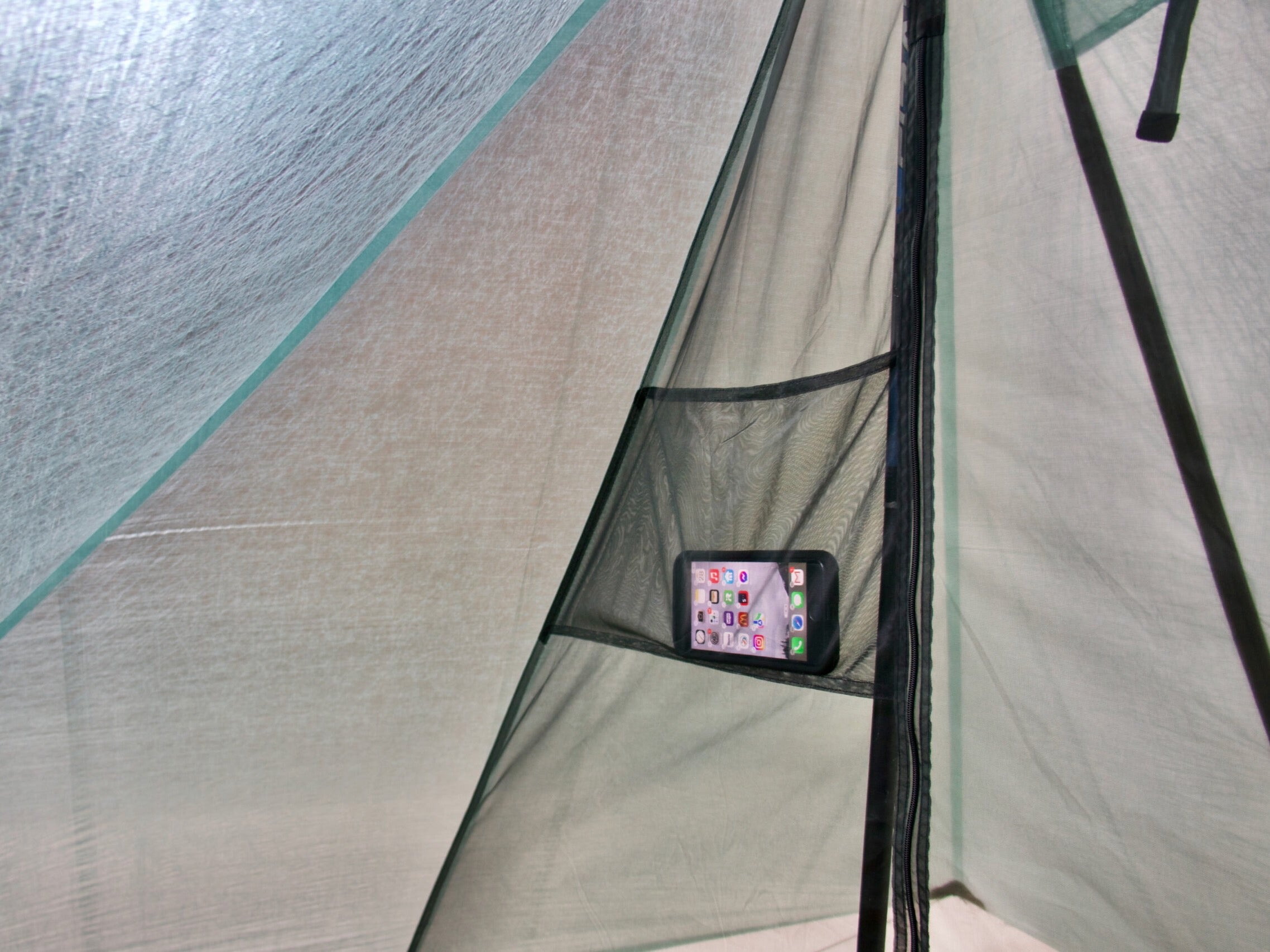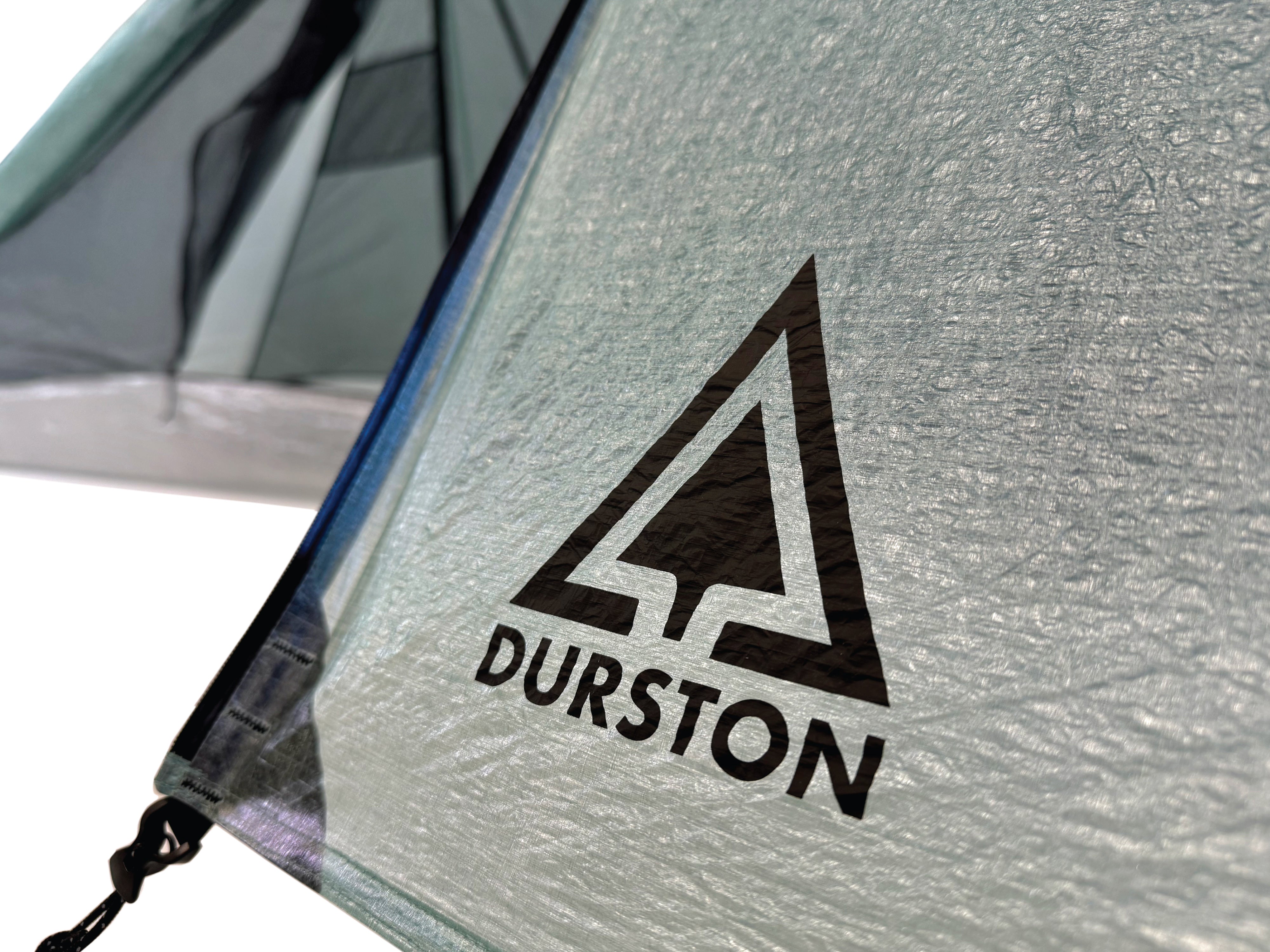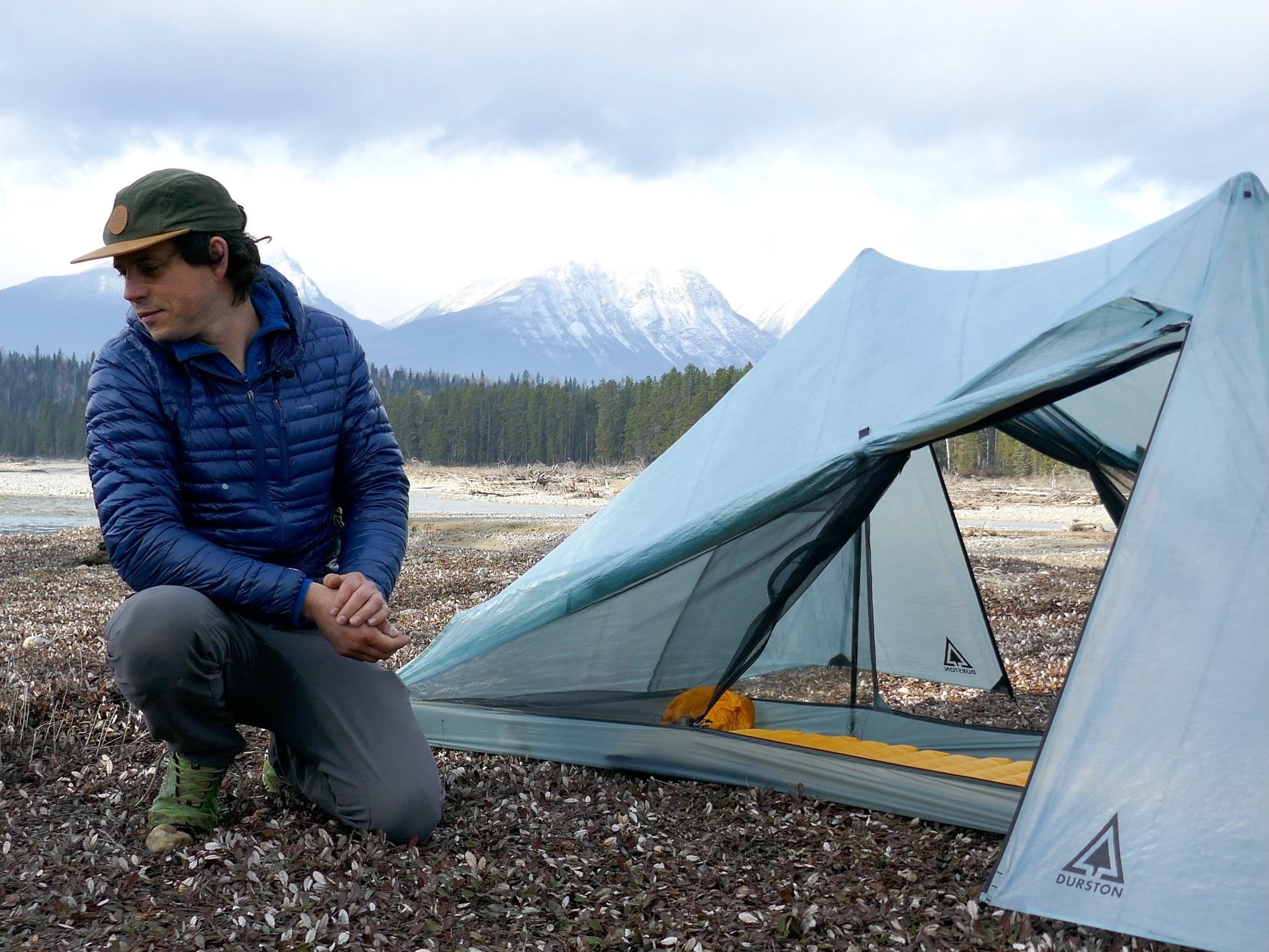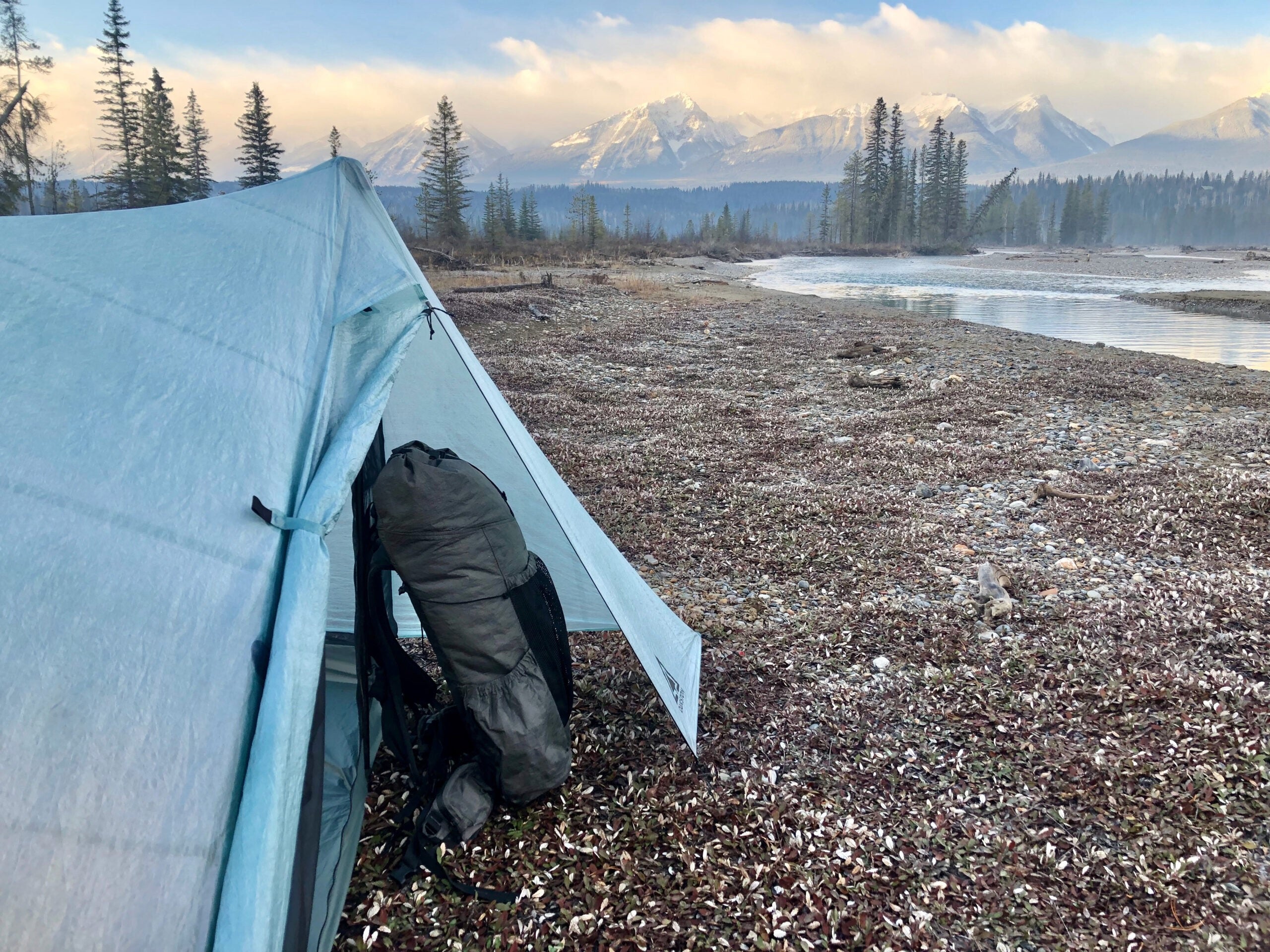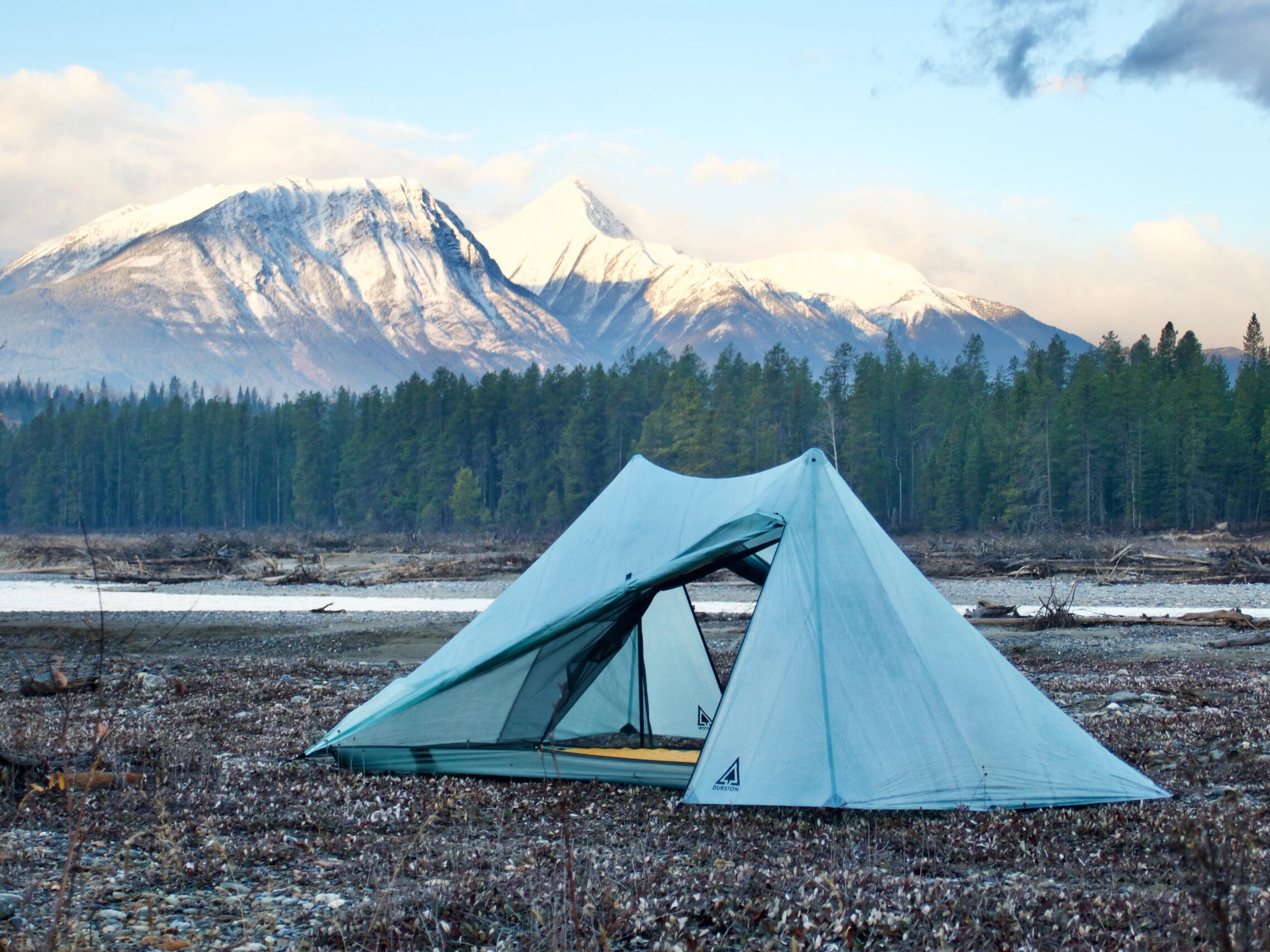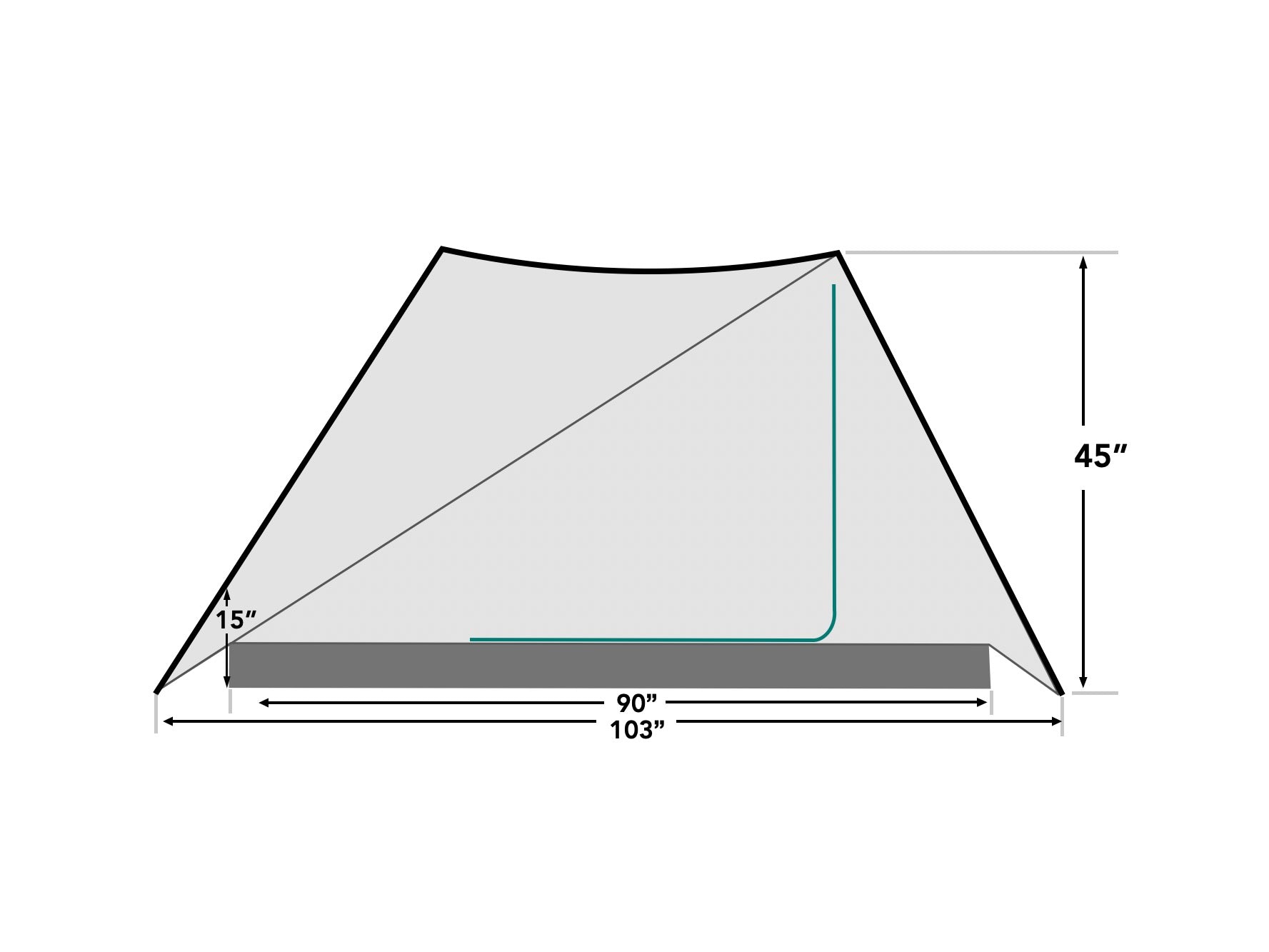 X-Mid Pro 1
---
The 2024 X-Mid Pro 1 has arrived. These tents are in stock (woven floor version) or ship early December (DCF floor version) and feature a variety of refinements, a new DCF floor option that is even lighter (15.7 oz / 445 g) and more affordable pricing.
Pinnacle of Ultralight Tent Design
The X-Mid Pro 1 is the ideal tent for the ultralight backpacker. It combines our maximally weight efficient X-Mid geometry with Dyneema® composite fabrics (DCF) to create one of the most spacious, simple, and stormworthy one person tents on the market - and yet it weighs under 1 pound (15.7 oz / 445 g) for the lightest version.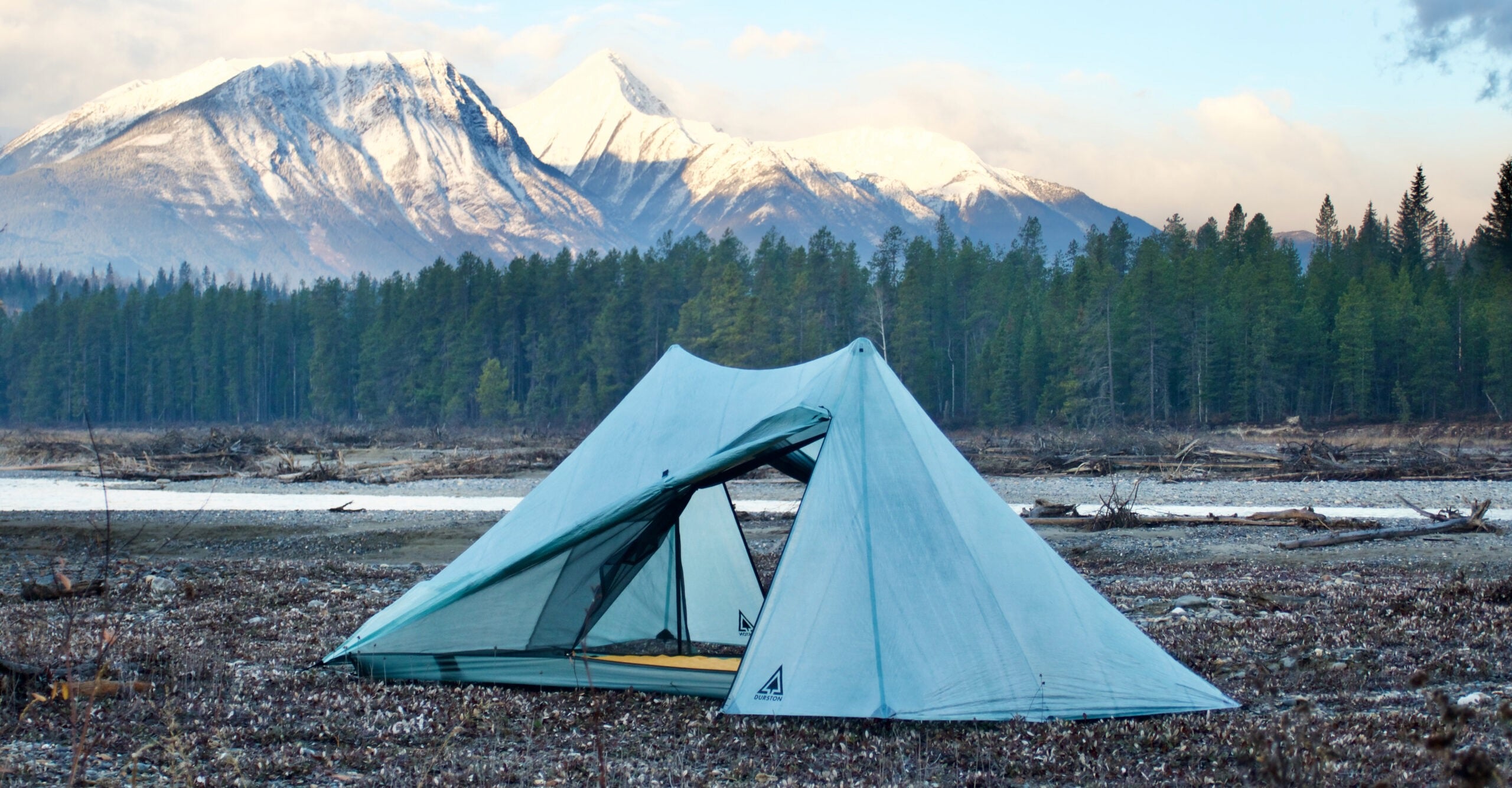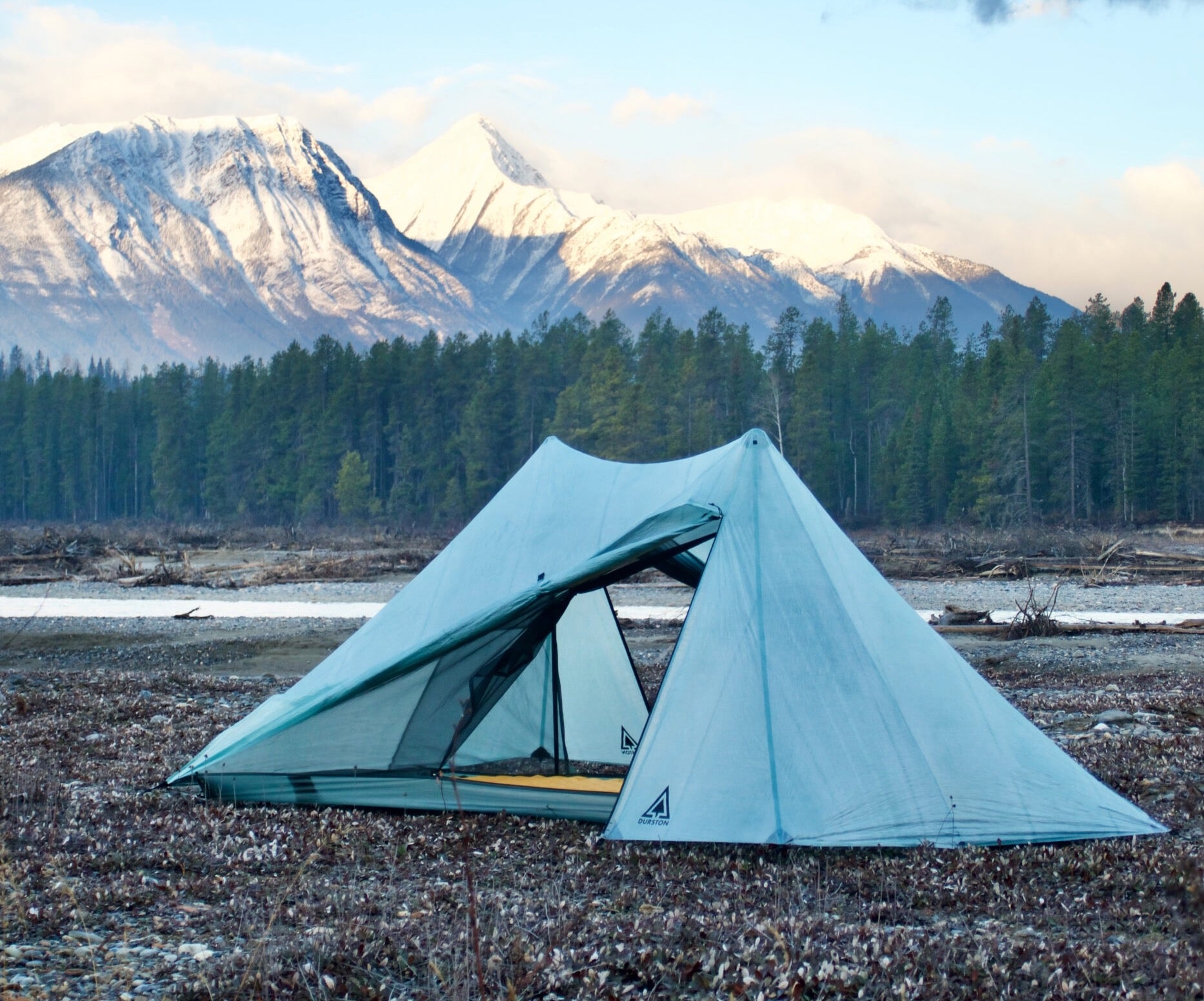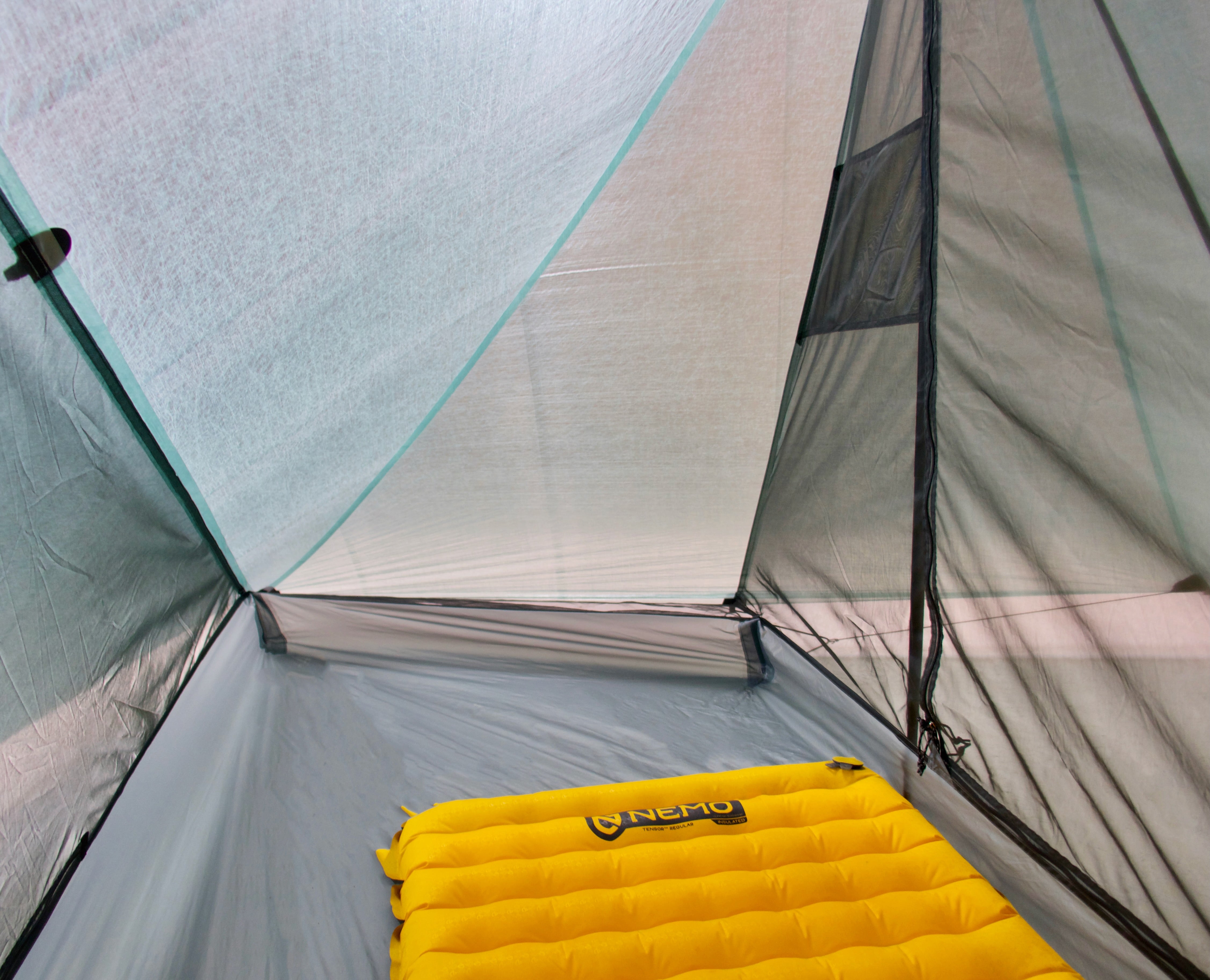 SPACIOUS
The X-Mid Pro 1 is a seriously spacious tent with more interior volume than any other 1P trekking pole tent. It's not just spacious in the context of superlight tents, but actually is more spacious than almost every 1P tent - at any weight.

The X-Mid Pro 1 accomplishes this with its space efficient geometry that moves the two poles further apart to create 25-50% more interior volume than competing tents, including more useable length, headroom, and shoulder room.

The floor length is a generous 90″ which is combined with steep end walls such that the length is still 90" at 15" off the ground. The result is best in class useable length (suitable for hikers up to 6'8″), while the 32″ floor width easily accommodates the widest pads with room to spare. You can comfortably sit up throughout the length of the tent while two people can easily sit in the tent together.
In addition, there are dual large vestibules which put the main area beside the door instead of blocking it, and can easily hold large packs and other gear.
USER FRIENDLY
The X-Mid design was formed in tough real world conditions where you need a shelter that works, and this elegant and capable simplicity continues in the X-Mid Pro 1.
Our thoughtful design includes an ultra simple 4 stake pitch, magnetic door toggles for one handed operation, doorways that aren't blocked by poles, large vestibules that put the main area beside the doorway instead of blocking it, a tensioned floor that lies taut and wrinkle free, one handed operating zippers, and dual interior pockets.
The X-Mid Pro 1 also packs smaller than any other 1P DCF tent at just 4.5″ x 10″. Thanks to the absence of poles and struts it packs short enough to store horizontally in your pack.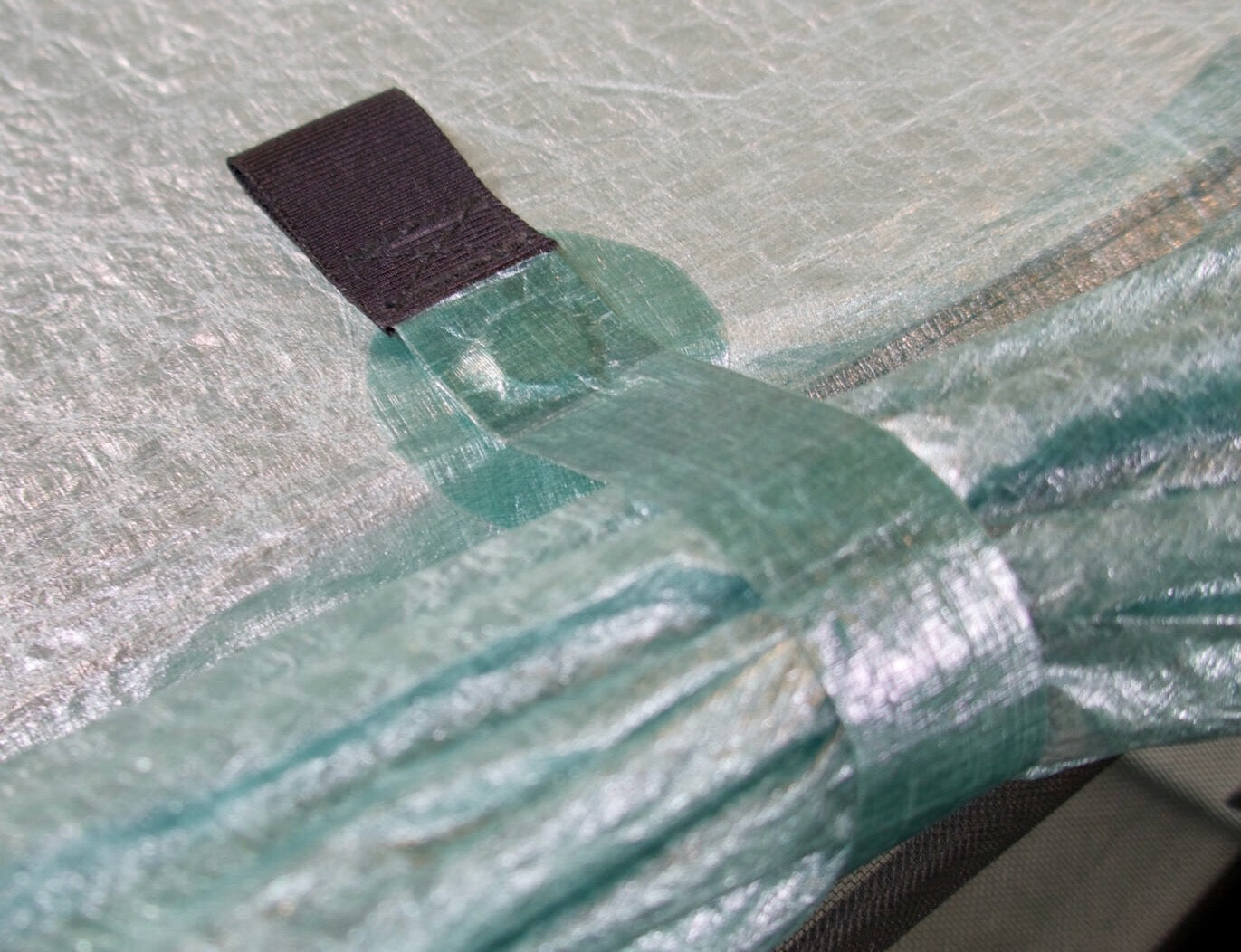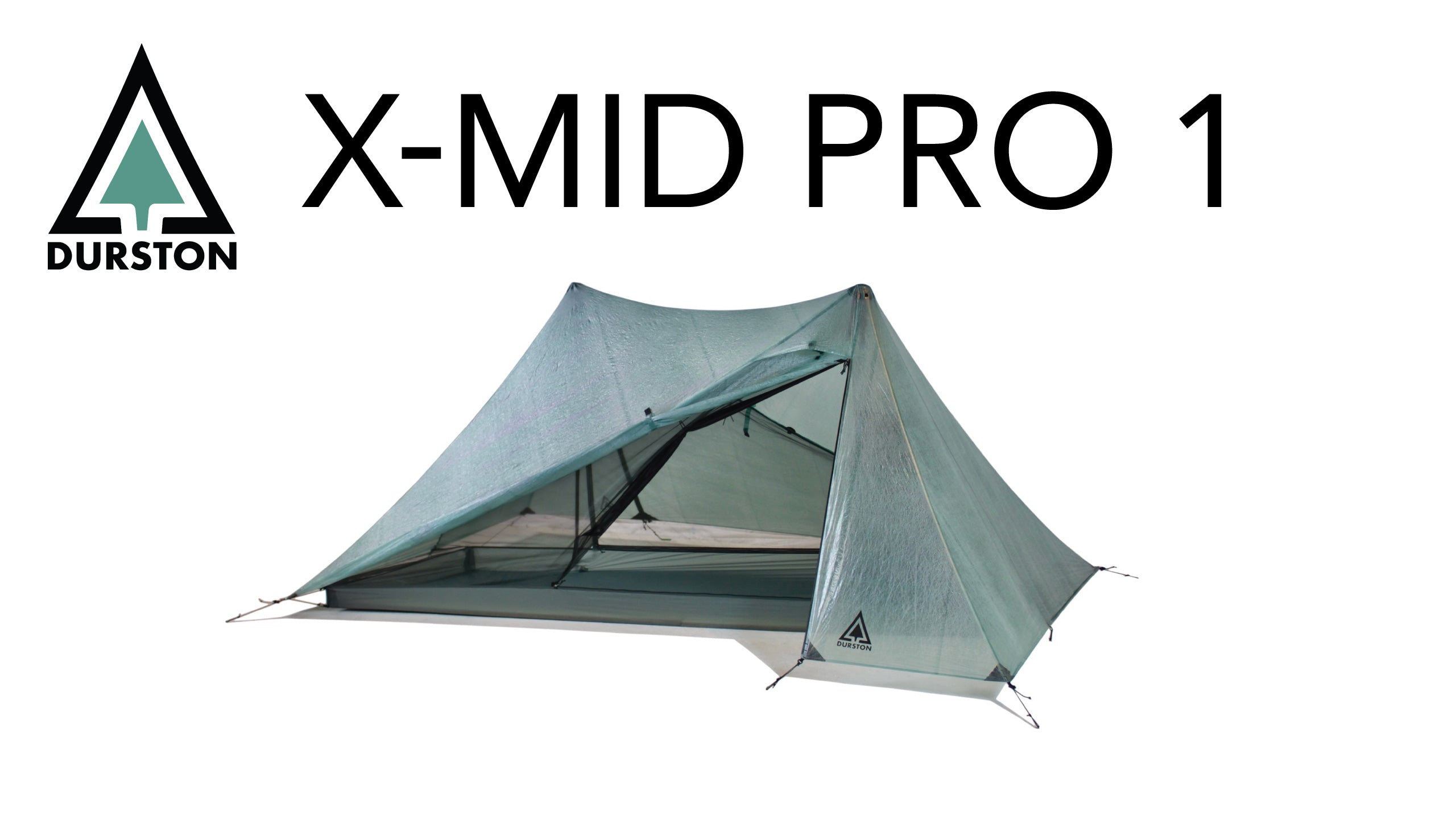 More than just a spacious tent, the X-Mid Pro 1 is a robust shelter for harsh conditions. Unlike other tents near the 1 pound mark, the X-Mid Pro 1 doesn't trim away the lower part of the fly for weight savings but instead has a full coverage fly to block drafts and rain splatter while also having the option of raising it higher.
Other features found in the X-Mid Pro 1 – but otherwise unheard of at the 1 lb mark – are peak vents (important to minimize condensation) and zippered doorways (blocks drafts, increases structural integrity).
The X-Mid Pro 1 also features ultra strong and highly waterproof Dyneema® composite fabric, dual protected doorways that keep rain out when open, and attachments for peak and side panel guylines for stormy conditions.

Gear the Editors Loved
"Durston's X-Mid Pro 1 just might be the most spacious, lightest-weight tent....It hardly budged in 25 mile-per-hour winds on an exposed alpine ridge."
New and Wonderful
"Our storm of praise can't stop...This new and wonderful shelter has pushed forward mountain tent design by 100 years."
The Hype is Real
"The X-Mid Pro 1 is a head- and foot-room king. The hype is real...the easy setup and interior space exceeded my expectations."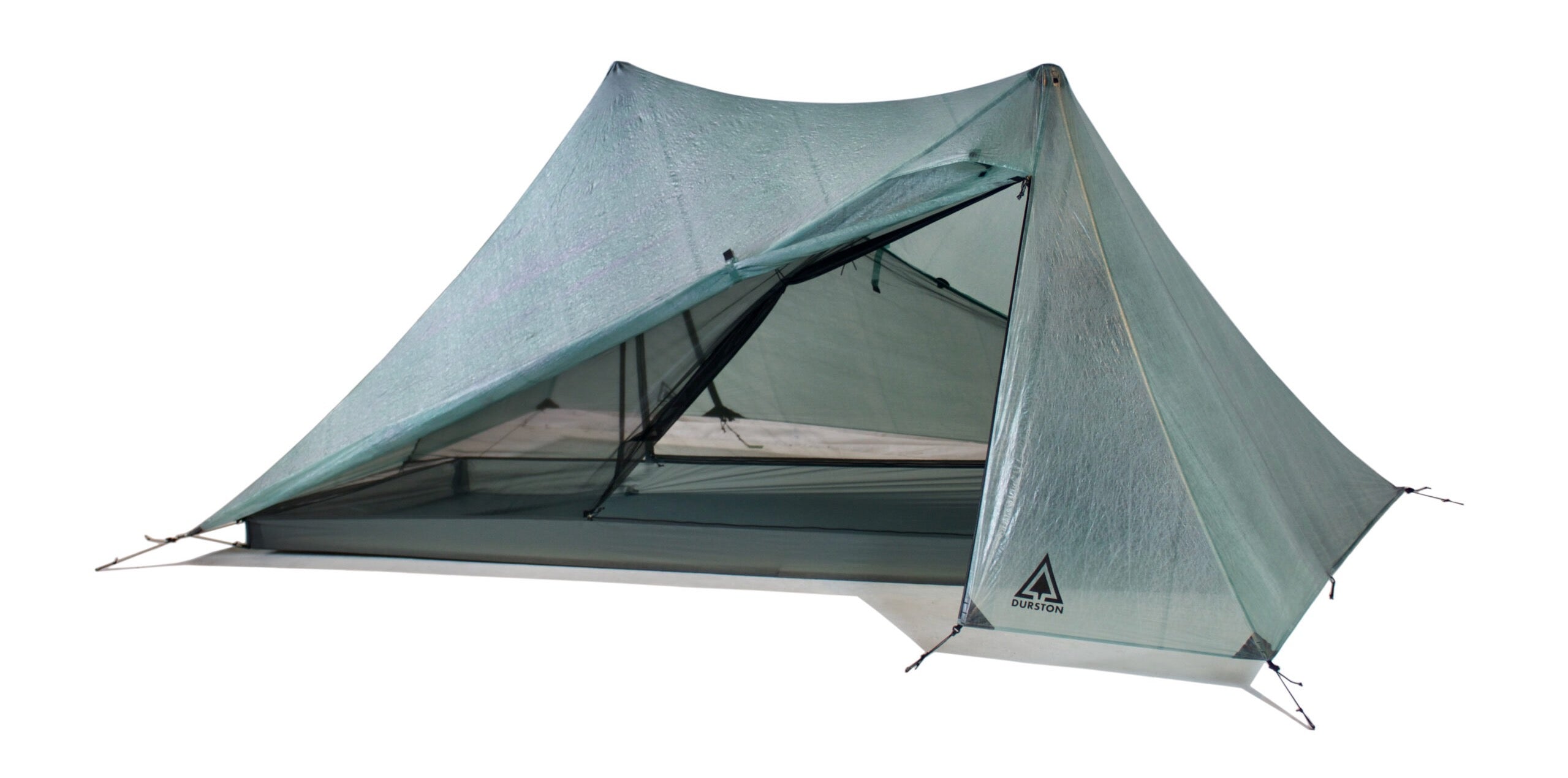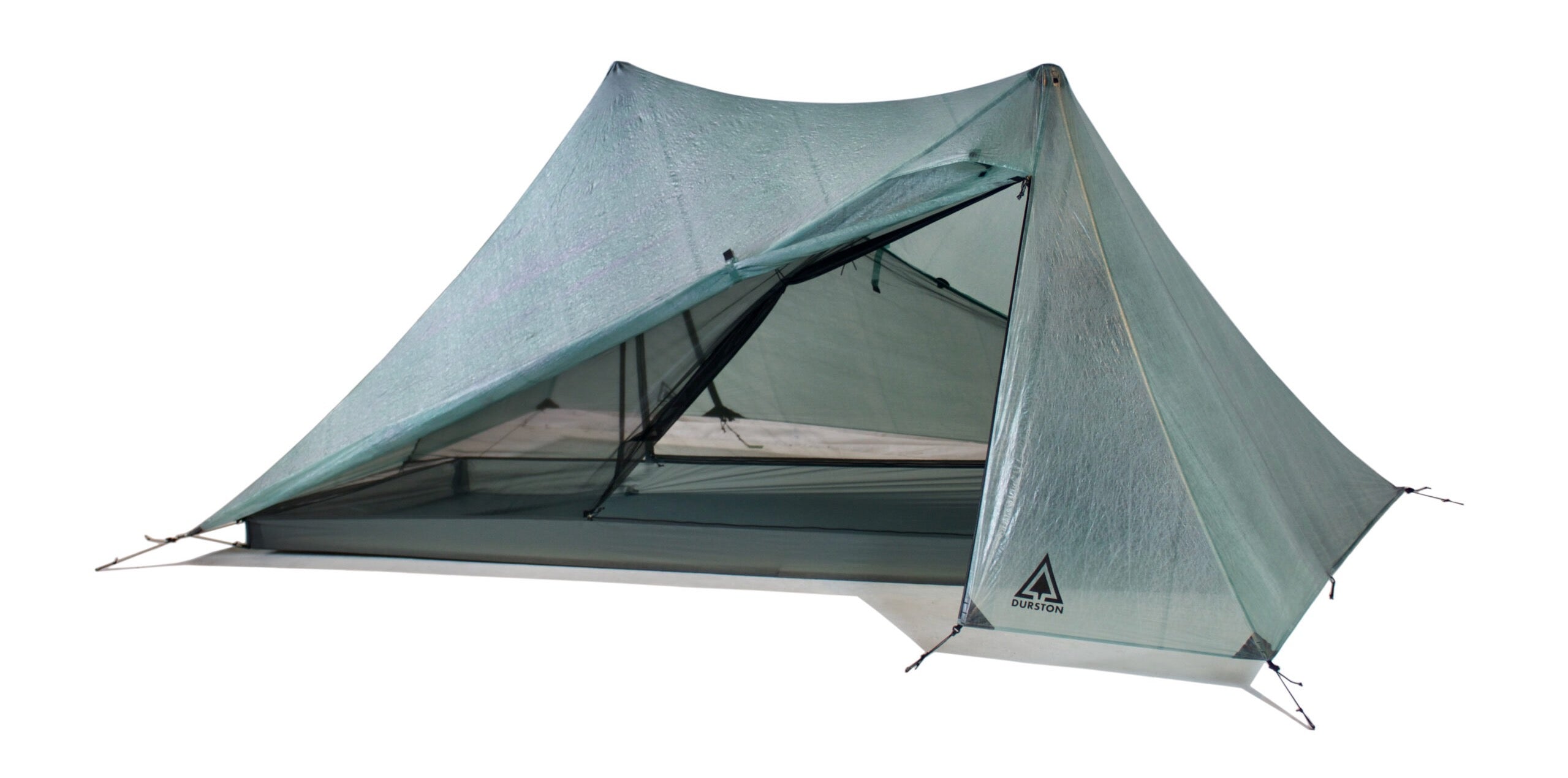 Magnetic Toggles
Magnetic door toggles with pull tabs provide easy one handed-operation.
Doorways
Unlike most trekking pole tents, the doorways are large and not blocked by trekking poles.
Full Coverage Fly
The fly extends low to the ground to block drafts and rain splatter, yet can be raised for more ventilation. Other tents cut away the bottom of the fly to save weight but it leaves you more exposed.
Tensioned Floor
Small corner struts and cords tension the floor so it lays taut and easy to clean. Competing tents hang the bathtub floor from its top edge (like a bag) which saves weight but is more prone to wrinkling and sliding around.
Peak vents
Dual peak vents minimize condensation.
QUALITY
In addition to the highest performance design, the X-Mid Pro has industry leading quality. That starts by using premium materials like Dyneema, and assembling them at the most experienced tent factory in the world for DCF.
We use hot bonded construction to create Dyneema seams that are stronger, cleaner looking, and better retain their strength in extreme temperatures. We also use a proprietary pre-shrinking process for DCF so that the shape is more stable over time and won't shrink to create wavy zippers.
While this premium quality gives the X-Mid Pro a higher cost of production than comparable tents, it is affordably priced because we sell it to you direct with only a modest markup.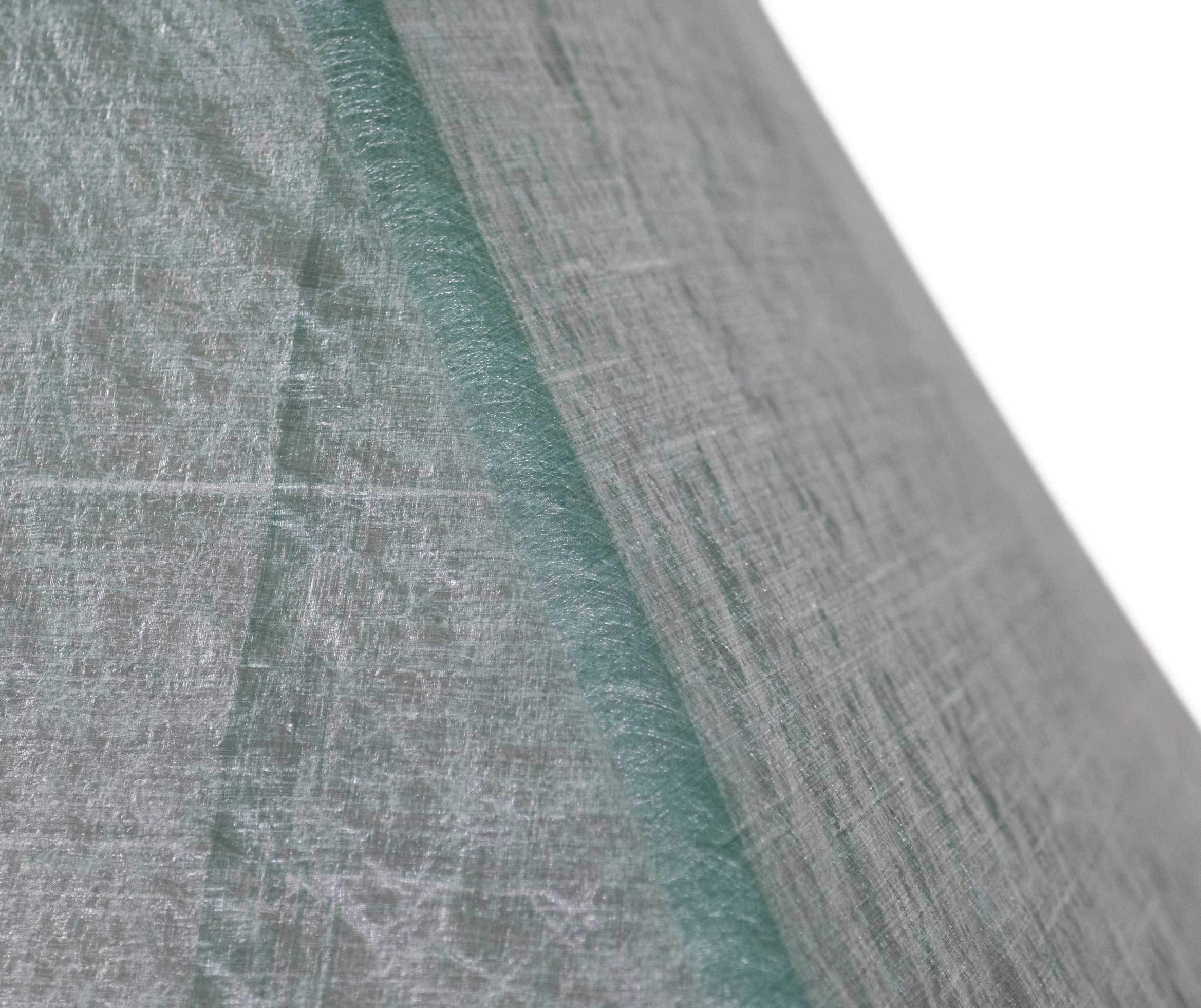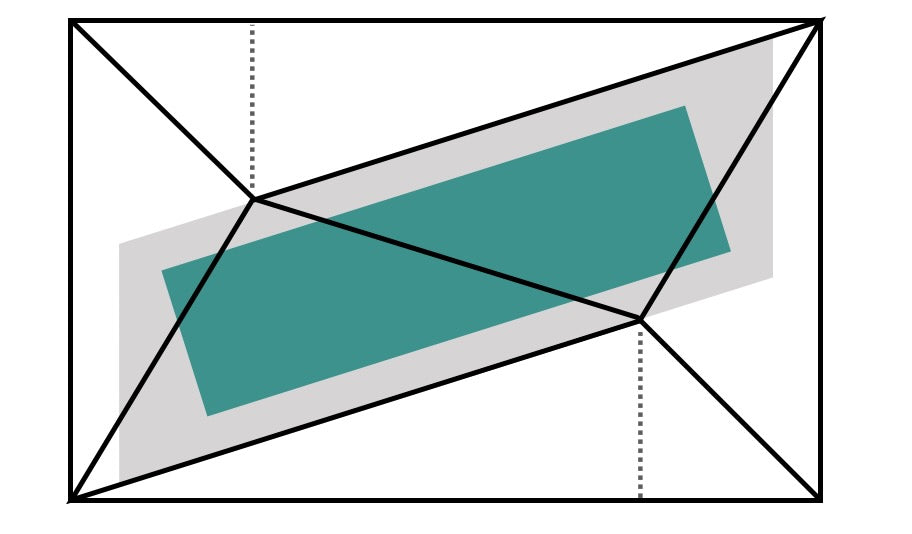 PATENTED GEOMETRY
The X-Mid shape has been developed from the first principles of geometry to be as weight efficient, simple, and functional as possible.
That includes avoiding all the common pitfalls of trekking pole shelters such as a complicated pitch, mandatory guylines, poles blocking the doorways, and a lack of interior volume.

Read the story about how the X-Mid geometry was developed:
With best in-class space, stormworthiness, simplicity and build quality, the X-Mid Pro 1 is the ideal ultralight tent for everything from thruhiking the Pacific Crest Trail, to crossing Icelands' wind-swept tundra, to remote adventures on Australia's Bibbulmun Track.
This product is rated 4.8 of 5.0 stars.
It has received 47 reviews.
This product is rated 4.8 of 5.0 stars.
It has received 47 reviews.
FANTASTIC TENT
I have owned several UL DCF 1P tents. The Durston X-Mid Pro 1P is 'top of class'.
This tent is super easy to pitch. 4 stakes, 2 trekking poles, tension, done. The Pro is a single wall tent so it cannot be pitched fly-first as the polyester versions can. Given how quickly this tent pitches, I do not see this as a significant difference.
This tent is extremely light. At 16.4 oz (4 corner guy lines, no stakes), is among the very lightest available. In my opinion, it wins many ratios such as interior volume-to-weight, storm worthiness-to-weight, and ease-of-use-to-weight. The double entry and vestibule space are both advantages that are simply unavailable with most other tents in the 16.x oz and below class. In bad weather, having your pack, shoes and rain gear in one vestibule, and being able to cook in the other is super convenient.
This tent is highly storm worthy. The tent includes 2 ridgeline (pole top) guy line attachment points, 2 mid-side-panel attachment points, 2 door/vestibule attachment points, and 4 ground level attachment points in the center of each side/end panel. Adding the 2 pole top guy lines adds tremendous stability. Adding the 2 mid-side panel guy lines significantly reduces luffing of the side panels. I would be comfortable using this tent up to 50 mph with 8 stakes/guylines. I have not used the bottom stake outs to be able to say how much more stability they provide.
This tent is well vented. I was honestly surprised how well the two ridgeline vents worked. The cross ventilation at the top of the tent with just these two vents open significantly reduced condensation. Opening the bottom 6-inches of the door zipper on one or both sides was all that was needed to eliminate condensation in the most humid conditions I've experienced.
Overall - if you only own one tent, this is the one to buy.
Preliminary Report...
First off, all the basics are as good as they can be. Innovative design, great materials, excellent workmanship, and Dan to stand behind his product. I've only used it on one real trip so far, but I thought my early impressions might help someone so am writing this.
I still don't know if a single wall tent is really for me: I've used an MSR Hubba NX1 for a few years, love it, but really wanted to try this tent and save weight. I wasn't sure if the Durston was for me at first, to be honest, because of its sensitivity to variables when it is pitched. But as others have said would be the case, with time and attention I'm getting the hang of it. So, my advice is to not give up too soon.
I got a good "external" pitch right off the bat by just doing what Dan said to do on his video but it's taken me weeks to get what I'll call a good "internal" pitch: the ends of the floor being aligned as they should with the "walls" coming up off the ground without weird angles and so forth. The key for me was to not have the guy lines in the four corners shortened up too extremely when I peg out those corners: rather, I found that it was best to have them extended almost their full length then tighten them up if needed. I think I was over-performing on Dan's advice to have the corners quite tight before inserting the poles. This also helps ventilation, of course, another benefit.
I don't like the magnet: almost any more traditional fastening system would be better. IMO.
Quite a lot is made of the durability of the floor but I had a nice clean slice about an inch long in mine. Maybe I did it on my trip or on the multiple pitches in the yard: if so, that floor material is not as strong as advertised and you should really think about a ground sheet.
I love the zippers. The vents are OK. I like having pockets at each end of the tent.
Once your brain adjusts to the angles inside, it is actually quite roomy for a one-person tent. More usable room than my NX-1, for example.
So overall, it's a very impressive but not perfect tent that I'm getting comfortable with and I expect it'll be the one I reach for for everything except real winter stuff.
And I can't stress enough how great Dan has been to deal with, and that's worth a lot.
Not there yet.
I haven't even removed from bag yet. Looking forward to getting it out, but it may be a while. I'm sure I made the right decision, pulling trigger on the X-Mid Pro 1, just having to be patient. Thanks for asking.
X-Mid pro 1 Dynema floor
The xmid pro 2024 version is a lot easier to pitch perfect. And overall the x-mid is an amazing tent that suits most people. Love it
As advertised
I recently purchased the X-mid Pro 1 and even though I have not used it extensively, I did set it up in my back yard immediately. I found the XMP1 easy to set up, and after a few minutes of adjusting the corners and guy lines slightly, the tent was tight and ready to go.

The inside is spacious with plenty of room at my feet and head and I am a 6 ft 180lbs. As a bonus, the vestibules offer extra space for gear or use during rain/inclement weather. It all opens up for views from either side and vesti rolls up tight and is held in place by a snazzy magnet system that works quick and easy. It is pretty cool for sure.
The tent is feather light and is easy enough to unpack and pack. It is about 4x10 inches and can fit inside my HMG southwest pack without a worry. The light weight is very attractive. I bought this for an upcoming 200+ mile trip that is expected to be wet, cool and buggy. The duel door openings and apex condensation vents provide adequate airflow that should reduce condensation. There are mesh covered vents at the head/foot areas, along the bathtub floor, that allow moisture to roll down the inside of the tent out out through the vents without getting the floor wet.
With the extra room and separated vestibules, the user is away from much of the interior walls preventing contact with moisture and keeping gear dry. The mesh not only keeps critters away but makes the tent like a partial double walled tent, which should help reduce contact moisture.
The bathtub bottom is high enough to keep dirt, moisture and bugs out of the inside. I will use a DCF ground cloth for extra protection for the bottom, it isn't needed but it will keep the bottom dryer and cleaner. Plus, I bring the fabric to use as a ground cloth, entrance mat, small tarp, wrap, etc. if needed.
Overall, I find this next shelter a great addition to my kit and can't wait to use it on an extended trip to give it a good test. So far, it is exactly as advertised. Money well spent! Thanks, Durston.