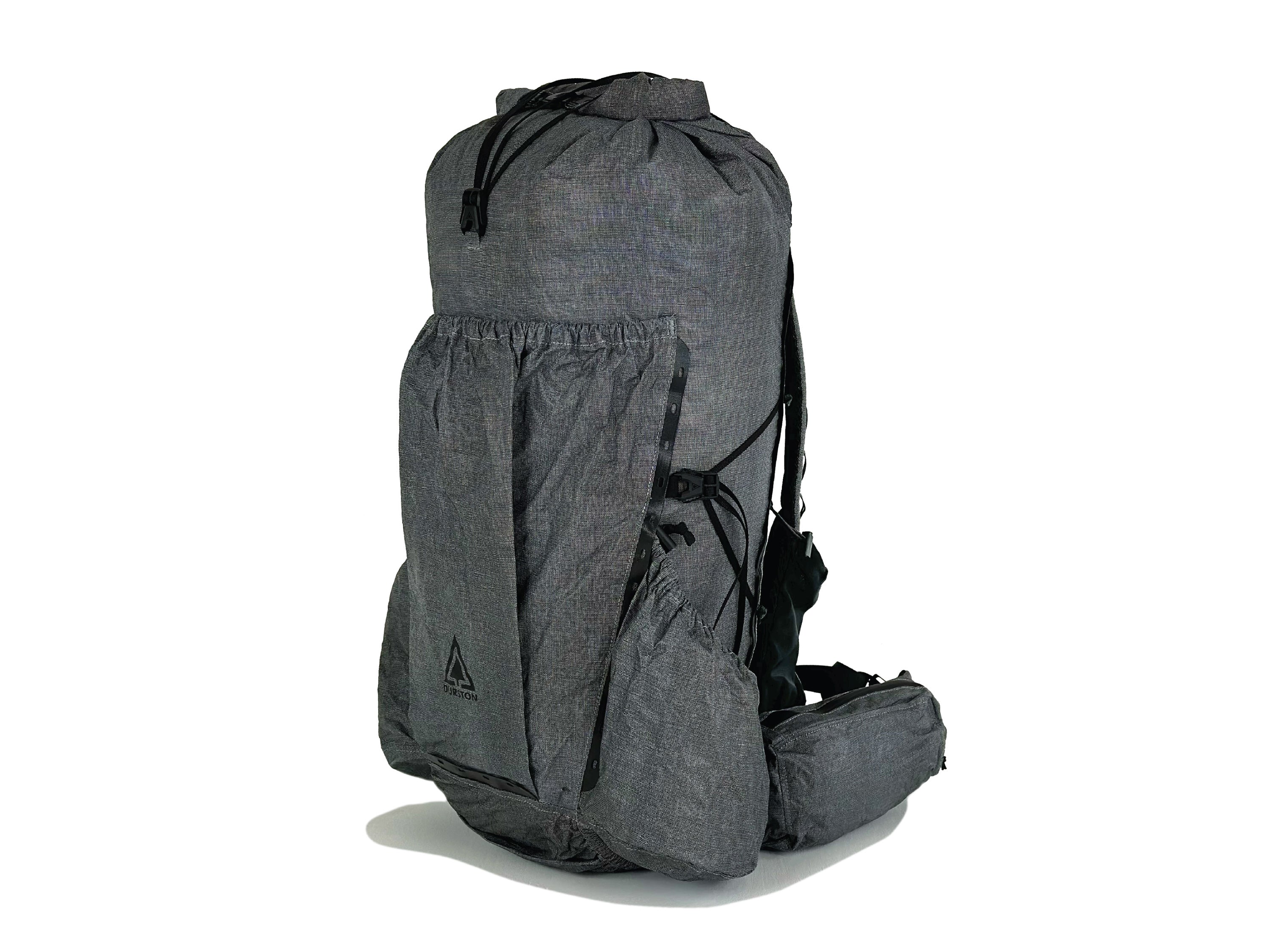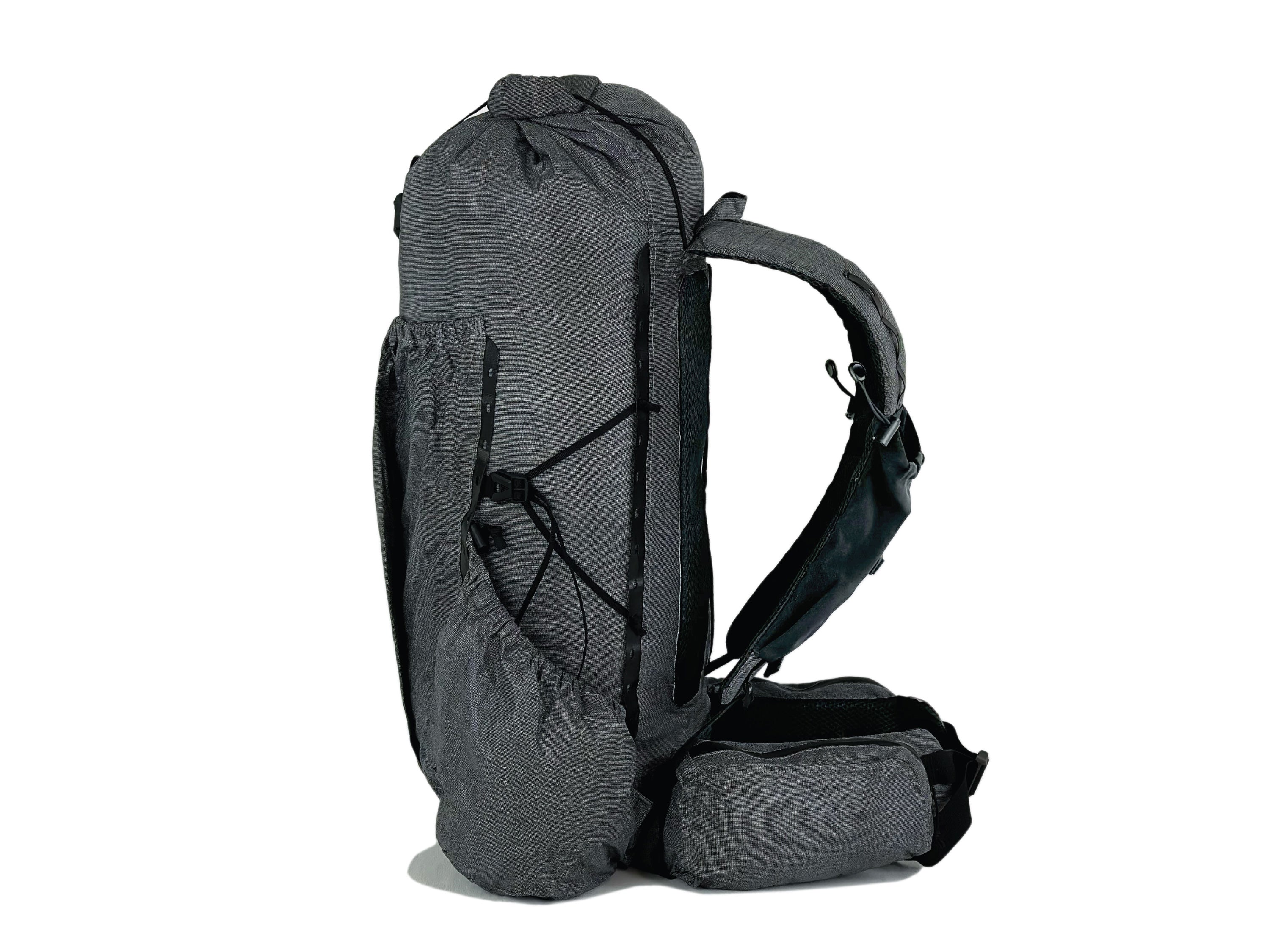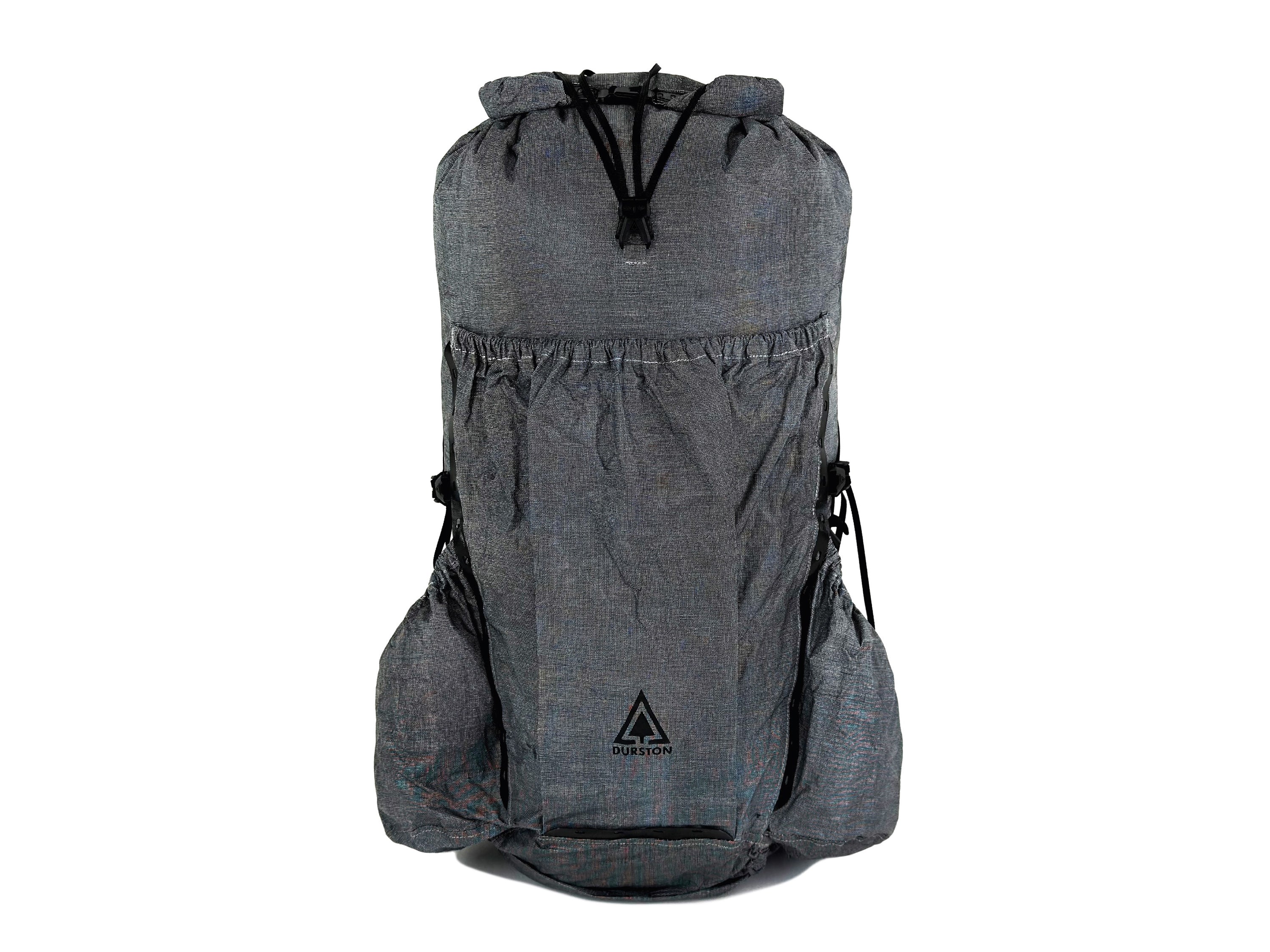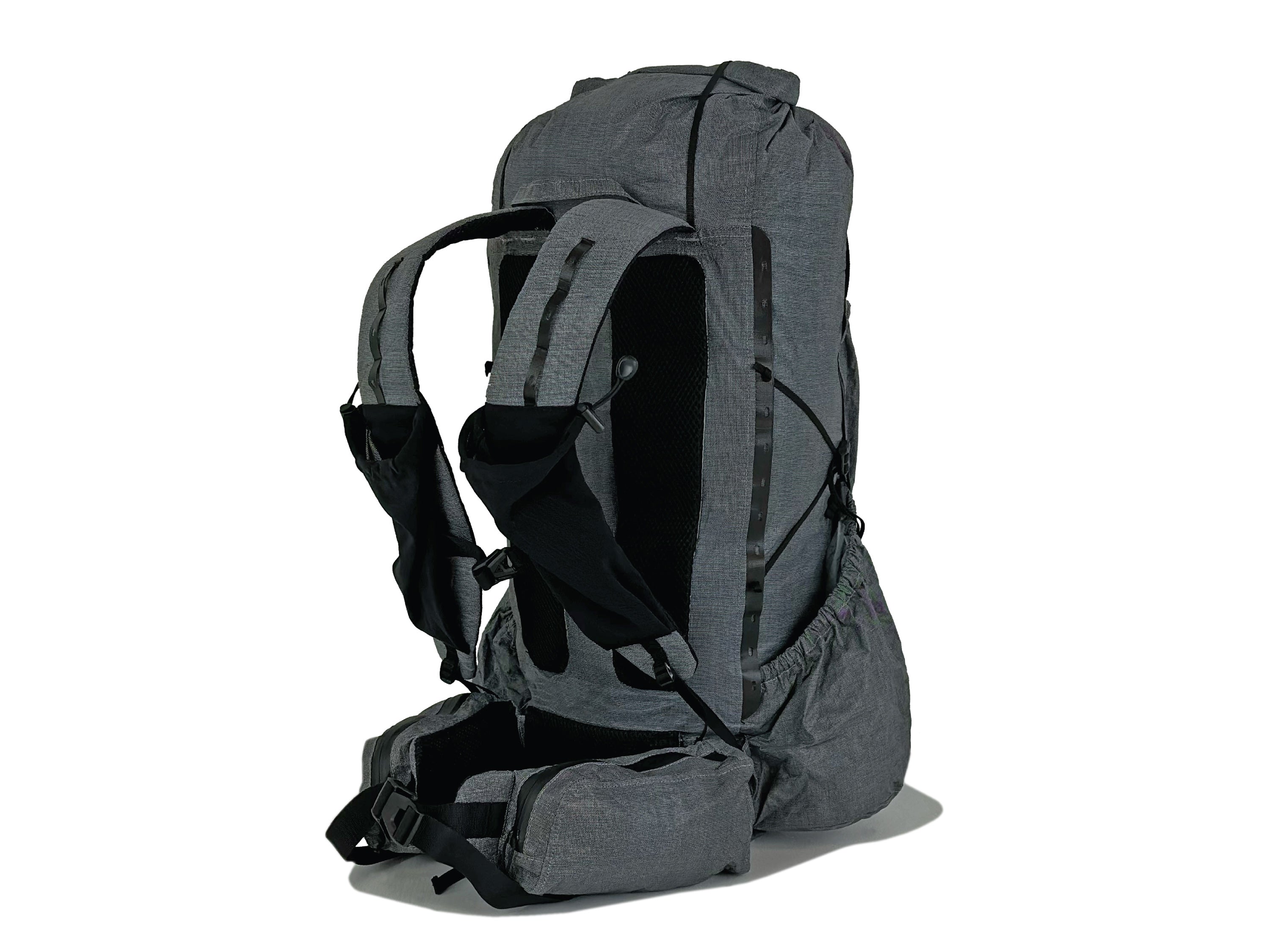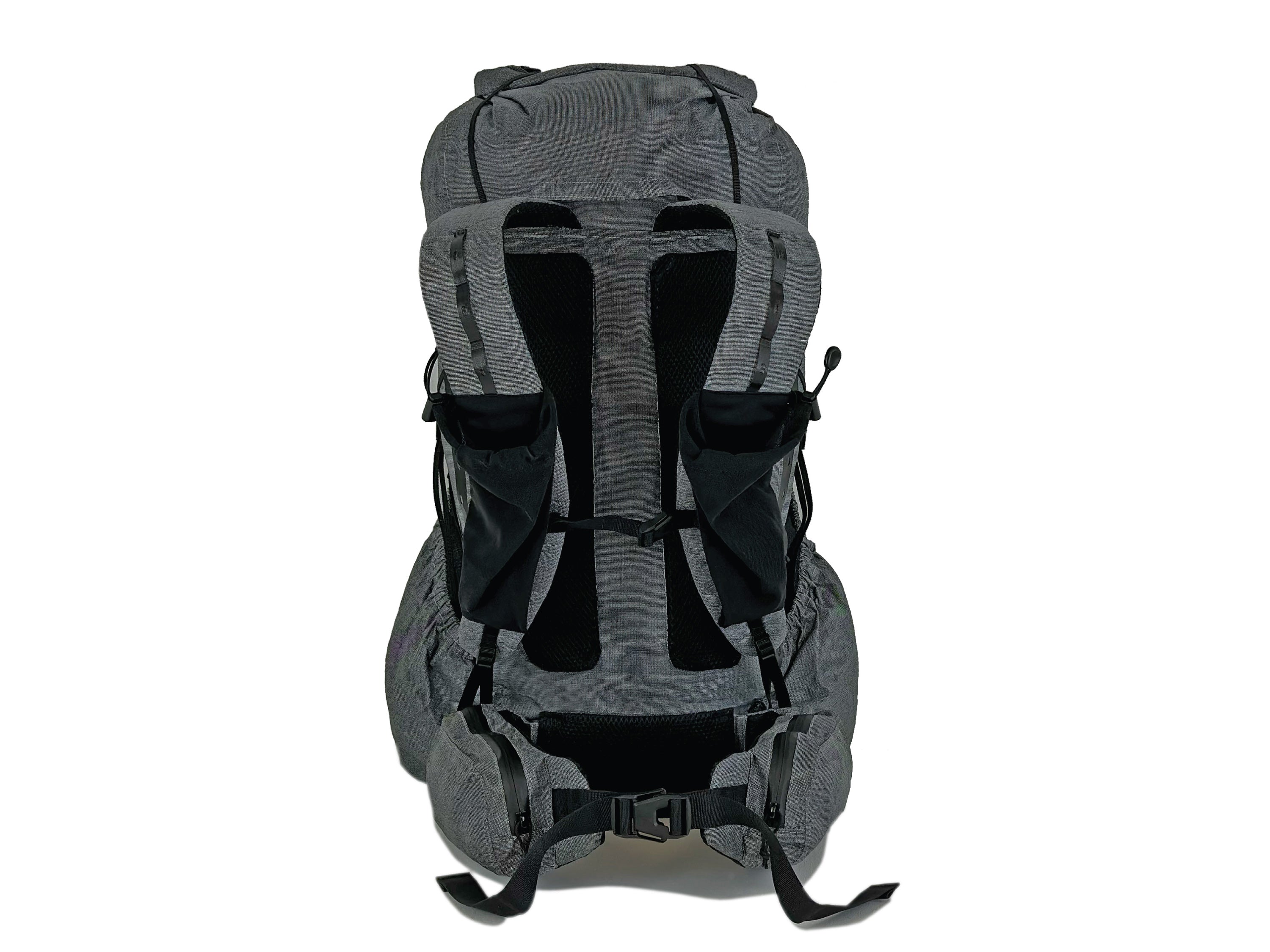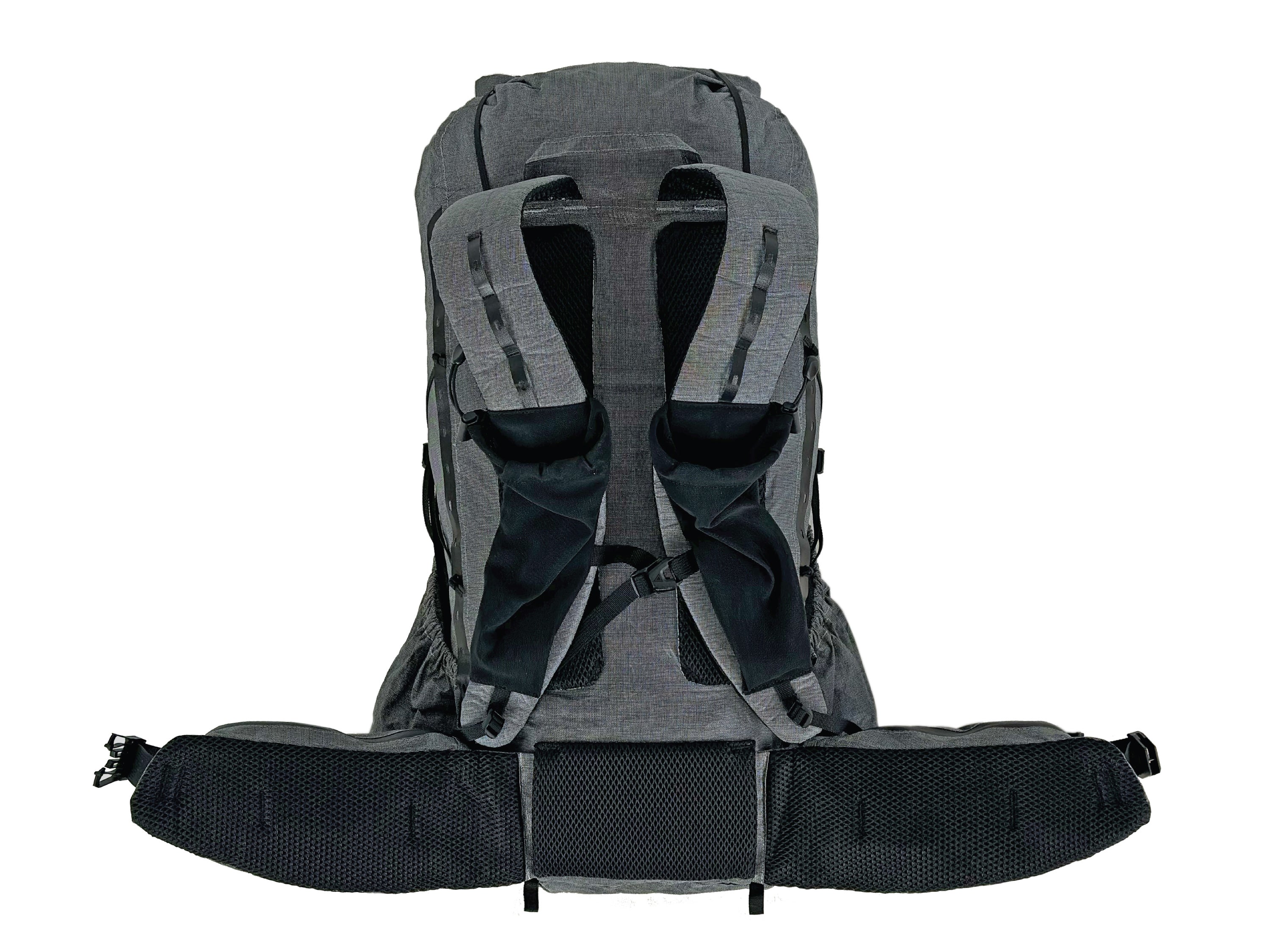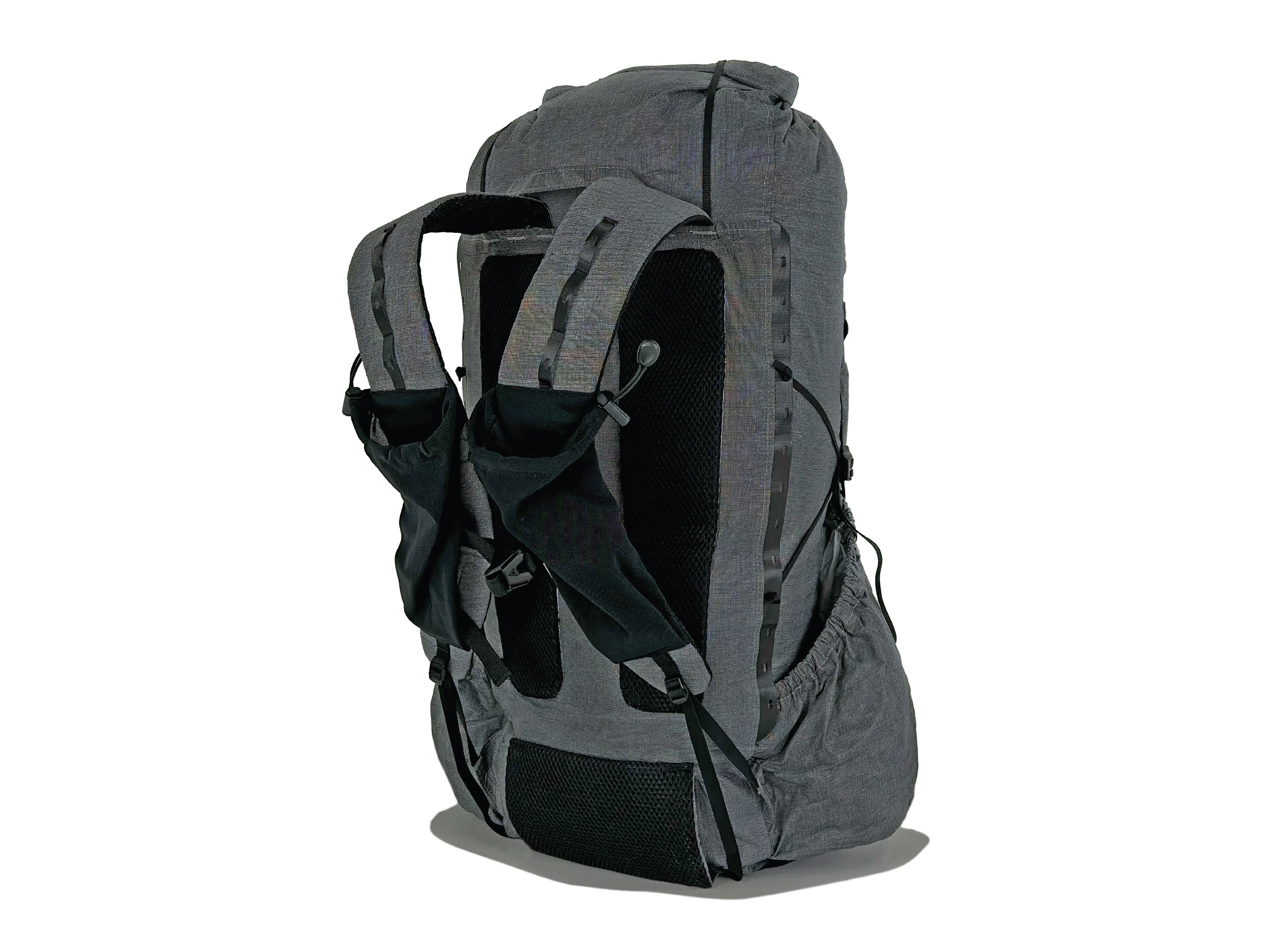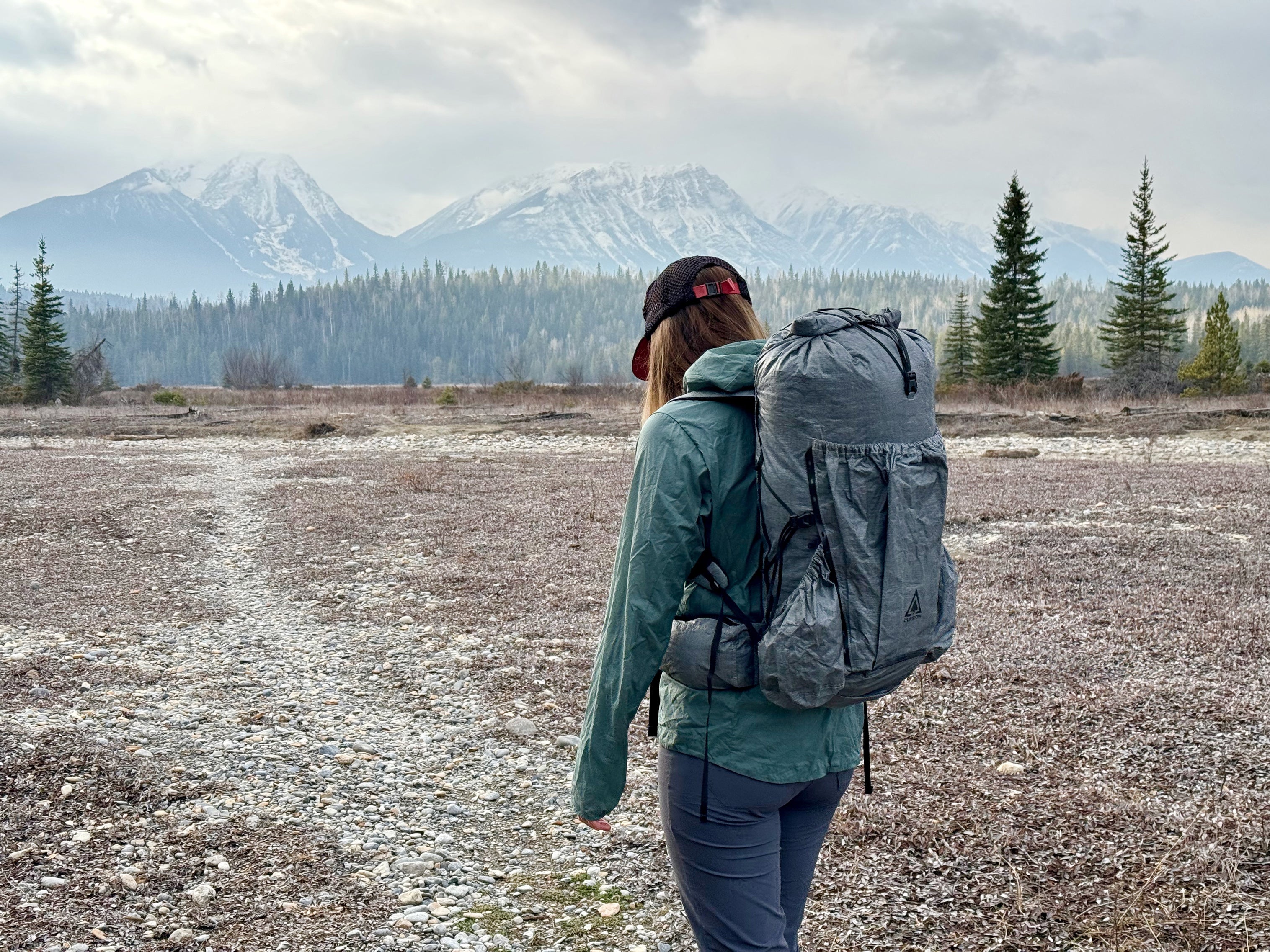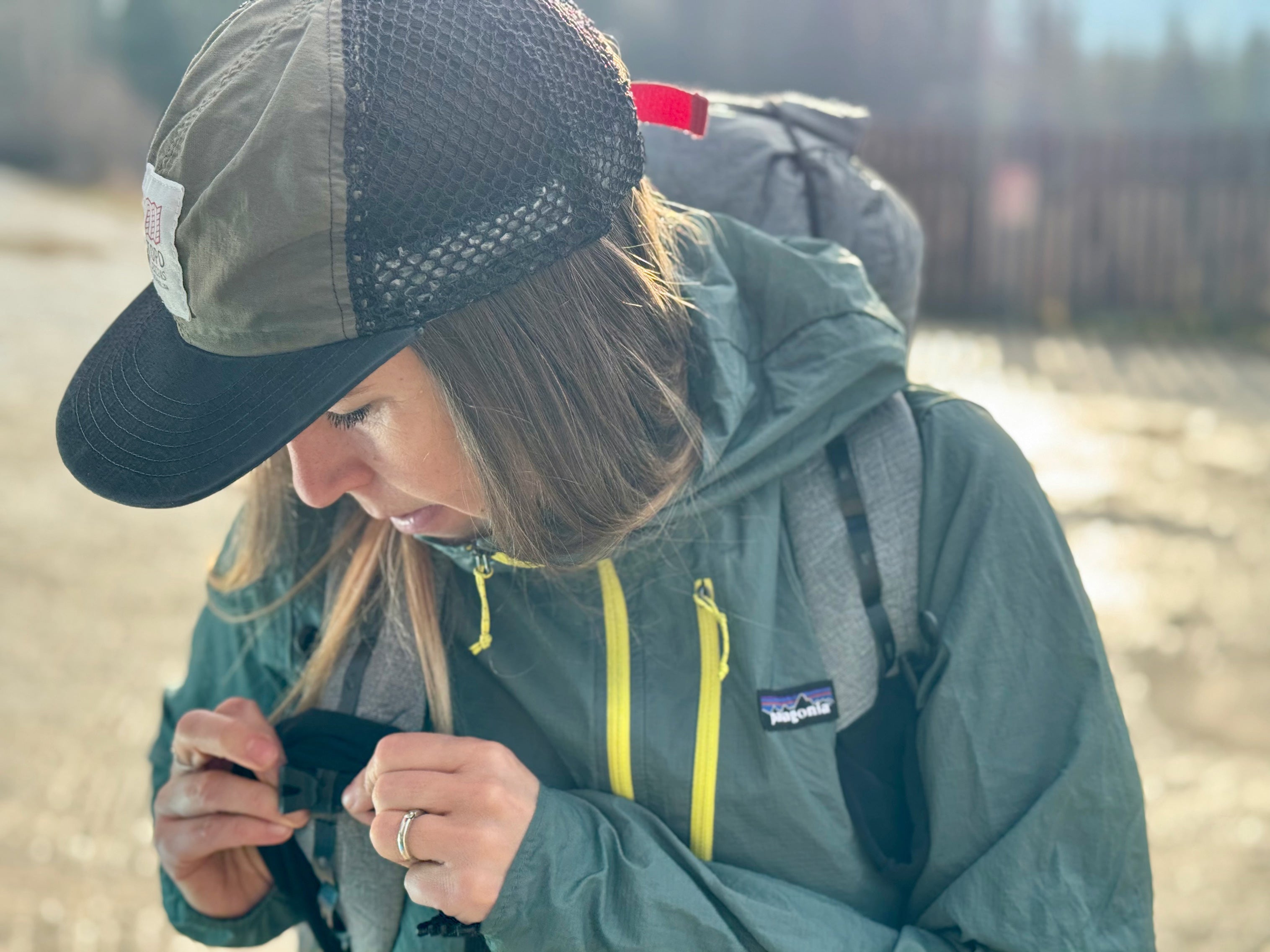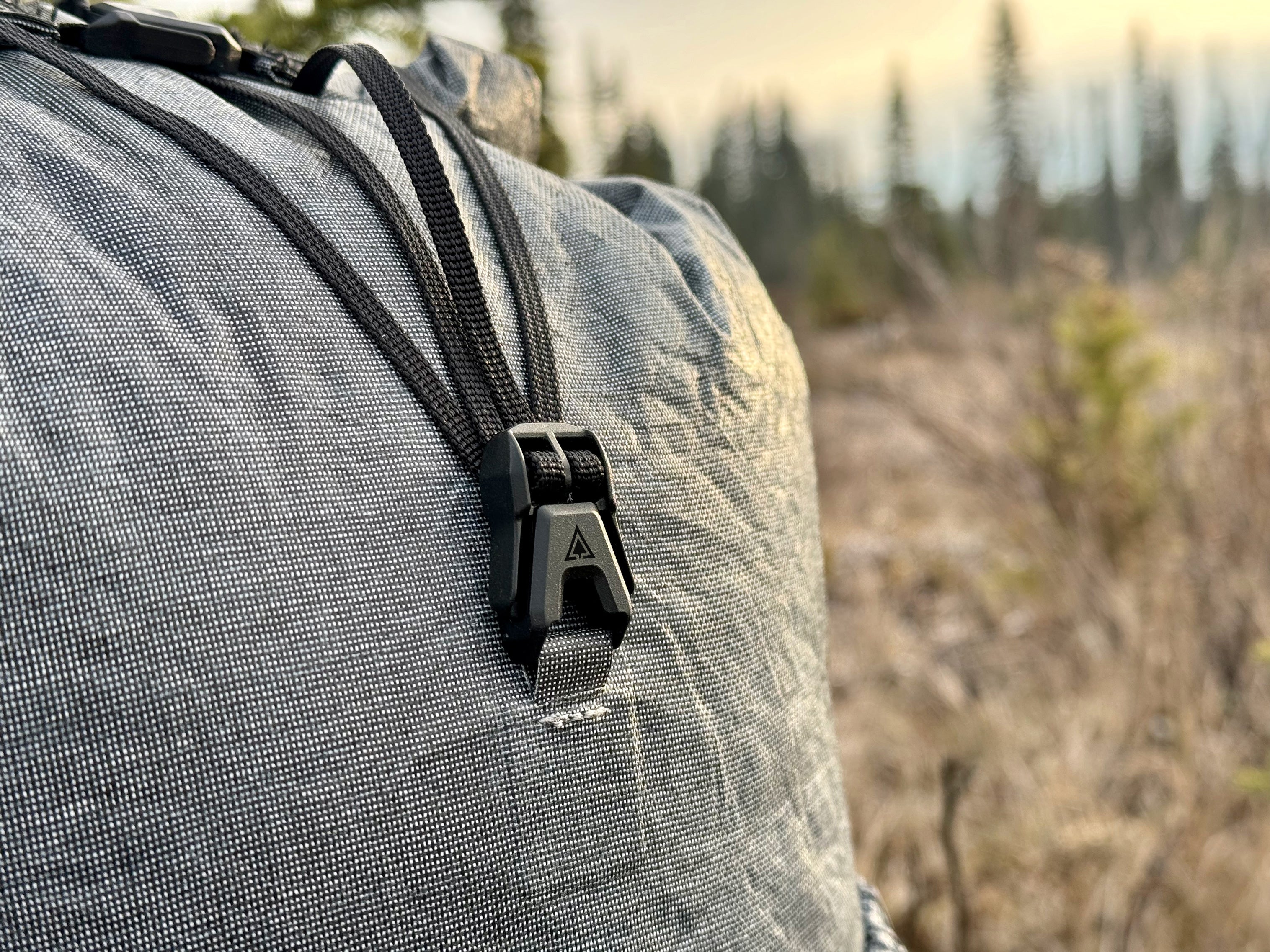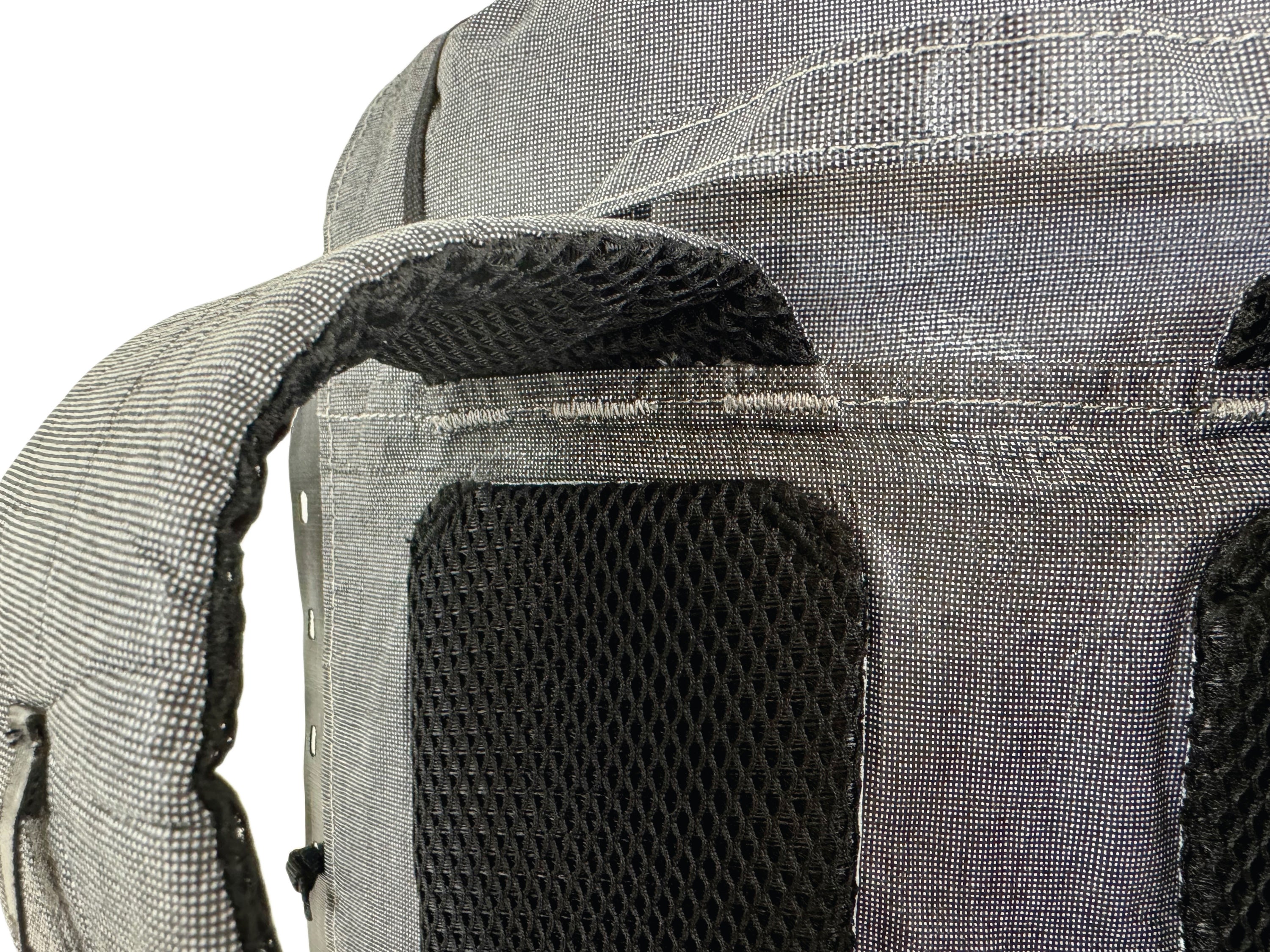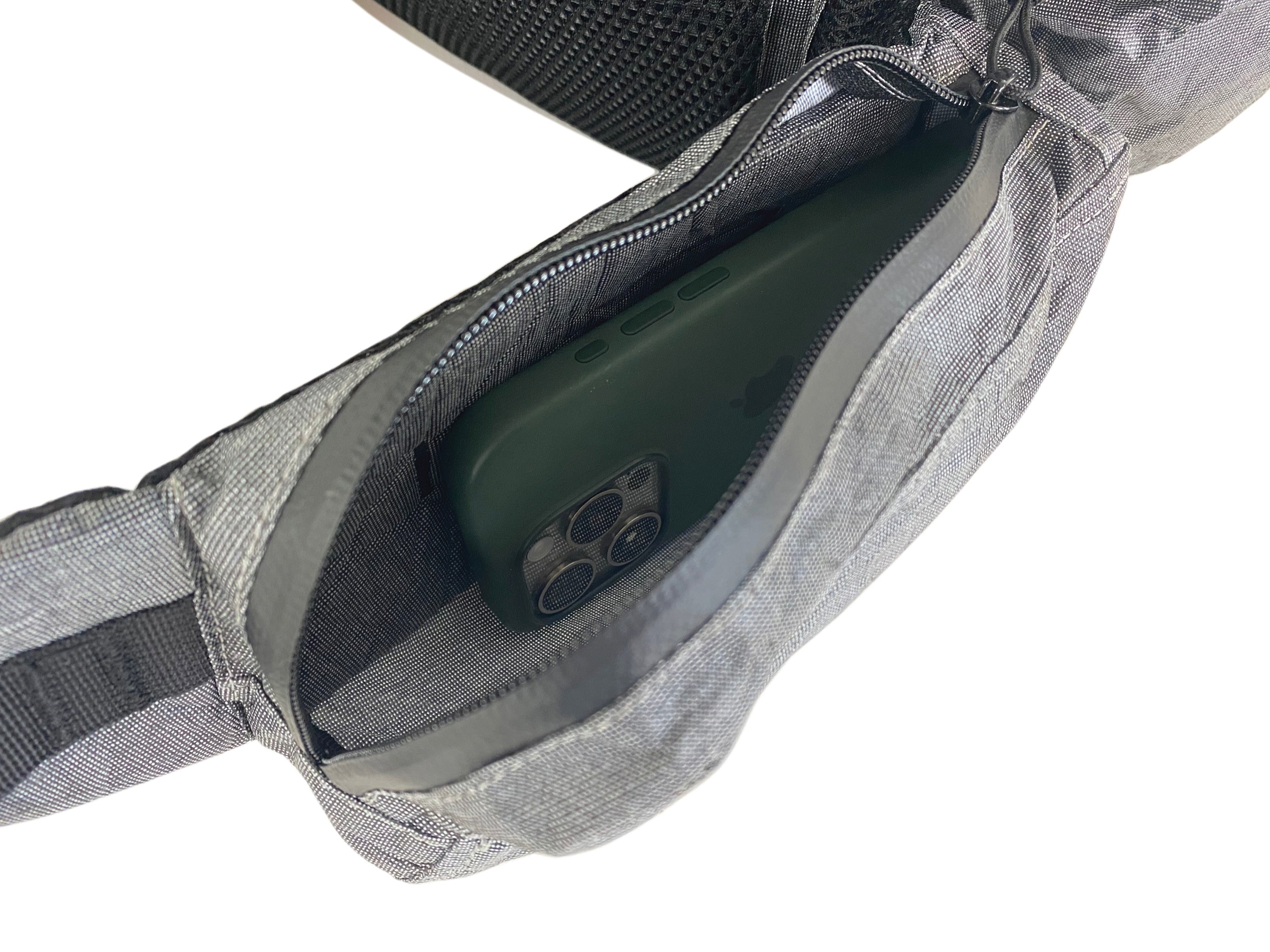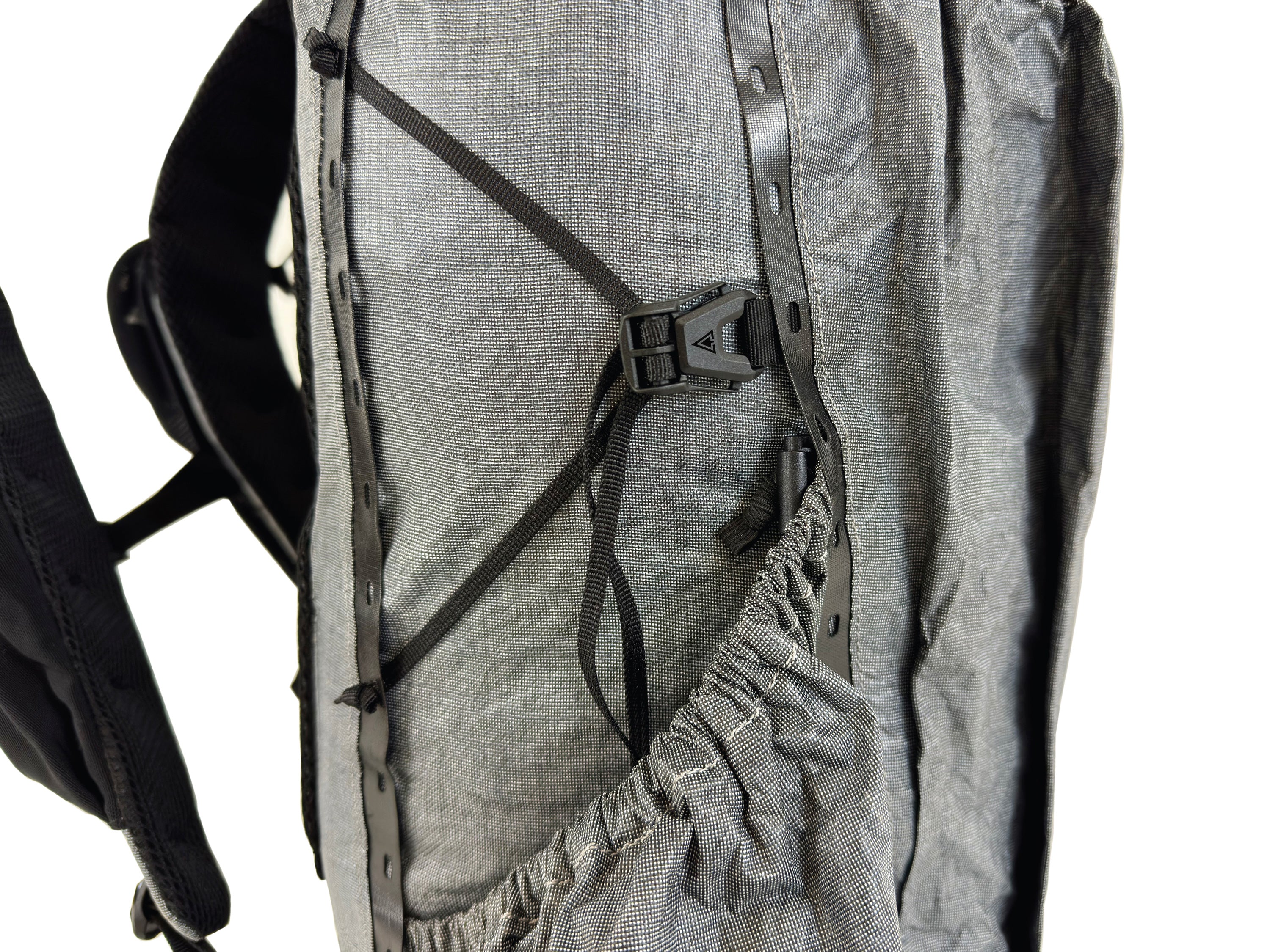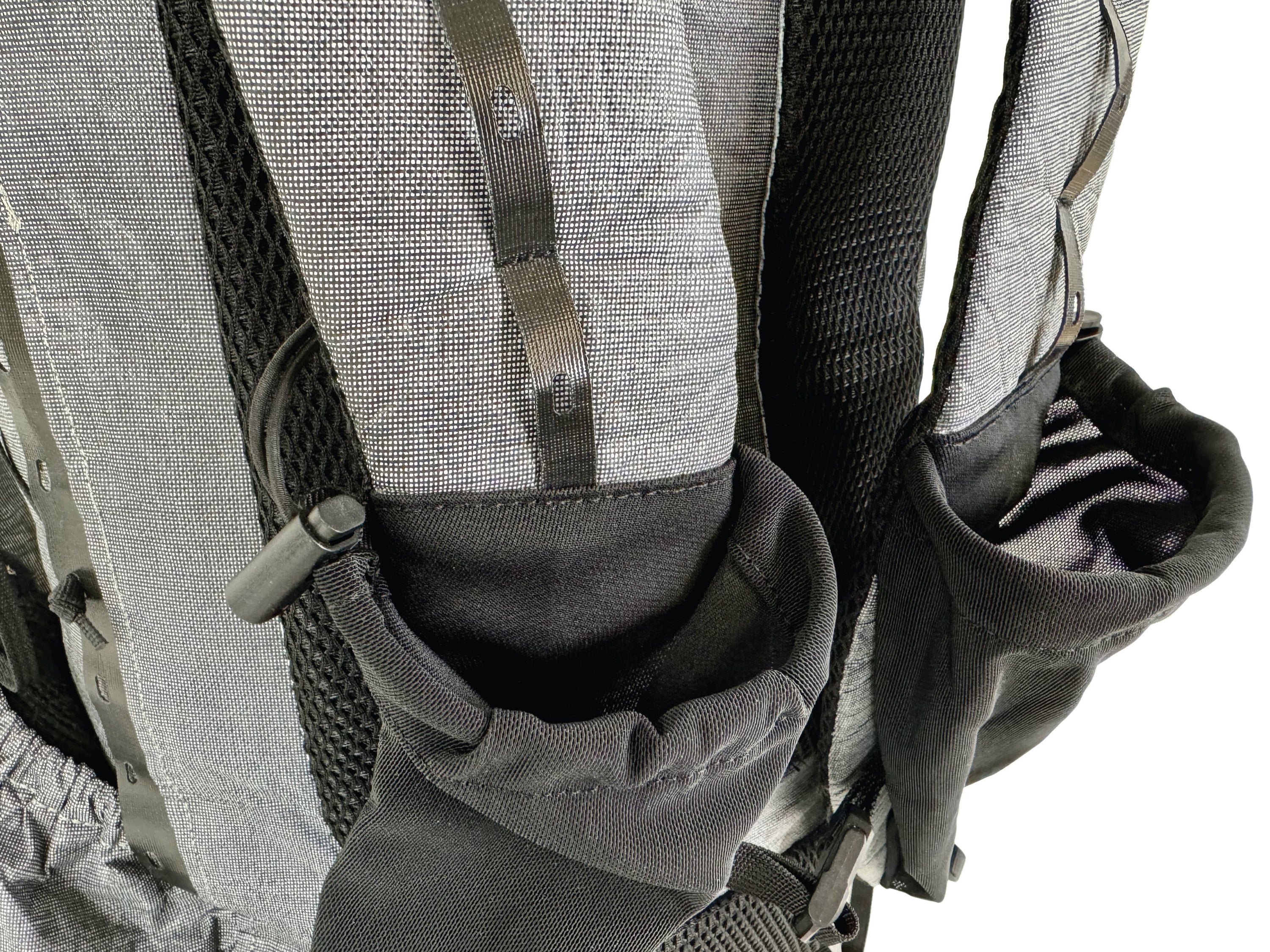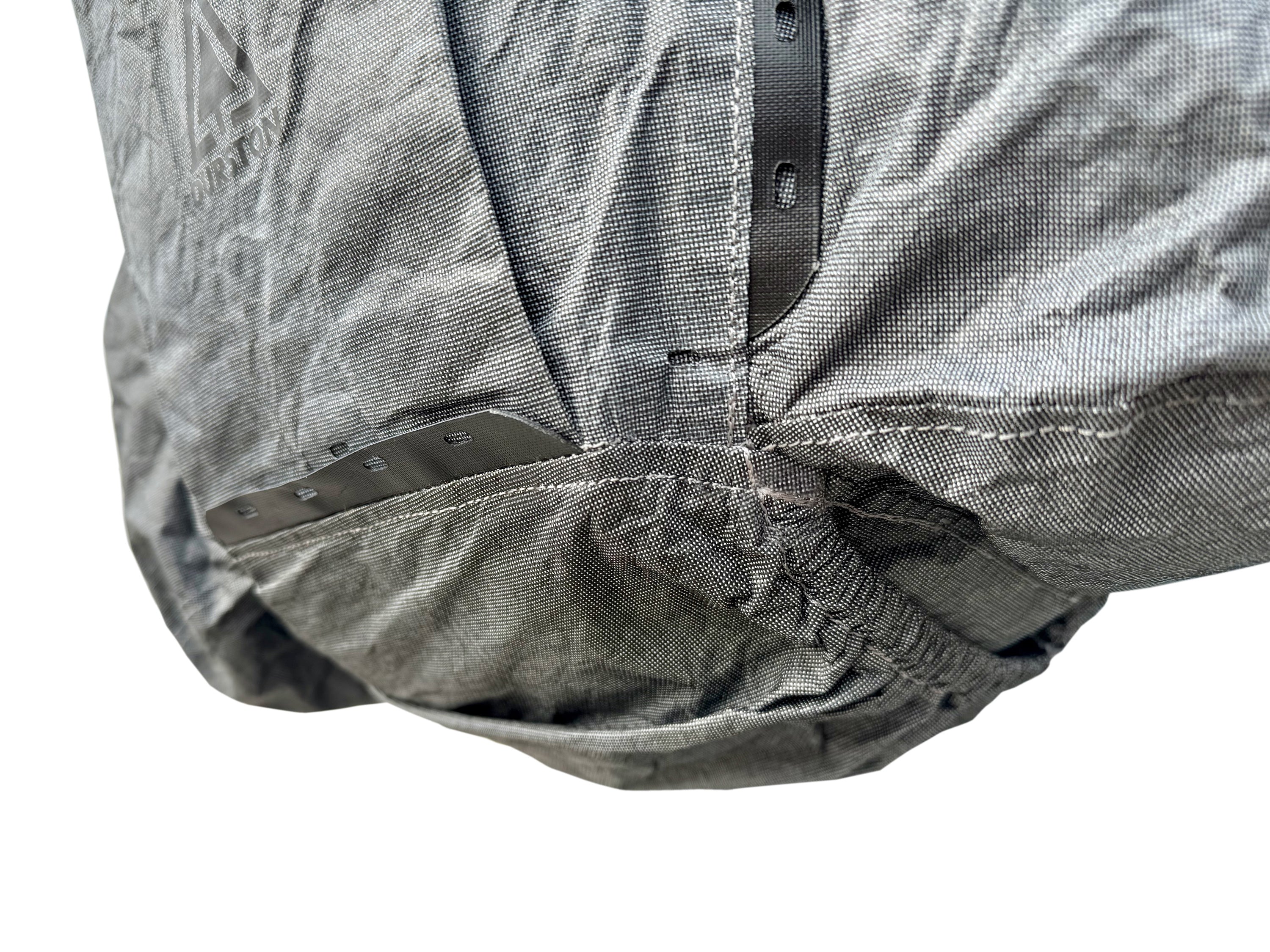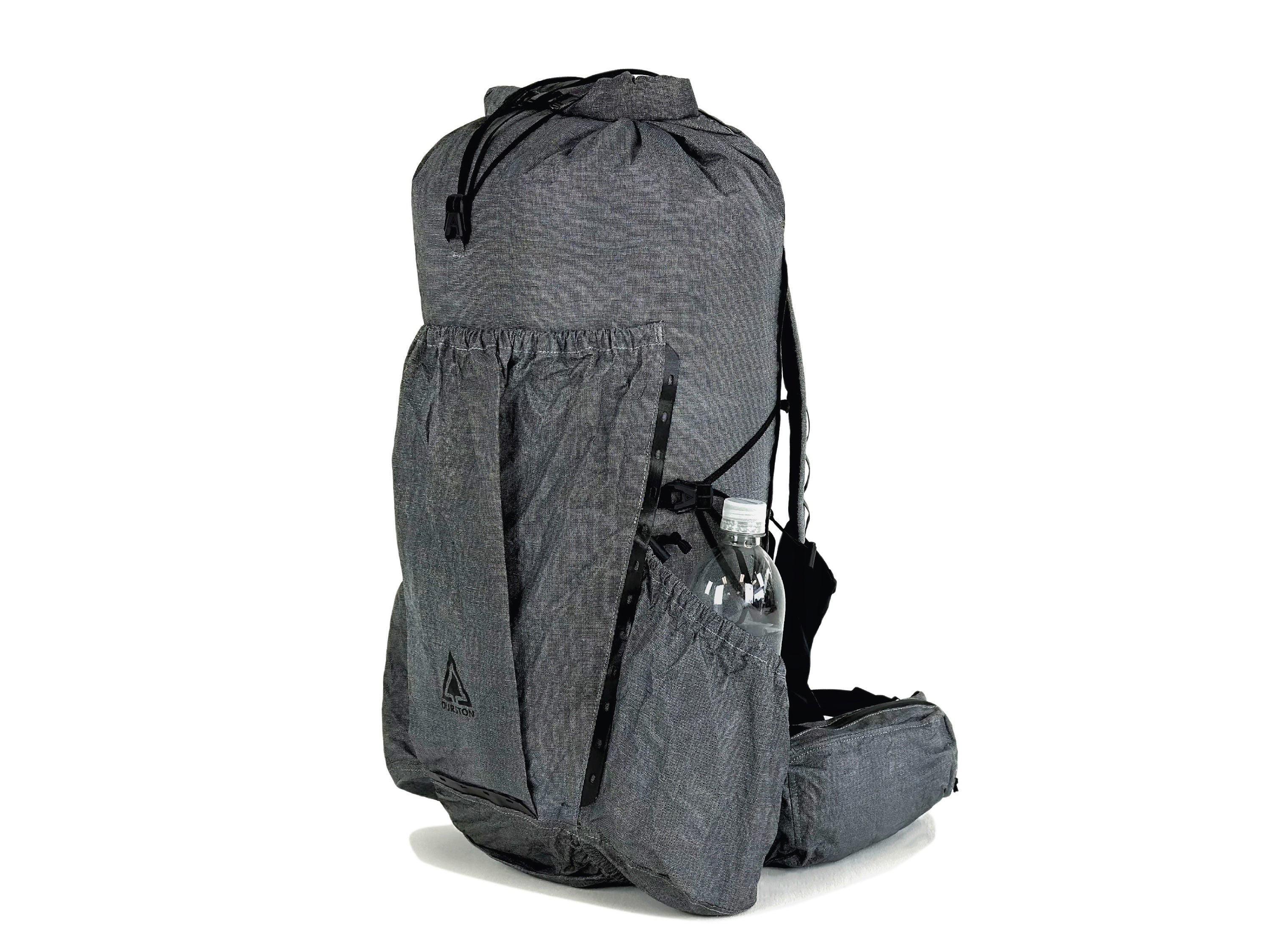 Wapta 30
---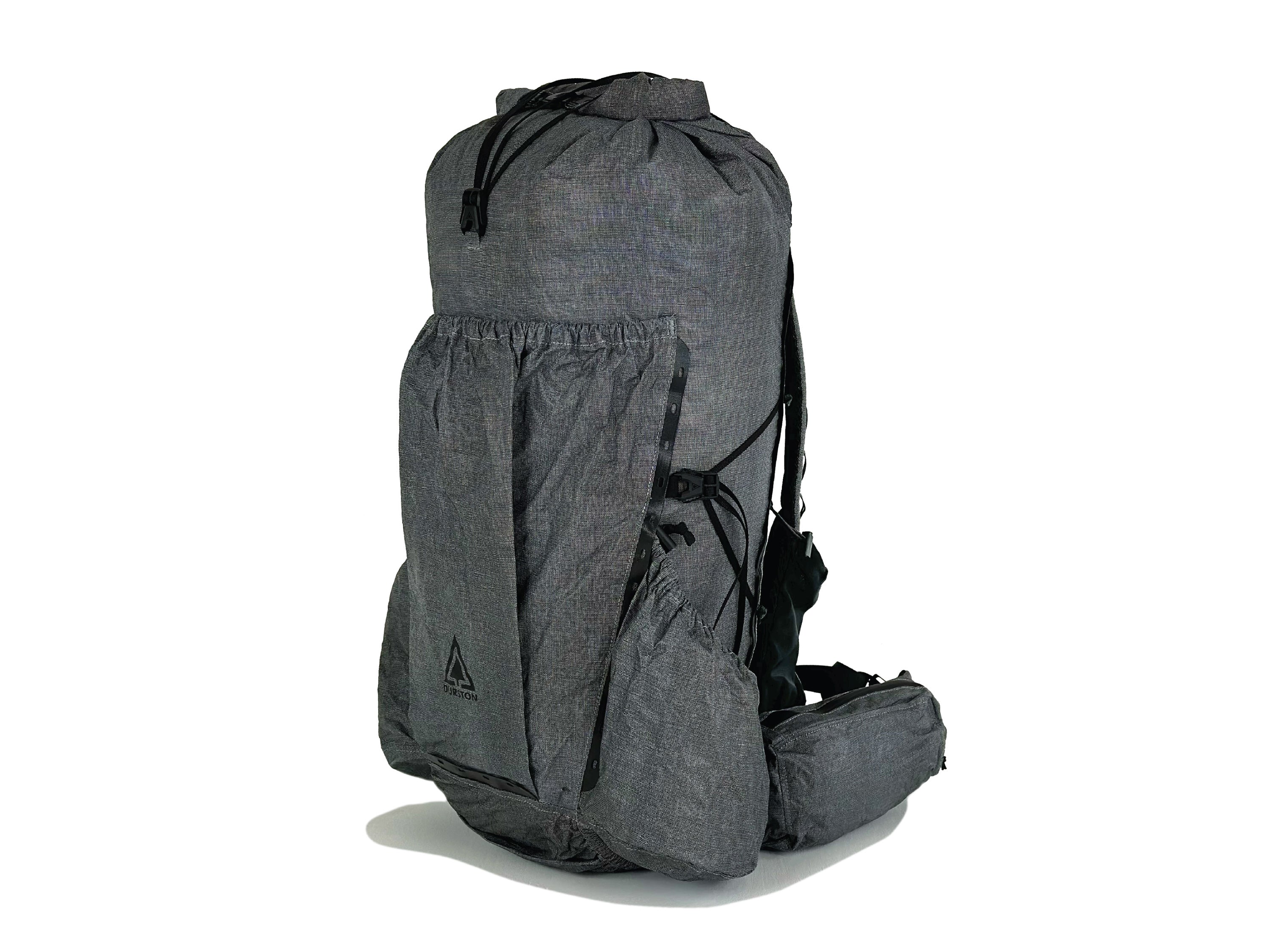 Wapta 30
Sale price

$280.00 USD
Regular price
(/)
The Wapta 30 is the premiere frameless backpack for the ultralight hiker. Built with cutting edge ALUULA Graflyte™ material, the Wapta combines innovative features with advanced construction and ergonomic shaping. The result is a pack that weighs as little as 12.8 oz (365 g) while being highly functional, durable, and comfortable. The Wapta 30 is the ideal overnight pack for the ultralight hiker and an excellent day hiking pack for everyone.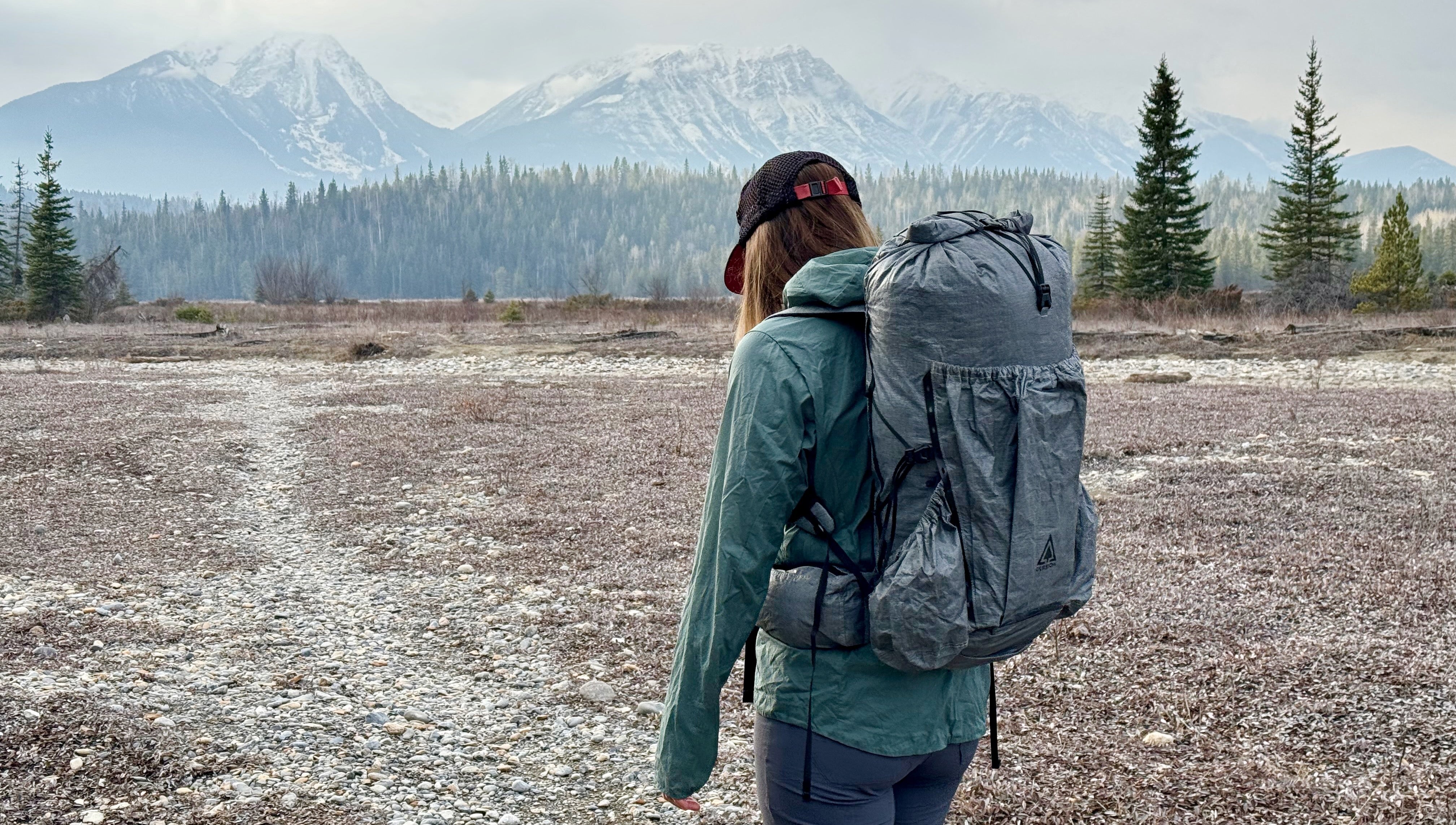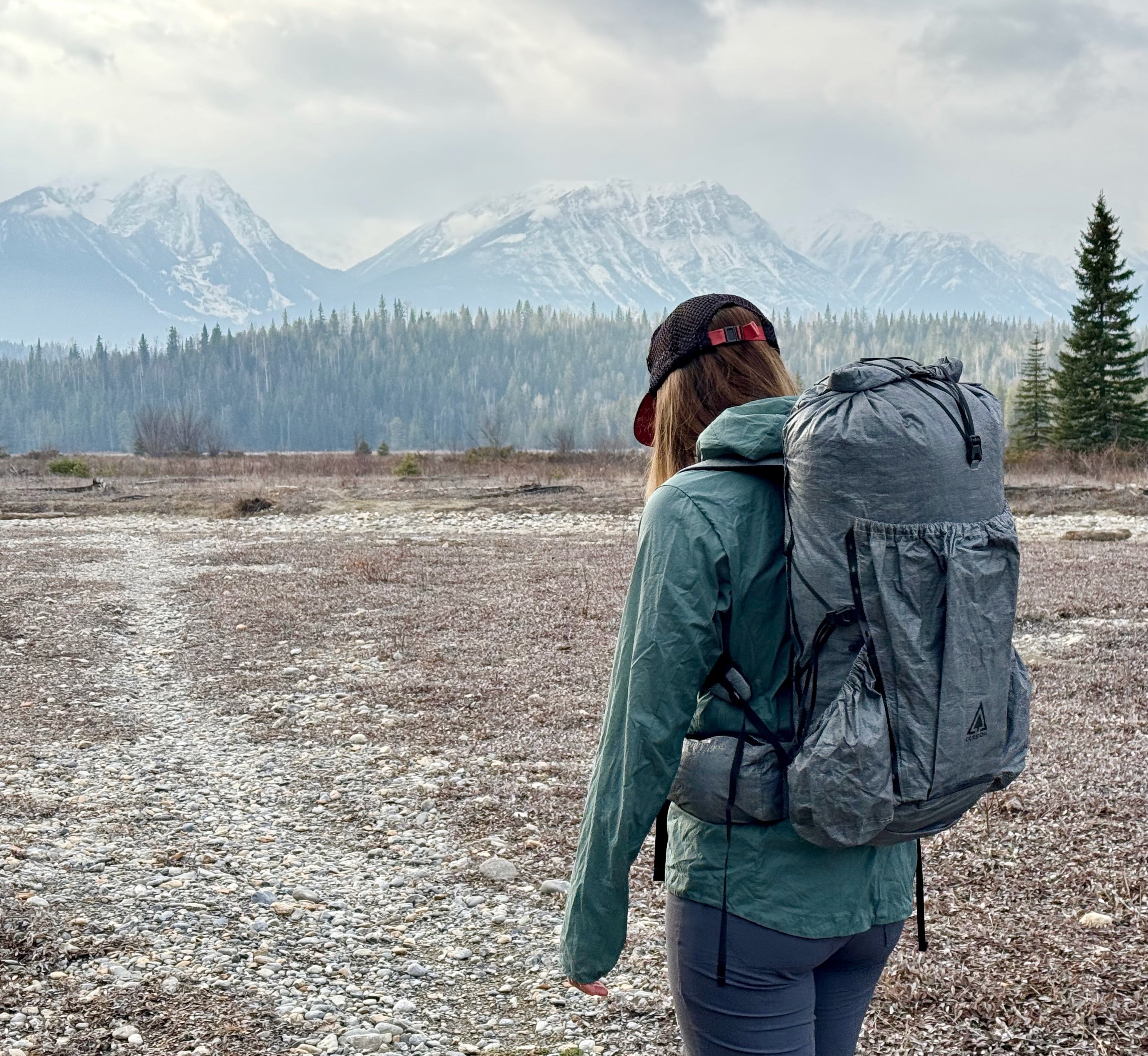 MATERIALS & CONSTRUCTION
With the Wapta 30 we are proud to introduce the first ultralight pack built with ALUULA fabrics. ALUULA has a proprietary process that solves the longstanding problem of how to fuse a durable waterproof film to extremely tough UHMWPE fibers (better known as Dyneema® or Ultra). The result is ALUULA Graflyte™ which is the first composite pack fabric with a 100% UHMWPE woven face to achieve lower weights while retaining excellent durability. The version used here weighs just 98 g/m² (2.9 oz/yd) while offering higher tear strength and abrasion than all comparable fabrics - making an ALUULA pack both lighter and stronger.

ALUULA's Graflyte™ also has many other advantages including more durable long term waterproofness because their proprietary fusion process avoids glue (which adds weight and can fatigue). ALUULA Graflyte™ is also stain proof, UV resistant, fully recyclable, low water absorption, edge stable, and heat bondable.
With the Wapta 30 we are taking advantage of these characteristics to build a lighter, simpler, and more functional pack. For example, we heat weld airmesh strips to the backpanel for ventilation and we take advantage of the edge stable nature of this fabric to laser cut drain holes in the pockets and laser cut tougher ALUULA Durlyte™ into daisy chains that are lighter than traditional webbing.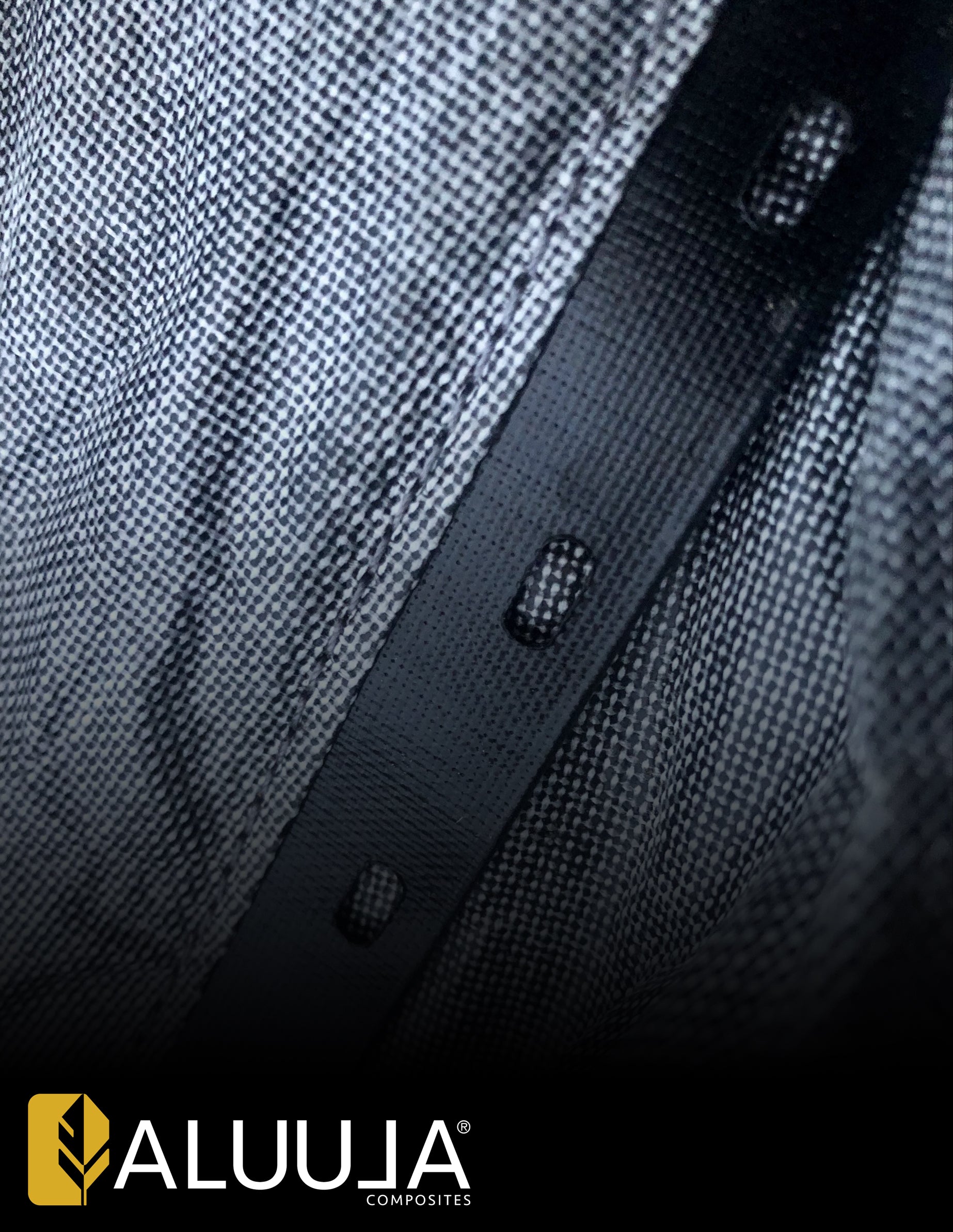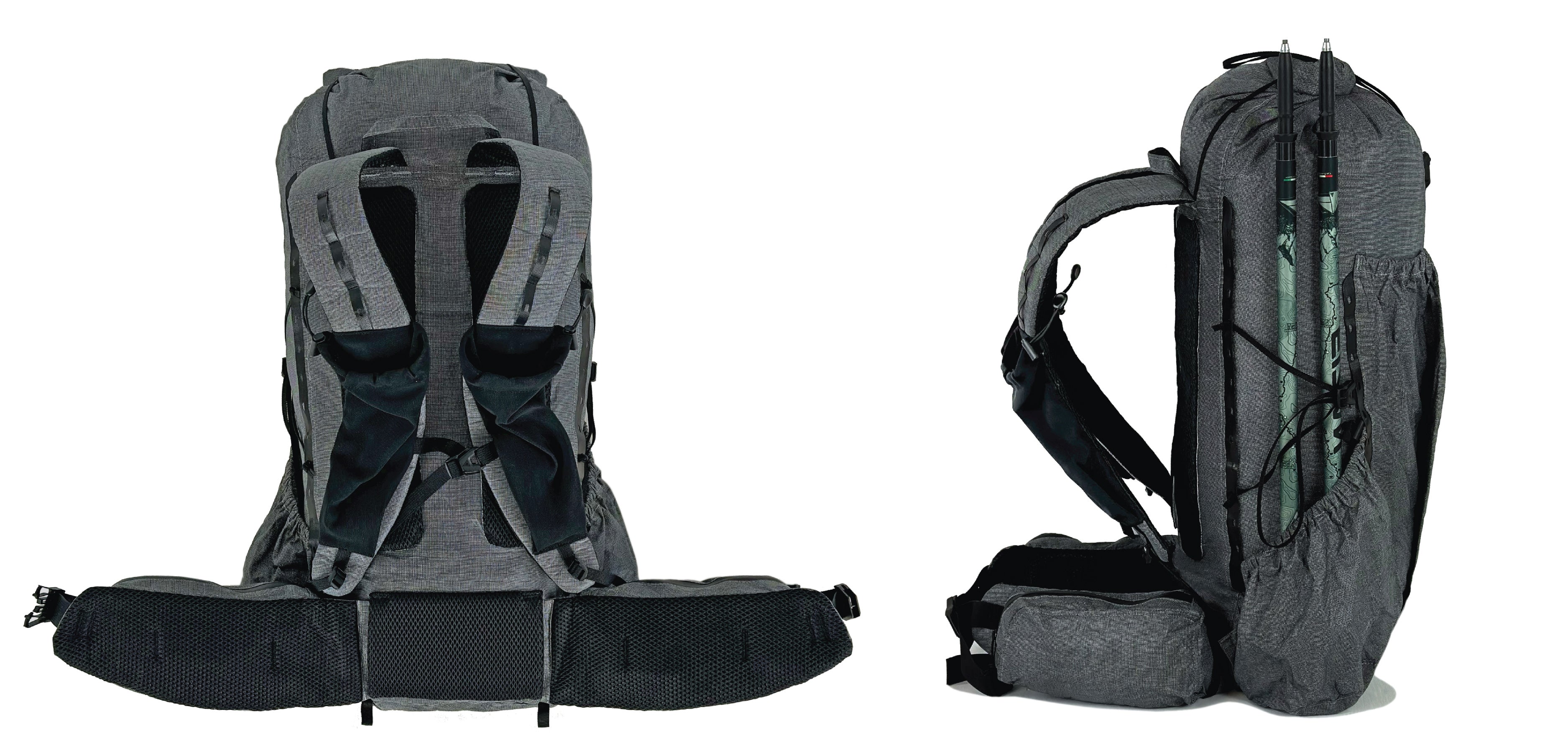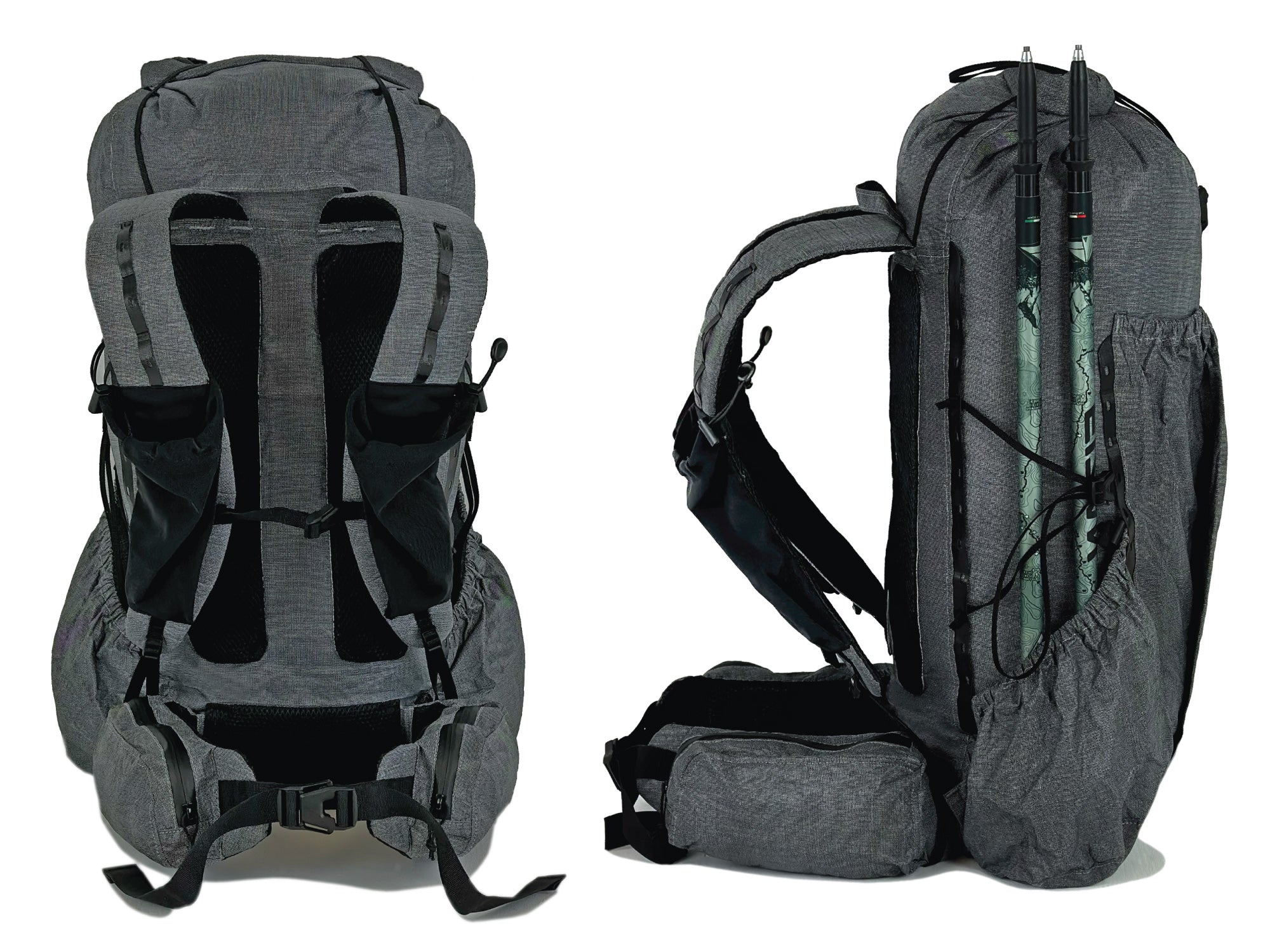 ALUULA Graflyte Fabric
Graflyte™ V-98 fabric from ALUULA is an advanced pack fabric with a 100% UHMWPE weave face fabric and tough interior film that is molecularly fused on. It has higher tear strength and abrasion resistance than even other UHMWPE based fabrics while being waterproof, recyclable, UV resistant, edge stable, and heat bondable.
Ergonomic Hipbelt
The Wapta's hipbelt uses an advanced design including a differential cut (so the hipbelt naturally wants to curve) and 3D shaping (to cup your hips) which improve comfort. The belt is removable for those who want to go even lighter.
Airmesh Ventilation
Airmesh strips are heat bonded to the backpanel to provide a more comfortable surface and add ventilation without compromising the waterproofness of the pack.
Durable Pockets
The front pocket, side pockets, bottom pockets, and hipbelt pockets are all made from ALUULA Graflyte which is far more durable than typical stretch mesh pockets. We also use "protected elastics" where the elastics are sewn inside the main fabric to guard them from damage.
Laser Cut Details
The "daisy chains" on the sides of the pack and shoulder straps are laser cut from ALUULA Durlyte™ to provide a highly versatile attachment system at a lower weight than webbing. This system accomodates a wide range of compression and attachment needs including ice axe and trekking pole attachment. We also use laser cutting to create simpler and lighter drain holes on the pockets.
FEATURES
The Wapta's feature set is carefully designed to provide excellent on-the-go access to your gear while improving durability, versatility, and simplicity.

Most uniquely, the Wapta has a bottom pocket that provides quick access to larger items like mitts and hats while solving the common problem with previous bottom pockets: the use of low durability stretch mesh in this high wear area on the pack. Instead of stretch mesh, the Wapta uses pleats (folds) to create the first bottom pocket without the vulnerability of stretch mesh. A similar philosophy applies to the front pocket, which is a generous size and also built from ALUULA to be more durable yet lighter.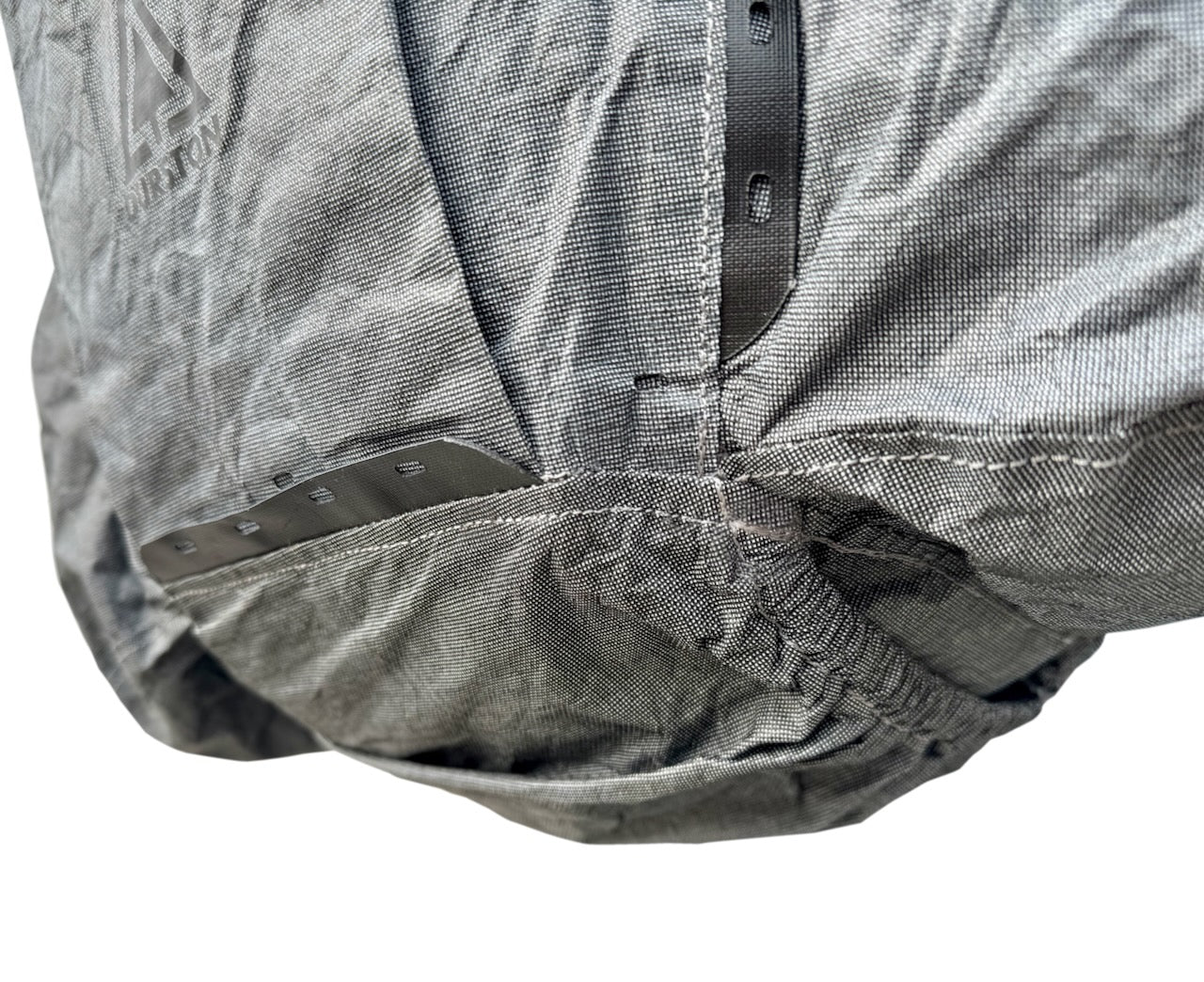 Even though the Wapta is a superlight pack, it still has important features like hipbelt pockets and side water bottle pockets. The hipbelt pockets are large and designed for easy one handed operation, while the side pockets have adjustable tension and are shaped for easier access. There are also dual shoulder strap pockets that work great for phones, bear spray, and small water bottles.

The side compression and top strap contribute to making this pack simpler, lighter, and more functional. The side compression uses dual straps which open, close, and cinch at a single buckle. The laser cut ALUULA Durlyte™ daisy chains make this area highly customizable to enable a diverse range of storage and compression possibilities including ice axe and trekking pole attachments. The top strap is a V shape that better secures items on top, while using the same dual adjust buckle so it is quicker to use than traditional V top straps.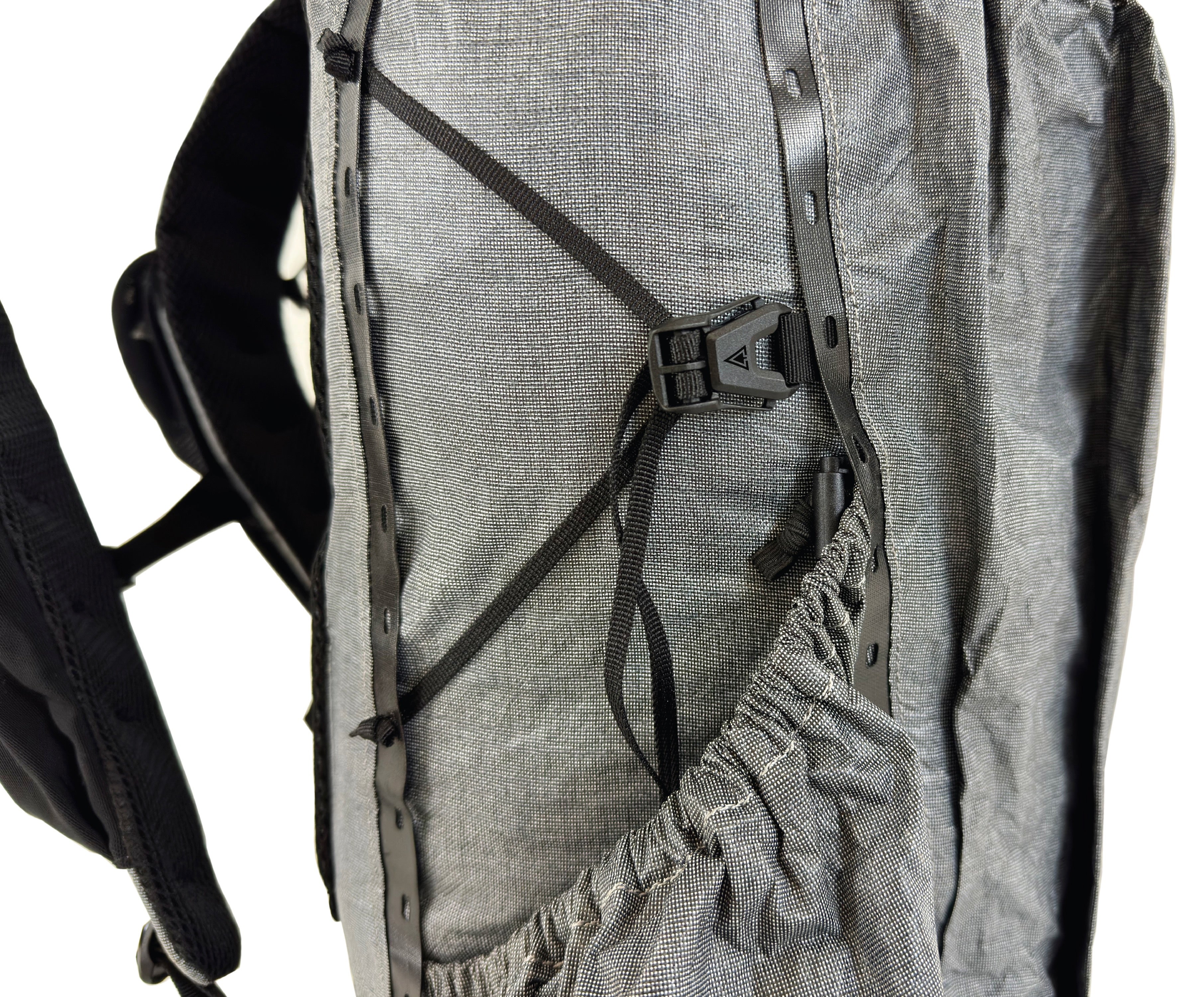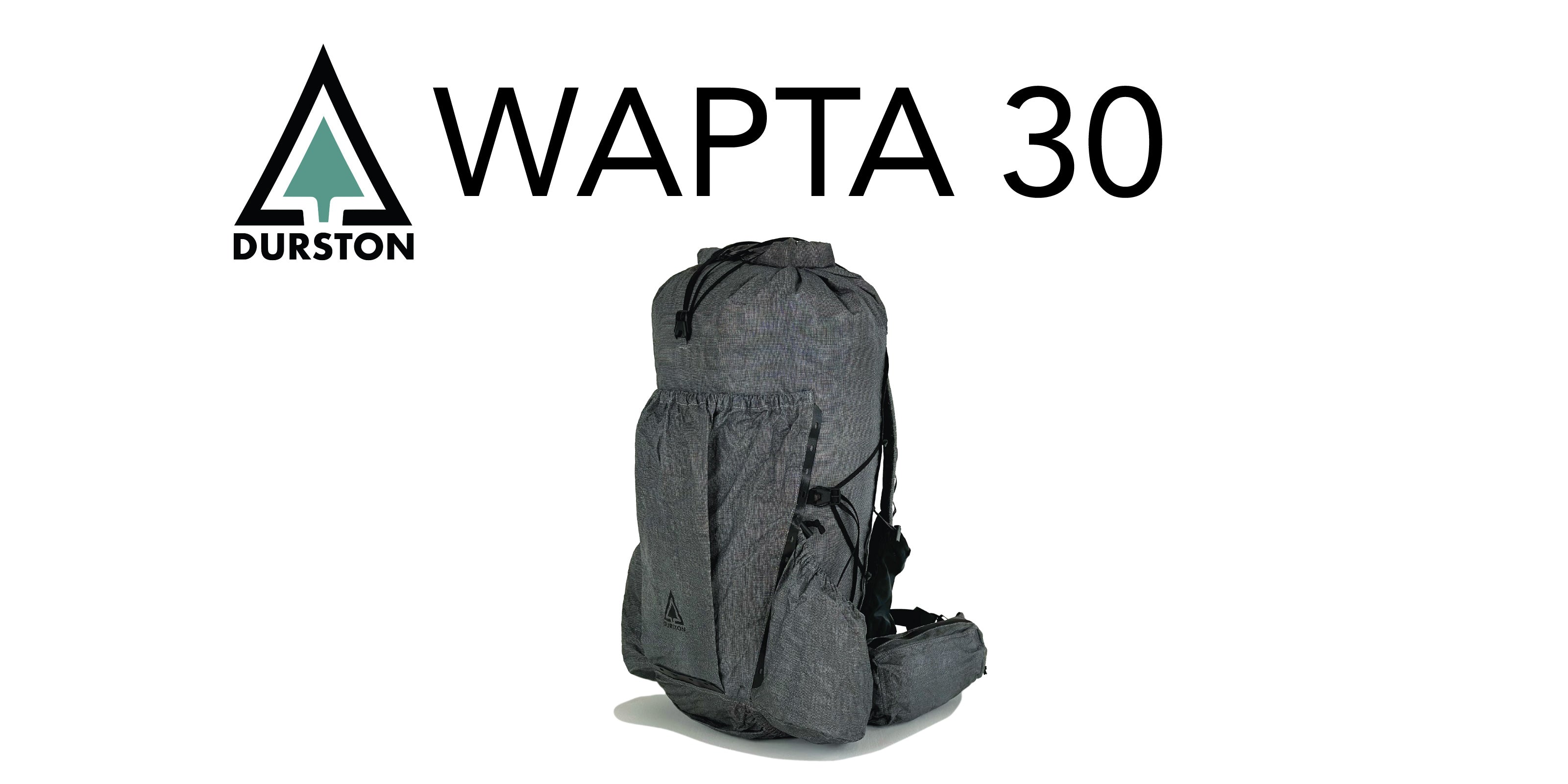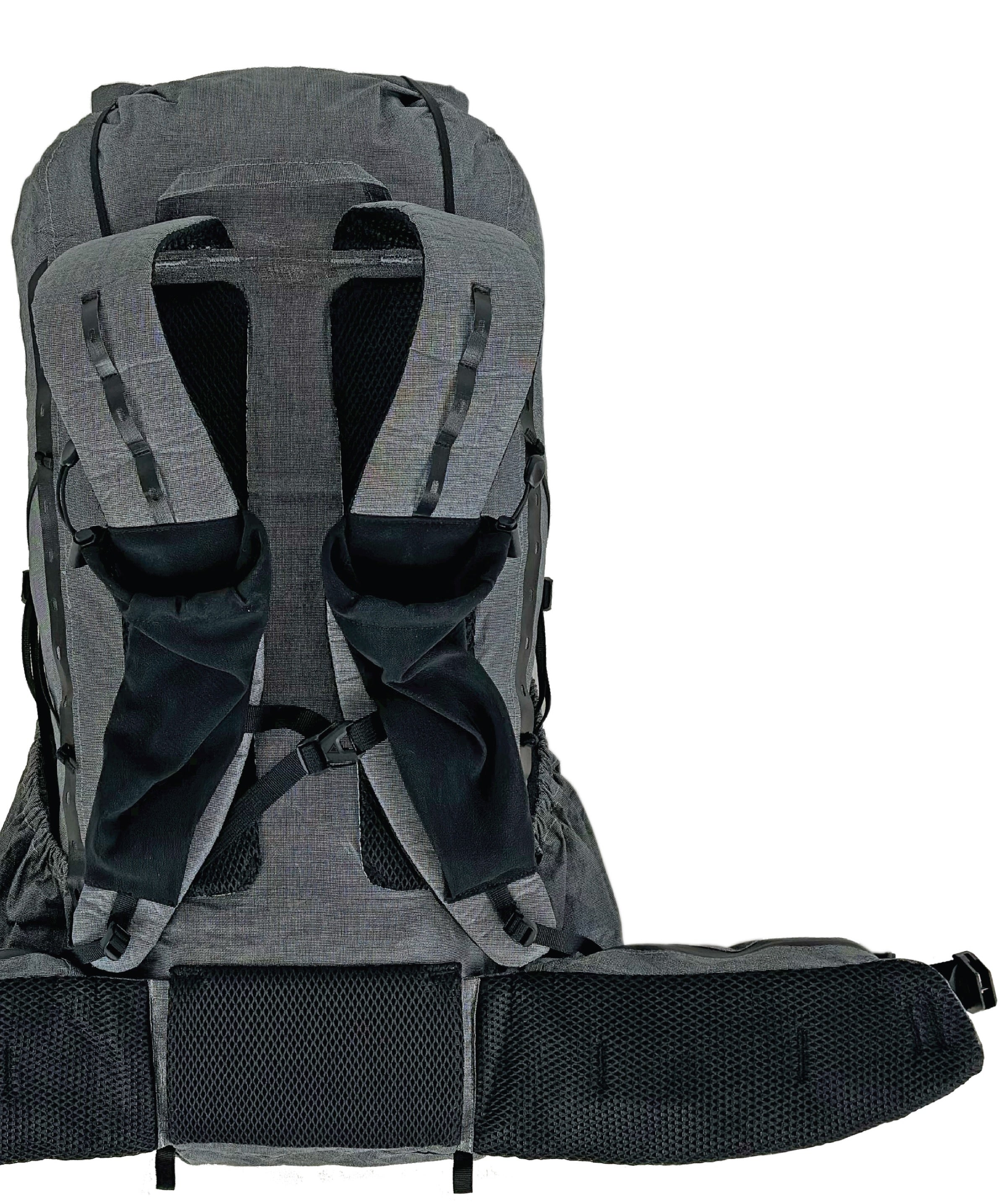 COMFORT
Despite being a frameless pack aimed at lighter loads, the Wapta places a major emphasis on comfort including our most advanced shaping yet.
That includes shoulder straps with an S-shape similar to our larger Kakwa packs. This shape has been very well received and fits almost everyone better than straighter straps. The shoulder straps also have a differential cut to naturally curve over your shoulders, and feature laser cut daisy chains that provide a wide range of up/down adjustment for the sternum strap.

Most packs in this niche lack a hipbelt or use a minimalist webbing belt, while the Wapta provides a robust padded hipbelt that is three dimensionally shaped to hug your hips and yet is removable for trips when you want to go even lighter.

Most notably, back ventilation is unprecedented in the 1-lbs pack niche and yet the Wapta has dual air mesh strips heat bonded onto the backpanel to provide padding, a nicer feel, and ventilation.
Overall, the Wapta 30 advances what is possible in an ultralight backpack. No other pack near the 1 lbs mark (450g) has this much functionality, durability, ease of use, and comfort. The Wapta is the ideal pack for ultralight adventures from a dayhike up Yosemite's Half Dome, all the way to an FKT of the Colorado Trail or a thruhike of the Continental Divide Trail.
This product has no reviews yet.
Specifications
-
12.8 / 365 g (M), 13.3 oz / 380 g (L)
-
Sternum strap (0.5oz / 15 g) and hipbelt (3.7oz / 105 g (M) or 4.0oz / 115 g (L)) are included but removable.
SIZING
Recommended Torso Length:
Medium: 16" - 19" (41 - 48 cm)
-
Large: 18.5" - 21.5 " (47 - 55 cm)
-
Pack Height (Hipbelt Center to Shoulder Straps)
17.5" / 44 cm (M), 20" / 51 cm (L)
-
Hipbelt Min & Max Circumference:
Medium: 29.5" - 48" (75 - 123 cm)
-
Large: 33.5" - 52" (85 - 133 cm)
-
Hipbelt Recommend Waist Size:
Medium: 30" - 38" (76 - 96 cm)
-
Large: 34" - 42" (86 - 106 cm)
-
30" (76 cm) / 32" (81 cm)
Features
ALUULA Graflyte™
The only composite fabric with 100% UHMWPE fibers (known by the brand name Dyneema®) for the face fabric. This pack fabric gives greater durability for the weight than all others, while also having a tougher interior waterproof film and enabling advanced construction with heat bonding and laser cutting.
Waterproof
The Wapta is fully waterproof including a fabric with a durably waterproof interior film, taped or heat welded seams, and a drybag style roll top.
Durable Bottom Pocket
The Wapta has the first bottom pocket that avoids low durability stretch mesh and instead uses much more durable ALUULA Graflyte™.
Advanced Shaping
The shoulder straps use an ergonomic S shape and differential cut, while the hipbelt is comfortably padded and 3D shaped.
Airmesh Ventilation
Dual air mesh strips are heat bonded to the backpanel for padding, grip, and ventilation.
Removable Hipbelt
The hipbelt is removable to save over 100g (3.5 - 4 oz) on fast and light trips.
Advanced Side Compression
Laser cut daisy chain system with a versatile dual strap closure is highly customizable to fit anything including ice axes and trekking poles.
Hipbelt Pockets
Large dual hipbelt pockets will fit the largest phones and come standard with a refined design that easily operates one handed.
Shoulder Strap Pockets
Dual shoulder straps pockets are standard and provide handy storage for phones, bear spray, sunglasses, and small water bottles.
Simple V Top Strap
V shaped top strap provides greater security for storing items on top like a tent or sleeping pad, and adjusts more easily than other V top straps with a single motion.
Highest Quality
Premium build quality with high end ALUULA fabric, double stitching, heat welding, seam taping, and generous bartacking.
Compare
COMPARE
The Wapta 30 stands out by offering a fully featured and durable frameless pack for the lowest weight, greatest comfort, and highest build quality.

While you can find lighter packs, any such pack will be lacking worthwhile features (e.g. shoulder strap pockets, hipbelt pockets, padded hipbelt) and using less durable materials. Any pack with a comparable feature set will be heavier, more expensive, and still lacking the high end construction and materials of the Wapta along with comfort features like air mesh on the backpanel.
To demonstrate this, the table below compares the Wapta 30 to what is typically found in competing packs:
Backpanel
Dual air mesh strips provide venting and padding.
Fabric only. Lacks venting & padding.
Shoulder straps
Ergonomic S shape with differential cut
Relatively straight shape, no differential cut.
Hipbelt
Hipbelt is padded, removable, and ergonomically shaped.
Hipbelt is omitted, only a webbing strap, and/or lacking 3D shaping.
Sternum Strap
Widely adjustable in length and position
Sometimes limited height adjustment
Hipbelt Pockets
Optional (adds weight and $)
Shoulder Strap Pockets
Optional (adds weight and $)
Side Compression
Versatile laser cut daisy system
Main fabric
ALUULA Graflyte™ V-98 (100% UHMWPE)
Pocket Fabric
ALUULA Graflyte™ V-98 (100% UHMWPE)
Stretch mesh (much less durable)
Price
$265 - $400 ($300 - $450 with similar spec)
Minimum Weight
14.5 - 19 oz (410 - 540g) with comparable spec.
Complete Weight
18 - 24oz (510 - 680g) with comparable spec.
FAQ
FAQ
Browse the FAQ to learn more or get in touch if you have further questions.
Contact Support
Q) How does ALUULA Graflyte™ compare to other pack fabrics?

ALUULA Graflyte™ provides more durability for the weight than any other pack fabric because it is the only composite fabric with an outer 'face' fabric made from 100% UHMWPE (the good stuff).

Pack fabrics use a wide variety of brand names (e.g. Cordura, Robic) but the vast majority are just using some form of nylon which is good but heavier and less durable than UHMWPE. When other pack fabrics do use UHMWPE (aka Ultra or Dyneema®) they still do not have a face fabric that is 100% UHWMPE. The most common UHMWPE fabrics are:

1) DyneemaX (aka Dyneema GridStop, UltraGrid, Extreema) is a nylon pack fabric with a ripstop grid of UHMWPE. The UHMWPE grid is helpful and this is a good affordable fabric but only a minor component is UHMWPE so it is heavier with lower durability.

2) Hybrid DCF (aka DCH) is a polyester outer face fabric with trace amounts of UHMWPE underneath. The UHMWPE fibers do very little since they are are on the inside, this is much less durable.

3) UltraWeave (aka Ultra 200 or 200X) uses a blended face fabric that is 2/3rds UHMWPE and 1/3 polyester. It is an excellent premium fabric but about 30% heavier than Graflyte™ while offering about 30% less tear strength and abrasion resistance, and not having the same fusion and heat bonding characteristics, nor being recyclable.

ALUULA's Graflyte™ has tear strength and abrasion that are much higher than hybrid DCF and still about 50% higher than Ultra 200X while weighing less (98 vs 130 g/m2) in the V-98 version we are using. Aside from superior strength:weight, this material also has the advantages of an interior film that is fused in place (not reliant on glue) and thicker to be more durable for long term waterproofeness. Graflyte™ is also recyclable, can't be stained, has excellent UV resistance, and uniquely allows for heat bonding.

We're excited to the first brand to launch an ALUULA ultralight pack. We expect it to grow in popularity as other top brands are also working on ALUULA packs and other outdoor products.
Q) Is this pack waterproof?

Yes the Wapta is 100% waterproof. It uses ALUULA Graflyte fabric which has a durable waterproof film on the inside and the construction methods perserve the waterproofness of the pack.

All sewn seams are taped for wateproofness, while other elements including the back ventilation and internal reinforcements use heat welding/bonding in a waterproof fashion. The pack also has a roll top to keep water out, and lacks a hydration port which would leak water if submerged. As such, the Wapta approaches dry bag levels of waterproofness.

We haven't tested it to a specific waterproofness standard nor do we recommend it for submersion, but it is functionally waterproof as a backpacking pack. Still, water could enter if the pack is damaged or if wet items are placed inside, so additional precautions may be needed for sensitive items.
Q) How much weight can I carry?

The Wapta 30 is a frameless pack, which means its maximum comfortable load will be the sum of:
1) How much weight you are comfortable carrying on your shoulders, and:
2) How much weight you can transfer to your hips.

Most people are comfortable carrying 15 - 20 lbs (7-10 kg) on the shoulders. Then without a frame the load transfer to the hips depends largely on how tightly the pack is packed and is usually 5 - 15 lbs (2 - 6 kg). Overall, we suggest keeping the weight usually below 25 lbs (12 kg) although higher weights can be acceptable for shorter durations.

The Wapta 30 is ideal for ultralight hikers with a baseweight at or below 10 lbs who may use it for hikes up to 7 days, but it also works well for dayhikers and for hikers with heavier baseweights on a shorter trip.
Q) What does the "Wapta" name mean?

The word "Wapta" has its origins in the indigenous Stoney Nakoda language where it means flowing water. This word has been used to name many features in the Canadian Rockies near where we are based, including Wapta Mountain, Wapta Falls, Wapta Icefield, and Wapta Lake. The iconic Great Divide Trail contains a popular alternate route developed by Dan Durston traveling past Wapta peak on the Wapta Highline trail. While the Wapta name is best known from the famous Wapta ski traverse, it's usage here is a more general tribute to this amazing and wild area of the Canadian Rockies.
Q) What is the total volume of the Wapta?

The Wapta 30 has an interior volume of 30L (M) or 32L (L). This is the full interior volume of the pack measured with the roll top closed the minimum of 2 folds.

Besides this, the Wapta has a large front pocket that can hold about 10L. The side pockets can hold 2L of water each, while the bottom pocket can hold about 1L and the shoulder strap pockets can hold about 0.5L each. That gives a maximum volume of 46L.

The minimum volume of the Wapta is hard to measure but the roll top can be rolled down to the shoulder straps and the sides can be cinched. It is estimated the pack can be reduced to 15-20L.
The Wapta 30 is a cutting edge pack with class leading features, materials, construction, and comfort. Nonetheless, it is not the right pack for all people. Backpackers on long trips, with bulky gear, or heavier loads will find our larger and framed packs like the Kakwa 55 to be a better choice. On the other end of the spectrum, dayhikers with only minimal gear will not need the capacity of the Wapta and would be better suited by a smaller pack.

Where the Wapta excels is an overnight pack for ultralight hikers, and as a daypack for anyone who carries a moderate amount of gear (e.g. jacket, rain gear etc).
Q) How do I fit the pack?

We recommend measuring your torso with the method here and comparing that to the recommended torso length for our sizes under our specifications tab. If you are in between sizes, we recommend choosing the size you are more in the range for.

If you are planning on using the pack without the hipbelt then the sizing doesn't matter as much since either way you are carrying the weight fully on your shoulders.