World's Highest Performance Guyline
Overkill perhaps, but for the gear geeks who want the best, our Reflective Ironwire uses Dyneema® fibers in both the core and sheath to become the toughest and lowest stretch guyline available. Like our tents, it maximizes function and durability for the weight.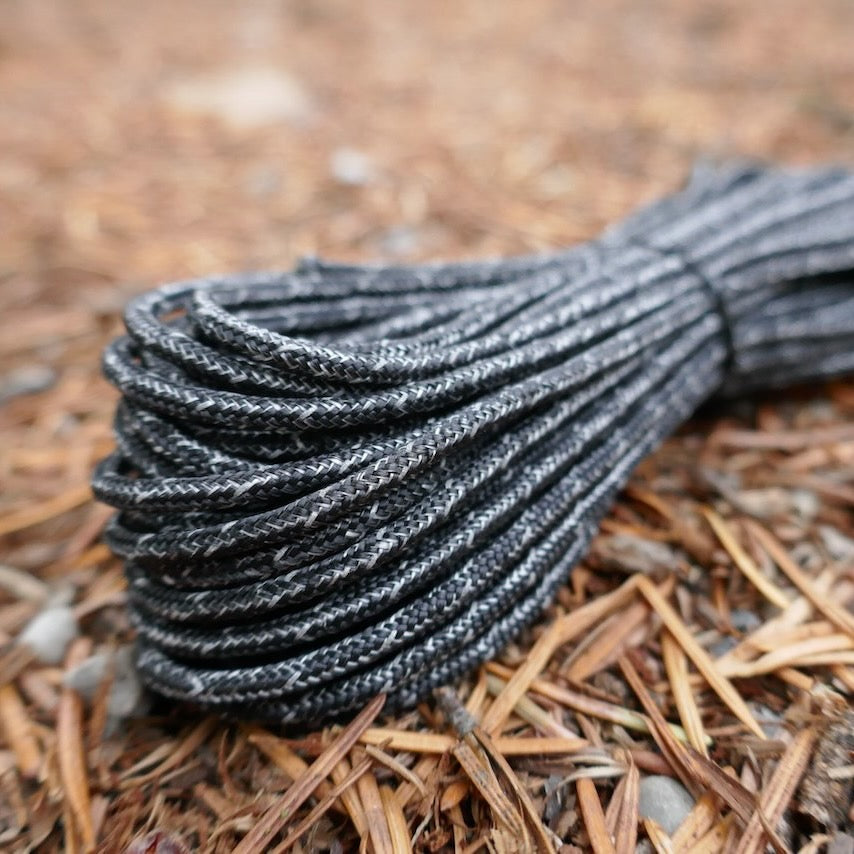 CONSTRUCTION
Reflective Ironwire has a pure Dyneema® core which gives a breaking strength of 650 lbs – remarkable for a 2.0 mm line. A few strands could lift your car.
While other Dyneema® core lines exist, ours goes a step further and also weaves Dyneema® fibers into the sheath for unparalleled abrasion resistance. A pure Dyneema® sheath would be too slick to hold knots well and wouldn't melt nicely to finish the ends, so our sheath uses a crafted blend of Dyneema® and polyester for the ideal balance between durability and feel.
Reflective Ironwire line is craft made in the USA by Lawson Equipment. It is equivalent to their regular Ironwire cord, except we have added a 3M Scotchlite Reflective reflective tracer for night time visibility – key for a tent application.
The Dyneema® fibers combined with a tight weave make this line ultra low stretch, which let's your shelter stand sturdier in the face of windy conditions.
Regular guyline typically stretch about 10% under a load which allows your tent to deflect under high winds and snow loads. This line reduces that 10x to about 1% stretch, which largely eliminates stretch for a more resolute shelter in harsh weather. While often overkill, we recommend this line as an upgrade when camping where high winds or snow loads are a factor.

Both the Dyneema® and polyester fibers also shun water, which reduces water weight gain and speeds up drying.
High Strength
650 lbs from Dyneema® parallel strand core and partial Dyneema® sheath.
Abrasion Resistant
Partial Dyneema® sheath increases abrasion resistance over traditional guylines.
Low Stretch
10x reduction in stretch helps your shelter stand sturdier in high winds.
Reflective
3M Scotchlite Reflective Tracer provides nighttime visibility.
Made in USA
Craft made in the USA by Lawson Equipment
Diameter
2.0 mm (but acts like a 2.5 - 2.8 mm line because it doesn't stretch thinner under load).
Compatibility
Fits all Durston tents and most others
This product is rated 5.0 of 5.0 stars.
It has received 1 review.
This product is rated 5.0 of 5.0 stars.
It has received 1 review.
Good stuff!
I replaced the stock guylines on my first gen X-Mid Pro 2 tent with this Ironwire, and it's so much better! As you can see in the photo, the Ironwire is slightly thicker (left) than the stock guyline (right). The Ironwire is a lot smoother to the touch and I find linelocks are easier to adjust but still hold their adjustment once set. For longer guylines, the smoothness makes it easy to untangle and a joy to work with.