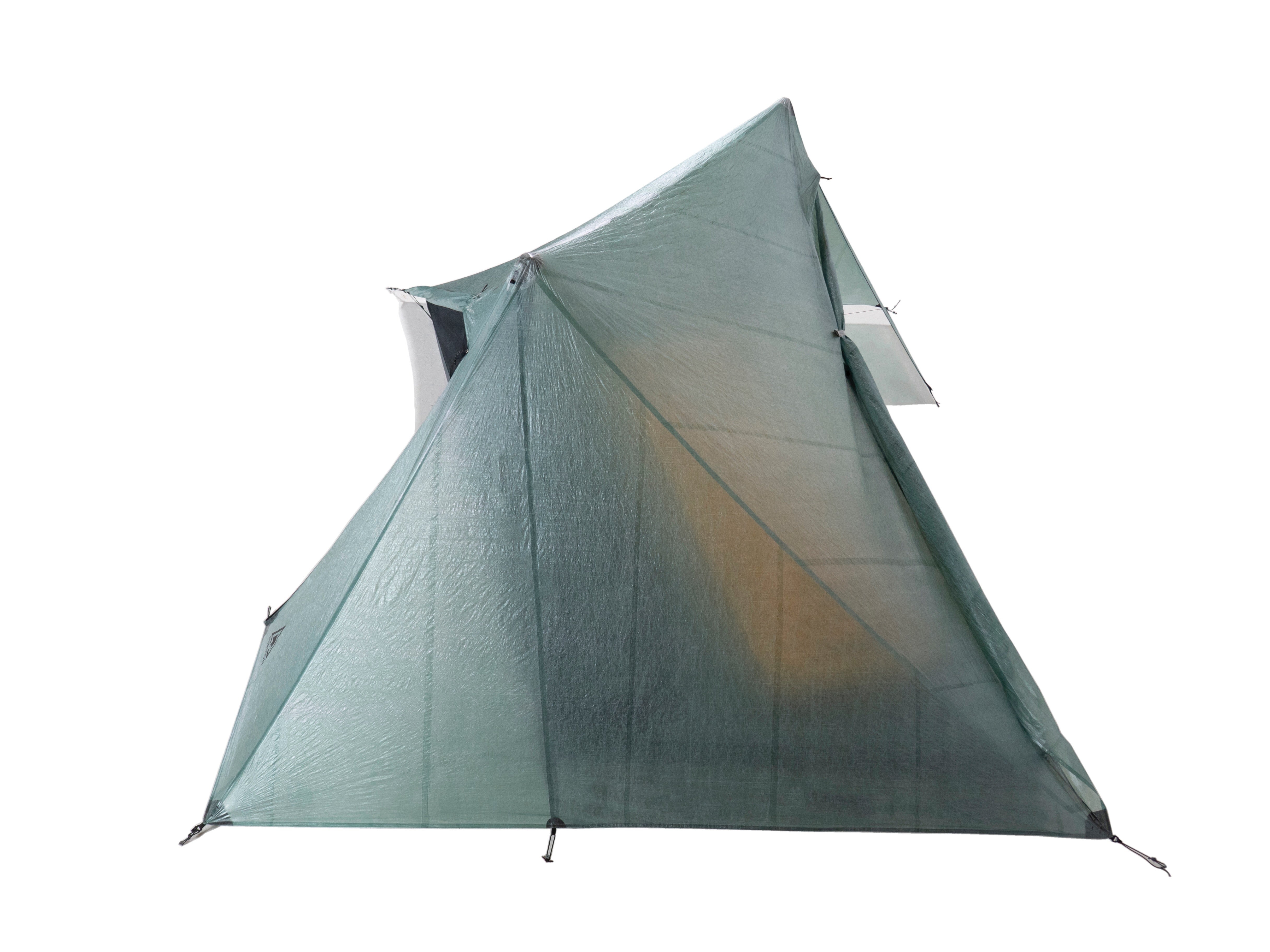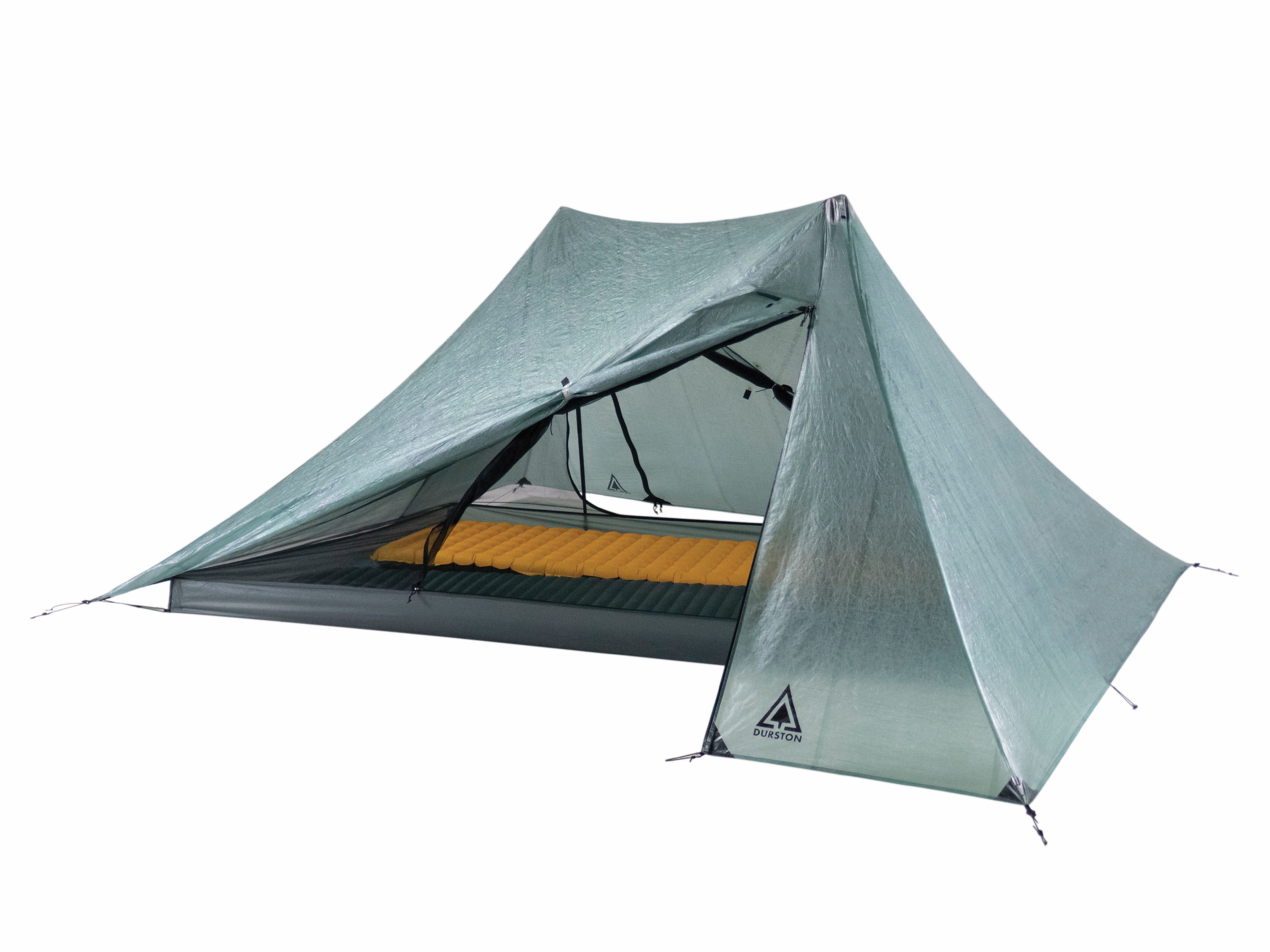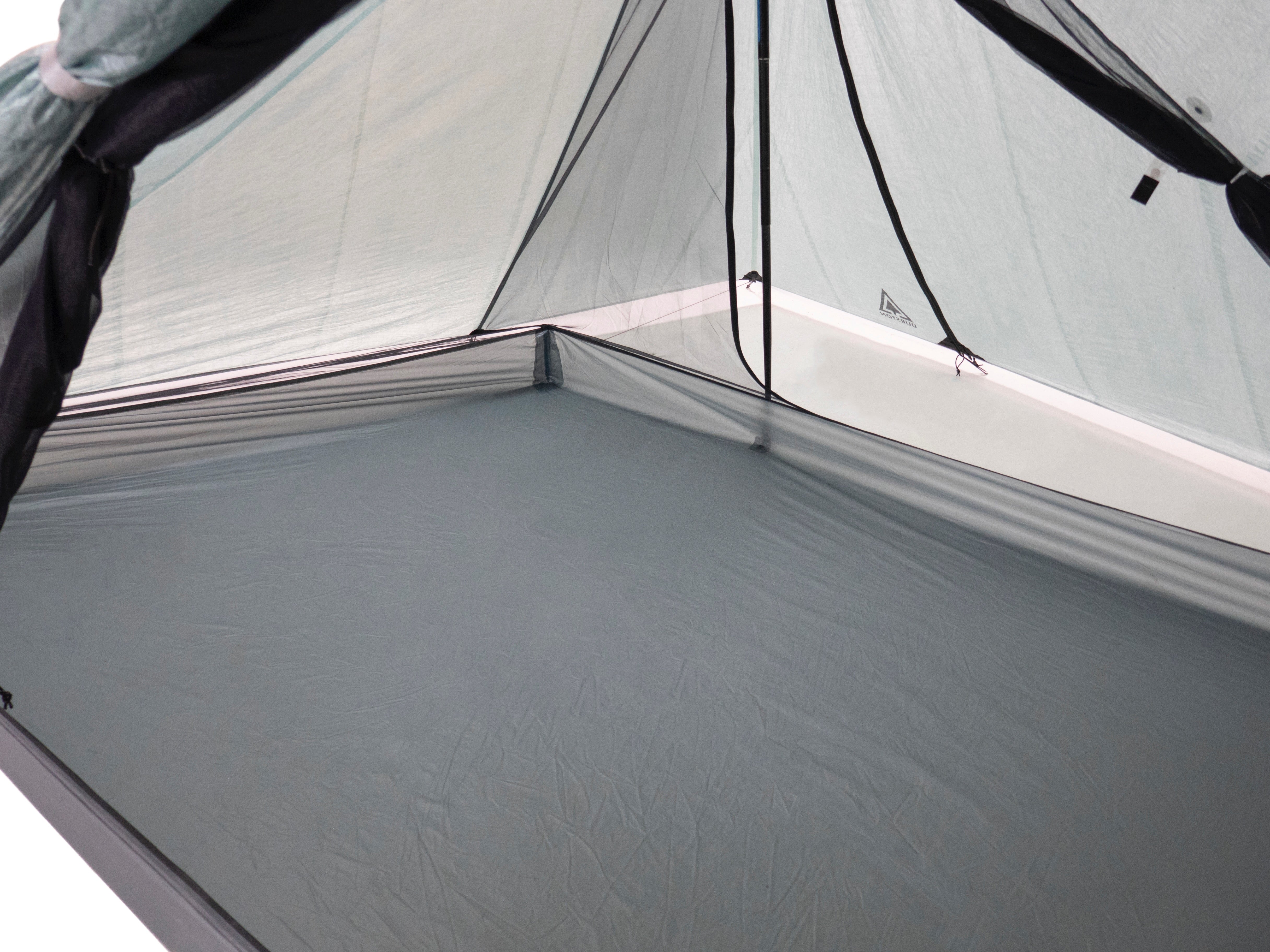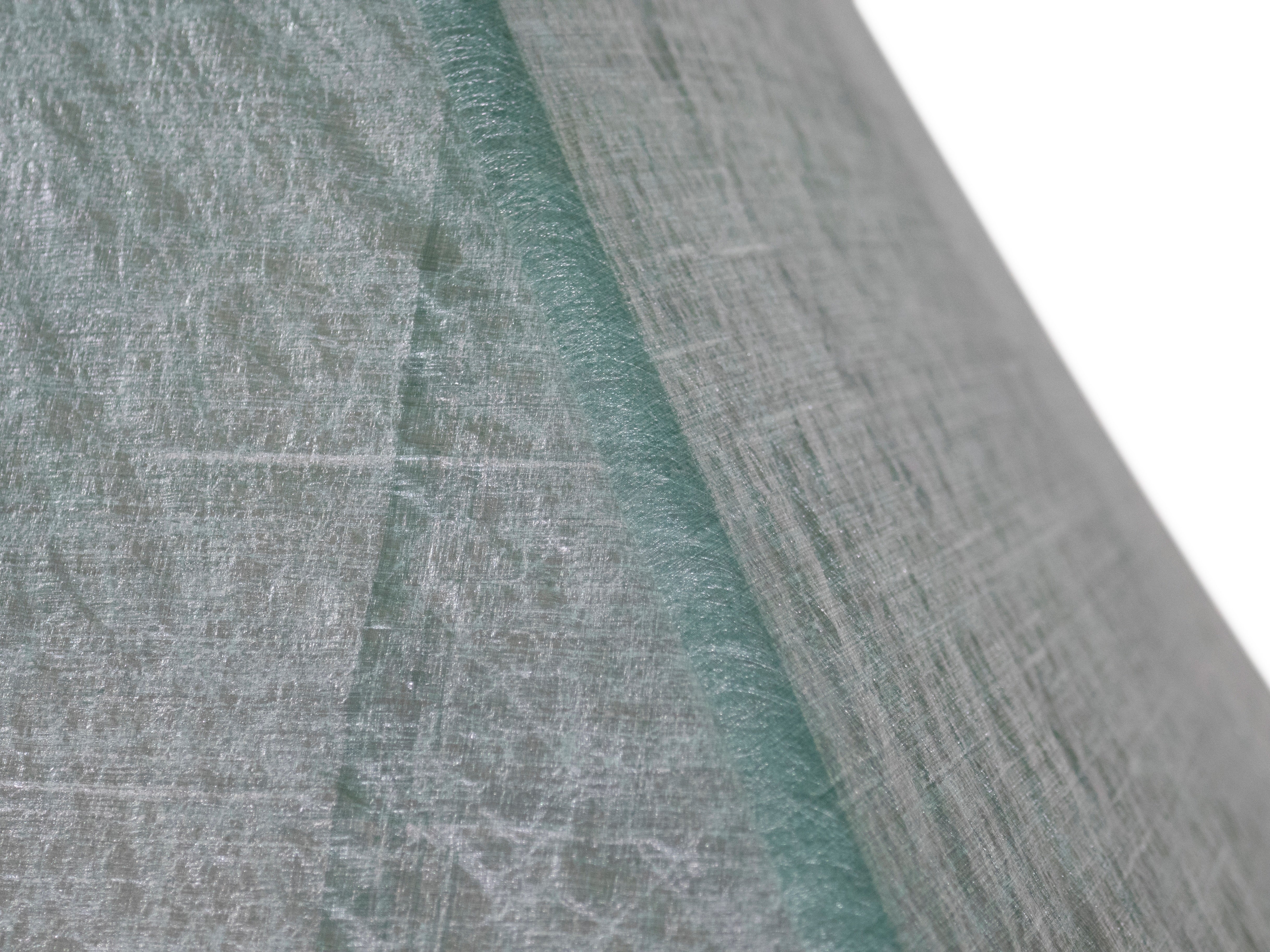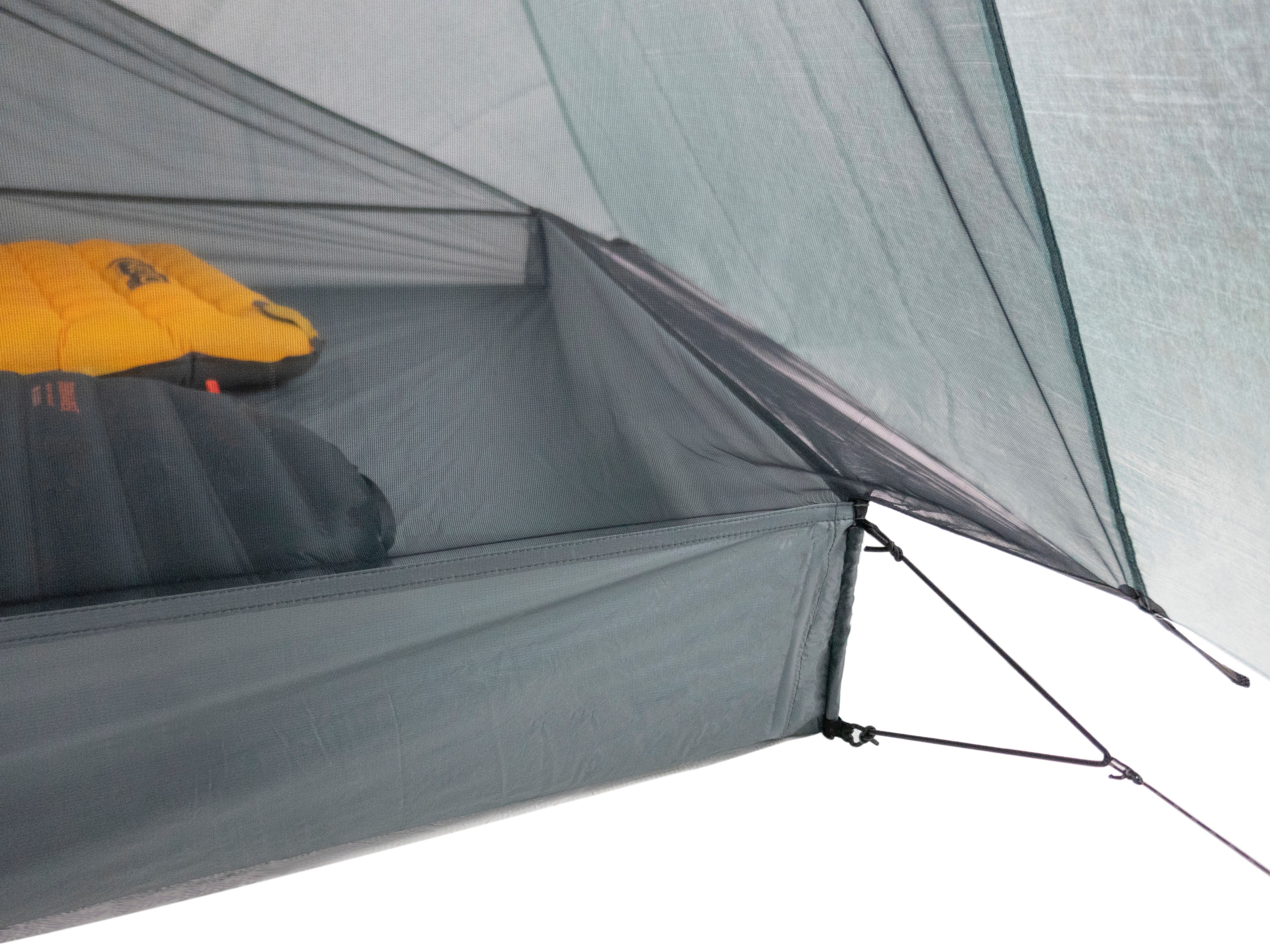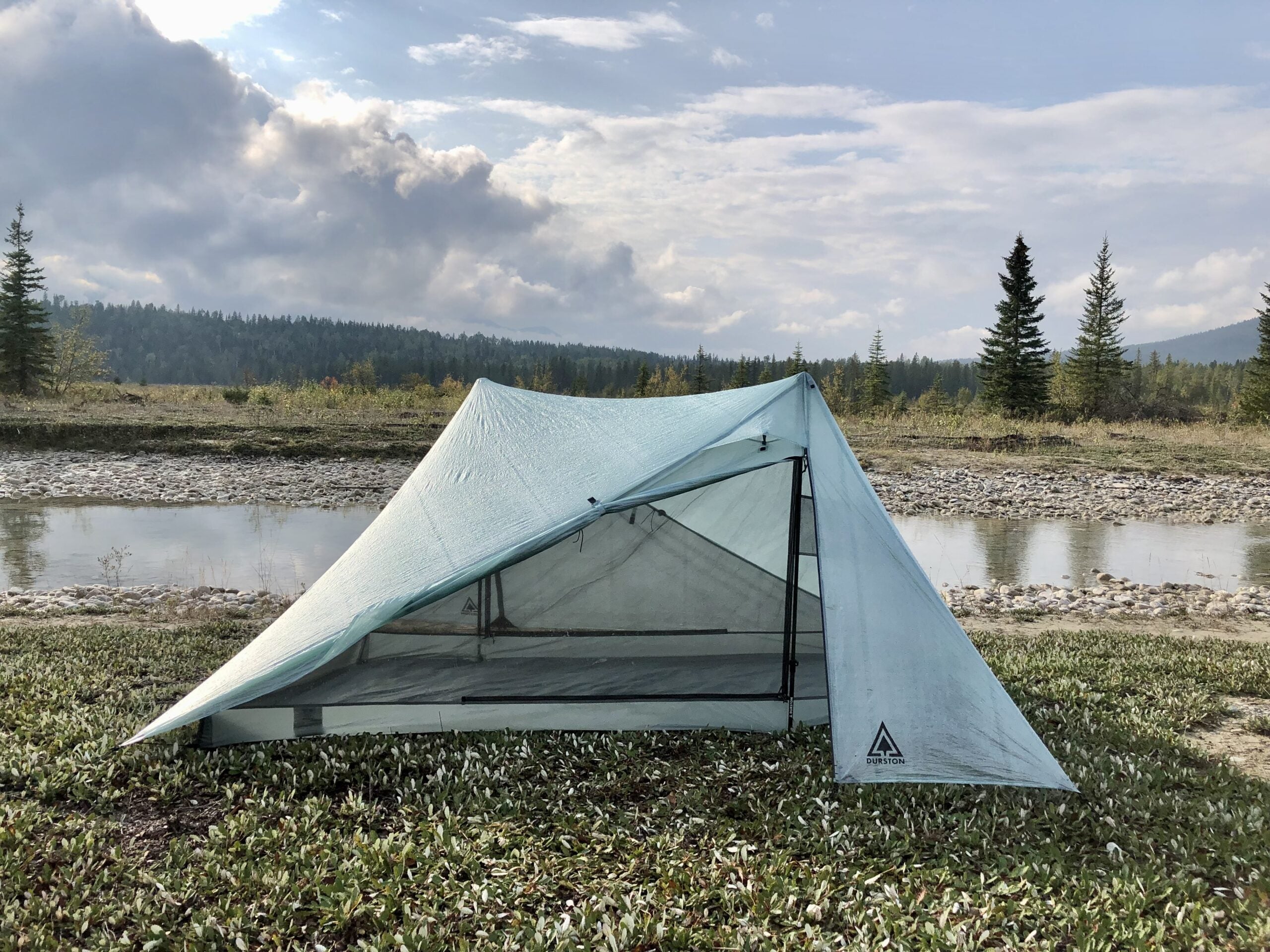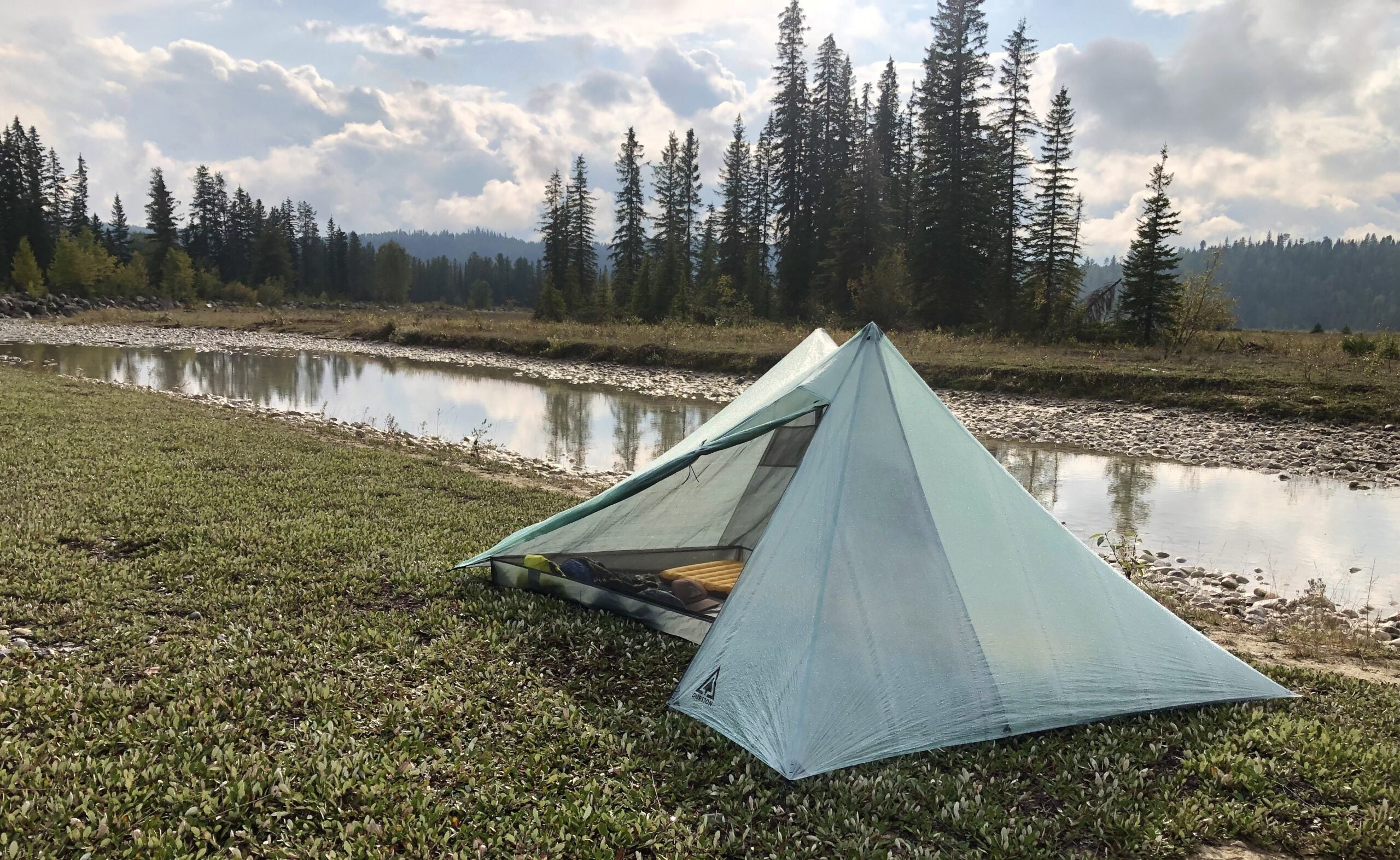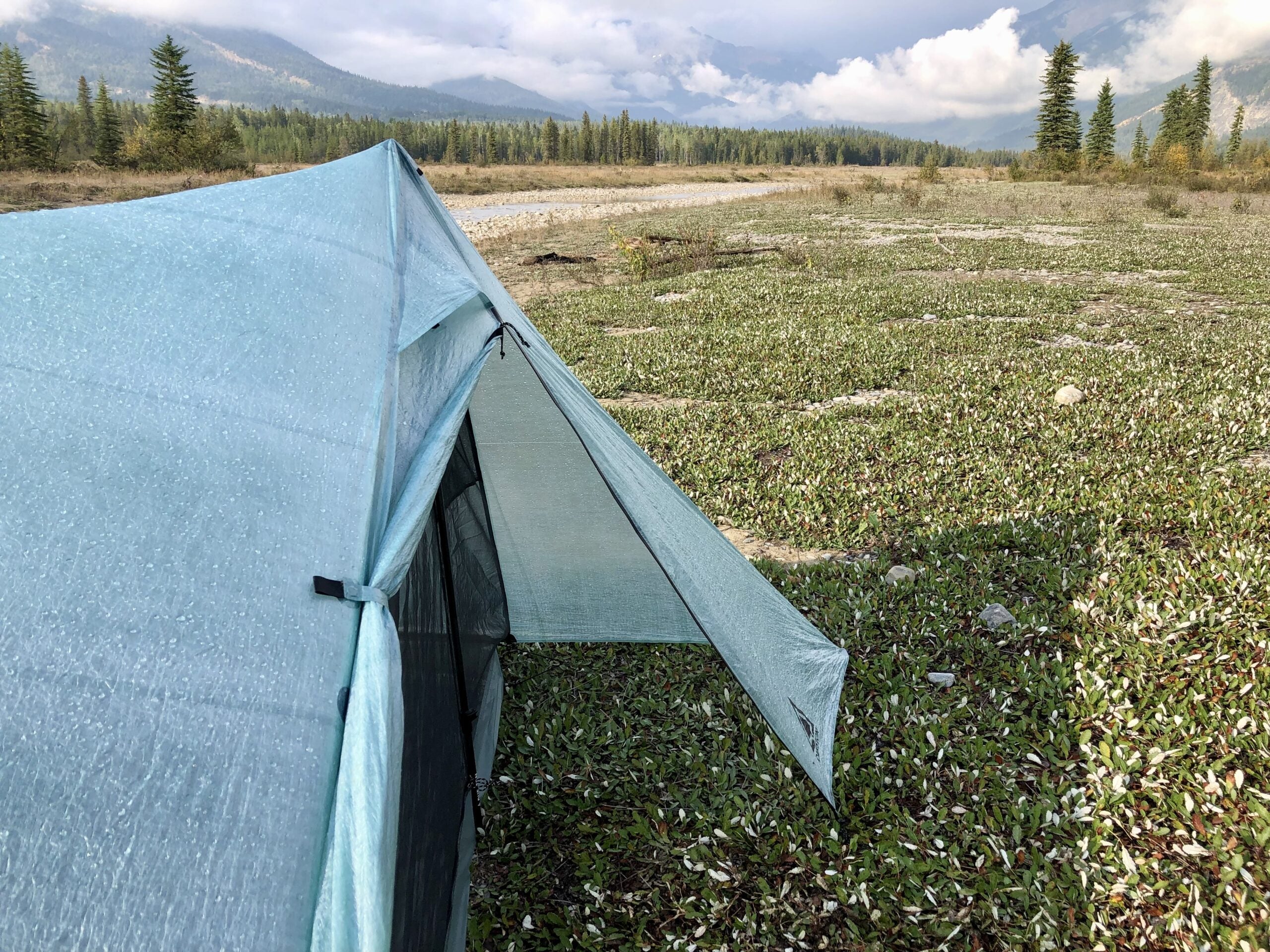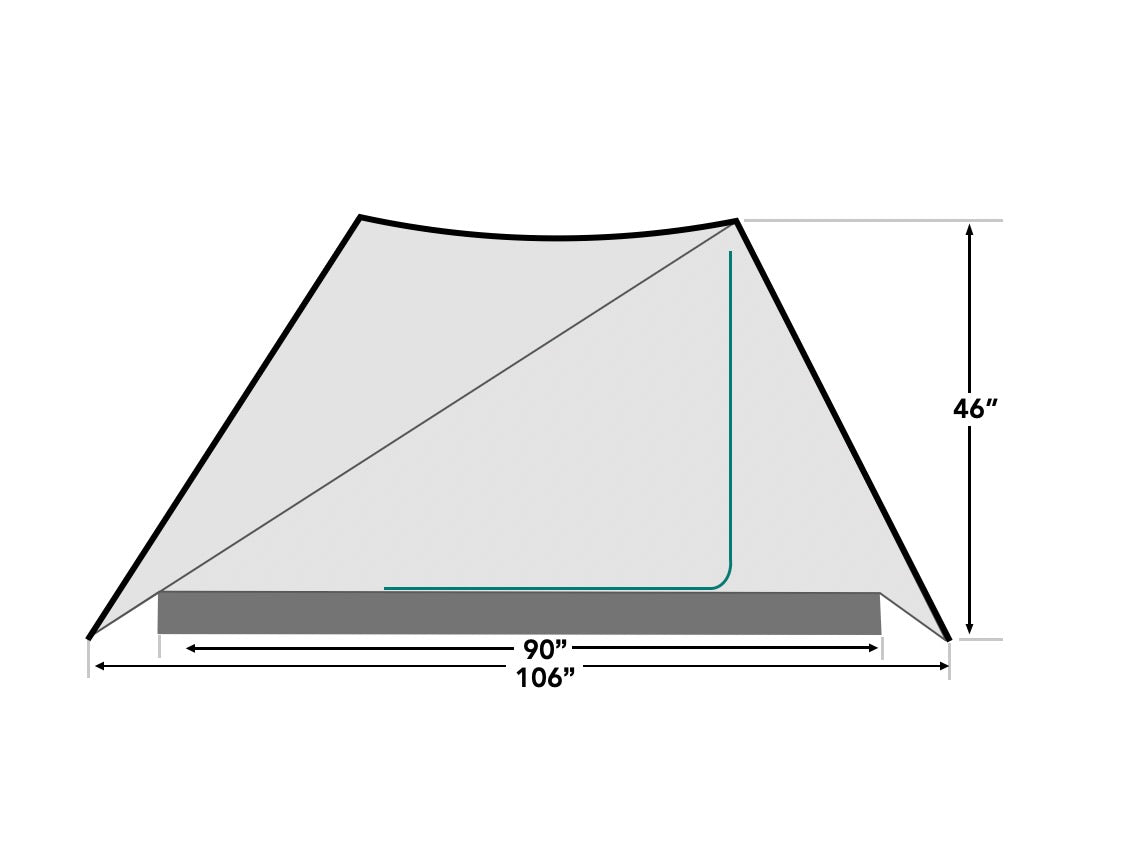 X-Mid Pro 2
---
Due to high interest the 2023 X-Mid Pro 2 has sold out. However, we are hard at work on an even better 2024 model launching in late October. Please sign up to be notified when the 2024 X-Mid Pro 2 launches:
Pinnacle of Ultralight Tent Design
The X-Mid Pro 2 is the pinnacle of ultralight tent design. It combines our maximally weight efficient and stormworthy X-Mid geometry with Dyneema® composite fabrics (DCF) and a singlewall design to create a tent that is both incredibly light and incredibly capable. It weighs just 19.6 oz (1.2 lbs / 555 g) while bringing unprecedented stormworthyness, simplicity, spaciousness, and build quality to the super ultralight tent niche.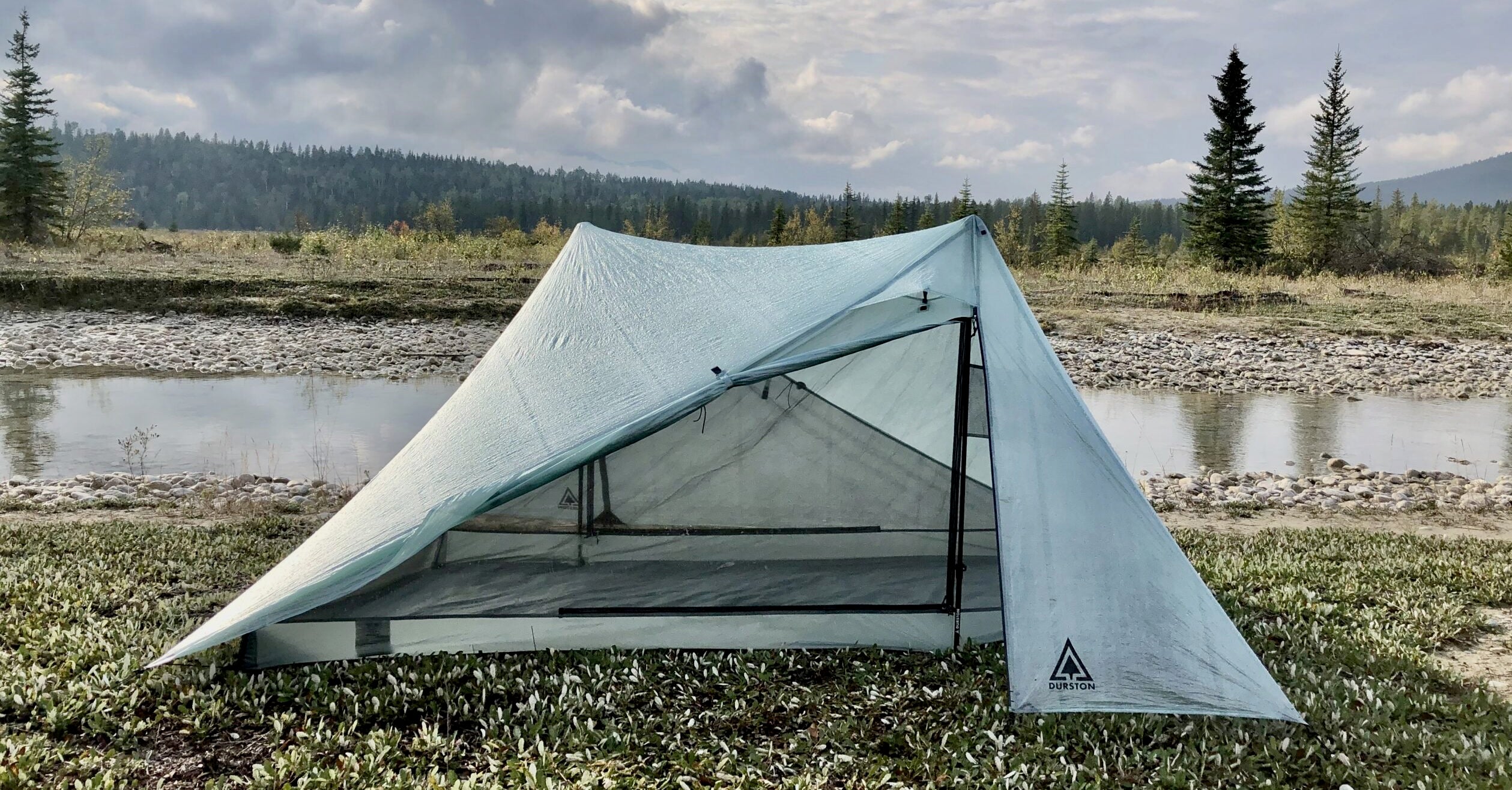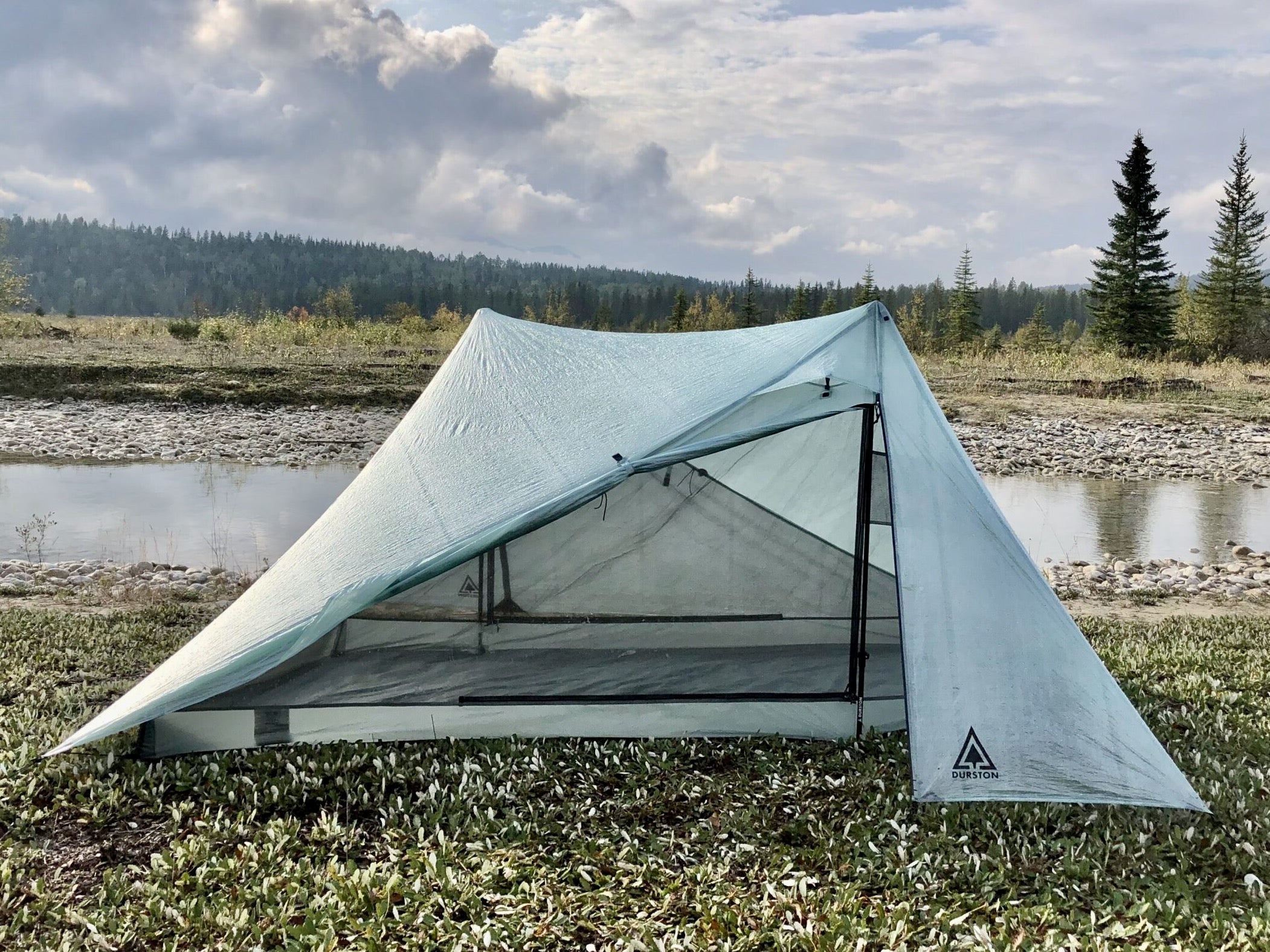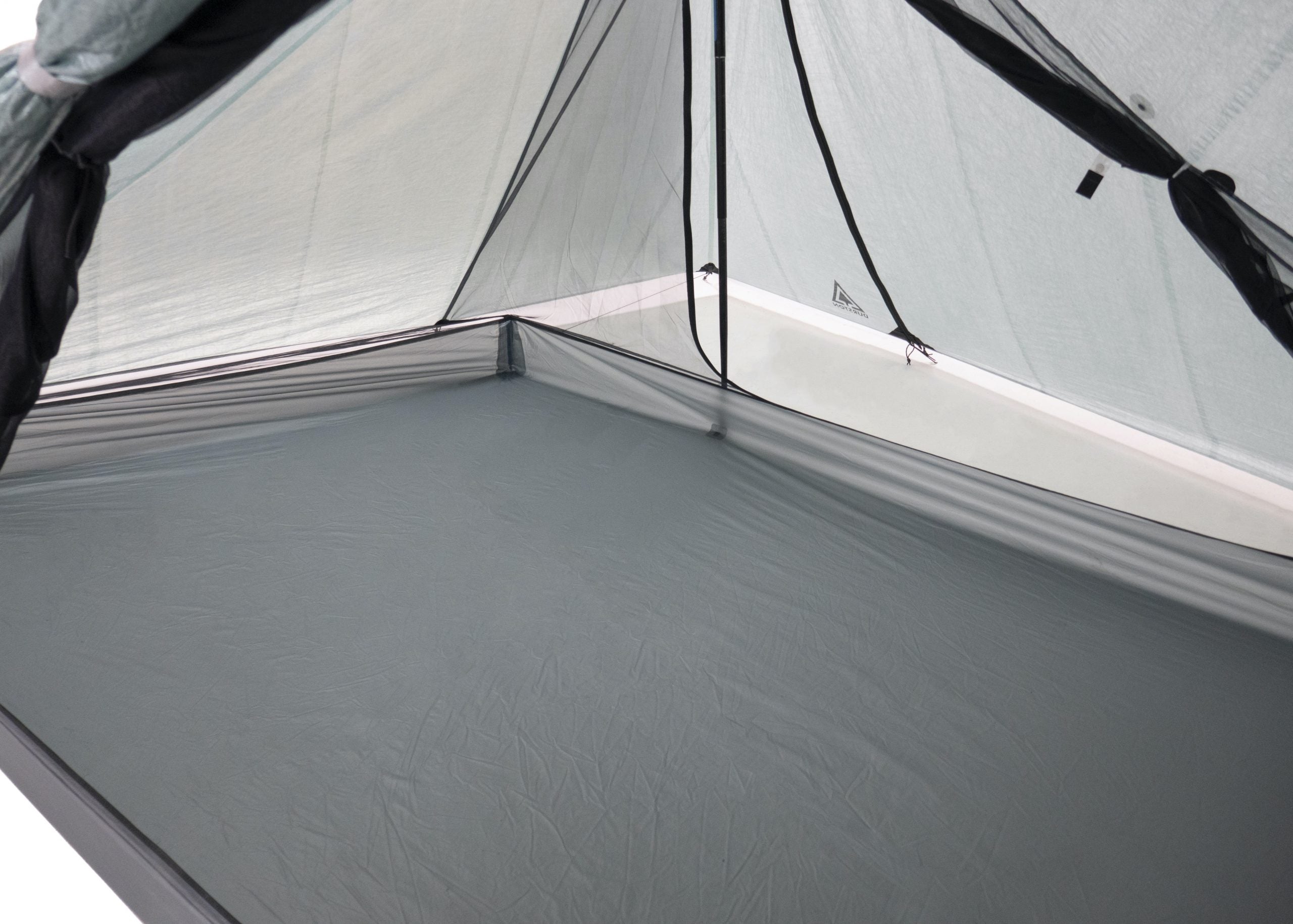 SPACIOUS
Until the X-Mid Pro 2, if you wanted a 2P tent for just 1.2 lbs you had to settle for something cramped, delicate, and/or lacking in weather protection.
The X-Mid Pro 2 changes that. It provides a spacious interior for two adults with a generous 90″ floor length, steep end walls to maximize useable length, room for two wide-tapered pads, and best-in-class headroom enabled by the unique geometry with a diagonal ridgeline and opposite diagonal floor. It fits hikers up to 6'4″ (dual occupancy) or 7'0″ (solo occupancy).

Also generous are the dual 11.6 sq ft vestibules which are large, tall, and conveniently place the main area beside the door instead of blocking it.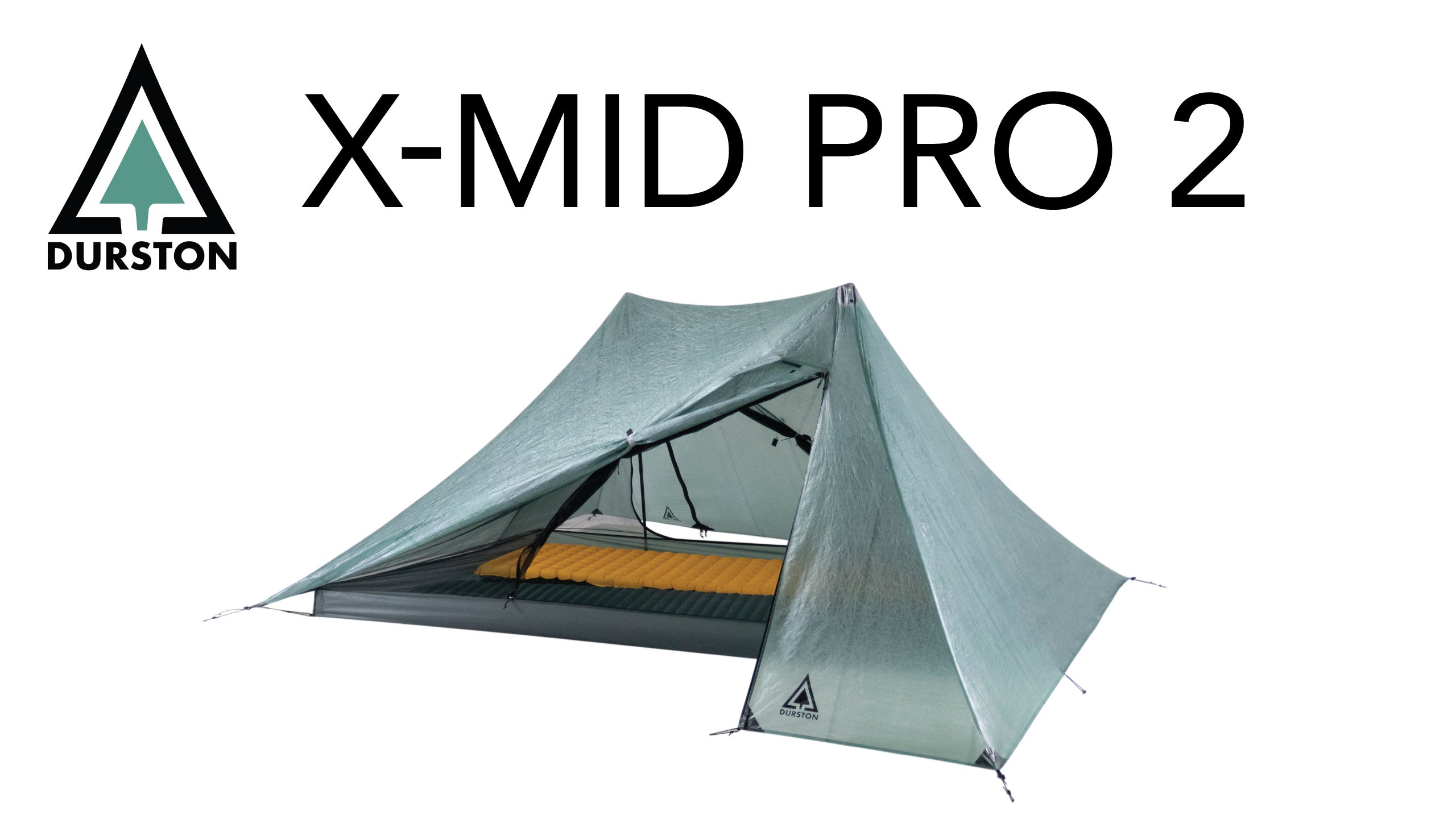 The stormworthiness of the Pro 2 is excellent thanks to the extremely strong Dyneema composite fabric, high performance shape, and a full coverage coverage fly that can extend right to the ground to block rain splatter and drafts yet can be lifted higher for increased ventilation.
When faced with wind and snow, the X-Mid has the ideal shape since the geometry gives all of the panels a consistently moderate slope. There are no horizontal roof panels to catch snow, nor vertical side panels to catch wind. The tent pitches solidly with just 4 stakes peak and side panel guyouts can be added along with 8 extra stake points around the base should the conditions warrant.

More than just surviving, the X-Mid Pro keeps you comfortable in tough conditions due to the protected pitch (keeps the floor dry during setup in the rain), protected doorways (keeps the rain out even when open), and dual peak vents which minimize condensation.
Highly Recommended
"If you want one of the highest-quality and best-performing ultralight shelters on the market, the X-Mid Pro should be at the top of your list."

A Titan of Featherweight Design
"Simpler than just about any other trekking-pole tent. It's hard to beat the simple but effective design."

Our Favourite Super Ultralight Tent
"No other tent on the market gives you this much livable area for so little weight....an incredible tent design"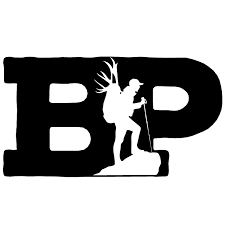 An Absolute Gem
"Deflects wind, rain, and even snow with ease. Extreme attention to detail make it a joy to set up. I'm a HUGE fan."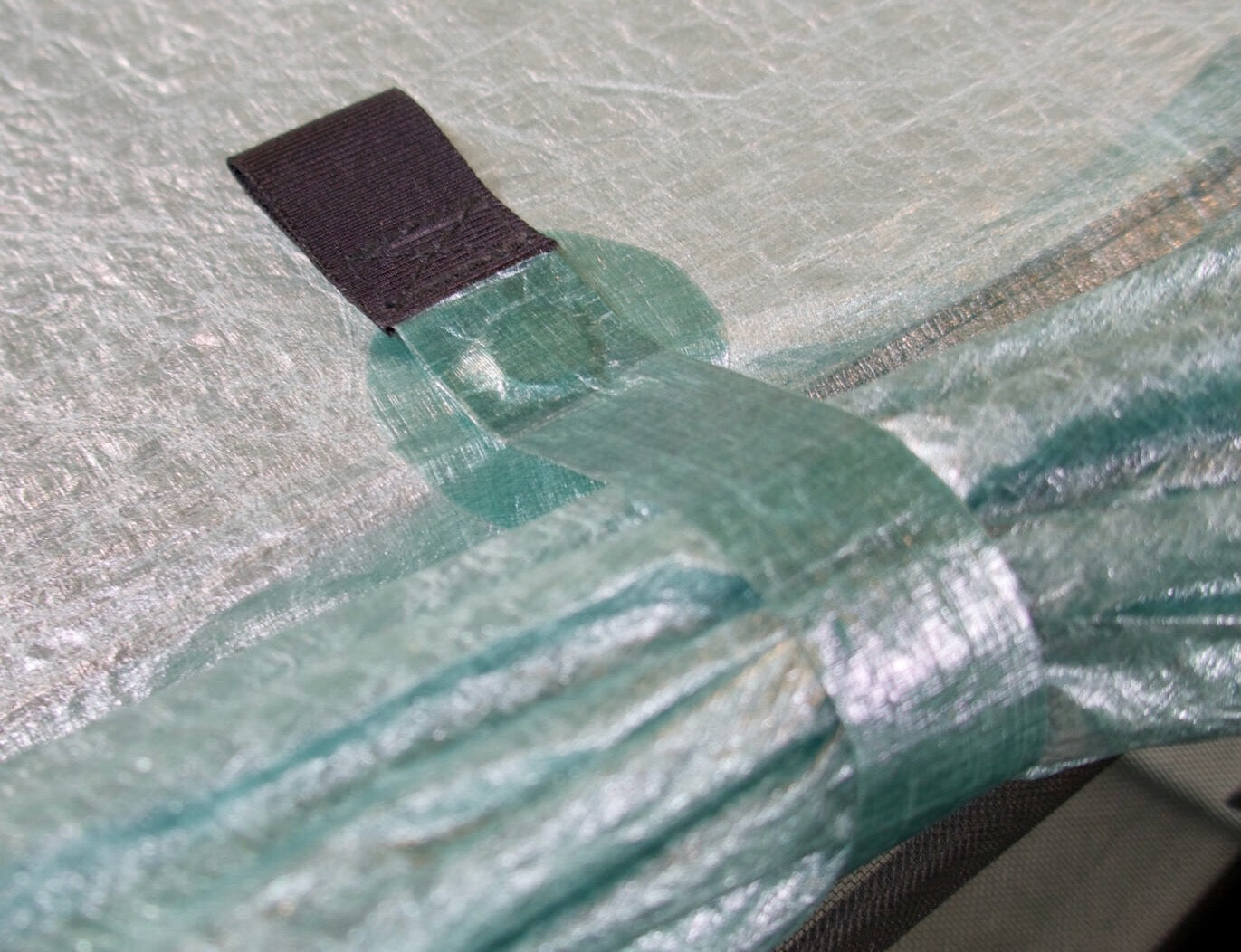 USER FRIENDLY
The X-Mid Pro retains the user friendliness that the X-Mid tents are highly regarded for. Unlike most trekking pole tents, the rectangle based X-Mid has a simple 4 stake pitch with no mandatory guylines, no measuring or estimating odd angles, and no struts.
Once pitched, the intuitive minimalism continues with magnetic door toggles, doorways that aren't blocked by poles, vestibules that put the main area beside the doorway instead of blocking it, a tensioned floor that lies taut and wrinkle free, and one handed operating zippers. The X-Mid Pro also has a remarkably small packed size for a DCF tent because it uses a durable 15D woven floor that is more abrasion resistant and packs smaller than a composite floor.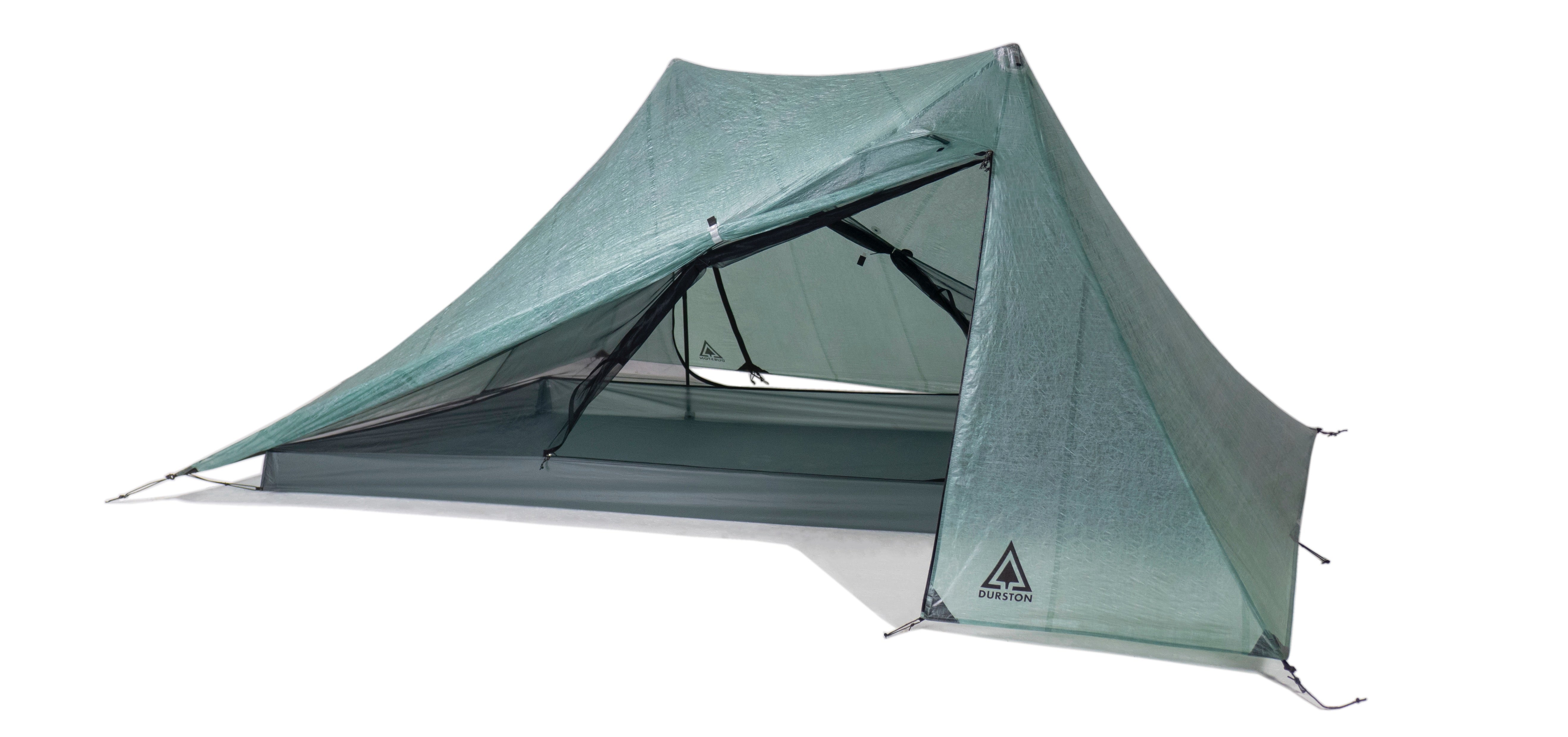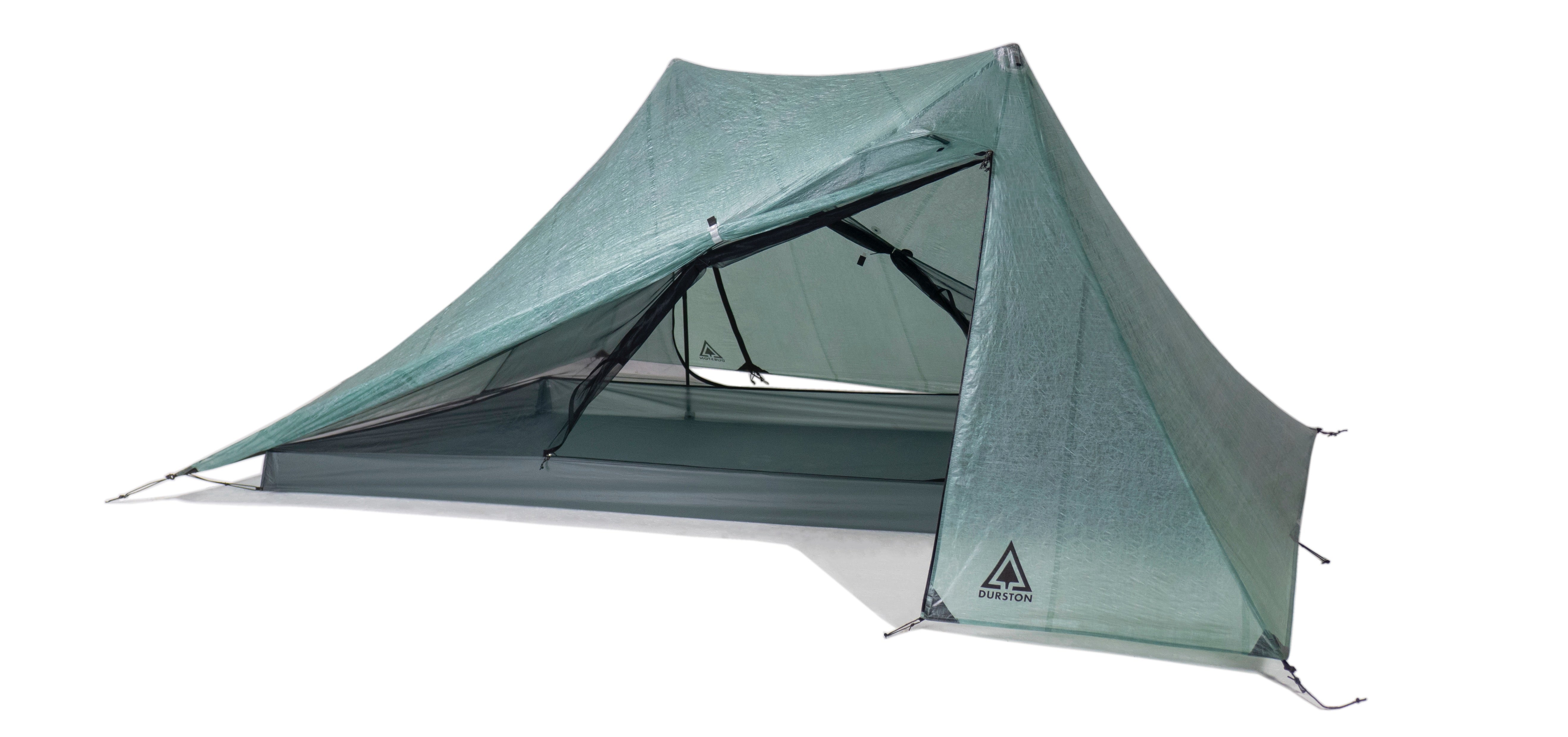 Magnetic Toggles
Magnetic door toggles with pull tabs provide easy one handed-operation.
Doorways
Unlike most trekking pole tents, the doorways are large and not blocked by trekking poles.
Full Coverage Fly
The fly extends low to the ground to block drafts and rain splatter, yet can be raised for more ventilation. Other tents cut away the bottom of the fly to save weight but it leaves you more exposed.
Tensioned Floor
Small corner struts and cords tension the floor so it lays taut and easy to clean. Competing tents hang the bathtub floor from its top edge (like a bag) which saves weight but is more prone to wrinkling and sliding around.
Peak vents
Dual peak vents minimize condensation.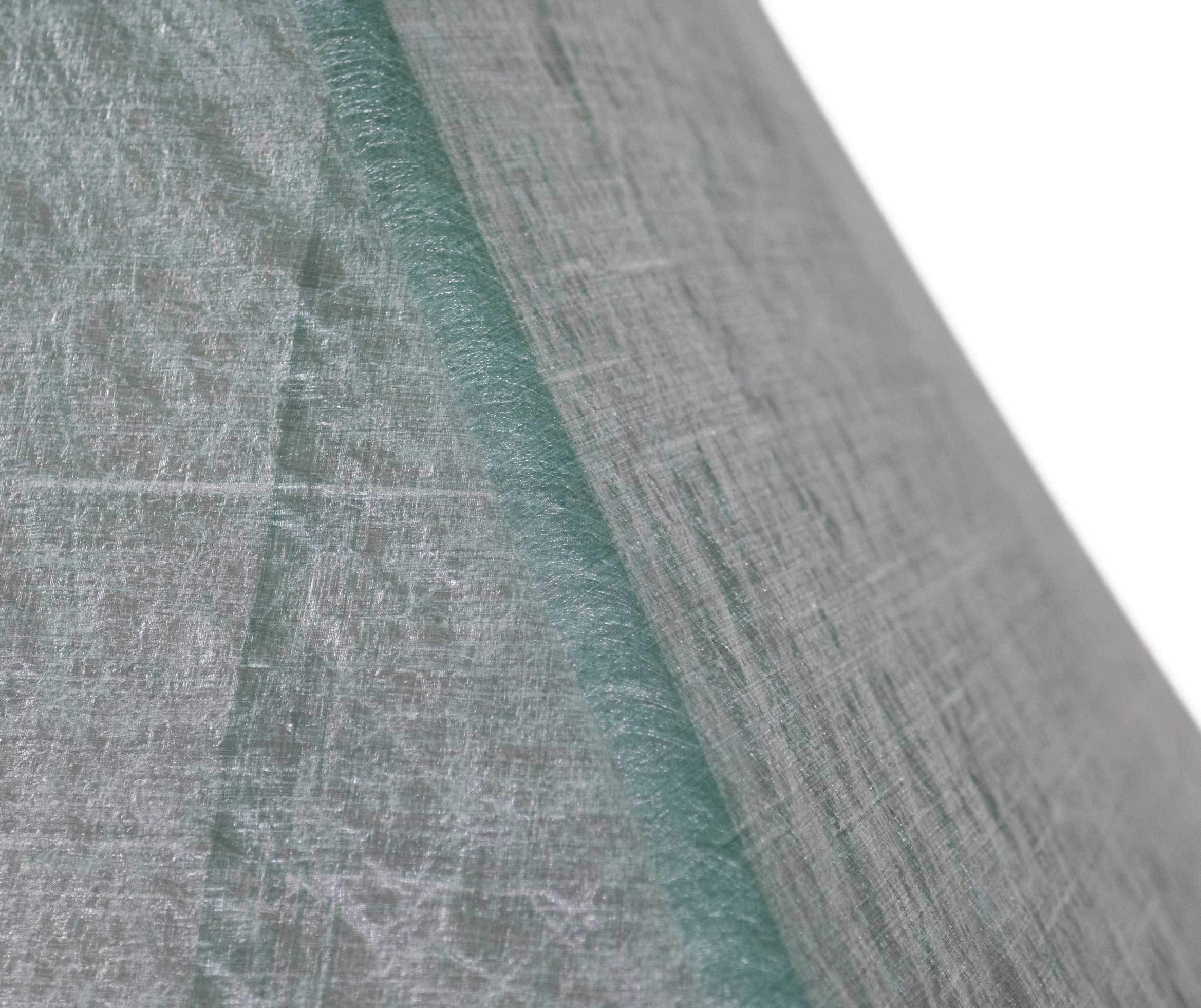 QUALITY
In addition to the highest performance design, the X-Mid Pro has industry leading quality. That starts by using premium materials like Dyneema, and assembling them at the most experienced tent factory in the world for DCF.
We use hot bonded construction to create Dyneema seams that are stronger, cleaner looking, and better retain their strength in extreme temperatures. We also use a proprietary pre-shrinking process for DCF so that the shape is more stable over time and won't shrink to create wavy zippers.
While this premium quality gives the X-Mid Pro a higher cost of production than comparable tents, it is affordably priced because we sell it to you direct with only a modest markup.
PATENTED GEOMETRY
The X-Mid shape has been developed from the first principles of geometry to be as weight efficient, simple, and functional as possible.
That includes avoiding all the common pitfalls of trekking pole shelters such as a complicated pitch, mandatory guylines, poles blocking the doorways, and a lack of interior volume.

Read the story about how the X-Mid geometry was developed: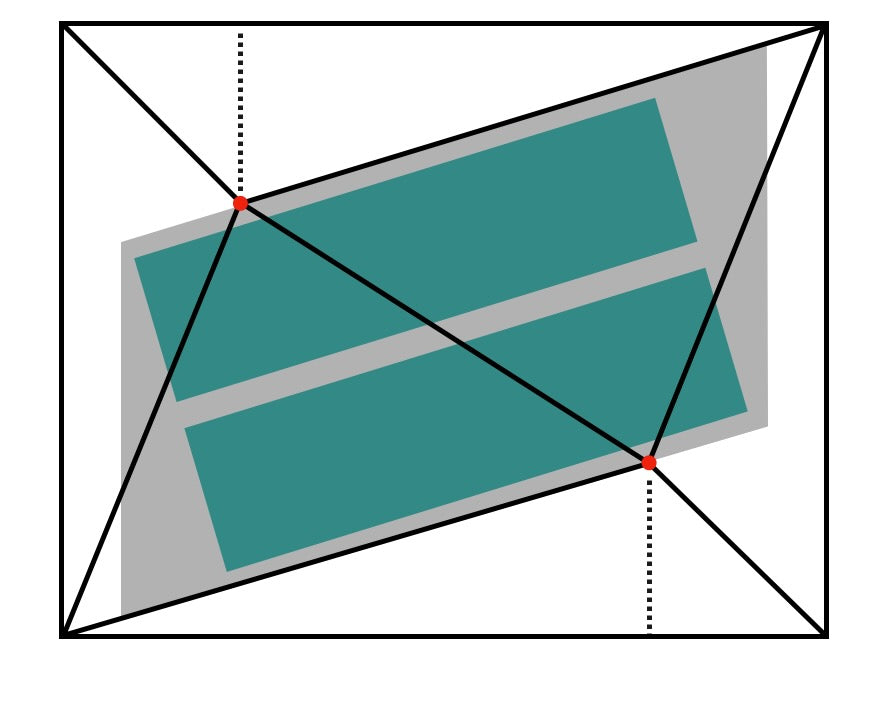 As one of the lightest tents in the world yet remarkably spacious and capable, the X-Mid Pro 2 is the ideal tent for everything from a thruhike of the Continental Divide Trail to bikepacking across Southern America.
This product is rated 4.9 of 5.0 stars.
It has received 21 reviews.
Features
Patented Geometry
Patented X-Mid geometry with twin offset poles provides best in class headroom, living space, stormworthiness, and ease of pitching.
Dyneema® Fabric
Dyneema® Composite fabric (DCF) is extremely strong and highly waterproof (8,000mm).
Dual Doorways
Dual doorways are zippered, not blocked by trekking poles, and keep rain off the floor even when open.
Dual Vestibules
Dual vestibules are large, tall and put the main area beside the door instead of blocking it.
Dual Vents
Dual adjustable peak vents minimize condensation yet can close during harsh conditions.
Dual Pockets
Dual interior pockets provide convenient storage.
Full Coverage Fly
Full coverage fly blocks drafts and rain splatter, but can also be pitched higher for more ventilation
Optional Guyouts
Optional peak and side panel guyouts plus eight additional stake points around the base can be used for harsh conditions
Simple Pitch
Ultra-simple pitch with just four stakes
Collapsable Vestibules
Vestibules can be collapsed to fit into smaller tent site
Hot Bonded
Premium hot bonded construction
Dyneema® Guylines
High strength Dyneema® core guylines
Compare
COMPARE
The X-Mid Pro 2 provides unprecedented stormworthiness, user friendliness, and space for a superultralight tent. To illustrate this, the table below compares the X-Mid Pro 2 to what is seen in competing tents.
Fly coverage
Extends low to block drafts and splatter
High cut fly leaves you more exposed
Peak vents
Dual vents minimize condensation
Vents are small or omitted
Measuring poles required?
Overall ease of pitching?
Doorways blocked by poles?
Fits two wide tapered pads
Tent weight
20.4 - 24 oz / 565 - 680 g
Tent + minimum # stakes
23.2 - 26.8 oz / 660 - 760 g
Specifications
-
6 in x 4 (8.5 g ea) & 7 in x 4 (12 g ea)
-
Typical Setup (Tent, Sack, 6 Stakes)
-
80 x 100 in / 2.03 x 2.54 m
-
23 sq ft (11.6 x 2) / 2 sq m (1 sq m x 2)
MATERIALS
0.55oz Dyneema CF in Spruce Green
-
15D Sil/PEU nylon in grey
FAQ
FAQ
Browse the FAQ to learn more or get in touch if you have further questions.
Contact Support
Q) What is a singlewall/hybrid tent?

A singlewall tent is when the floor of the tent is sewn to the fly so the canopy has just one layer instead of having a second inner layer of bug mesh or fabric. The X-Mid Pro is singlewall in some parts (ends, roof) but still doublewall in other areas (sides) so it can be called a hybrid tent.

The design is 100% bug proof and brings substantial weight savings. The downsides are that you don't have the ability to use the fly and inner separately, and that there aren't mesh inner walls in all areas to prevent you from touching the fly if there is condensation.

The X-Mid Pro 2 has every possible advantage to minimize condensation (e.g. large peak vents, spacious) and it is not more prone to condensation than other tents, but if condensation does occur you do need to be more careful not to touch it. The X-Mid Pro makes this easier than most single wall tents because it is more spacious, has mesh walls on both sides, and has steep end walls to avoid contact.
Q) How tall does the X-Mid Pro 2 work for?

The X-Mid Pro 2 has a length inside the fly that is 6″ longer than it's main competitors because the X-Mid, Zpacks Duplex, and HMG Unbound are all 100″ long but in the X-Mid Pro you sleep on a 20 degree angle to the fly so the length inside the fly is 106″. The floor is still 90″ but this longer fly gives headroom and clearance at both ends.

When sleeping two people in the tent we recommend it up to 6'4″. That is a realistic estimate of what we think 90% of people would agree with (not some inflated marketing answer) but the actual outcome varies depending on several factors including how thick your pad is, if you use a pillow, how large your sleeping bag is, how straight you sleep (e.g. side vs back sleepers), and how much space you think is enough. If you have a bulky setup and want a lot of extra room you might only find it suitable to 6'0″ whereas if you have a compact setup and aren't too fussy it can work to 6'6″+. We recommend sleeping in the same direction, but note that the headwall will be steeper for one person than the other, so if one person is taller we recommend they sleep on the steeper headwall side for a bit more clearance at their head end. If you are considering using this tent solo, the parallelogram floor gives one diagonal that is very long and we think it works well for up to 7'0″.
Q) Do two people have to sleep opposite ways?

No. We recommend that two people sleep the same way. The sleeping area is a bit different on each side, but the tent is quite spacious with 20-35% more interior volume than its main competitors, so two people can comfortably sleep the same way.

Compared to most trekking pole tents, the X-Mid's diagonal ridgeline is substantially longer, which gives greater headroom in the tent. This extra headroom is gained diagonally, so two opposite corners get outstanding headroom, while the other two corners have more regular head room. You could sleep opposite so both people get extra head clearance, but when sleeping the same way the person on the regular side still has as much or more head clearance than competing tents so there is no headroom disadvantage on one side – just extra headroom on the other.

Here is a diagram to show the floorplan. When the person on the lower side slides down, that leaves gear storage at the end and both people in a normal side by side position.
Q) Does the X-Mid Pro 2 fit two wide pads?

Sometimes. The X-Mid Pro is carefully designed to be just large enough for two wide tapered pads. Wide pads are spec'd at 25″ width but typically measure a real world 24-24.5″ when inflated for a combined width of 48-49″. The floor width of the X-Mid Pro 2 varies depending on how it's pitched (a lower pitch also lowers the floor walls for a wider floor and vice versa) but typically the floor width is about 48″. Thus, two adjacent wide pads will bulge the sidewalls out only slightly. This is normally fine with two wide tapered pads (e.g. Thermarest NeoAir) since >90% of the pad length under 24″ width and thus the bulged section is minor and not stressing anything. We do not recommend the X-Mid Pro 2 with two wide rectangular pads (e.g. Nemo Tensor) since it would bulge the full length of the floor and thus stress the corner connections. When using wide pads, we recommend pitching the tent lower for the widest floor. To do this, adjust the corner cords short before staking out the tent.
Q) Should I use a groundsheet?

The 15D floor is more durable than the floors in many ultralight tents which can be 7-10D fabrics or 0.8 – 1.0 oz composites. We have selected this 15D material because it is durable to use without the added weight and hassle of groundsheet, provided care is used not to pitch on harsh surfaces like gravel, pine needles, or bedrock. However, for a cleaner floor or use on harsher surfaces, we offer a groundsheet.
This product is rated 4.9 of 5.0 stars.
It has received 21 reviews.
fantastically light, very carefully designed
i appreciate Dan's incredible attention to his customer base, constantly upgrading and integrating feedback. The tent is roomy for two people, especially with TWO doors and TWO spacious vestibules! We also had no problems w both of us sleeping parallel. If you are in damp climates or want the extra insulation of a double wall buy the xmid or xmid solids (i own both of these too since i live near the damp redwoods). For solo use the tent will be a dream.
Love the spacious design and how light it is
While the tent is super easy to set up, the best features are you light it is and the unique x-mid design that makes it spacious inside and makes it easier to get in/out because the pole is offset. The zipper doors make it much more weather proof, especially in th vestibule where I keep gear. Overall love everything about this tent.
Quite literally the best backpacking tent
A few reasons to buy this tent!!
First of all, it's extremely lightweight.
Second, the pitching is quick and simple.
Finally, the design features and materials used in this tent are unmatched. There is a tone of space inside compared to other backpacking tents at similar price points.
I first used this on a 2 night, 40 miler in the Cascades and had zero issues. I couldn't be happier. The vestibules are large and spacious. The pockets are also a convenient touch. I've had the opportunity to try a few other tents with similar features and let me tell ya, this one takes the cake! Best backpacking tent on the market. You're the man, Dan.
Finally the search is over
Just came back from 7 days in the Enchantments and I love the design of this tent. Gives you a ton of space compared to other "mids" out there. Previous to that I did a 2 nighter with my 6 y.o. son to try out the tent, and there was plenty of room for us with our packs at our feet. If we were 2 adults, the vesibules are perfect for packs and boots, and being over 6' I really appreciate the headroom and length. I find it quick and easy to pitch after a few practices, and it's such a pleasure compared to my previous tents (wish I went to a trekking pole tent sooner). I had one terribly gusty night in the Enchantments at the site in this photo and the tent did just fine with just 6 stakes and no guy outs. This is my first DCF tent, and I really like the tightness of the DCF fabric, not to mention the weight and that it doesn't absorb water like other tent fabrics. The only issue I've had is fitting into small campsites, which I understand is an issue with any pyramid tent given their footprint sizes, but I've since learned about "skinny pitch" options where you can collapse or alter the vestibules and essentially reduce the width from 80" to 48". I think that is an underappreciated characteristic of this tent, where other "mids" don't appear to have this level of flexibility. Finally my search for the right tent is over. Thank you Dan Durston.
Xmid
A good tent but having to add so many additions to it has gotten old. Had to add a gear loft with zpacks stick ons, reinforce the pole holder by sewing as it is super flimsily and attach larger trekking pole holders as they wouldn't fit around my trekking pole tips, had to get extra guyline for the apex points and tie in longer guyline for the stakeout points. Had to see in more mesh at the trekking pole attachment as it got too stretched out. The tent also wants to always collapse inwards on itself. The apex guy out points always take a lot of stress, more then any other point of the tent as there is nothing else to reinforce it in that direction. I am hesitant to take it to the backcountry after some one nighters in it. I love the room but I wish a thicker dyneema was made with it along with more customizable features. I have a first gen btw
Thanks for sharing your experience and I'm glad you're mostly liking the tent.
For these extras, we do include 5m/15 feet of spare guyline with the tent which is enough to add peak guylines or longer corner cords, but yes if you want a lot of line all around then getting extra guyline is needed. On the 2023 models I have made the corner lines longer on but still not long enough to tie off to rocks etc because it complicates things for new users, so yes if you want longer lines those do need to be added.
Back in 2022 we did get requests for pockets so I did add pockets for the 2023 model.
For pole tip connections, this is intentionally a small loop of shockcord so it grips the pole tip, as otherwise it'll slide up the pole and won't anchor the door zippers. It should work for most poles but perhaps sometimes adding a larger loop of shockcord is sometimes needed. We have strengthened these connectors as well in more recent models.
For the other issues, it sounds like you have reinforced the cup that holds the pole at the peak and made some changes to the mesh. I'm not sure what problems happened here as the system seems to be working very well but perhaps there was an issue here with yours or you have a type of pole that doesn't fit as intended. If you email us with some pictures we can try to help.
With regard to the tent collapsing inwards, I released a new pitching video recently that is much more helpful than the old one and has some good info even for experienced users. This video shows how to get a nice firm pitch without the peak guylines. Guylines should only be needed in quite windy conditions. The main tips are to make sure the base is adjusted tight before the poles are added (this will tighten the sidewalls) and to extend the poles firmly. You may also prefer to replace the shockcord at the door stake point with non-stretch cord to help make the tent more solid. That allows the peaks to be better anchored from that side to reduce the need for guylines. We started doing this as the standard version this year.
Thanks for your support and feedback. I am constantly working to improve these tents so it is helpful to hear these suggestions and I think we have already made changes to improve many of them.
Warm regards,
Dan