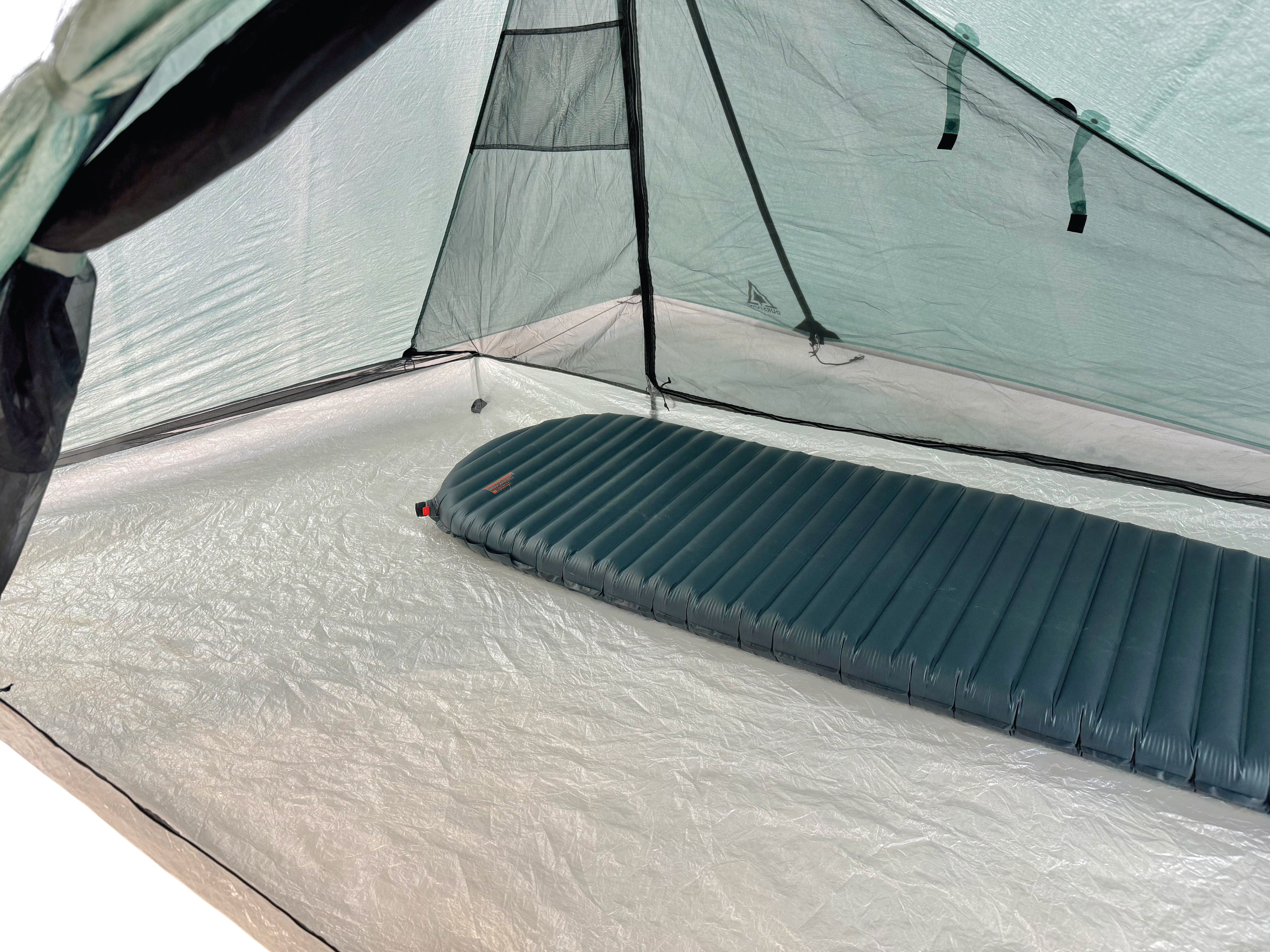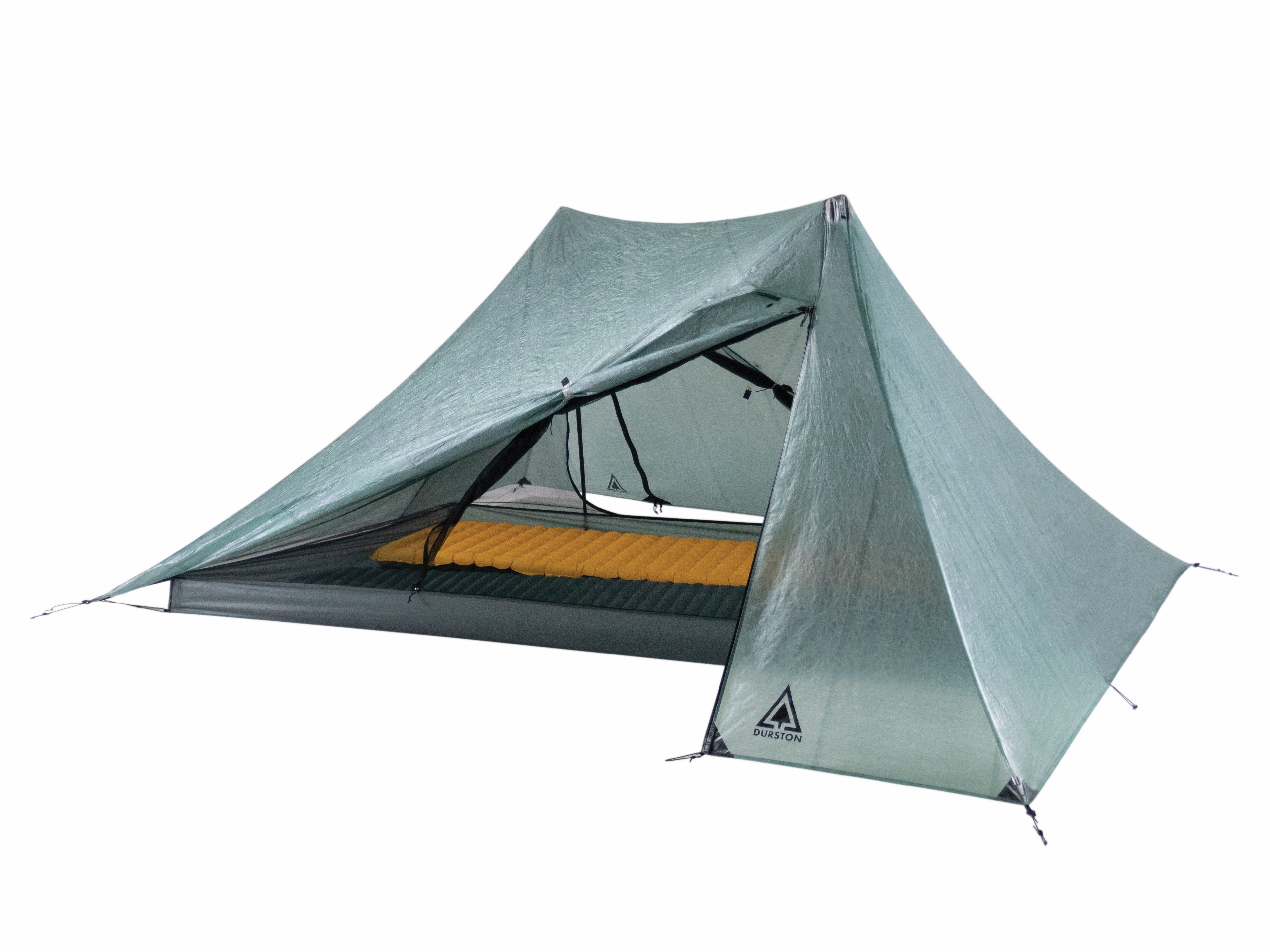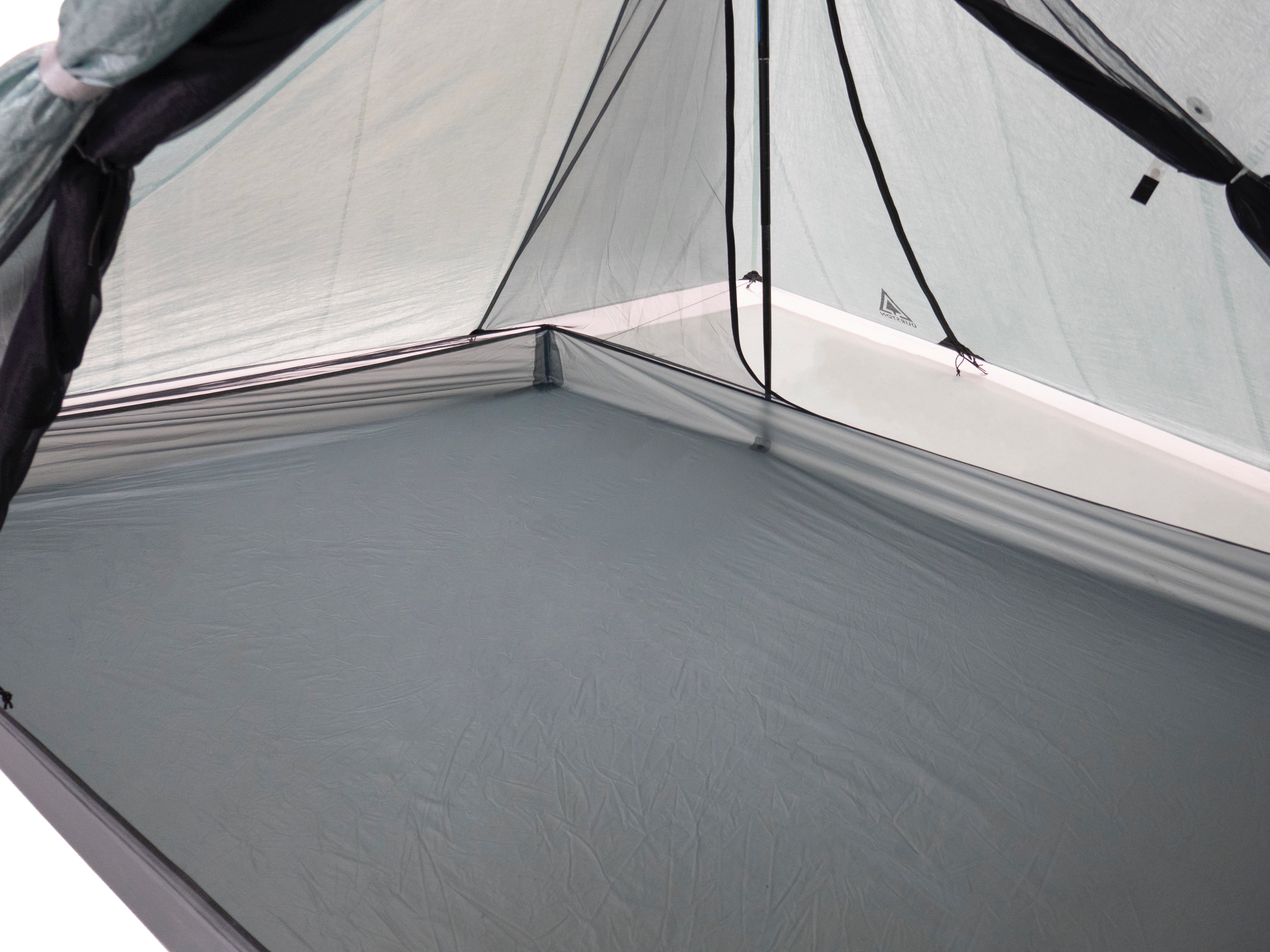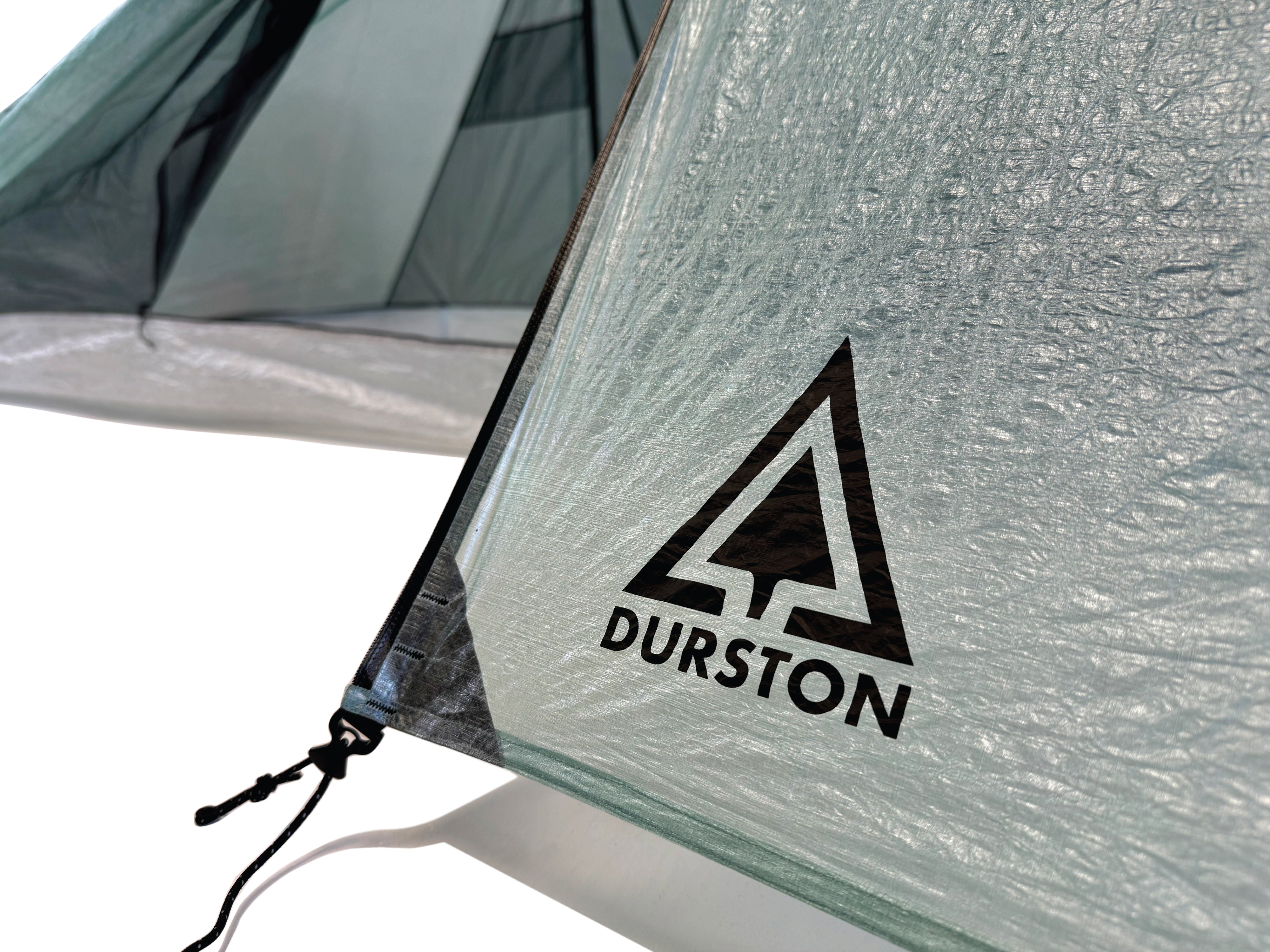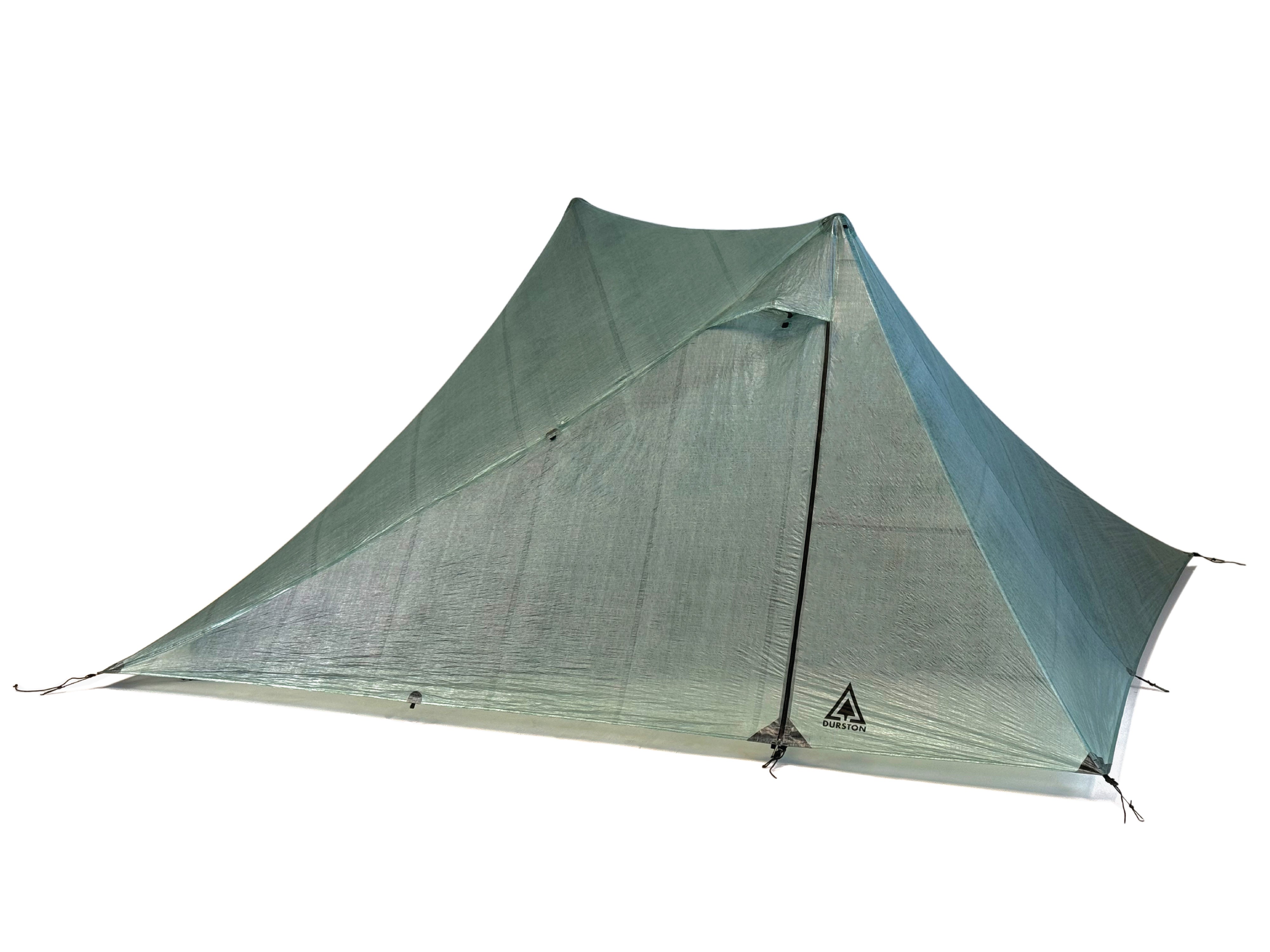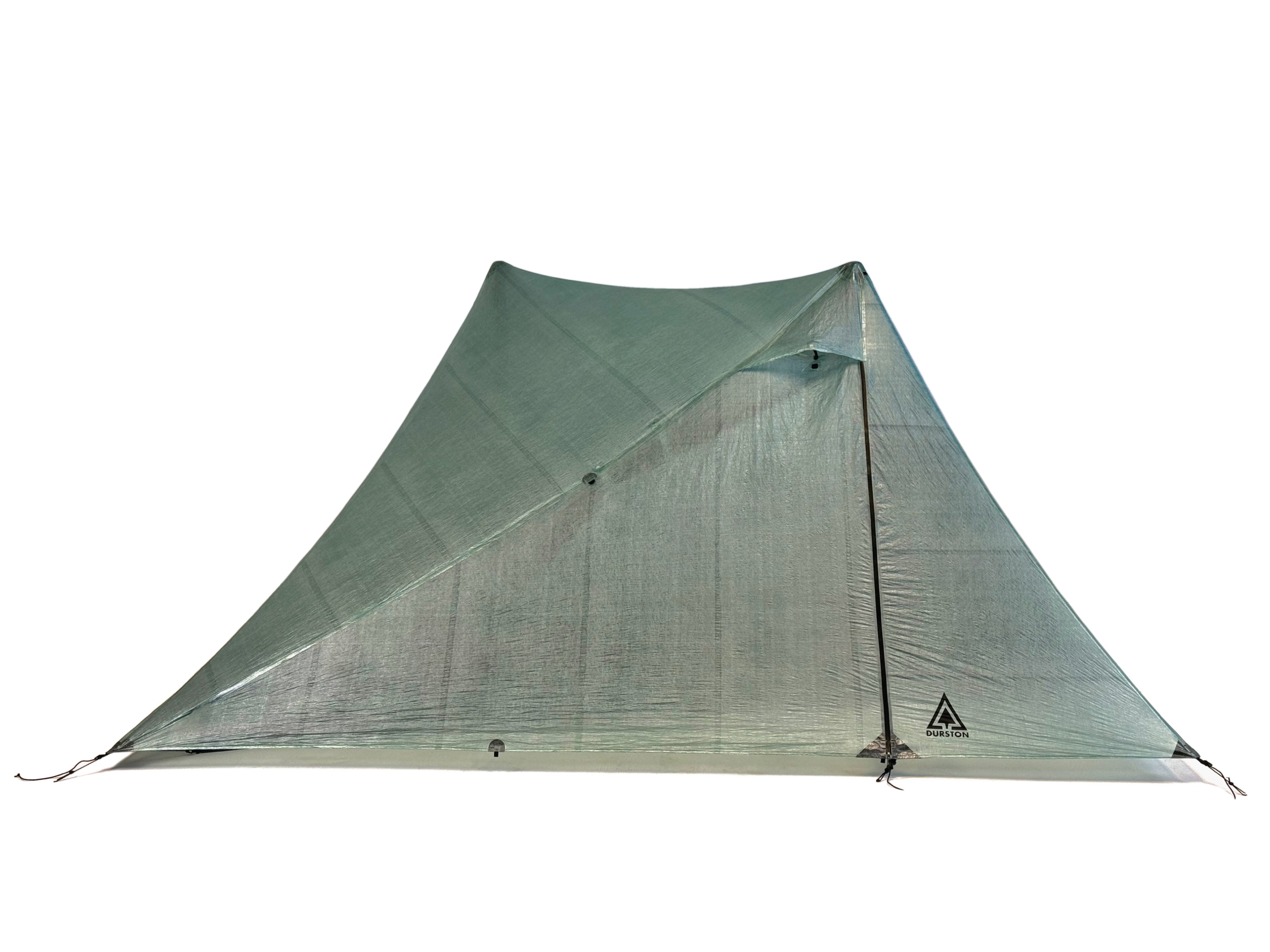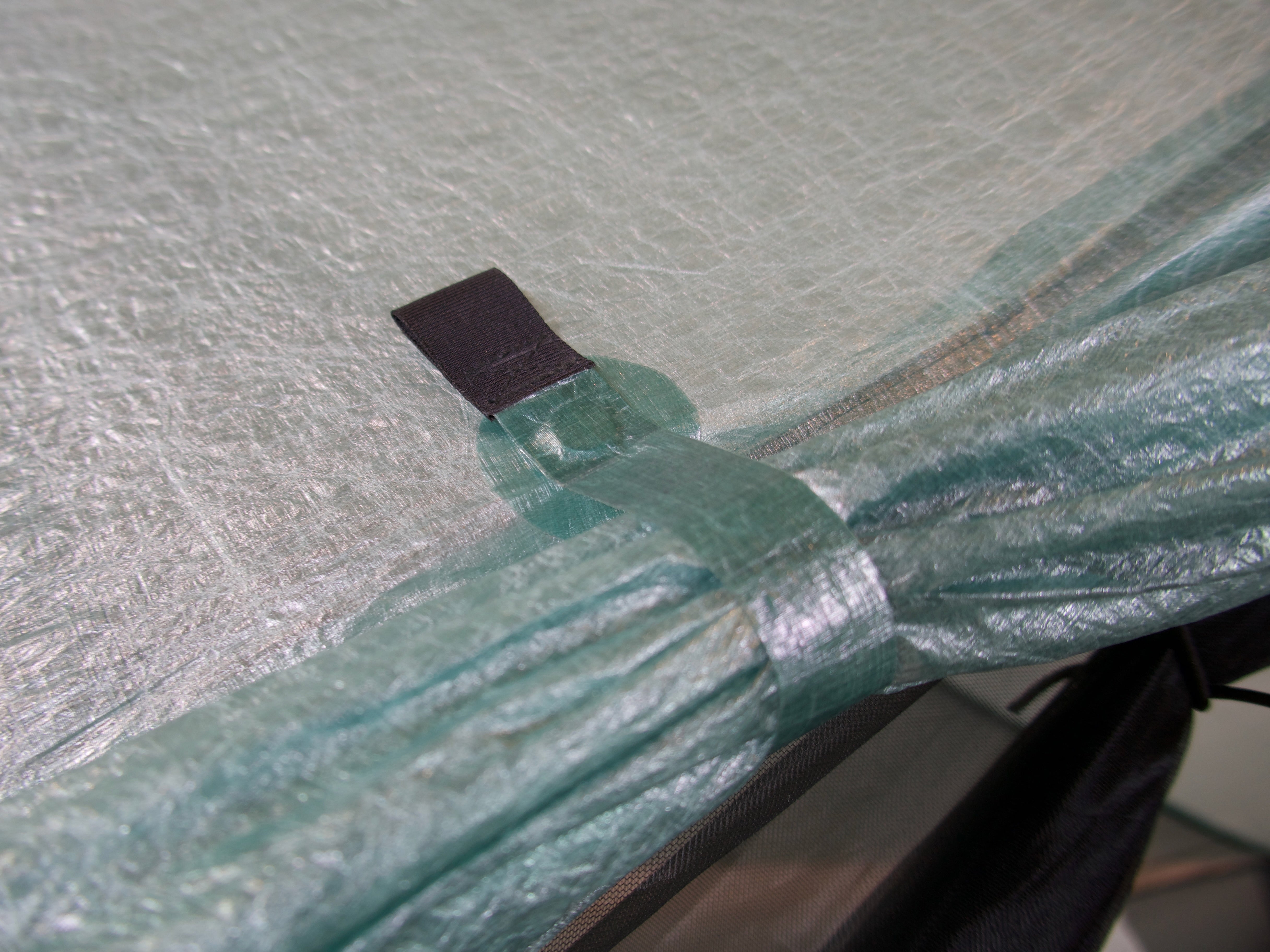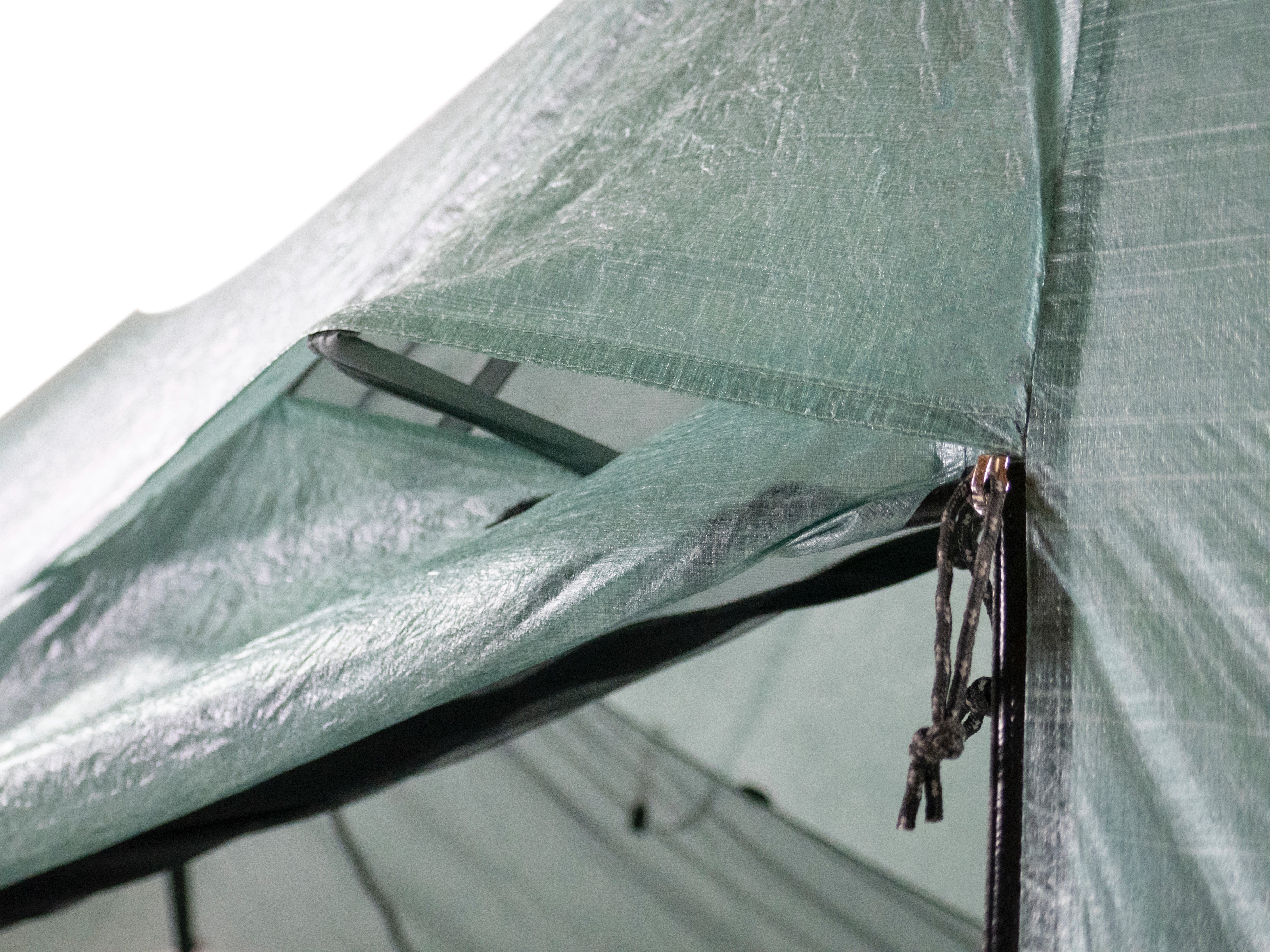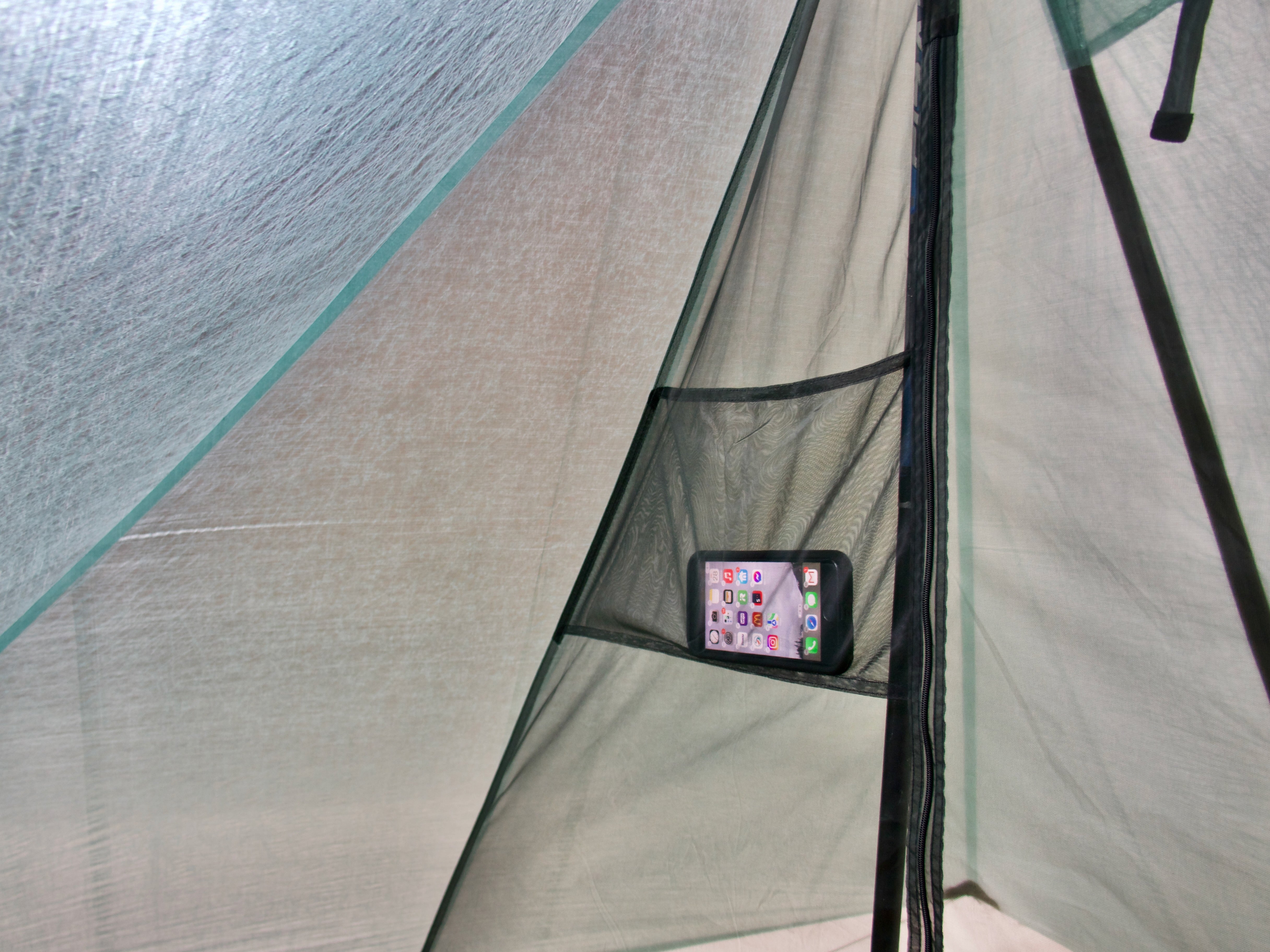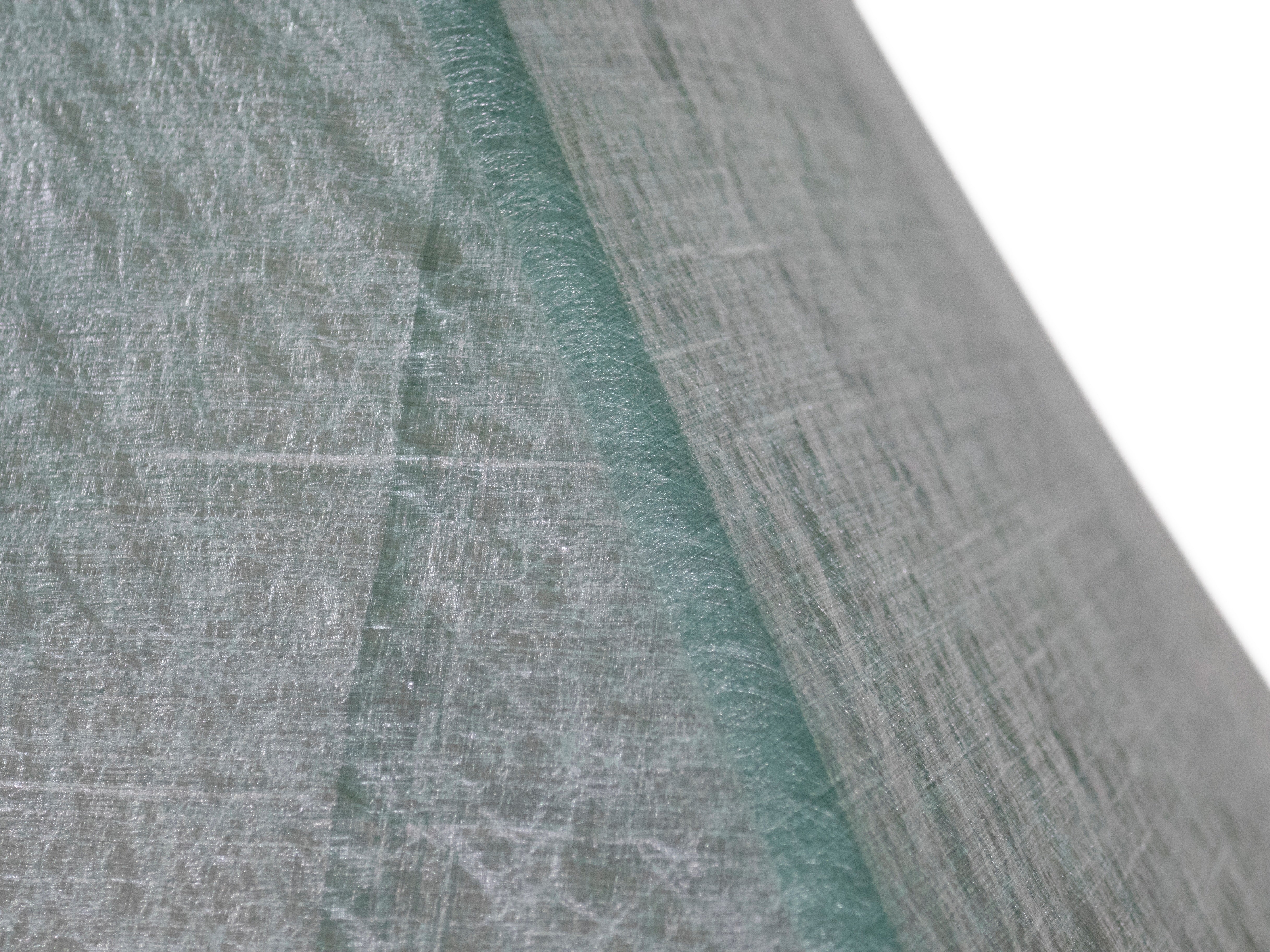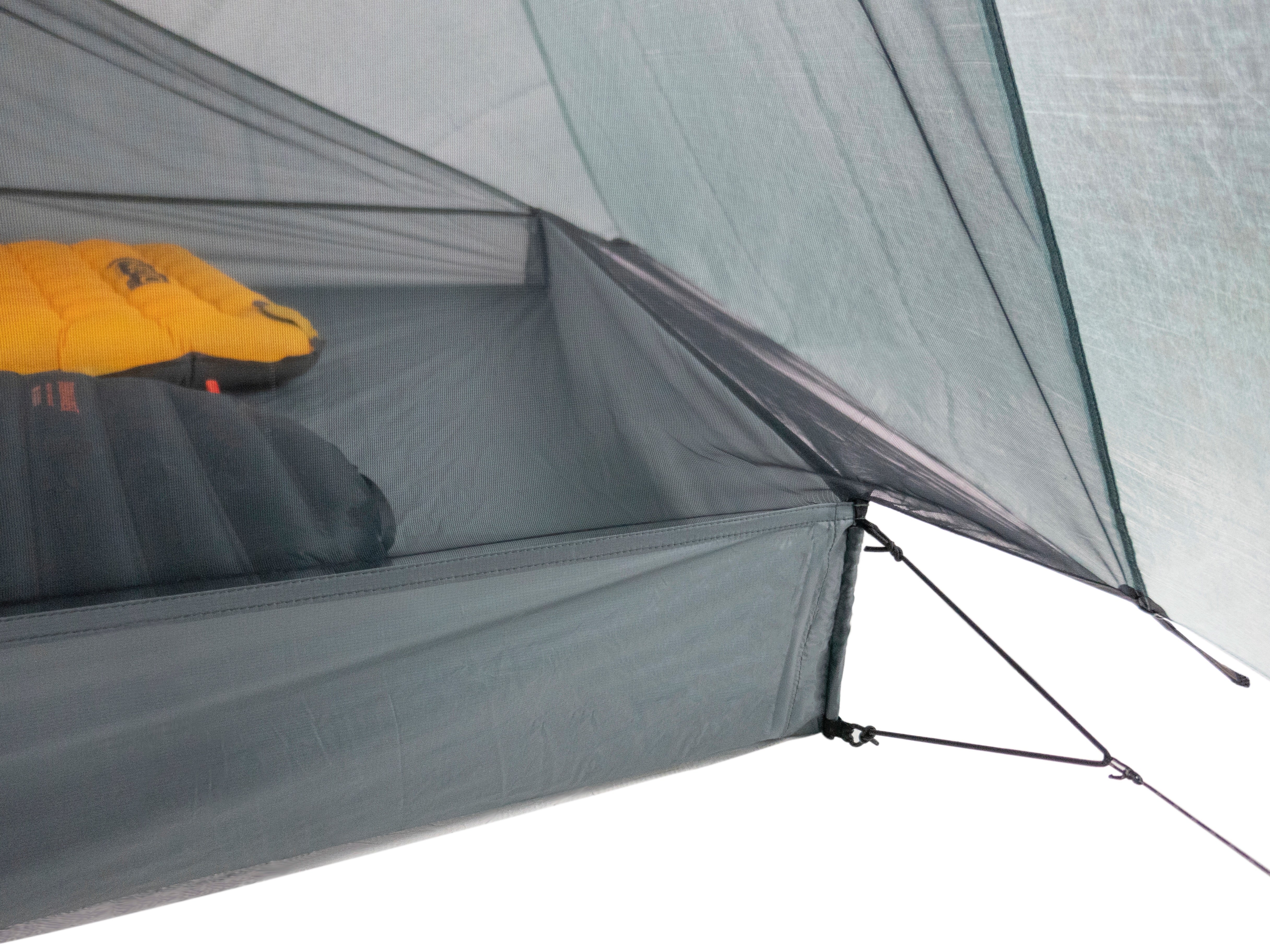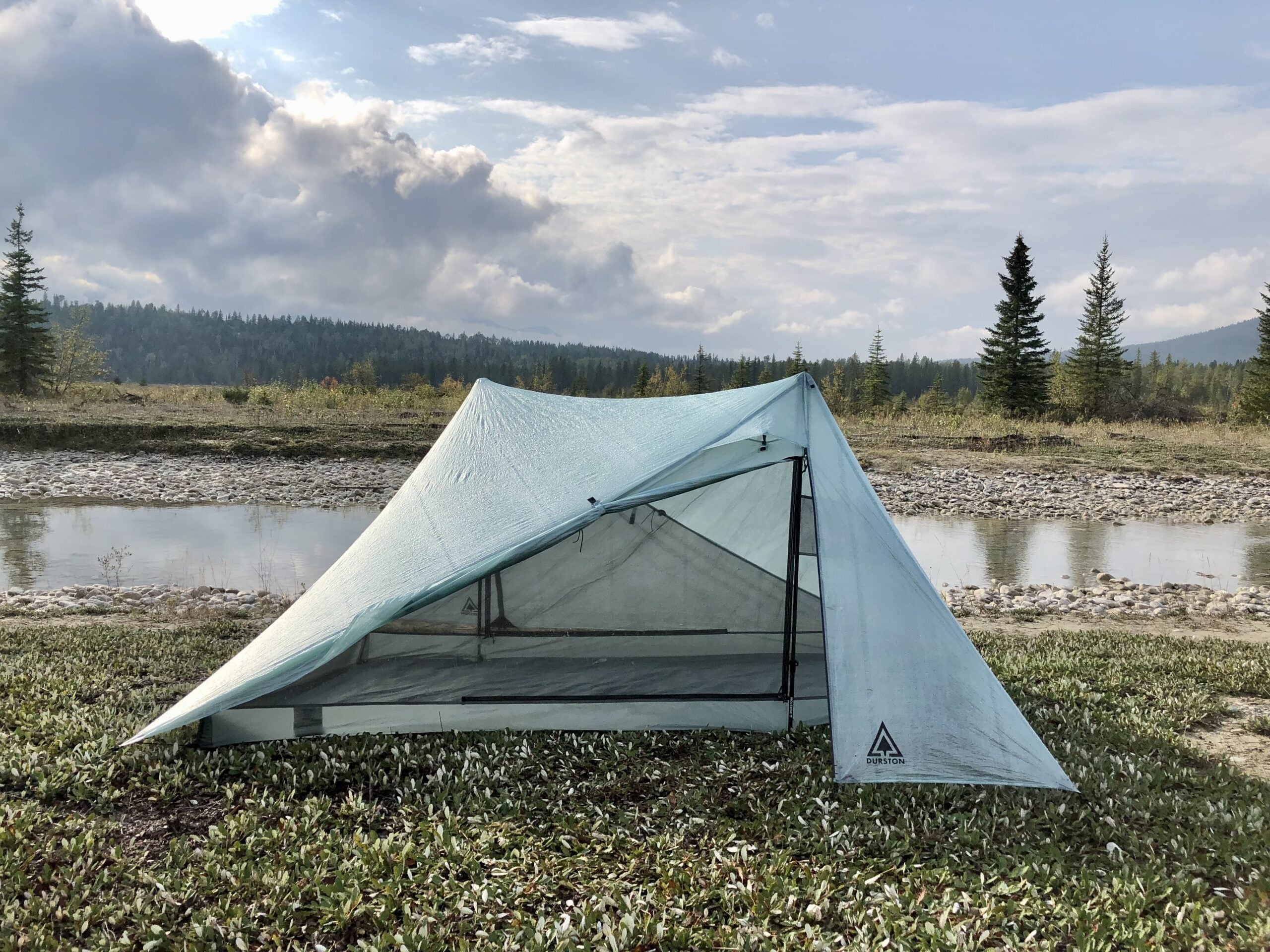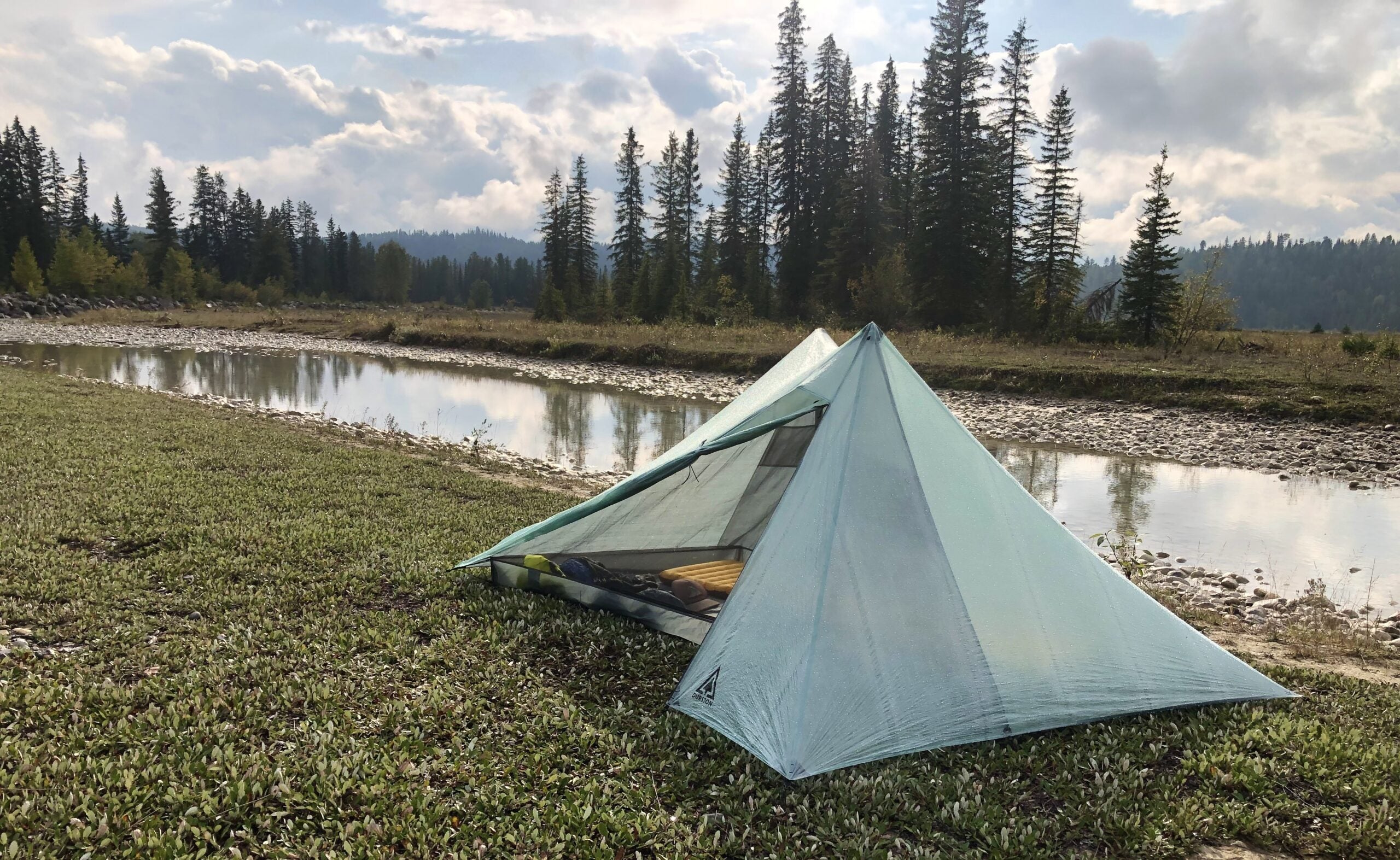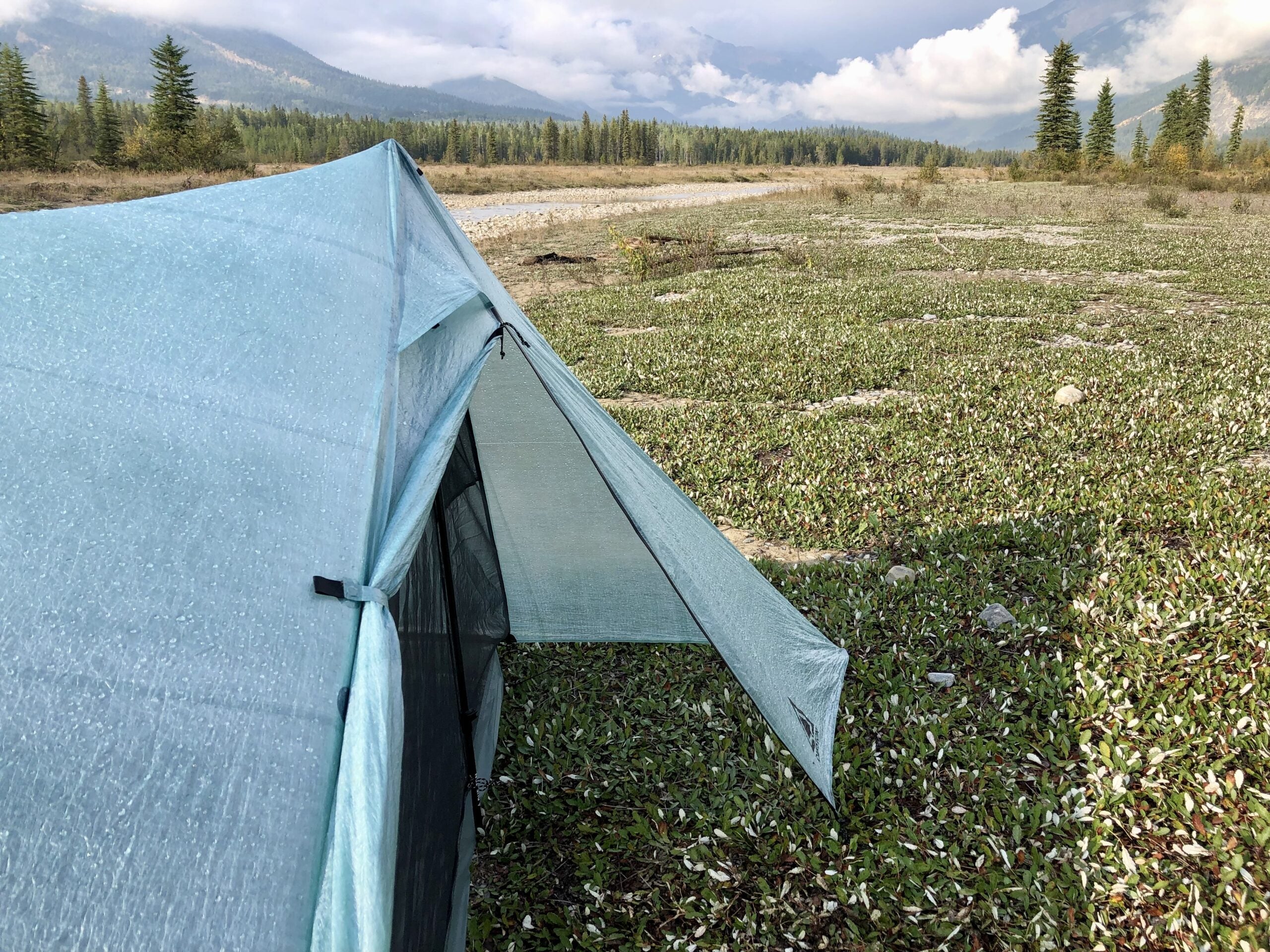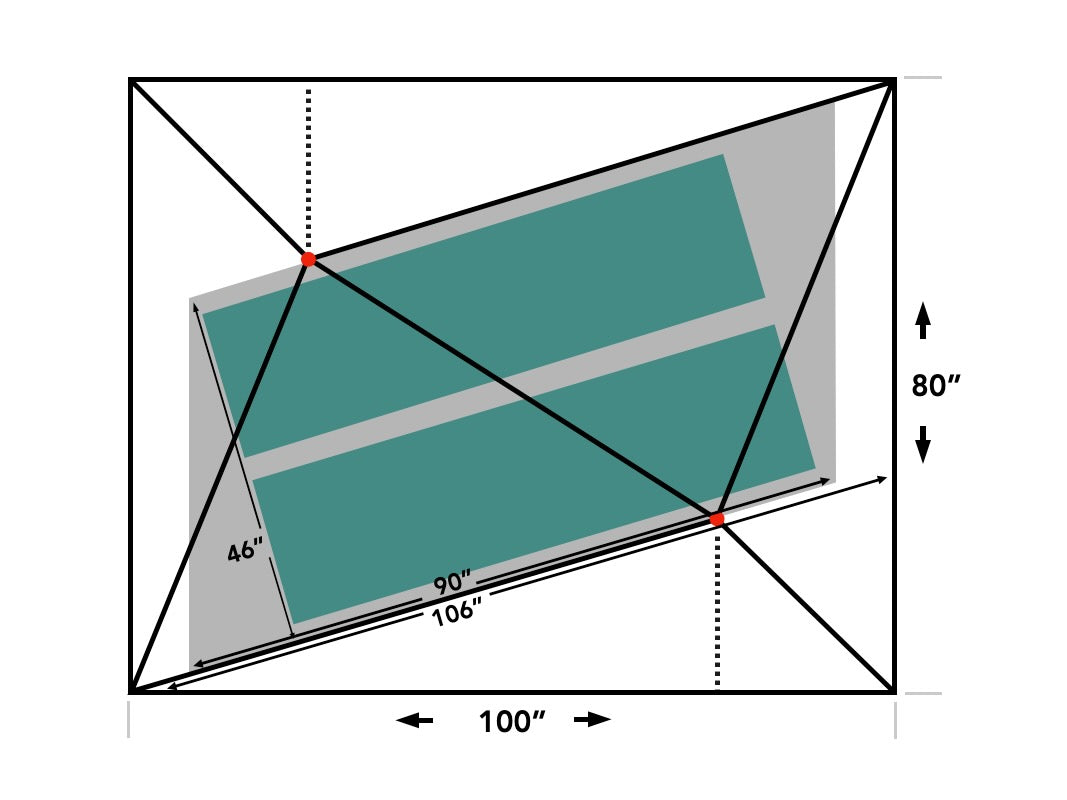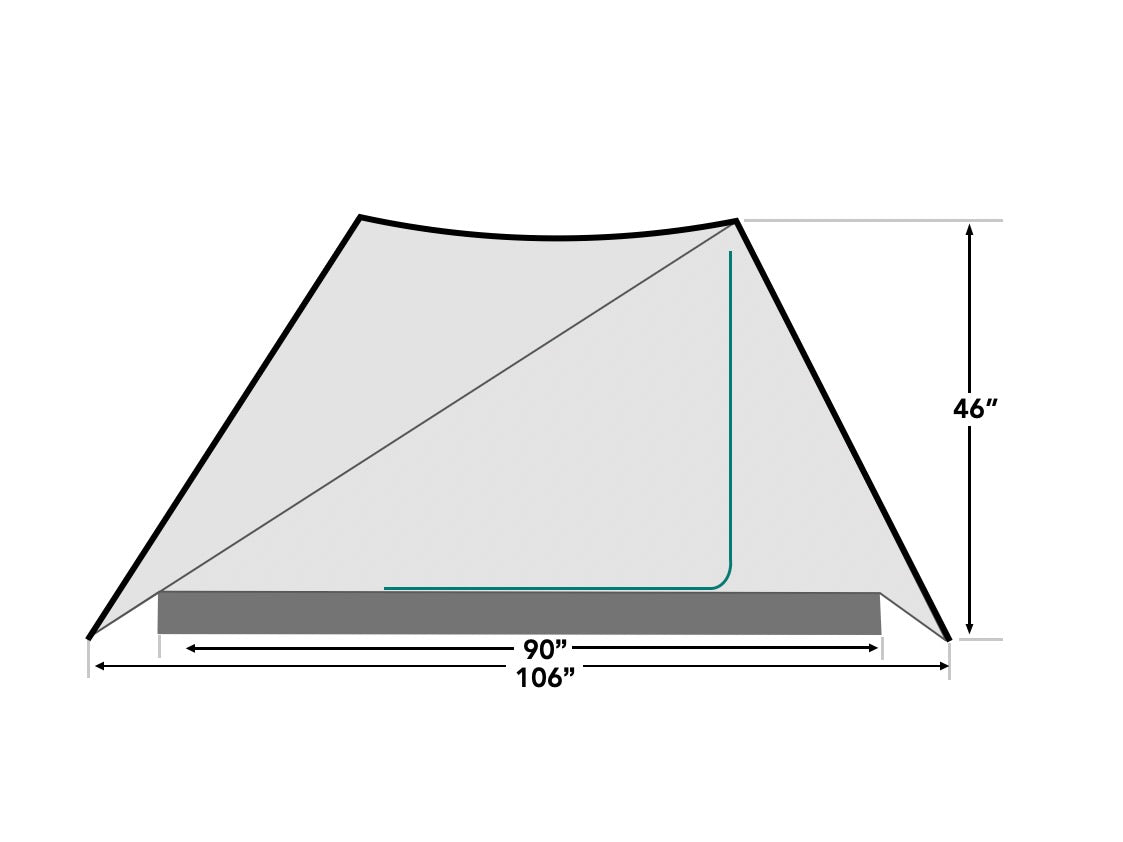 X-Mid Pro 2
---
The 2024 X-Mid Pro 2 has arrived. It is now even lighter to become the world's lightest two person tent. Other 2024 updates include magnetic toggles on the inner doors, more affordable pricing, and a new DCF floor option.
Pinnacle of Ultralight Tent Design
The X-Mid Pro 2 is the pinnacle of ultralight tent design. It combines our maximally weight efficient and stormworthy X-Mid geometry with Dyneema® composite fabrics (DCF) and a singlewall design to create a tent that is both incredibly light and incredibly capable. The 2024 version weighs as little as 18.2 oz (515 g) making it the world's lightest two person tent, while also bringing unprecedented stormworthyness, simplicity, spaciousness, and build quality to the super ultralight tent niche.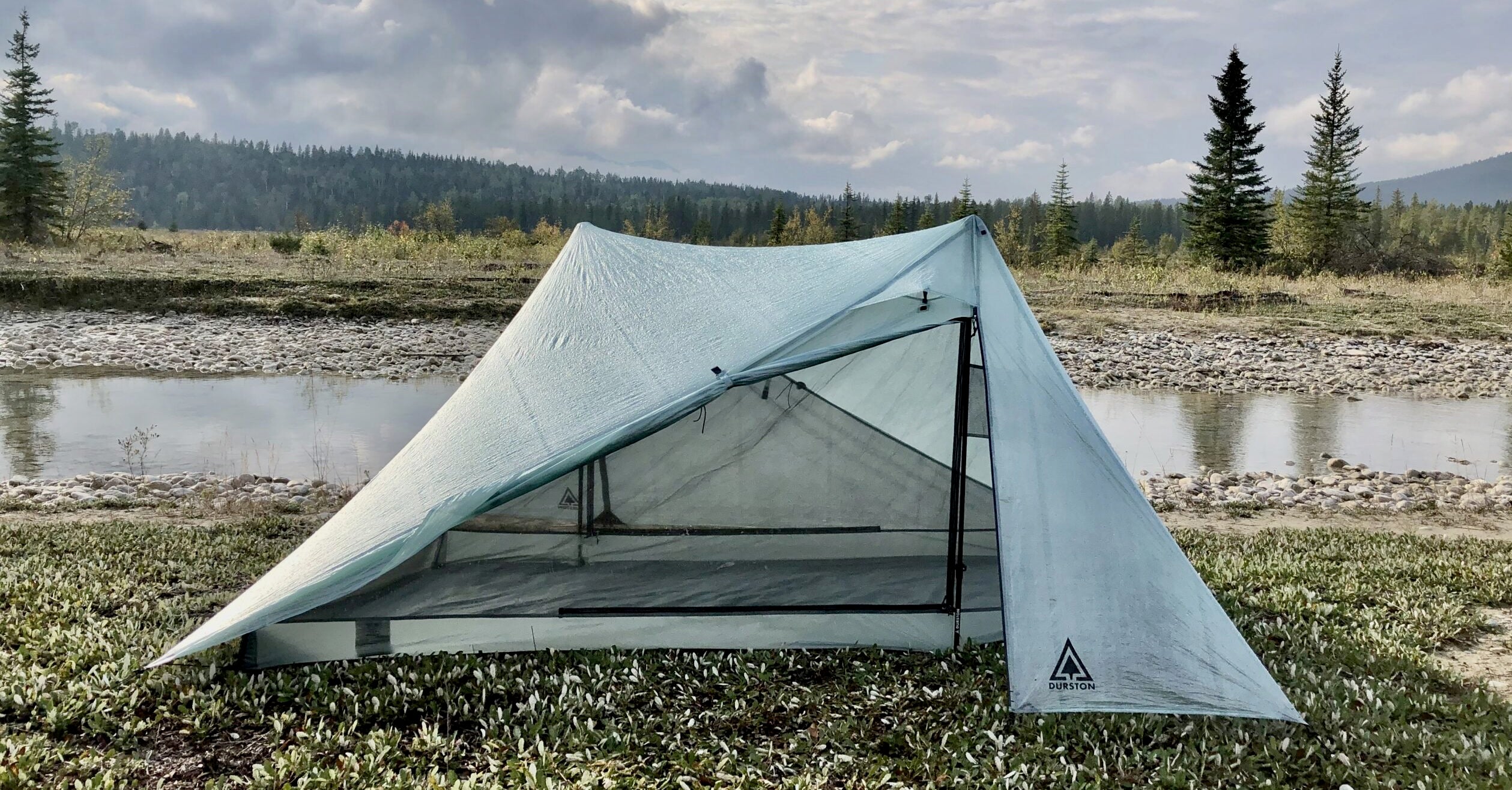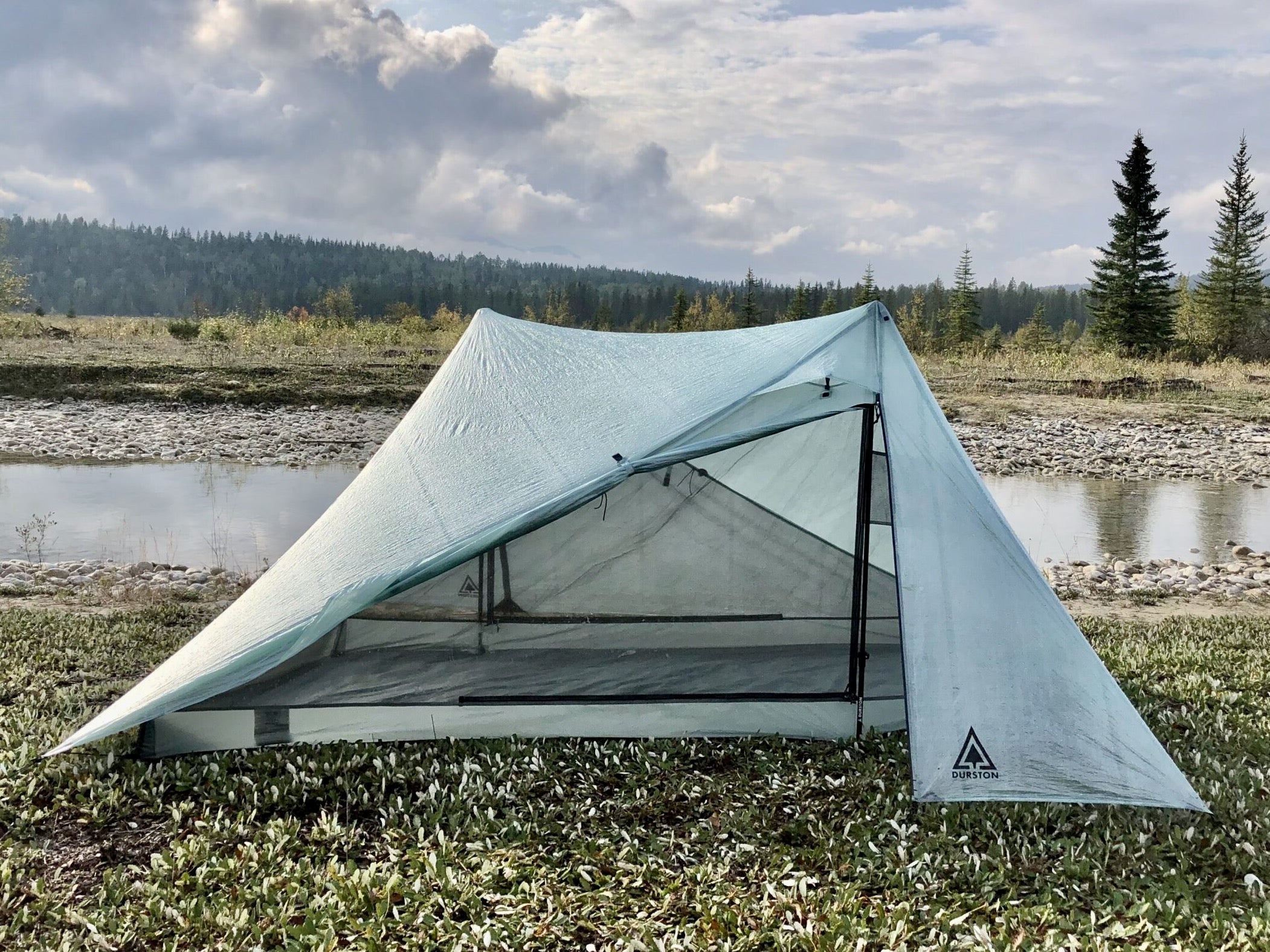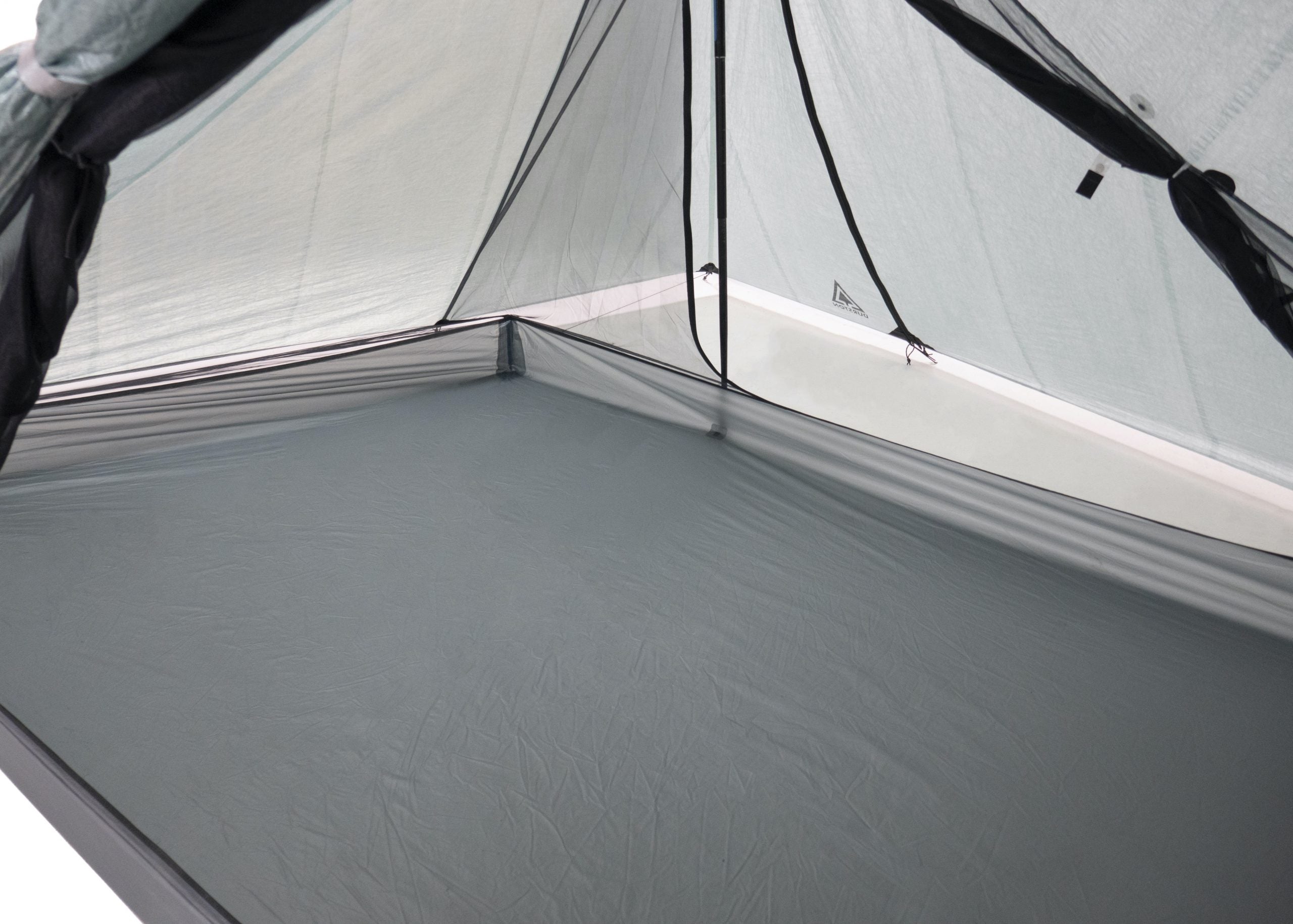 SPACIOUS
Until the X-Mid Pro 2, if you wanted a 2P tent for a little over 1 lbs you had to settle for something cramped, delicate, and/or lacking in weather protection.
The X-Mid Pro 2 changes that. It provides a spacious interior for two adults with a generous 90″ floor length, steep end walls to maximize useable length, and best-in-class headroom enabled by the unique geometry with a diagonal ridgeline and opposite diagonal floor. It fits hikers up to 6'4″ (dual occupancy) or 7'0″ (solo occupancy).

Also generous are the dual 11.6 sq ft vestibules which are large, tall, and conveniently place the main area beside the door instead of blocking it.
Want it even more spacious? Check out the X-Mid Pro 2+.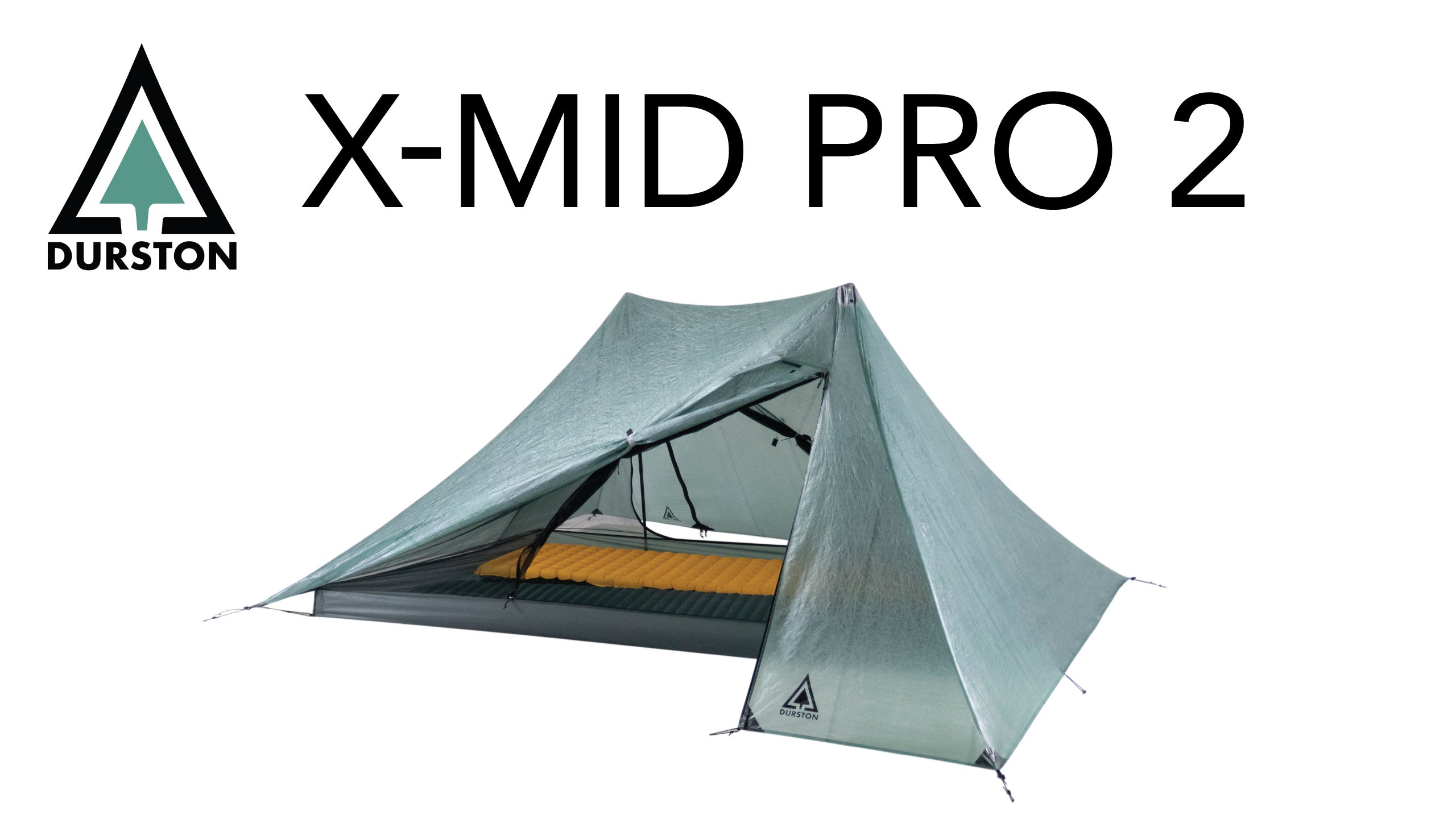 The stormworthiness of the X-Mid Pro 2 is excellent thanks to the extremely strong Dyneema composite fabric, high performance shape, and a full coverage fly that can extend right to the ground to block rain splatter and drafts yet can be lifted higher for increased ventilation.
When faced with wind and snow, the X-Mid has the ideal shape since the geometry gives all of the panels a consistently moderate slope. There are no horizontal roof panels to catch snow, nor vertical side panels to catch wind. The tent pitches solidly with just 4 stakes peak and side panel guyouts can be added along with 8 extra stake points around the base should the conditions warrant.

More than just surviving, the X-Mid Pro 2 keeps you comfortable in tough conditions due to the protected pitch (keeps the floor dry during setup in the rain), protected doorways (keeps the rain out even when open), and dual peak vents which minimize condensation.
Highly Recommended
"If you want the highest-quality and best-performing ultralight shelter on the market, the X-Mid Pro should top your list."

A Titan of Featherweight Design
"Simpler than just about any other trekking-pole tent. It's hard to beat the simple but effective design."
Simply the Best
"Simply the best tent...an impenetrable bunker, super high quality, easy to setup. We couldn't have been more pleased."
Gear of the Year
Durston's lofty claims, especially compared to some other great shelters, are surprisingly valid...it proved to be outstanding in its class.

Our Favourite Super Ultralight Tent
"No other tent on the market gives you this much livable area for so little weight....an incredible tent design"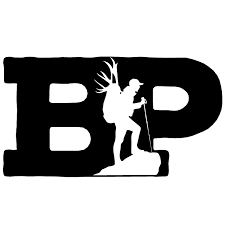 An Absolute Gem
"Deflects wind, rain, and even snow with ease. Extreme attention to detail make it a joy to set up. I'm a HUGE fan."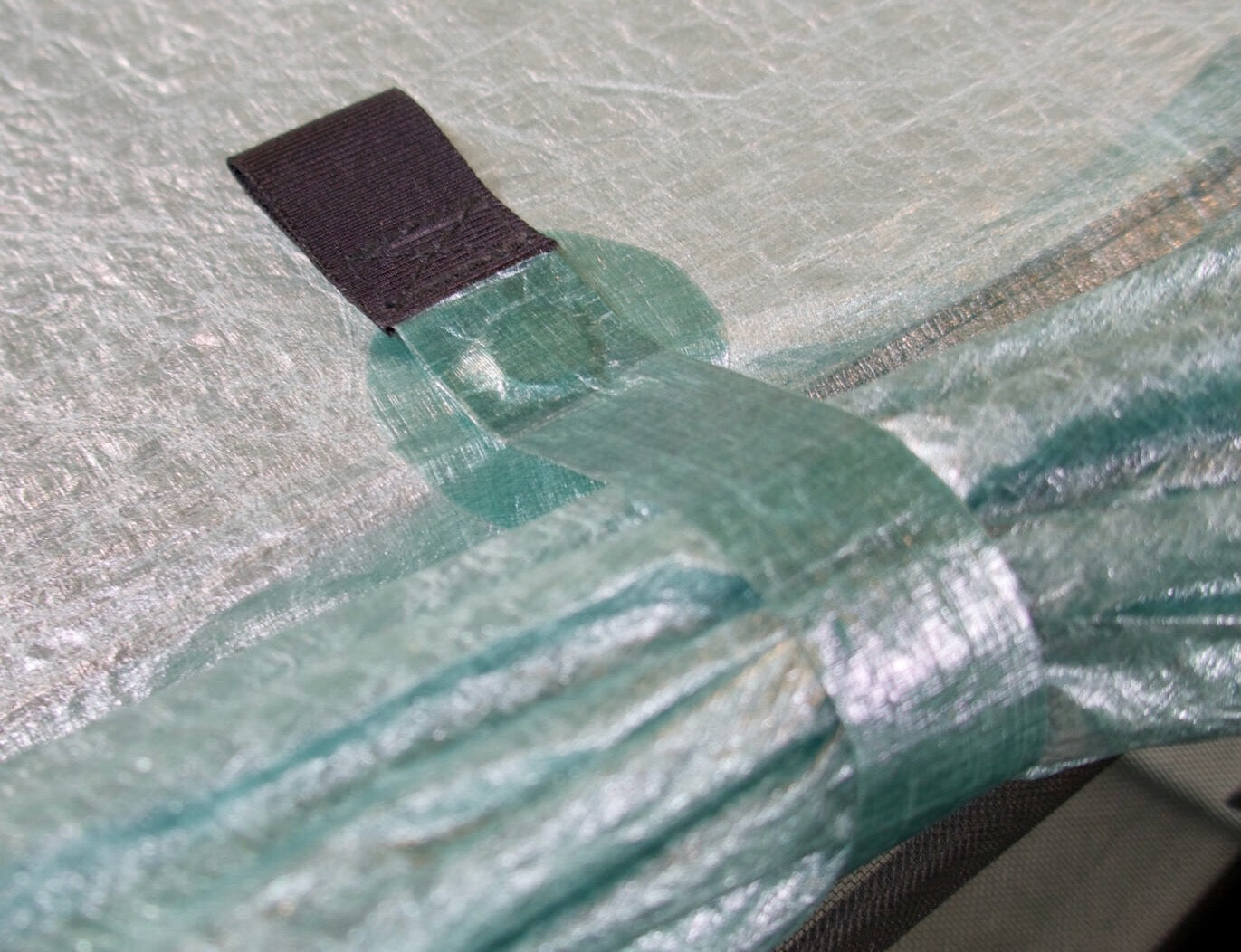 USER FRIENDLY
The X-Mid Pro retains the user friendliness that the X-Mid tents are highly regarded for. Unlike most trekking pole tents, the rectangle based X-Mid has a simple 4 stake pitch with no mandatory guylines, no measuring or estimating odd angles, and no struts.
Once pitched, the intuitive minimalism continues with magnetic door toggles, doorways that aren't blocked by poles, vestibules that put the main area beside the doorway instead of blocking it, a tensioned floor that lies taut and wrinkle free, and one handed operating zippers.
The X-Mid Pro also has a remarkably small packed size because of the efficient use of materials, less bulky floor material, and lack of struts which complicate packing up the tent.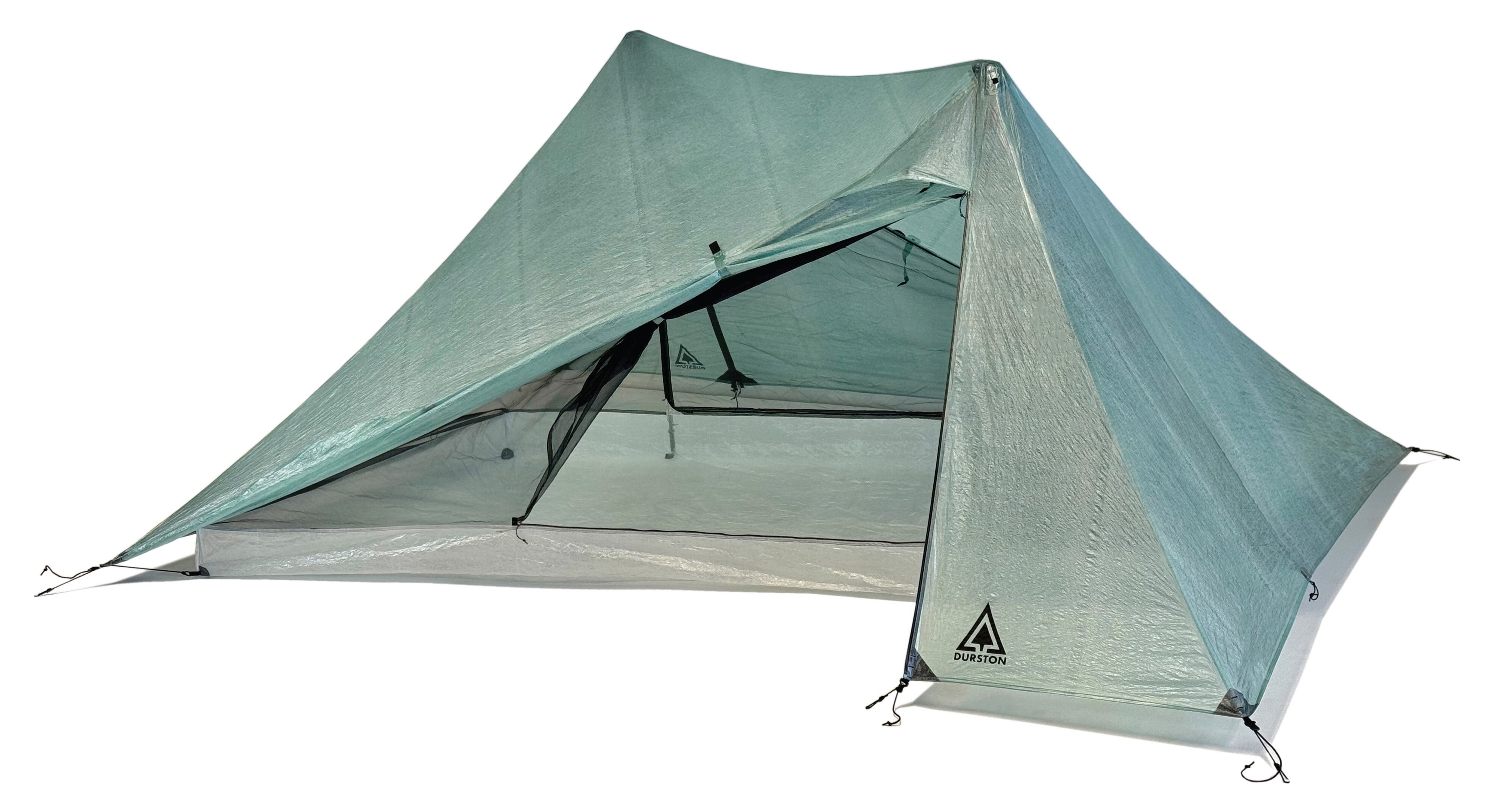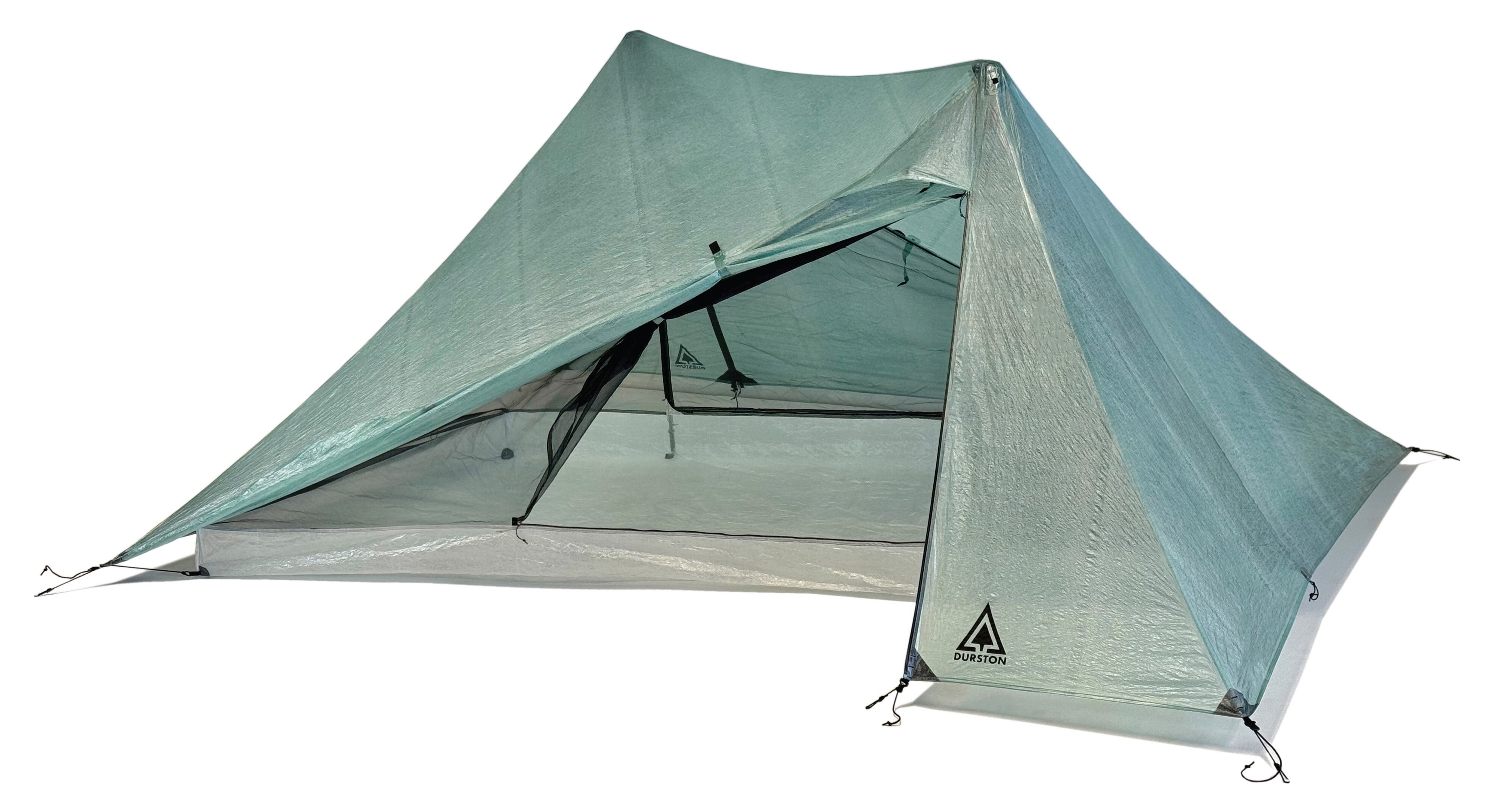 Magnetic Toggles
Magnetic door toggles with pull tabs provide easy one handed-operation.
Doorways
Unlike most trekking pole tents, the doorways are large and not blocked by trekking poles.
Full Coverage Fly
The fly extends low to the ground to block drafts and rain splatter, yet can be raised for more ventilation. Other tents cut away the bottom of the fly to save weight but it leaves you more exposed.
Tensioned Floor
Small corner struts and cords tension the floor so it lays taut and easy to clean. Competing tents hang the bathtub floor from its top edge (like a bag) which saves weight but is more prone to wrinkling and sliding around.
Peak vents
Dual peak vents minimize condensation.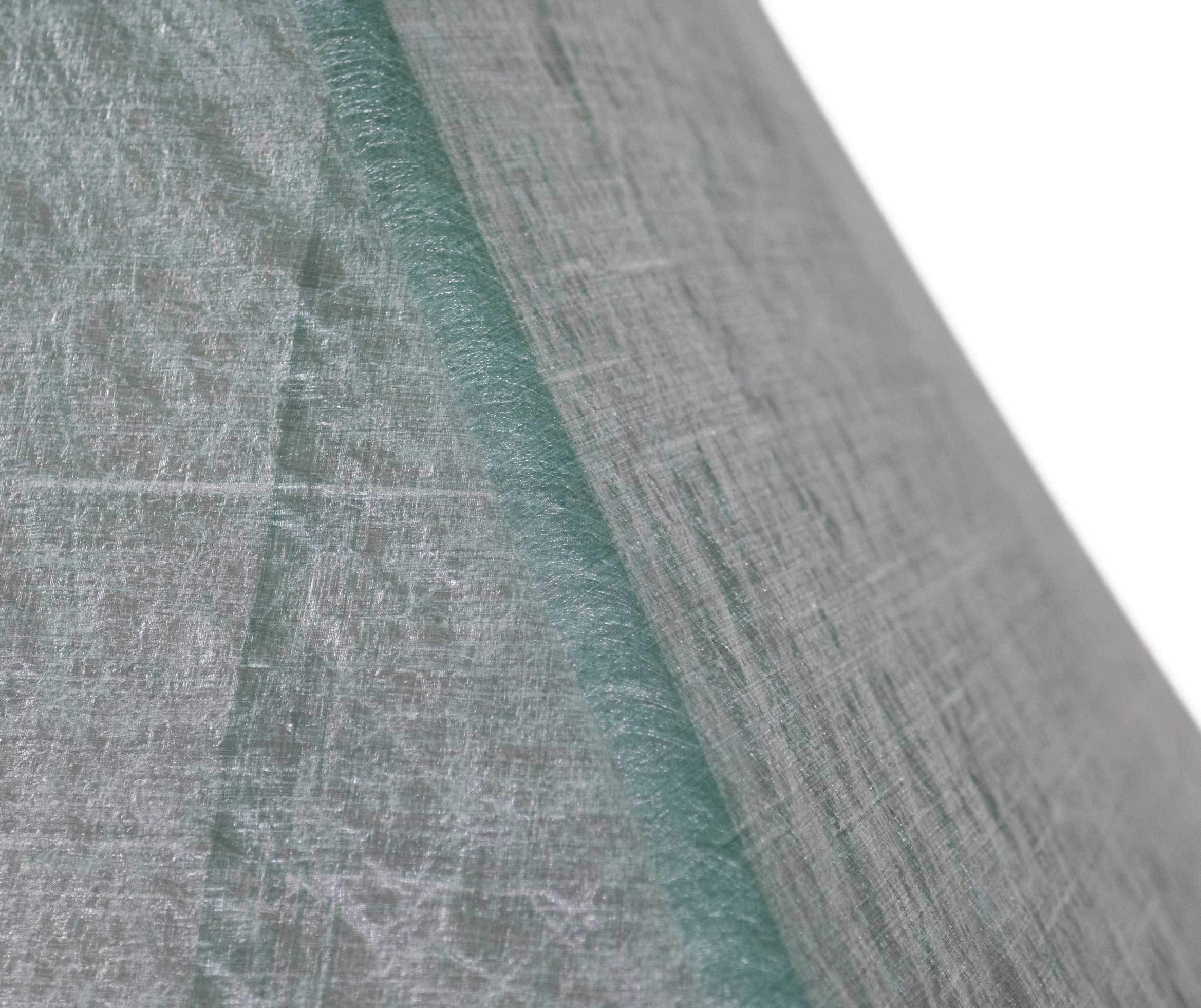 QUALITY
In addition to the highest performance design, the X-Mid Pro has industry leading quality. That starts by using premium materials like Dyneema, and assembling them at the most experienced tent factory in the world for DCF.
We use hot bonded construction to create Dyneema seams that are stronger, cleaner looking, and better retain their strength in extreme temperatures. We also use a proprietary pre-shrinking process for DCF so that the shape is more stable over time and won't shrink to create wavy zippers.
While this premium quality gives the X-Mid Pro a higher cost of production than comparable tents, it is affordably priced because we sell it to you direct with only a modest markup.
PATENTED GEOMETRY
The X-Mid shape has been developed from the first principles of geometry to be as weight efficient, simple, and functional as possible.
That includes avoiding all the common pitfalls of trekking pole shelters such as a complicated pitch, mandatory guylines, poles blocking the doorways, and a lack of interior volume.

Read the story about how the X-Mid geometry was developed: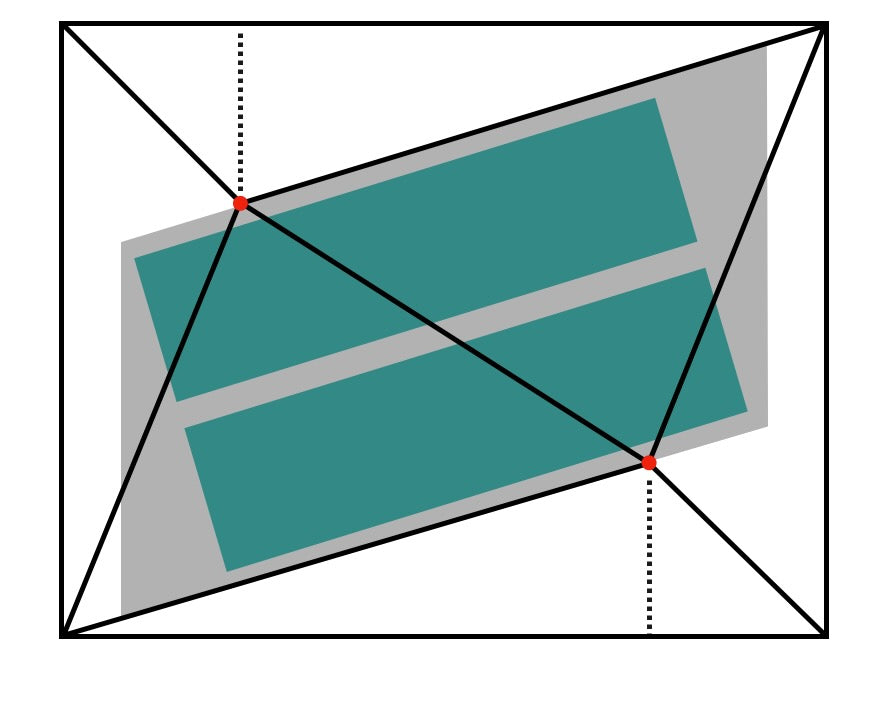 As one of the lightest tents in the world yet remarkably spacious and capable, the X-Mid Pro 2 is the ideal tent for everything from a thruhike of the Continental Divide Trail to bikepacking across Southern America.
This product is rated 4.9 of 5.0 stars.
It has received 37 reviews.
Specifications
WEIGHT
18.2 oz / 515 g (DCF floor) or 20.1 oz / 570 g (Silnylon floor)
-
0.3oz / 8g (DCF) or 0.4 oz / 12 g (Silnylon)
-
DAC J Stakes (4 x 6" @ 7 g; 4 x 8" @ 16 g)
-
Typical Setup (Tent, Sack, 6 Stakes)
21.2 oz / 600 g (DCF floor) or 23.1 oz (Silnylon floor).
-
80 x 100 in / 2.03 x 2.54 m
-
23 sq ft (11.6 x 2) / 2 sq m (1 sq m x 2)
MATERIALS
0.55oz Dyneema CF in Spruce Green
-
15D Sil/PEU nylon (grey) or custom DCF (white)
Features
World's Lightest 2P Tent
The weight efficient and patented X-Mid geometry combined with Dyneema® fabrics creates world's lightest two person tent, while also providing best in class headroom, living space, stormworthiness, and ease of pitching.
Dyneema® Fabric
Dyneema® Composite fabric (DCF) is extremely strong and highly waterproof (8,000mm).
Dual Doorways
Dual doorways are zippered, not blocked by trekking poles, and keep rain off the floor even when open.
Dual Vestibules
Dual vestibules are large, tall and put the main area beside the door instead of blocking it.
Dual Vents
Dual adjustable peak vents minimize condensation yet can close during harsh conditions.
Dual Pockets
Dual interior pockets provide convenient storage.
Full Coverage Fly
Full coverage fly extends low to block drafts and rain splatter, but can also be pitched higher for more ventilation
Magnetic Door Toggles
Dual magnetic door toggle system allows both the fly doors and inner doors to be quickly secured.
Optional Guyouts
Optional peak and side panel guyouts plus eight additional stake points around the base can be used for harsh conditions
Simple Pitch
Ultra-simple pitch with just four stakes, no measuring, and no odd angles.
Collapsable Vestibules
Vestibules can be collapsed to fit into smaller tent sites
Hot Bonded
Premium hot bonded construction with pre-shrunk DCF.
Compare
COMPARE
The X-Mid Pro 2 provides unprecedented stormworthiness, user friendliness, and space for a superultralight tent, while also weighing less than all other 2P tents. To illustrate this, the table below compares the X-Mid Pro 2 to what is seen in competing tents.
Fly coverage
Extends low to block drafts and splatter
High cut fly leaves you more exposed
Peak vents
Dual vents minimize condensation
Vents are small or omitted
Measuring poles required?
Overall ease of pitching?
Doorways blocked by poles?
Tent weight
18.2 oz / 515 g (DCF floor version)
19.7 - 24 oz / 560 - 680 g
Tent + minimum # stakes
19.5 oz / 555 g (DCF floor version)
22.2 - 26.8 oz / 630 - 760 g
FAQ
FAQ
Browse the FAQ to learn more or get in touch if you have further questions.
Contact Support
Q) Should I choose woven (silnylon) or DCF floor?

Originally we did not use DCF floors because we don't think the commonly used 1.0 oz DCF is ideal for a floor application. It works and we haven't been opposed to it, but we don't think it's compelling choice because 1.0 oz DCF is not substantially better for durability or weight savings compared to our 15D silnylon floor, yet it increases the cost and bulk (packed size) of the tent.

However, we have implemented a new version of DCF for our floors as an industry first. This new version reduces the weight and bulk while preserving the durability, such that it offers similar performance as 1.0oz DCF while being lighter and packing smaller.

This addresses our previous critiques of 1.0 oz DCF. Our DCF floor still is more expensive than silnylon, but offers additional weight savings. Choose the silnylon floor for the best value and/or smallest packed size, or choose the DCF floor for the absolute lowest weight and faster drying.
Q) Does the X-Mid Pro 2 fit two wide pads?

The floor width of the X-Mid Pro 2 will vary depending on how high it is pitched. With a low pitch the floor will be wider and can fit two wide (25") tapered pads by placing them opposite ways, or placing them side by side and splaying out the walls a bit.

However, the larger X-Mid Pro 2+ provides those extra inches of width that are needed to easily fit all wide pads including two wide rectangular pads. If you plan to use two wide pads we recommend the 2+ model.
Q) Do two people have to sleep opposite ways?

No. We recommend that two people sleep the same way. The sleeping area is a bit different on each side, but the tent is quite spacious with 20-35% more interior volume than its main competitors, so two people can sleep the same way.

Compared to most trekking pole tents, the X-Mid's diagonal ridgeline is substantially longer, which gives greater headroom in the tent. This extra headroom is gained diagonally, so two opposite corners get outstanding headroom, while the other two corners have more regular head room. You could sleep opposite so both people get extra head clearance, but when sleeping the same way the person on the regular side still has as much head clearance than competing tents.

Here is a diagram to show the floorplan. When the person on the lower side slides down, that leaves gear storage at the end and both people in a normal side by side position.

However, if you would like truly generous space for two people sleeping the same way then we recommend our larger X-Mid Pro 2+ option which has less rotation on the ridgeline and taller peaks for more consistent headroom on both sides including the lower side still having more head clearance than it's main competitors.
Q) What is a singlewall/hybrid tent?

A singlewall tent is when the floor of the tent is sewn to the fly so the canopy has just one layer instead of having a second inner layer of bug mesh or fabric. The X-Mid Pro is singlewall in some parts (ends, roof) but still doublewall in other areas (sides) so it can be called a hybrid tent.

The design is 100% bug proof and brings substantial weight savings. The downsides are that you don't have the ability to use the fly and inner separately, and that there aren't mesh inner walls in all areas to prevent you from touching the fly if there is condensation.

The X-Mid Pro 2 has every possible advantage to minimize condensation (e.g. large peak vents, spacious) and it is not more prone to condensation than other tents, but if condensation does occur you do need to be more careful not to touch it. The X-Mid Pro makes this easier than most single wall tents because it is more spacious, has mesh walls on both sides, and has steep end walls to avoid contact.
Q) How tall does the X-Mid Pro 2 work for?

The X-Mid Pro 2 has a length inside the fly that is 6″ longer than it's main competitors because the X-Mid, Zpacks Duplex, and HMG Unbound are all 100″ long but in the X-Mid Pro you sleep on a 20 degree angle to the fly so the length inside the fly is 106″. The floor is still 90″ but this longer fly gives headroom and clearance at both ends.

When sleeping two people in the tent we recommend it up to 6'4″. That is a realistic estimate of what we think 90% of people would agree with (not some inflated marketing answer) but the actual outcome varies depending on several factors including how thick your pad is, if you use a pillow, how large your sleeping bag is, how straight you sleep (e.g. side vs back sleepers), and how much space you think is enough. If you have a bulky setup and want a lot of extra room you might only find it suitable to 6'0″ whereas if you have a compact setup and aren't too fussy it can work to 6'6″+. We recommend sleeping in the same direction, but note that the headwall will be steeper for one person than the other, so if one person is taller we recommend they sleep on the steeper headwall side for a bit more clearance at their head end. If you are considering using this tent solo, the parallelogram floor gives one diagonal that is very long and we think it works well for up to 7'0″.
Q) Should I use a groundsheet?

The 15D floor is more durable than the floors in many ultralight tents which can be 7-10D fabrics or 0.8 – 1.0 oz composites. We have selected this 15D material because it is durable to use without the added weight and hassle of groundsheet, provided care is used not to pitch on harsh surfaces like gravel, pine needles, or bedrock. However, for a cleaner floor or use on harsher surfaces, we offer a groundsheet.
Q) How does the X-Mid Pro compare to [some competing tent]?

The X-Mid geometry is the most volumetrically efficient shape possible. Thus, it is impossible to design a lighter tent unless you use lighter materials, cut features, or make it smaller.

With the X-Mid Pro we have combined the X-Mid geometry with Dyneema fabrics to create the world's lightest 2P tent. It is still quite spacious and stormworthy, so we are not aware of a lighter 2P tent but it is possible that eventually someone will design an even lighter tent by making it smaller, less durable, and less functional. Even if that happens, we are confident the X-Mid Pro 2 provides the best ratio of space and protection for the weight.
Q) What is the optional stake kit?

For 2024 we have sourced premium stakes from DAC that offer excellent performance.

Our stake kit includes 8 stakes total in two sizes. Four of the stakes are large 8" DAC J stakes weighing 16g each and offering excellent strength and holding power (better than even full size MSR Groundhogs stakes). These are ideal for the four corners of the tent.

The other four stakes are a smaller 6" version of the DAC J stake weighing just 7g each. We recommend using these at any optional stake points you may choose to use.
This product is rated 4.9 of 5.0 stars.
It has received 37 reviews.
Great tent
I was blown away by the weight and how much smaller it packs than my Tarptent. Very easy to setup and very roomy.
Super functional, lightweight and high quality
Just back from 10 nights trail use including heavy rain. The xmid pro gave a fast and simple pitch, plenty of room in the wet, kept the heaviest rains out, and was easy to manage condensation with its elegant and tight panels. For a DCF tent it's very compact and the weight is impressive.
It's my second xmid (I have a solid) and I'm completely happy to have invested in this lighter sister.
The tough question now is to figure out which one to take where.
Great tent
Have yet to try the new tent in weather… but it is so easy to set up, so we'll designed and so so lite… looks to be very well made and not as "delicate " as I thought it would be
The best
this is my fourth durston tent and third pro-2 (second was the magnet upgrade, and this third was a return/replacement due to a dcf blemish). durston has been absolutely amazing since my first purchase on massdrop years ago. you're not just paying for the thoughtfulness of the product, you're paying for the ethos of the people behind the company that makes it. they really care about what they make and it shows in how they take care of us as customers.
I love this tent
Extremely easy to set up. Plenty of room for me, my dog, and pack (room to spare). Durable and easy to pack away. I love this tent.