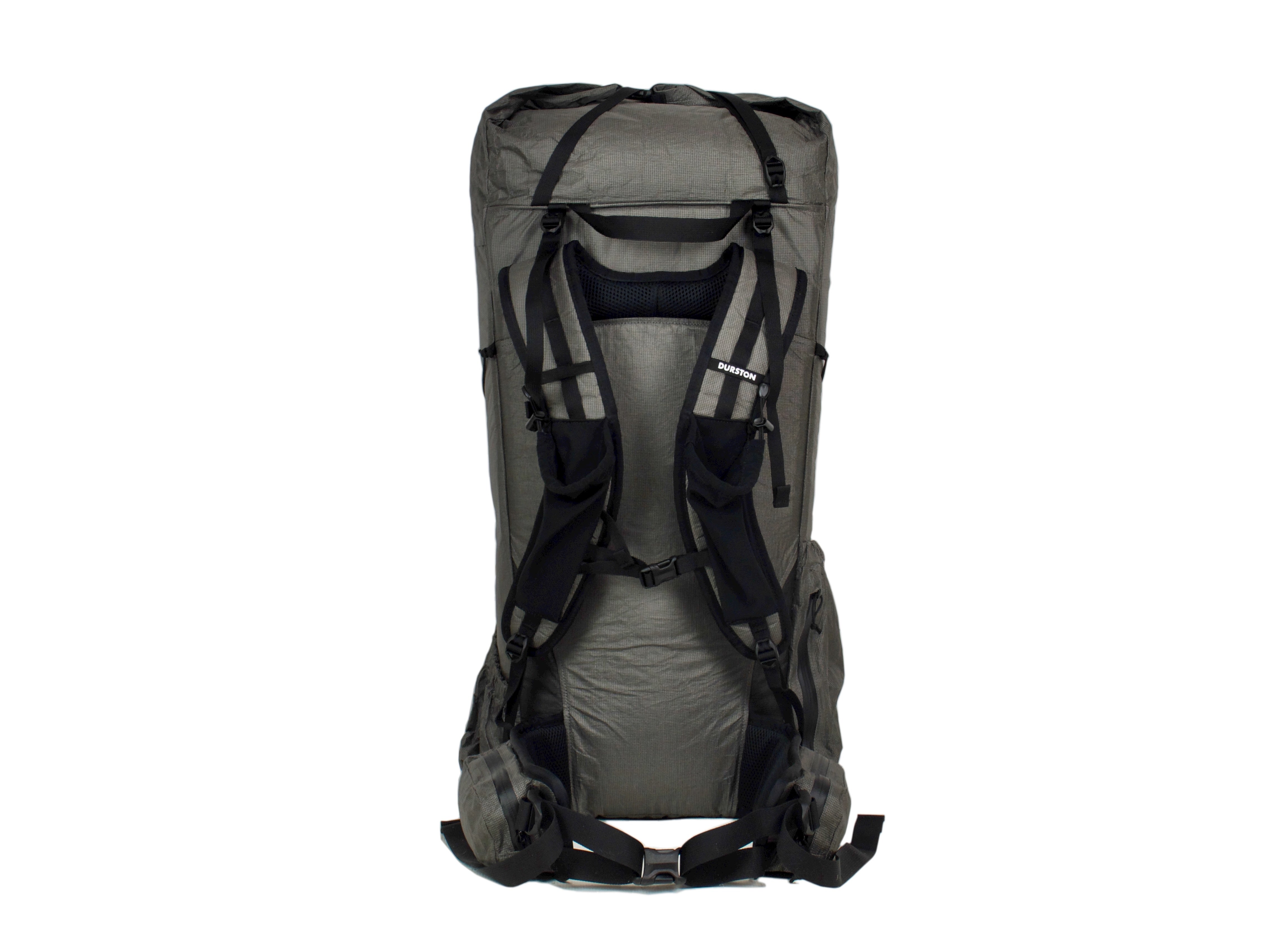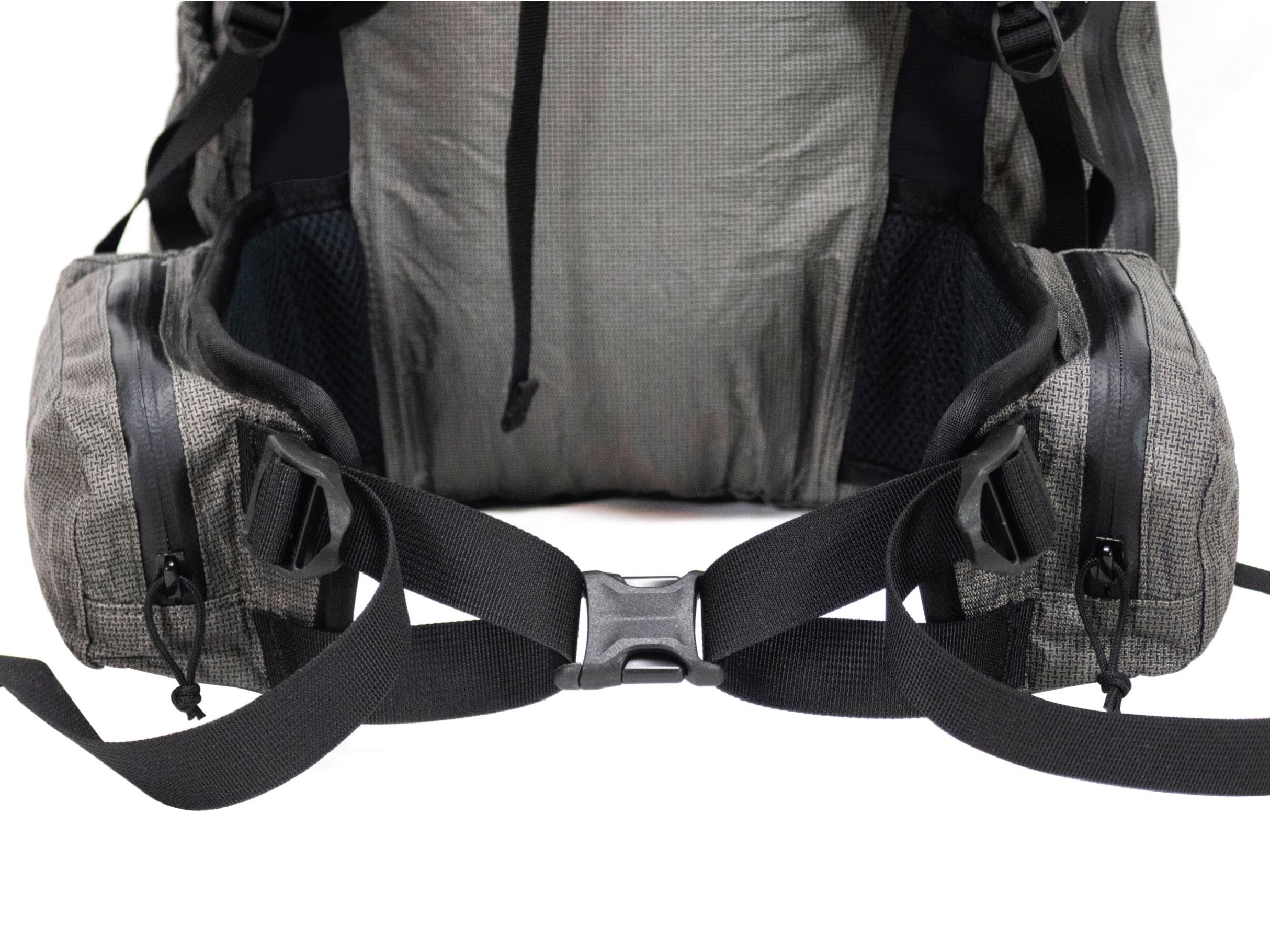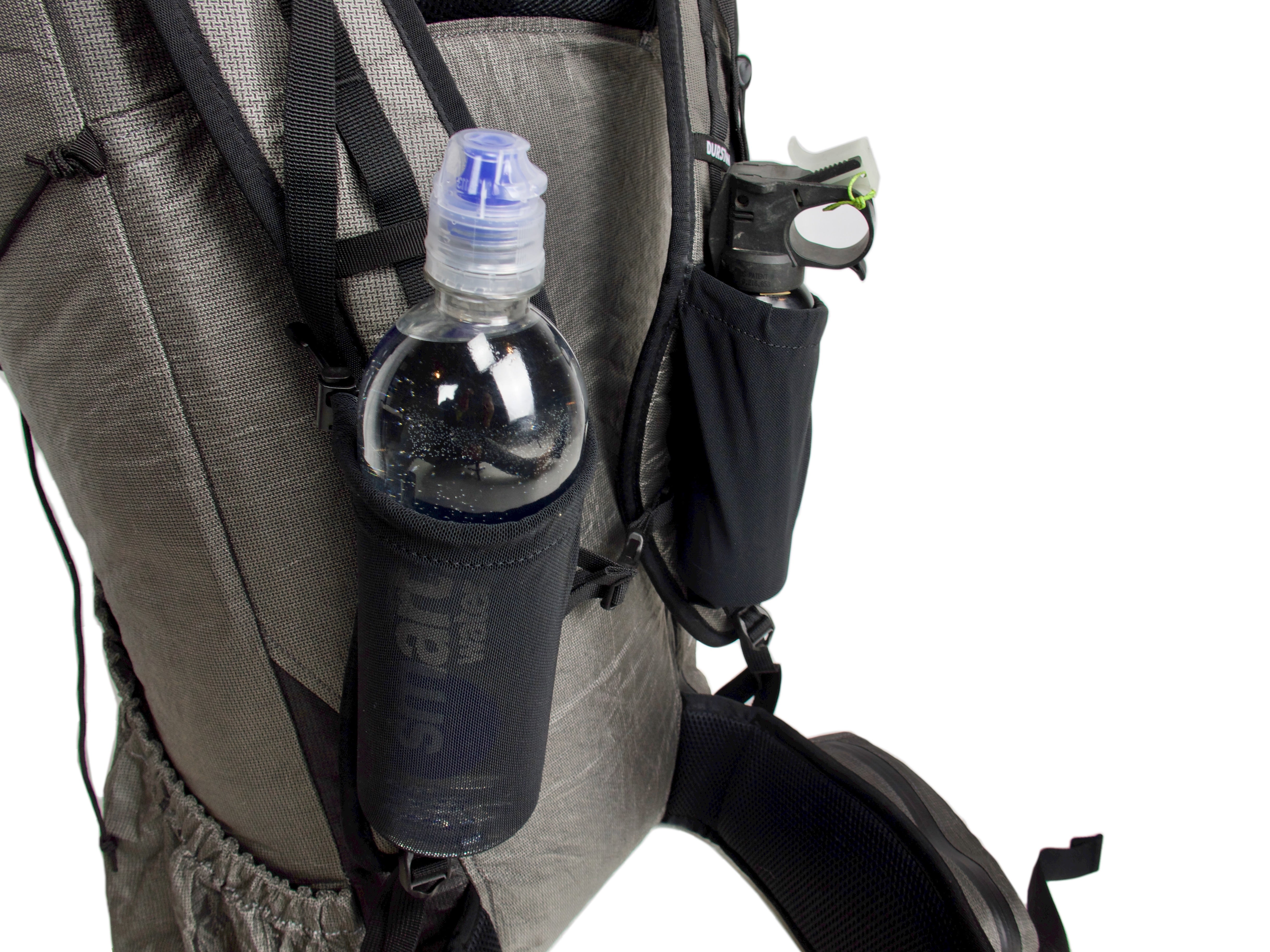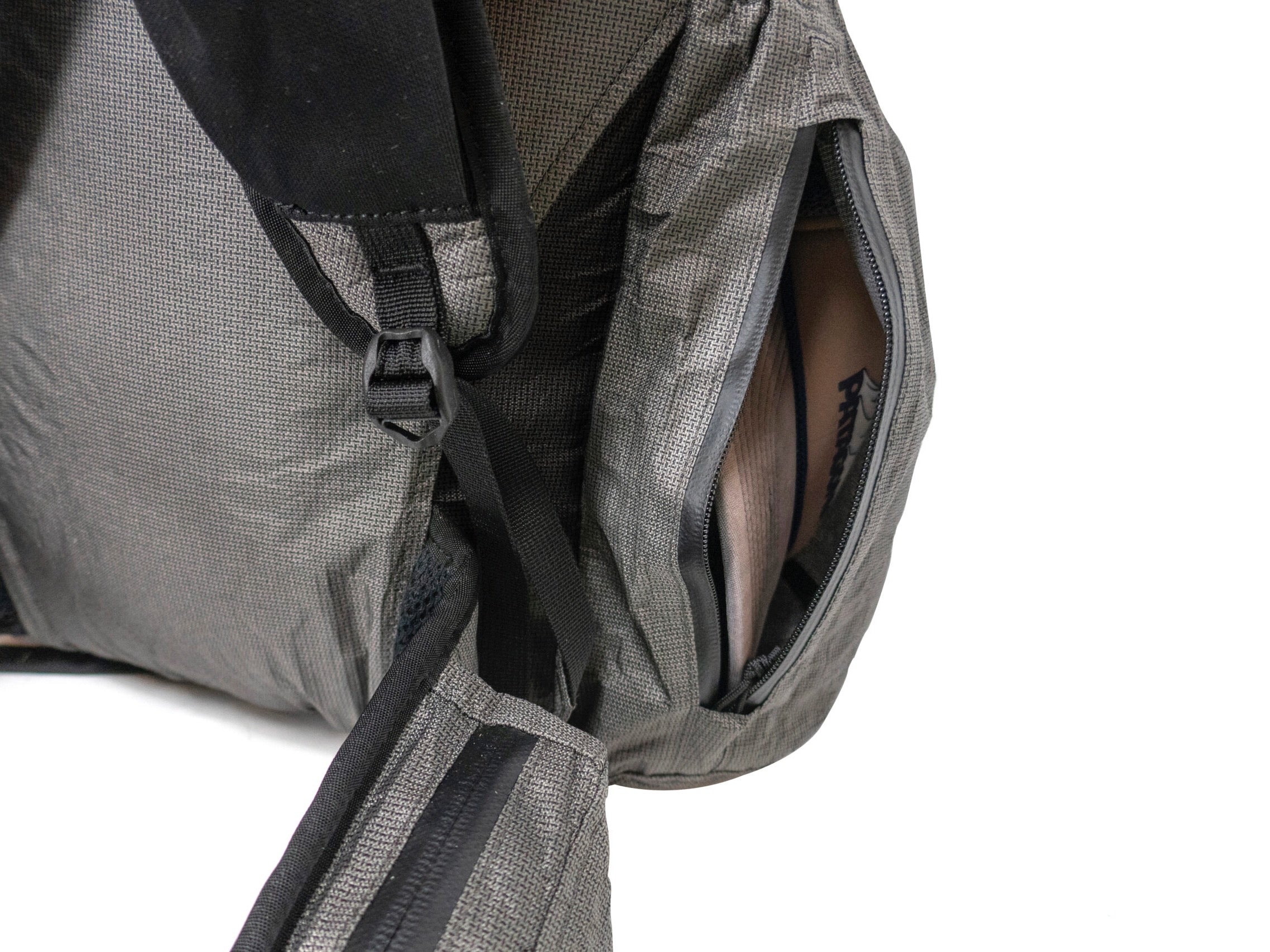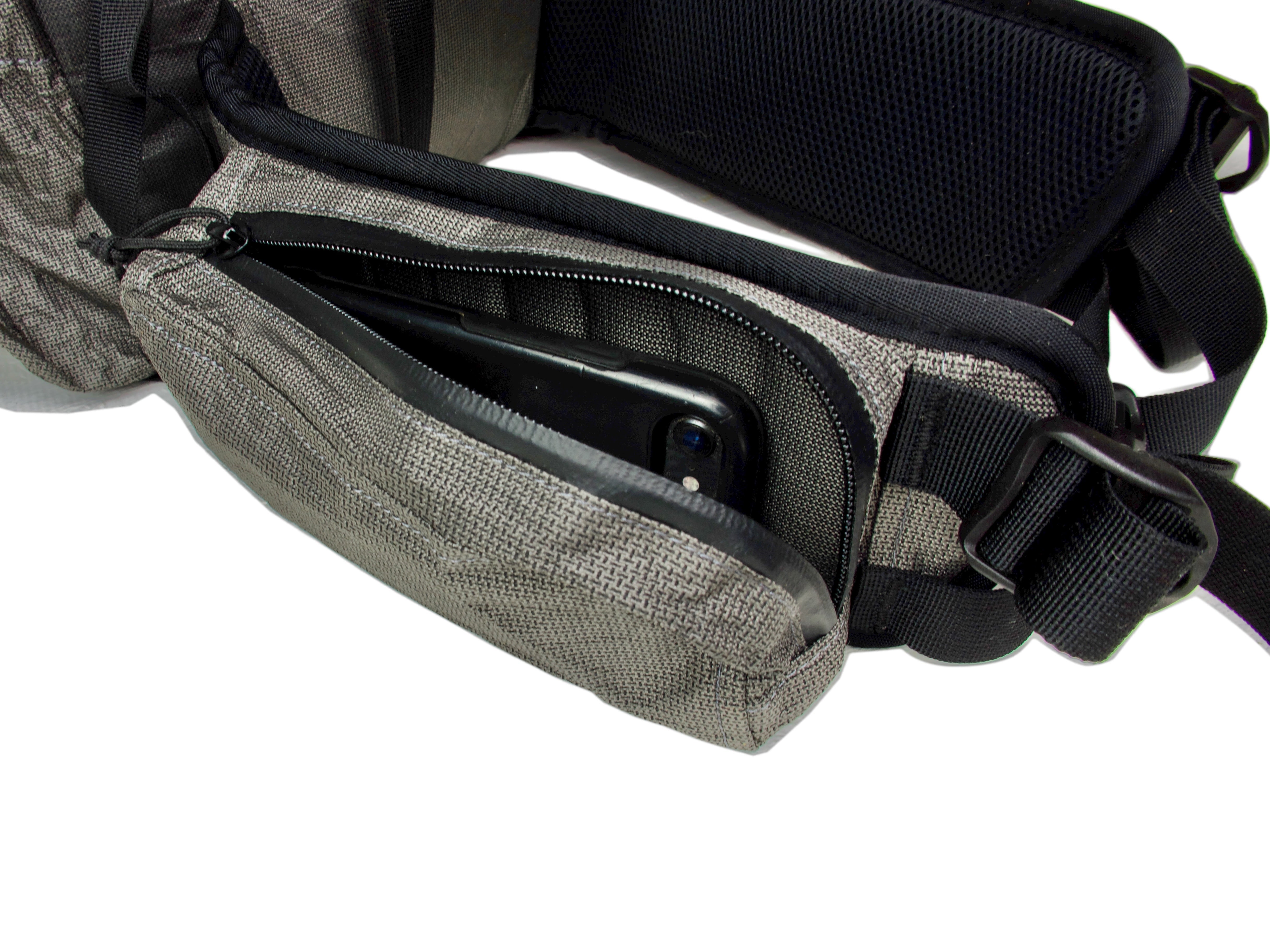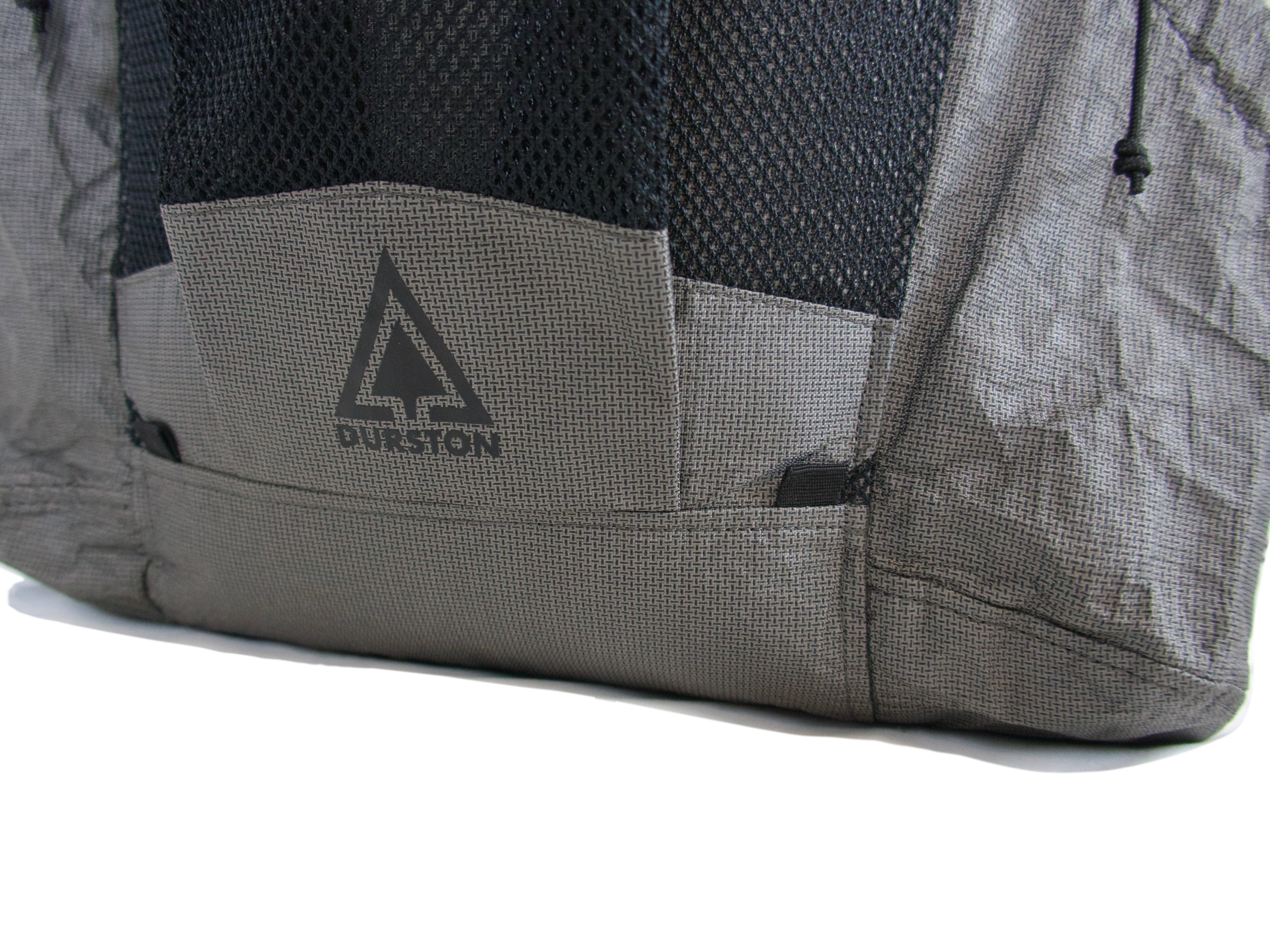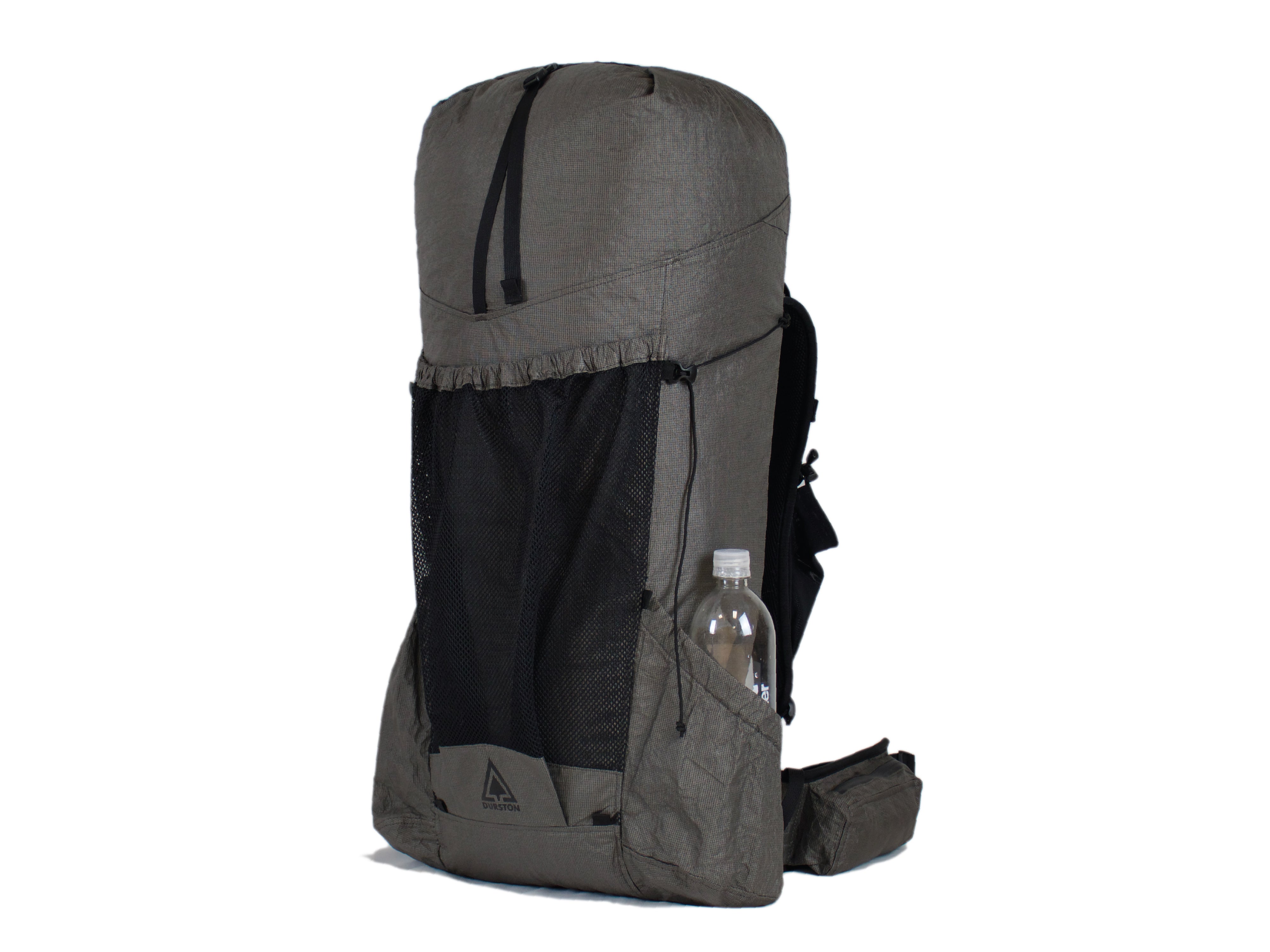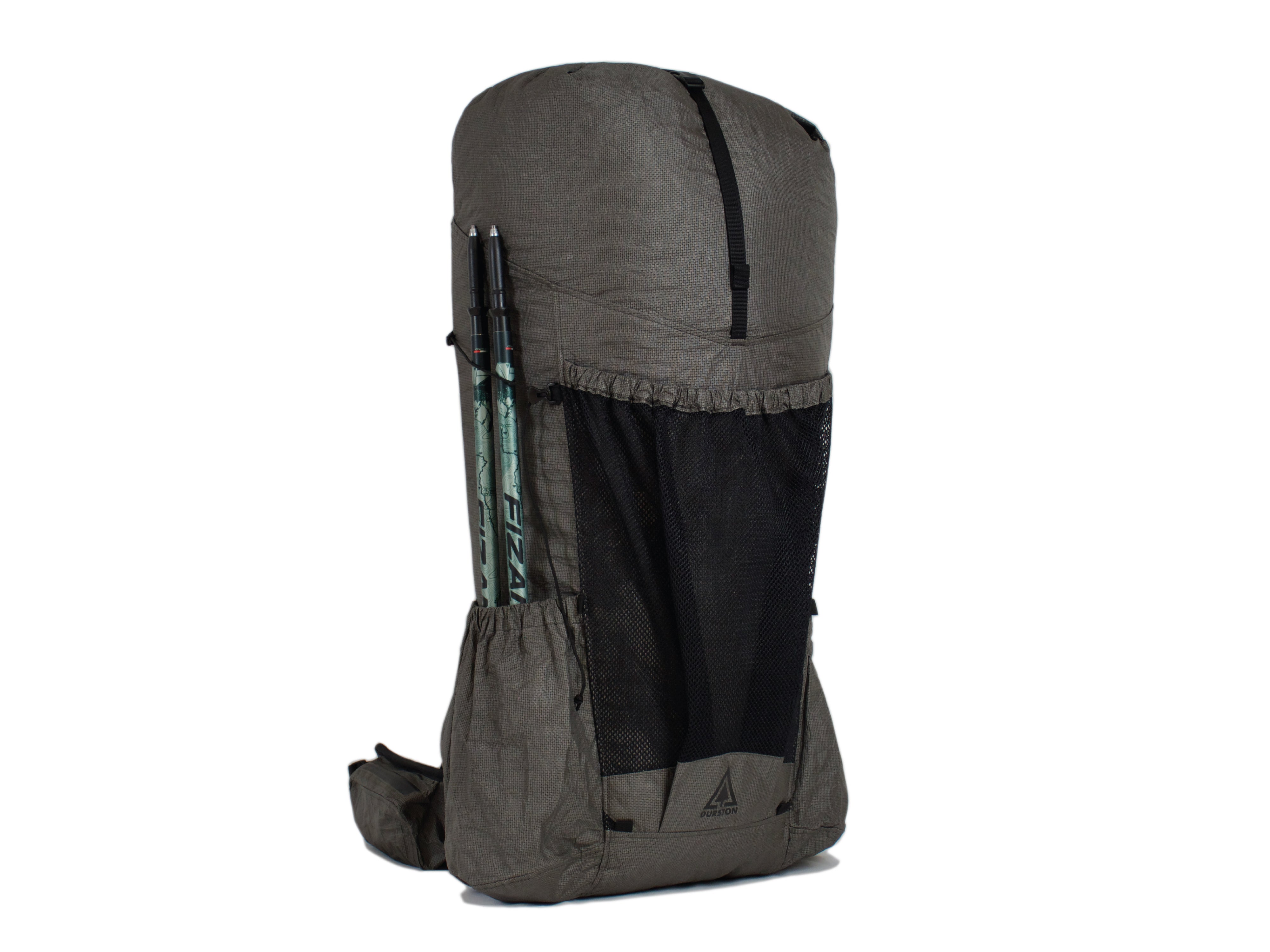 Kakwa 55
---
Kakwa 55
Sale price

$260.00 USD
Regular price
(/)
Our 2024 Kakwa 55 packs are now in stock and have been updated with a substantially larger front mesh pocket, new Ultra 200X fabric, drain holes on the side pockets, tougher attachment points, and even more double stitching.
The Kakwa 55 is our premium ultralight, multi-day pack designed from the first principles of load carrying and ergonomics to provide the greatest function, comfort and usability for an ultralight pack. Developed from Dan Durston's attention to detail and thousands of miles of backpacking experience, the Kakwa 55 has class leading load carrying, materials, and pocket design while weighing just 31 oz (890 g).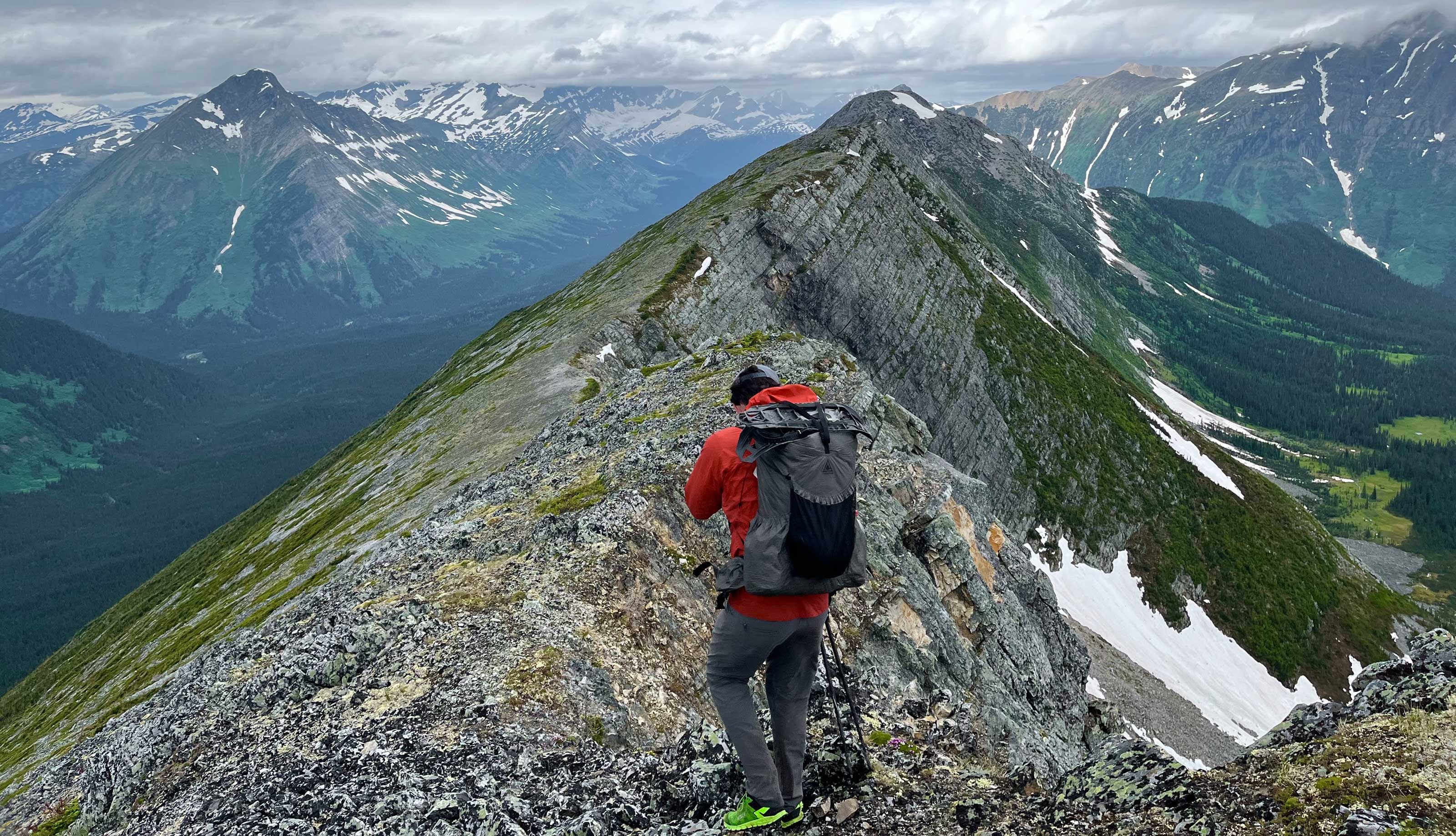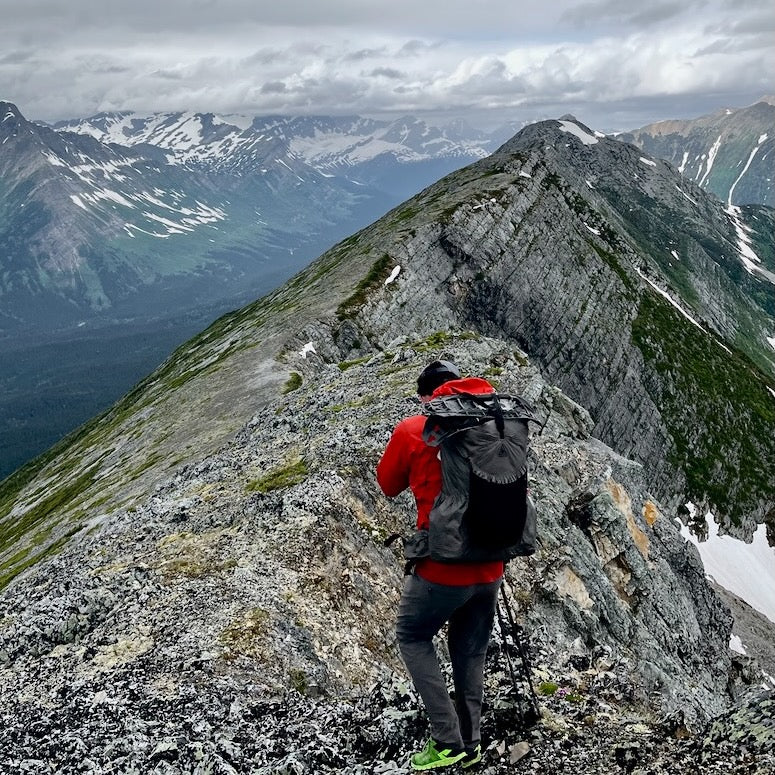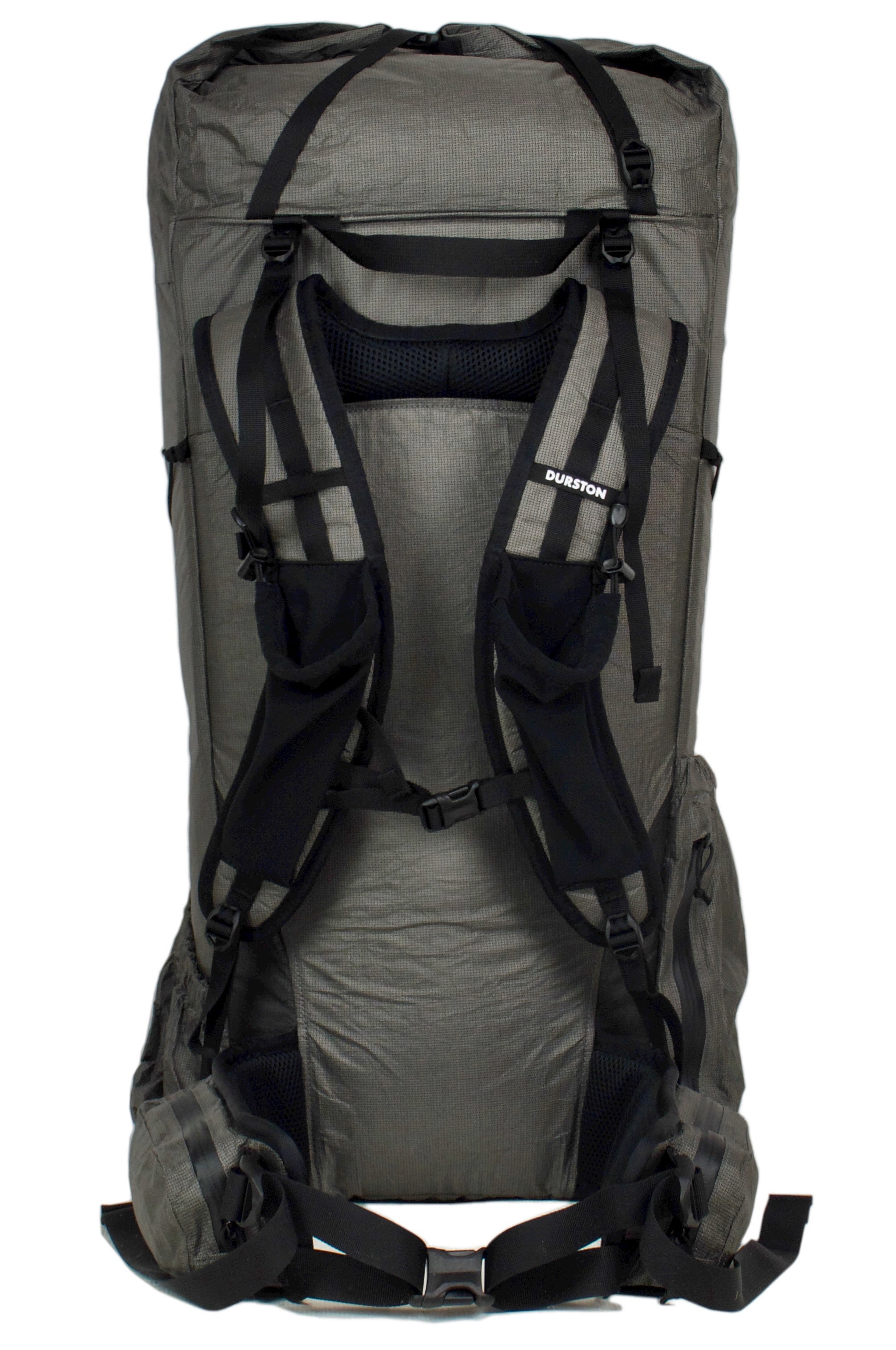 LOAD CARRYING
The Kakwa 55 brings genuine load carrying capability into the sub 2 lbs weight class. 
Other packs this light generally sacrifice load carrying ability by omitting load lifters, lacking horizontal structure, and relying on less ergonomic shoulder strap and hipbelt shapes.
The Kakwa 55 solves this tradeoff through more efficient design and advanced materials including UHMWPE fabric and hollow aluminum tubing. Hollow aluminum tubing is a more efficient use of structural weight than the solid metal bars found in competing packs. We use this material to create a rigid frame with both vertical and horizontal structure at the same or less weight than competing packs that only have vertical structure.
This frame connects directly to the hipbelt for maximum load transfer and directly to the load lifters, which are rare on packs this light yet highly functional for shifting more of the weight off your shoulders and onto the hips. A capable structure is nothing without an ergonomic connection to your body, which is why the shoulder straps have a carefully developed S shape to contour around your upper body, while the hipbelt uses a dual strap design which cups your hips and has reverse pull 2:1 leverage for easy tightening. The result is a pack that comfortably and effectively manages loads up to 45 lbs.
EFFICIENT ACCESS
Efficient access to your gear is a hallmark of ultralight pack design as it allows you to spend more time covering miles instead of digging through your pack.
What is needed is not a high quantity of pockets but rather a pocket layout that has been carefully considered to compliment and allow for a diverse range of storage possibilities while remaining simple enough to be easily organized.
For this, the Kakwa 55 has four types of pockets to optimize on-the-go access to your gear. First are the hipbelt pockets, which are designed to reliably operate one handed and easily accommodate medium sized items such as snacks, sunscreen, phones, and headlamps. That storage is augmented by dual top opening shoulder strap pockets which provide an ideal place for your phone for quick photos and navigation. These pockets also work well for small water bottles, sunglasses, and bear spray.
Additionally there is the innovative QuickPocket which consists of an easily reached compartment in the sidewall of the left side pocket. This allows you to stow and quickly access even larger items than normally possible, such as hats, mitts, maps and bulky snacks. Finally, a mesh style front pocket has been substantially increased in size for 2024 and quickly swallows the largest items like rain gear, tents, and cook sets.
Collectively, the Kakwa's pockets are carefully considered so you can hike with maximum efficiency.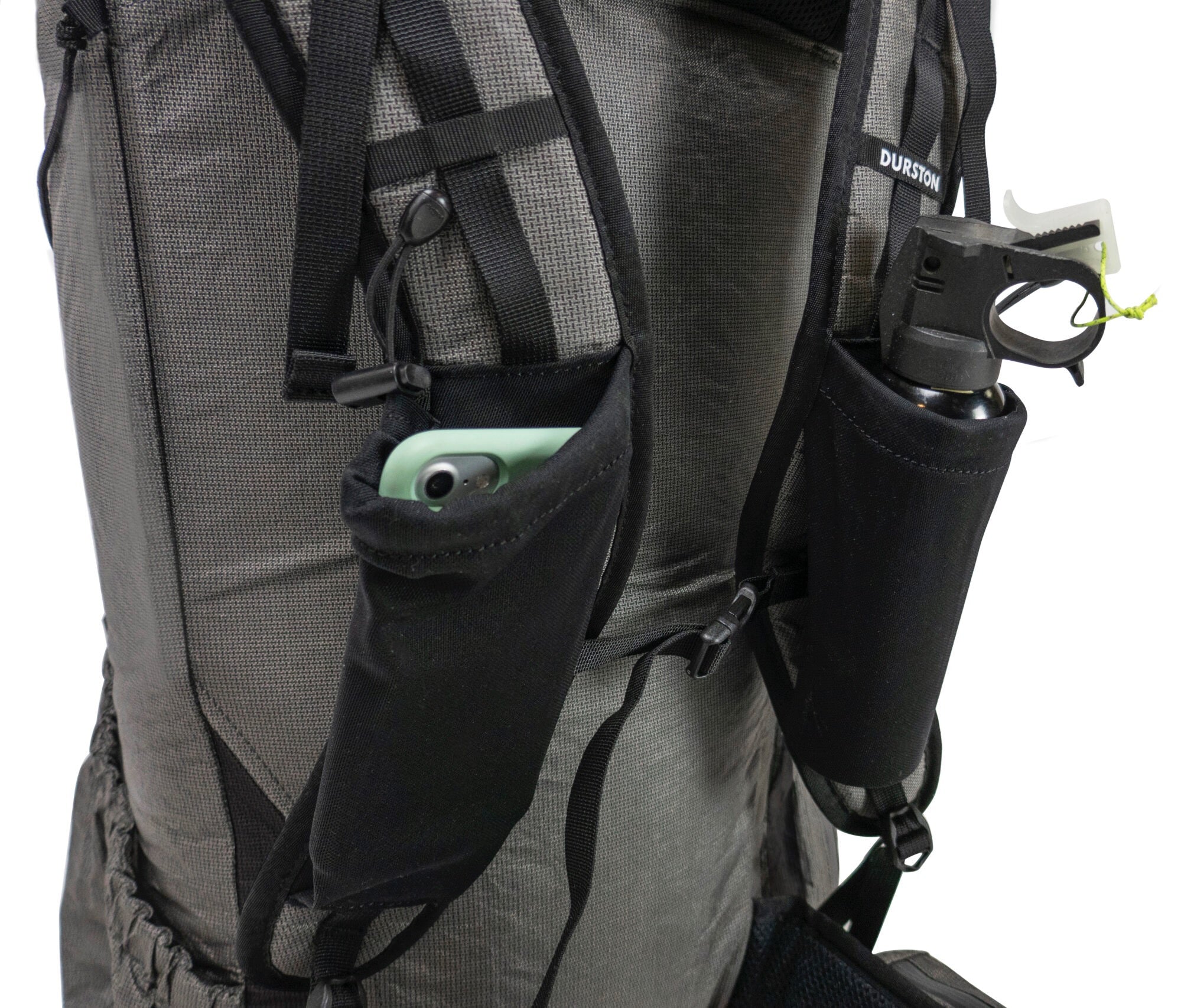 Most Comfortable
"The Kakwa is one of the most versatile and comfortable packs I've ever used for loads exceeding 35 lbs....this pack has my favorite carry feel".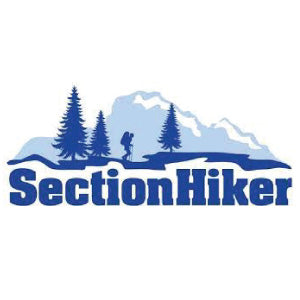 Impressive
"The low weight is impressive for a framed pack....and it provides excellent weight transfer to the hips. The pocketing is fantastic for accessing what you need during the day without stopping."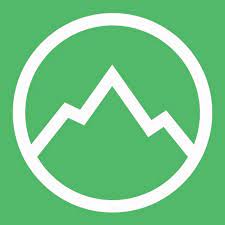 I Could Not Be Happier
"I've become a huge fan. It has smart places to put all the stuff, and carries all that stuff comfortably. I could not be happier to have it for the remaining 2,000 miles of the Eastern Continental Trail this winter."
Incredibly Well Designed
"The Kakwa has a famously excellent load carry. The whole setup is just so dang comfortable and user-friendly. It is in contention for best ultralight backpack on the market."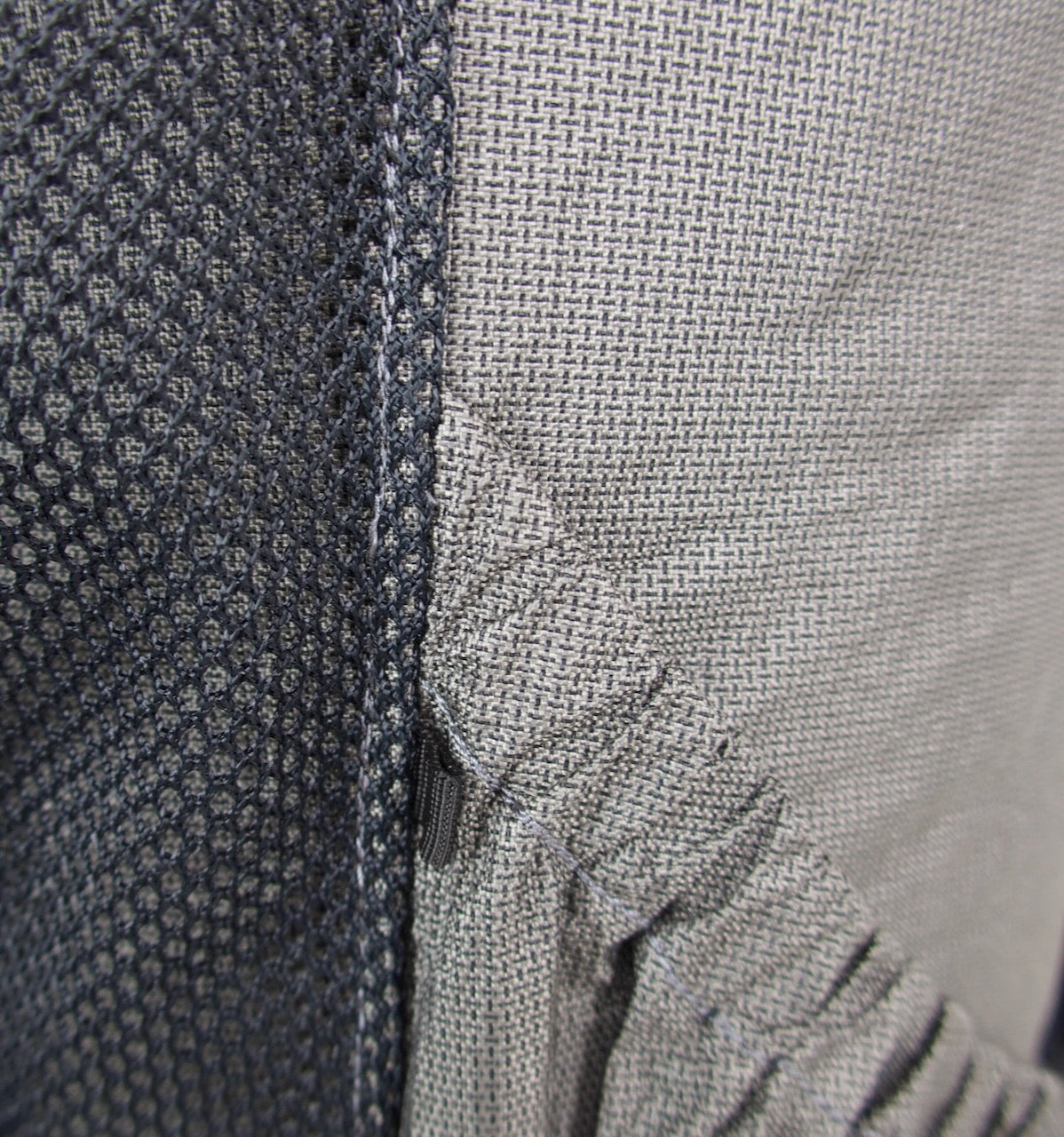 MATERIALS & QUALITY
In our backyard in the Canadian Rockies we often spend more time off trail than on, so durability in materials and construction is a top priority. With the Kakwa 55 we are using the innovative Ultra 200X fabric from Challenge Outdoor, where the face fabric is dominantly woven UHMWPE fibers (more commonly known by the brand name Dyneema®) which is several times stronger and more abrasion resistant than traditional nylon pack fabrics. This material laminated with an eco-friendly adhesive to a backing film to build a material that is incredibly durable, lightweight, and waterproof. For 2024 we are using the even tougher 200X version that adds additional reinforcement and a thicker internal film.
Simply using a tough fabric is not enough if the pack has weak points in the stitching or supporting materials. That's why the Kakwa 55 is fully double stitched with heavyweight thread by the same factory that builds packs for Arcteryx, and uses stronger folded seams. We've also used the same tough Ultra 200X material for the hipbelt pockets and side pockets so these exposed areas also have maximum durability. The front pocket is generally less exposed to the brush, but still we've sourced a durable knit mesh for this pocket that is much tougher than typical lycra mesh.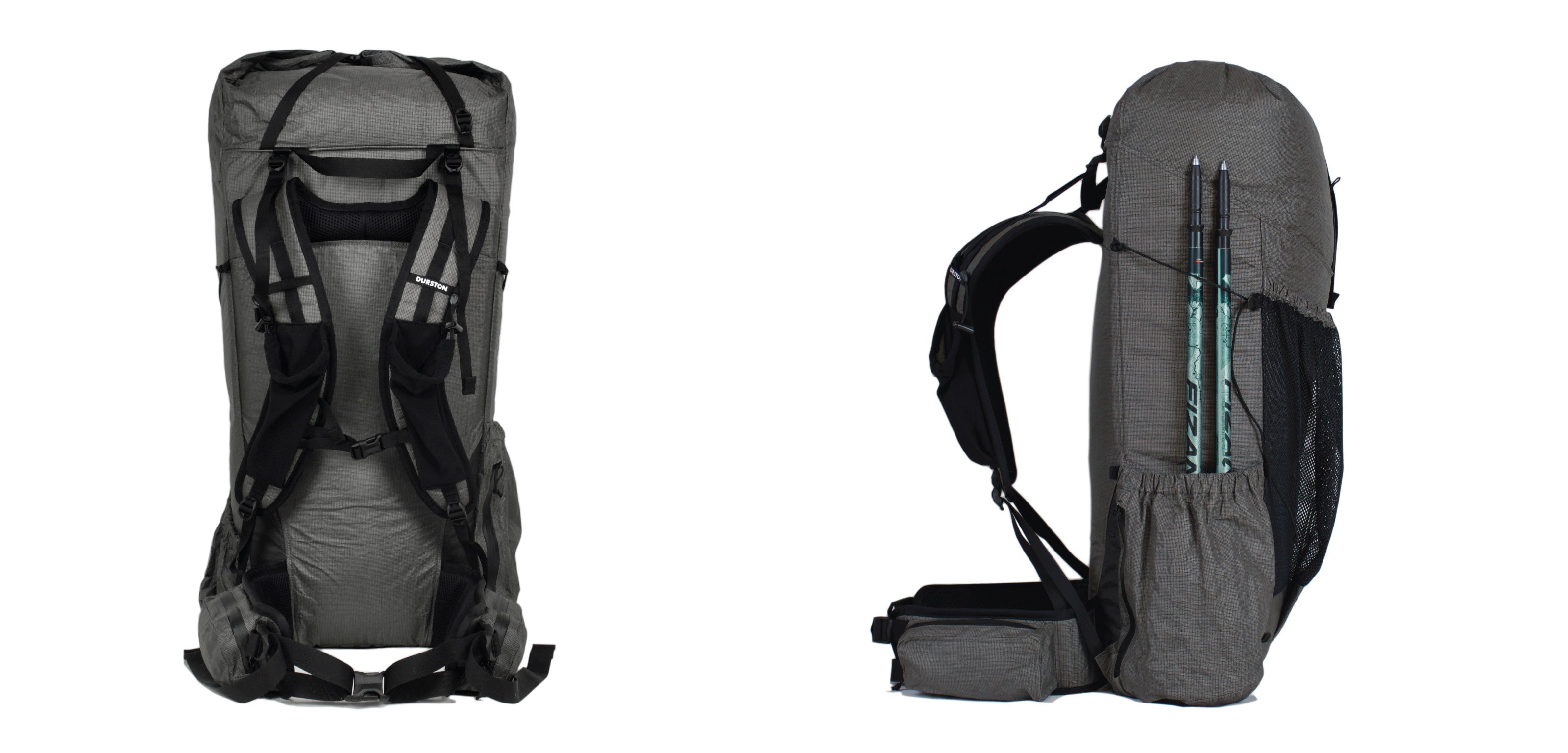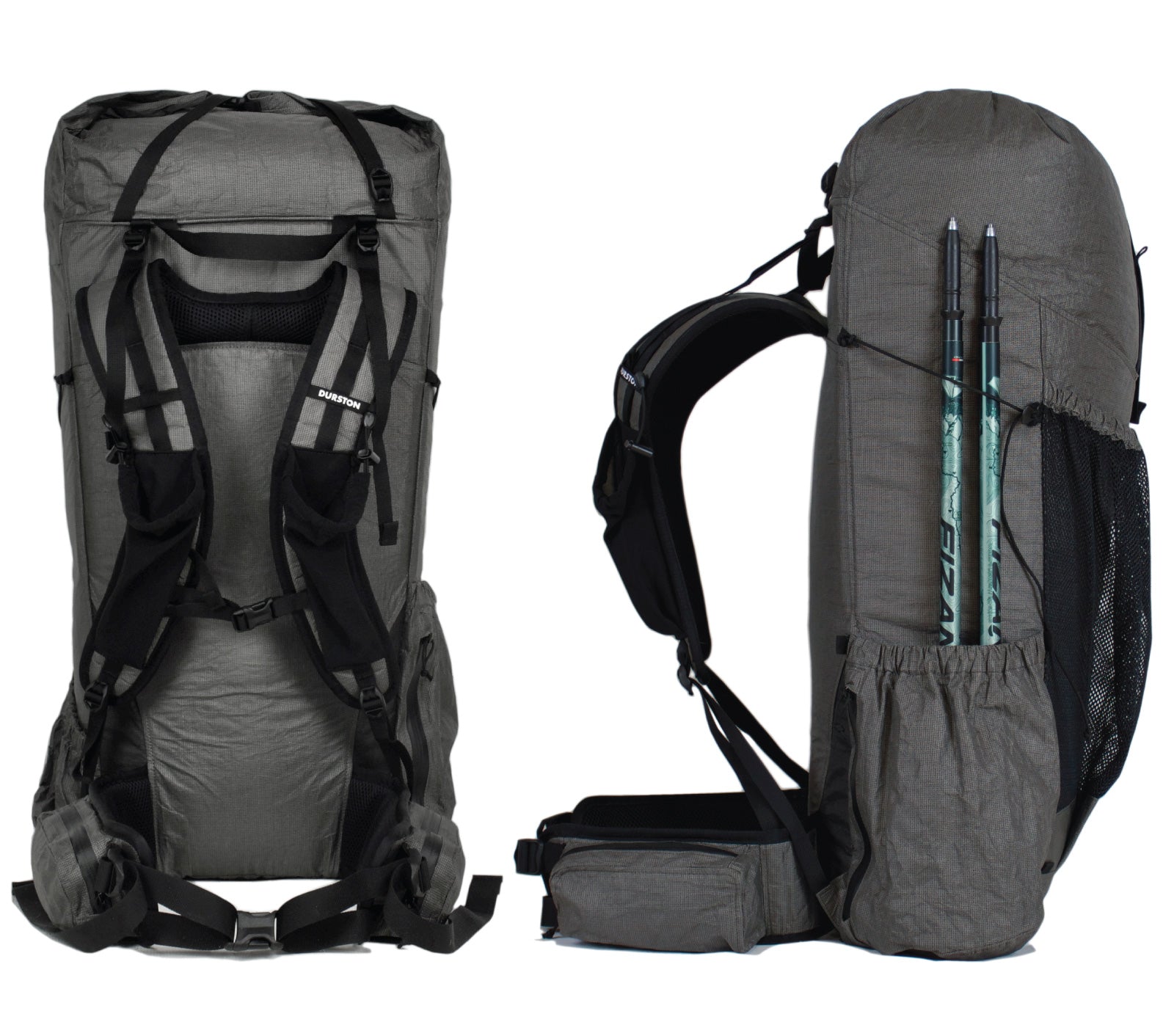 Ultra 200X Fabric
This fabric is dominantly woven UHMWPE fibers (more commonly known by the brand name Dyneema®) which is several times stronger and more abrasion resistant than traditional nylon pack fabrics. This material is laminated to a film backing to make the material waterproof.
Hollow Aluminum U Frame
The hollow aluminum inverted U frame provides vertical and horizontal structure at less weight than frame stay systems for more effective load transfer and comfort at loads up to 45 lbs / 20 kg.
Dual Strap Reverse Pull Hipbelt
This hipbelt design cups your hips, and makes tightening the belt much easier with 2:1 tightening leverage and an ergonomic direction of pull.
Shoulder Strap Pockets
These pockets provide an ideal place for your phone, bear spray, sunglasses, small water bottles and more. We attach them permanently for a more solid and user friendly connection.
Quick Pocket
The Kakwa's unique Quick Pocket is easily opened while on the move and provides quick access to larger items like hats, mitts, oversized phones, maps, and snacks.
This product is rated 4.9 of 5.0 stars.
It has received 54 reviews.
Features
Ultra 200X Fabric
This fabric is dominantly woven UHMWPE fibers (known by the brand name Dyneema®) which is several times stronger and more abrasion resistant than traditional nylon pack fabrics. This material is laminated to a film backing to make the material waterproof. This pack uses the new 'X' version which adds a tougher inner film.
Hollow Aluminum Frame
The inverted U frame provides both vertical and horizontal structure while the hollow aluminum tubing makes it lighter than flat frame stays.
Load Lifters
Load lifters are often omitted on lightweight packs but are a key component of the Kakwa's exceptional load carrying ability.
Ergonomic Shoulder Straps
The shoulder straps use an ergonomic S shape that fits almost everyone better than straight straps.
Dual Strap + Reverse Pull Hipbelt
The dual strap hipbelt cups your hips while the 2:1 leverage and reverse pull make it easy to tighten.
Y Top Strap
Y shaped top strap allows items like bear canisters and tents to be strapped on top.
Attachments
Eight attachment points around the pack make it easy to attach a wide range of items.
Hipbelt Pockets
Dual hipbelt pockets are standard and have a refined design that operates easily with one hand.
Shoulder Strap Pockets
Shoulder straps pockets are standard and provide handy storage for phones, bear spray, sunglasses, and small water bottles.
QuickPocket
Unique QuickPocket on the left side provides on-the-go access to larger items than previously possible, such as hats, mitts, and maps.
Hydration Compatible
A hydration port enables compatibility with bladders.
Durable Mesh
The front pocket uses a durable knit mesh that creates volume with pleats (folds) instead of using a less durable stretch mesh.
Top Quality
Pack is assembled with the highest quality including double stitching and bound seams at the same factory that builds Arcteryx packs.
Compare
COMPARE
The Kakwa 55 provides best-in-class load carrying, usability, and durability for a sub 2 lbs pack. To illustrate, the table below compares the Kakwa 55 to what is typically seen in this niche (50-60L packs under the 2 lbs mark with premium fabrics).
Frame structure
Inverted U frame provides vertical and horizontal support
Flat bars provide only vertical support (prone to rounding into a cylinder)
S-shaped (ergonomic) shoulder straps
Accessible pocket for larger items
Main fabric
Ultra 200X (dominantly UHMWPE fibers)
Usually Hybrid DCF or UltraGrid (dominantly polyester or nylon fibers).
Double stitched & folded seams
Internal (protected) pocket elastics
Price
$350 - $500 (with similar spec)
Weight
30 - 35 oz / 850 - 1000 g
Specifications
WEIGHT
30.5 oz (S), 31.3 oz (M), 32.2 oz (L)
-
865g (S), 890g (M), 915g (L)
-
Frame (3oz / 90 g) and backpad (0.5oz / 15 g) are included but removable.
-
Heavy duty polyester knit mesh
SIZING
Small: 15 - 18 " (37 - 46 cm)
-
Medium: 17 - 20 " (42 - 51 cm)
-
Large: 19 - 22 " (47 - 56 cm)
-
Hipbelt min & max circumference:
Small: 27 - 46" (69 - 117 cm)
-
Medium: 28 - 47" (71 - 119 cm)
-
Large: 29 - 48" (74 - 122 cm)
-
Hipbelt recommend waist size:
Small: 28 - 38" (71 - 97 cm)
-
Medium: 29 - 39" (74 - 99 cm)
-
Large: 30" - 40" (76 - 102 cm)
-
Unrolled Height (S / M / L)
31.5" / 33.5" / 35.5" (80 / 85 / 90 cm)
-
Internal Volume (S / M / L)
-
External Volume (S / M / L)
FAQ
FAQ
Browse the FAQ to learn more or get in touch if you have further questions.
Contact Support
Q) What are the 2024 updates?

We are continually updating our gear with new ideas and in response to customer feedback to be as good as possible. For the 2024 Kakwa 55 we have substantially enlarged the front mesh pocket, added drain holes to the side pockets, changed to Ultra 200X fabric with a more durable internal film, added more attachment points, enlarged the attachment points with tougher webbing, added even more double stitching to the pack, and changed the side tensioners to LineLoc3's for smoother operation.
Q) What bear canisters can fit horizontally?

It is hard to fit canisters horizontally inside a 55L pack, but the Kakwa 55 uses a tapered shape that is wider at the top to enable many to fit. It tapers from a 33″ circumference at the bottom to 42″ at the top. A canister needs to insert about a foot into a pack to close it. At this position the pack has a circumference of about 40″, thus bear canisters with a horizontal circumference under 40″ should fit.

For the BearVault line, the BV425, BV450, BV475 and BV500 will fit. For the Bearikade line, the Scout and Weekender will fit while their Blazer and Expedition canisters are too large. Other canisters that fit are the Bear Boxer, Garcia Backpackers Cache and UDAP No-Fed-Bear. The Counter Assault Bear Keg is too large. Canisters that are too large to fit horizontally can be stored vertically inside, or horizontally on the top of the pack under the Y strap.
Q) What does the "Kakwa" name mean?

The word "Kakwa" has it's origins in the Cree language where it means porcupine. This word is used to name the Kakwa region in the Canadian Rockies where you'll find Kakwa Park, Kakwa River, Kakwa Falls and more. It's usage to name this pack is primarily a nod to the northern terminus of the Great Divide Trail (the most scenic and wild thru hike in North America) which ends at Kakwa Lake.
Q) How much can this pack hold?

Ultralight hikers (e.g. <10 lbs of gear) with kits that are compact (e.g. down sleeping quilt) will find they can fit a week of food reasonably and can stretch that to 10 days or beyond. Conversely, hikers with light but not ultralight baseweights (e.g. 10-15 lbs) will find it is a good 3-7 day pack. Traditional hikers with ~20 lbs baseweights will find this to be a good pack for 1-4 day trips.
The Kakwa 55 is one of the most popular ultralight packs and really is the complete package with excellent load carrying, features and materials a great price. However, it is not the right pack for everyone. If you are more of a traditional hiker with loads often near the 45 lbs load limit, you may prefer a heavier pack with more generous padding. Conversely, hikers with super light baseweights and preferring shorter hikes will find the Kakwa 55 excessive for their needs and will be better served by a smaller pack.

Lastly, the Kakwa 55 has a more substantial frame than other packs in this weight class which does complicate the construction such that are are unable to seam tape it. As such, you may wish to seam seal the pack or use a pack liner for wet conditions even though the fabric itself is waterproof and the pack will shed ~95% of water.
Q) Is this pack waterproof?

The Ultra 200 material is 100% waterproof with an impenetrable plastic backing on the Ultra 200 fabric that is much more durable than traditional PU coatings. However some water can seep in via the seams which are not taped. We do not tape the seams partly because we use seam binding which makes them stronger but too bulky to tape, but also because our more capable frame requires seams that are too complex to be seam taped (e.g. many layers of material sewn into the seams). As a result, the pack ends up being water resistant but not fully waterproof. If it rains for hours, a bit of water will seep into the pack.

We suggest to keep your sensitive gear like clothes and sleeping bag in waterproof sacks and then everything else will be fine, but for greater protection you can use a pack liner or seam seal the pack yourself.
This product is rated 4.9 of 5.0 stars.
It has received 54 reviews.
Kakwa 55
Unbelievable fast post to Australia
Bloody quality product
Carries the weight so well
Super super impressed
Great workhorse pack
I bought this pack to use for trips where I'm carrying winter gear or 6+ days of food, and I've been very happy with it so far. It carries comfortably at the maybe 35-40 pounds I've tested it with so far. The features are well designed - I love the mesh pockets on the shoulder straps and the Y-strap on top.
Addition to my gear
The Kakwa 55 is my 4th backpack I have owned. It will be one of three backpacks that I rely on. I am 48, 5'8" and at the time of this review a little over 215 lbs. When I need to carry heavier items or long water carries - Kakwa 55 will be my choice. My other Pack does fantastic for 18-22lbs max weight. There are only 3 things I am not a fan of. First is nothing too big but I would like more color options for the fabric. Second, slightly annoying is that I tapers smaller at the bottom and when I set my pack down it falls over. I don't really like that it's not balanced. My other pack can stand up when fully loaded without having to lean up against anything. I wish the Kakwa 55 could freely stand on its base particularly when loading gear into it. Not a deal breaker. Lastly my only gripe is some odd noise that I can't seem to figure out where the squeak is coming from. I reloaded and unpacked and tried to see if it was something I had in the pack itself but alas it is the construction causing the squeak. It not loud but when the trail is quiet or when I am going up an incline and trying to be in the zone- that noise can be a bit of a mild distraction. All that being said… I really love how the kakwa 55 fits and carries heavier loads. It is very comfortable. The waist and tightening mechanism is my favorite as it's super easy to use and hold well to the waist as it should. The build in pockets on the shoulder straps fit and work super well for me. I love putting my phone in one and my 16 oz Nalgene bottle in the other. It makes it easy for me to stay hydrated and to take photos or check my route. The side mix pocket is unusual but I do like having access to my gloves, hat and permits/paper maps from it. The larger side pocket is nice for my helinox chair zero. I still struggle getting water bottles out of the other side pocket but that is not the Kakwa, that is more my shoulders being stiff and less mobile. I don't understand the internal carry of water option but some would enjoy that. I have not had any rain events to test that aspect of the pack but I also use a pack liner and gear pods so I generally don't worry about rain. The material feels and seems quite sturdy and I appreciate the shoulder strap pack lifters. My other pack does not have them and it makes a world of a difference. I found also that after about a mile or so of hiking I had to re-adjust the pack to my body but this is actually better than my other pack which seems like I have to really crank down on the hip belts/waist belts often to keep things from hurting my shoulders. Overall I give the kakwa 55 a 4.5 star review only because I think there 3 items I mentioned could be part of future renditions of this amazing pack. I love durston gear, I own the tent, the poles, and the kakwa 55. I am saving up for future Durston gear purchases as I am definitely a fan of Dan's company and his products.
Thanks for the kind review. It would be nice to add more colors. It's hard to do that because our factory has a high minimum for each version in a production run, but as these packs get more popular that might be an option. Regarding that squeak, often these things go away as the pack breaks in, but you might want to try closing the frame pocket a bit tighter in case the frame is moving a bit to cause the squeak.
Hope that helps,
Dan
Awesome Backpack
This Kakwa 55 backpack reduced my empty pack weight from over 7.5 lbs. to just under 2 lbs. - a significant savings. Coupling that with some other light weight gear made for a more enjoyable backpacking experience on the Mt. Hood Timberline Trail. The outside pockets on the pack are conveniently placed and of good design, making necessary on-the-trail items easy to access. I was pleasantly surprised with how comfortable it is.
I am 72 and reducing pack weight was a smart thing for me to do. I am thankful that it was brought to my attention by my son, who completed the 500-mile Colorado Trail during the month of July using the Durston Kakwa 55 and other light-weight gear, including a Durston X-Mid 1 Solid (which I borrowed).