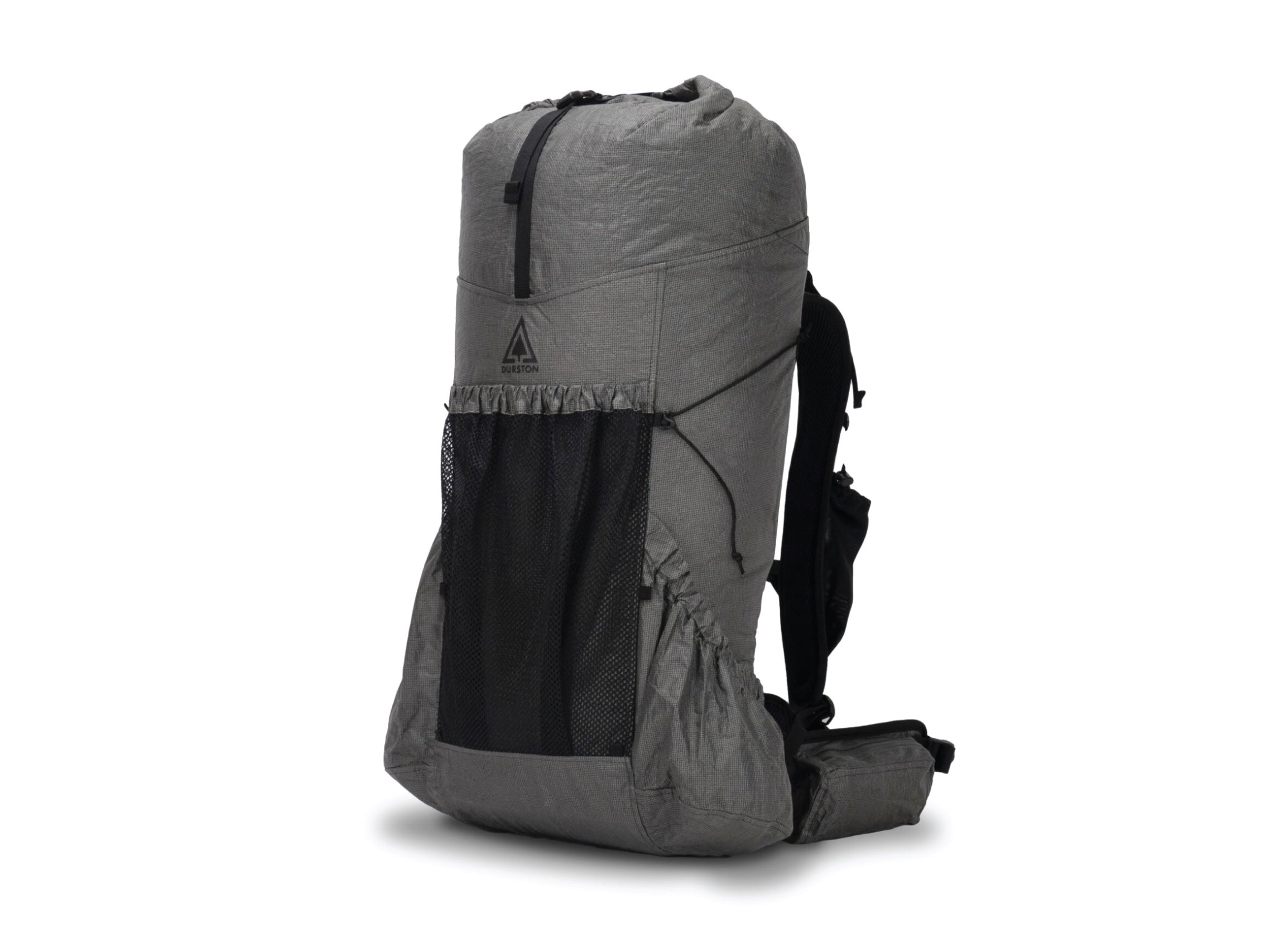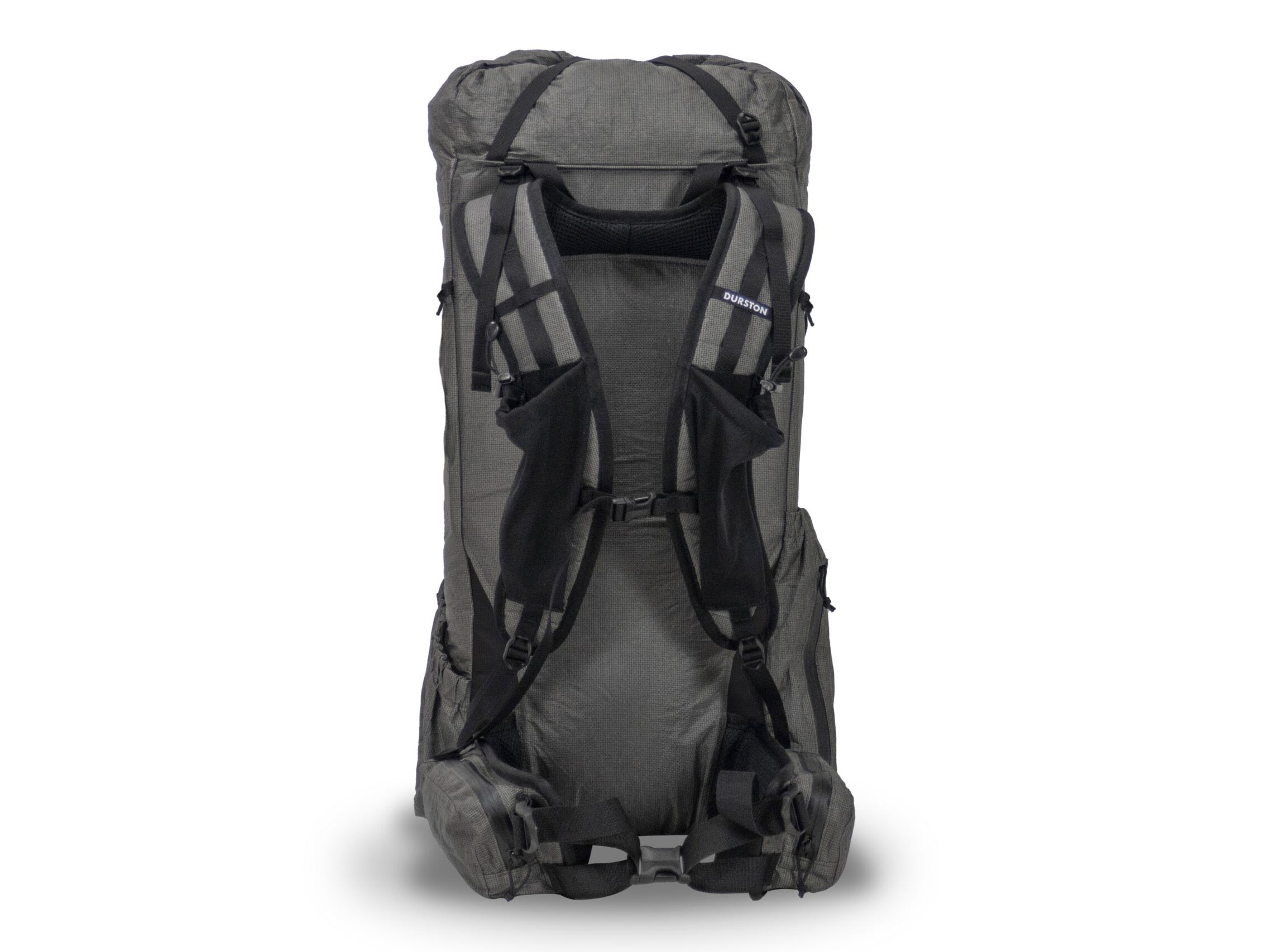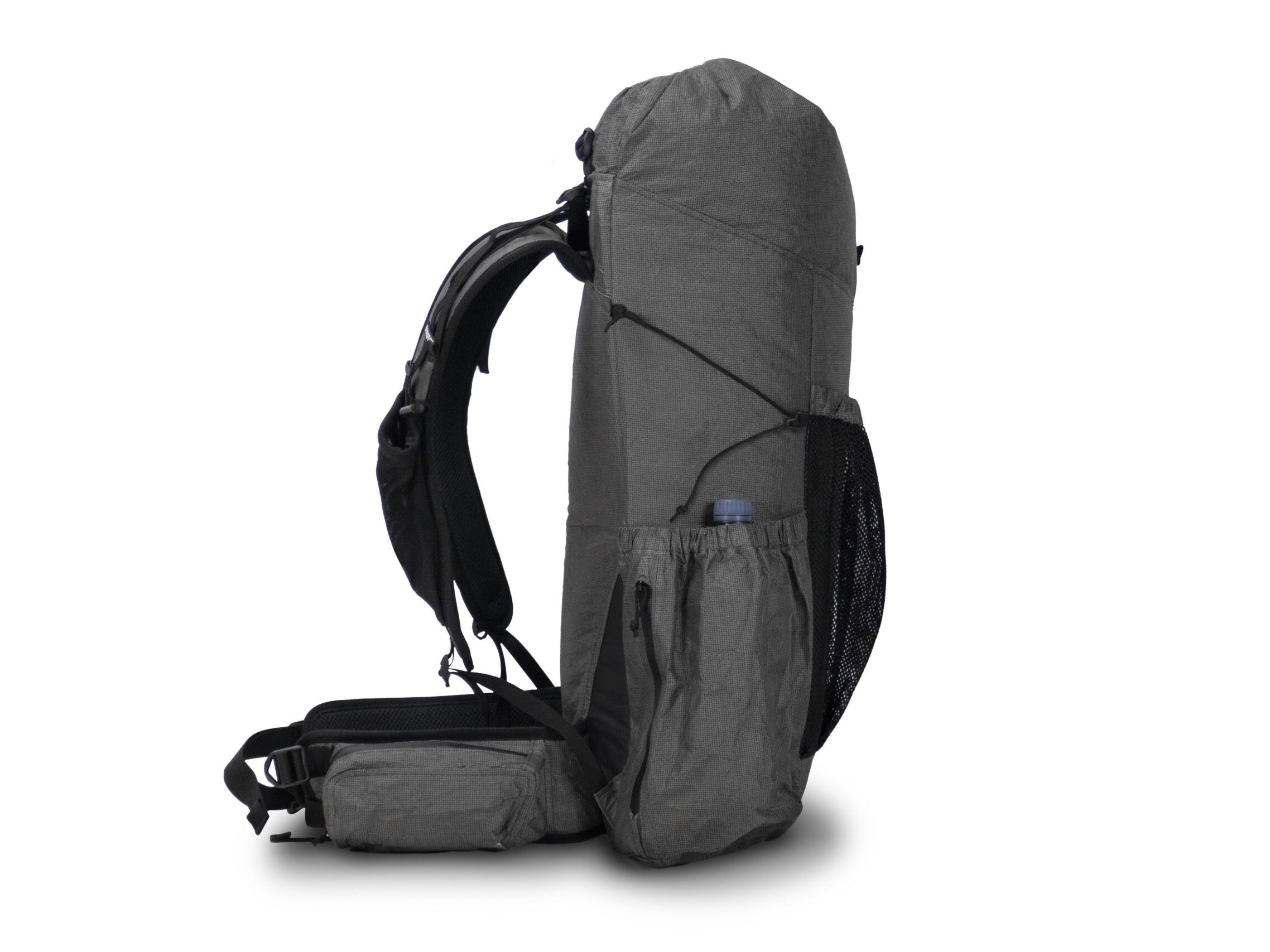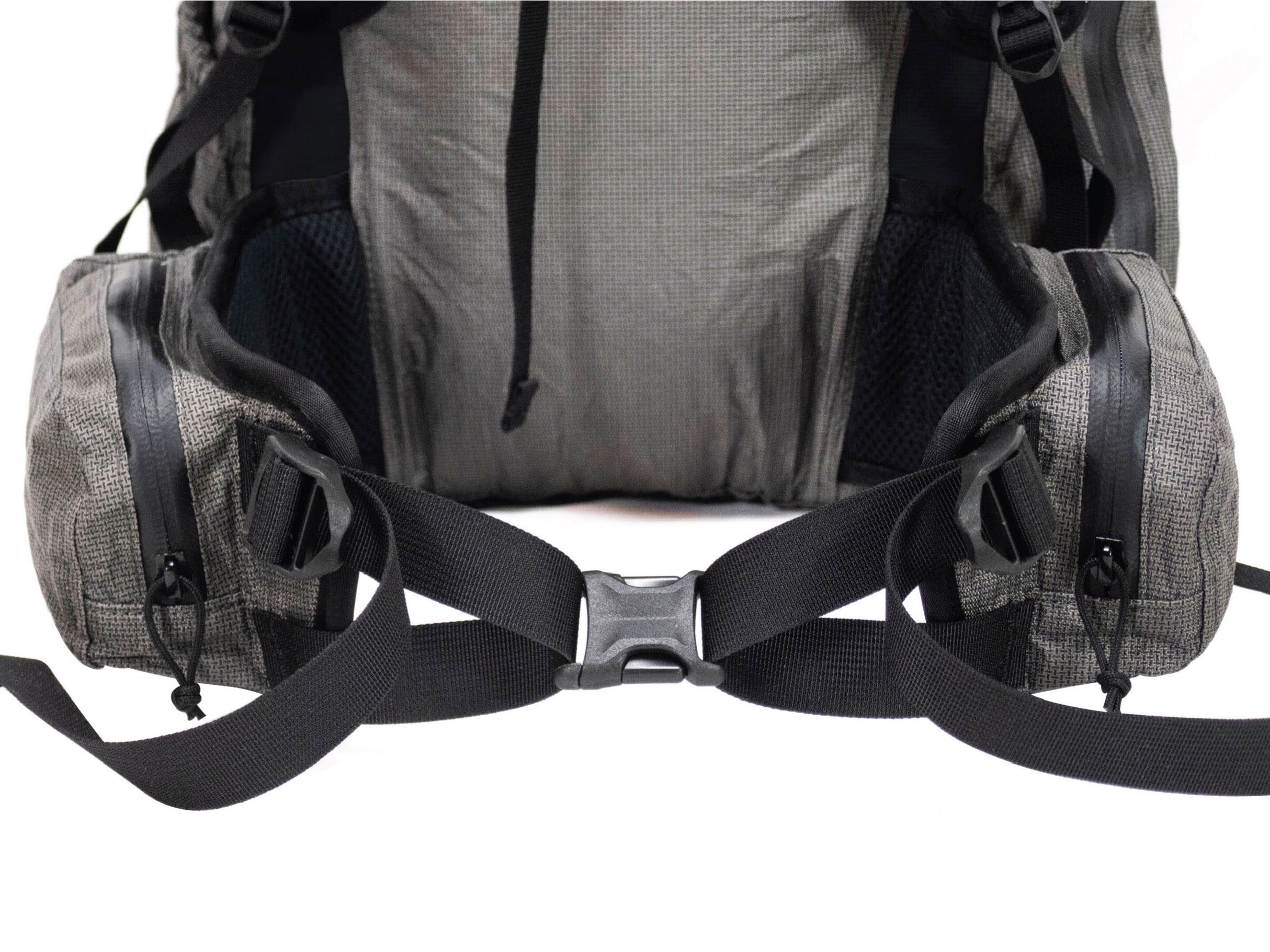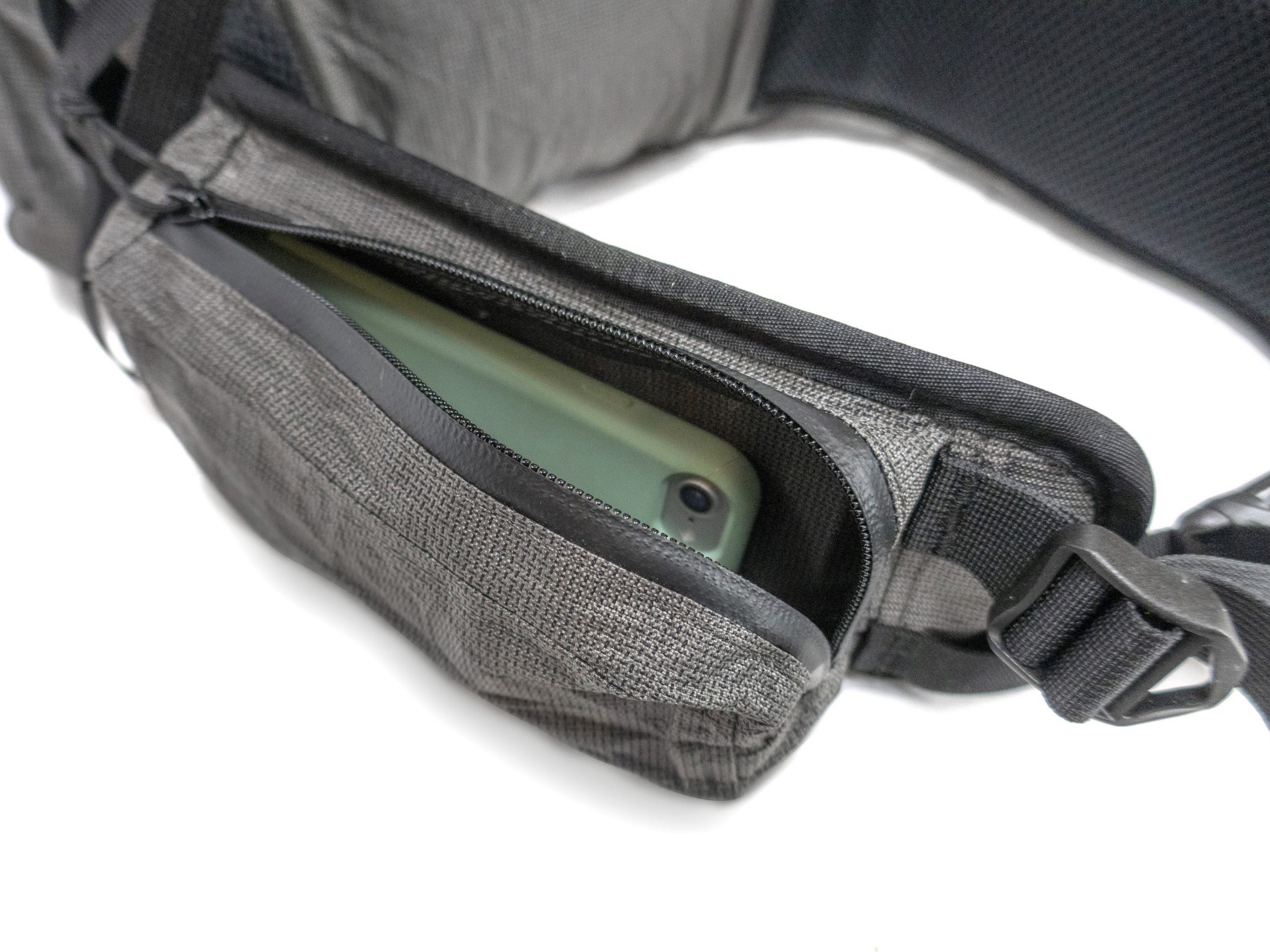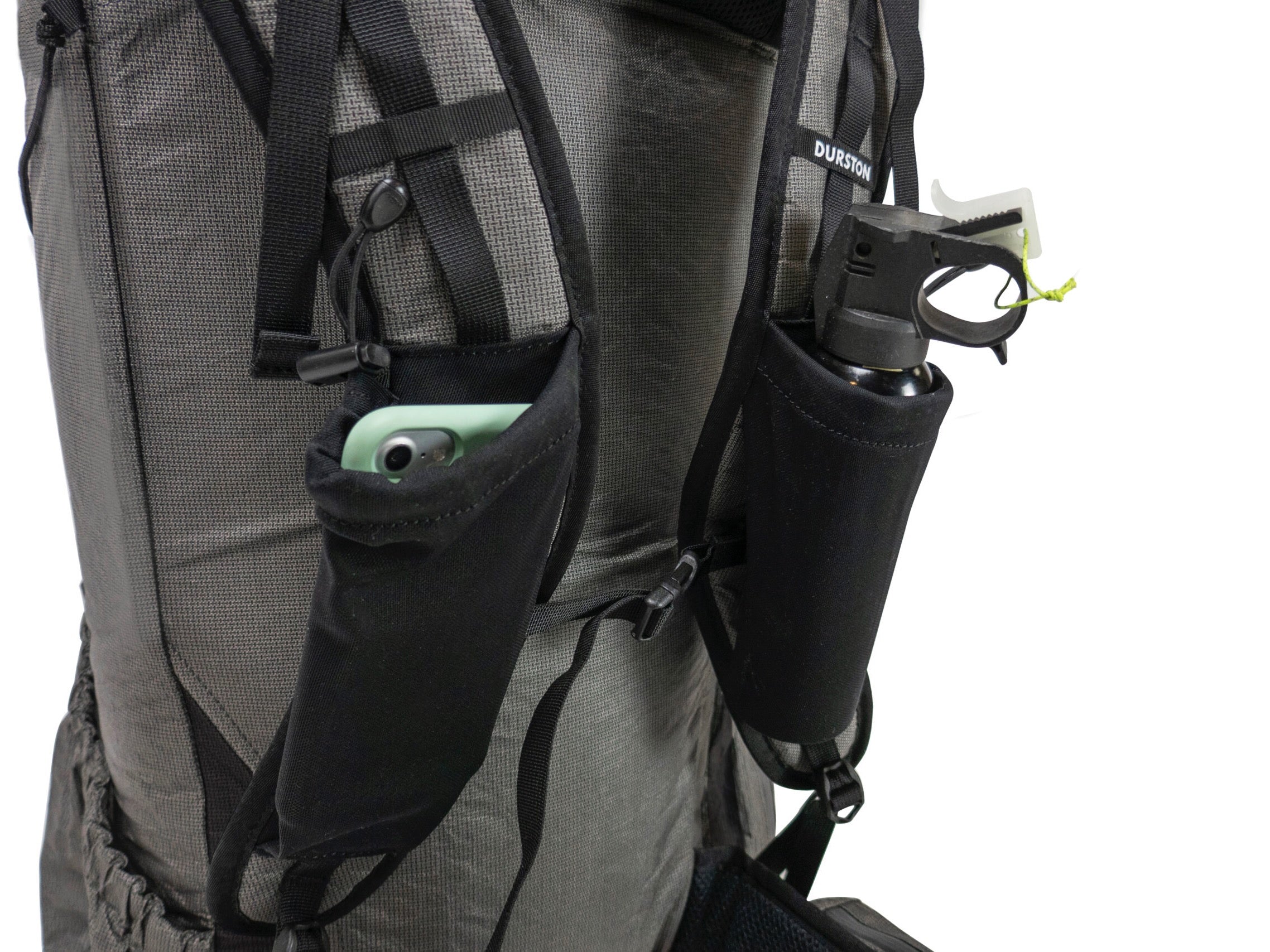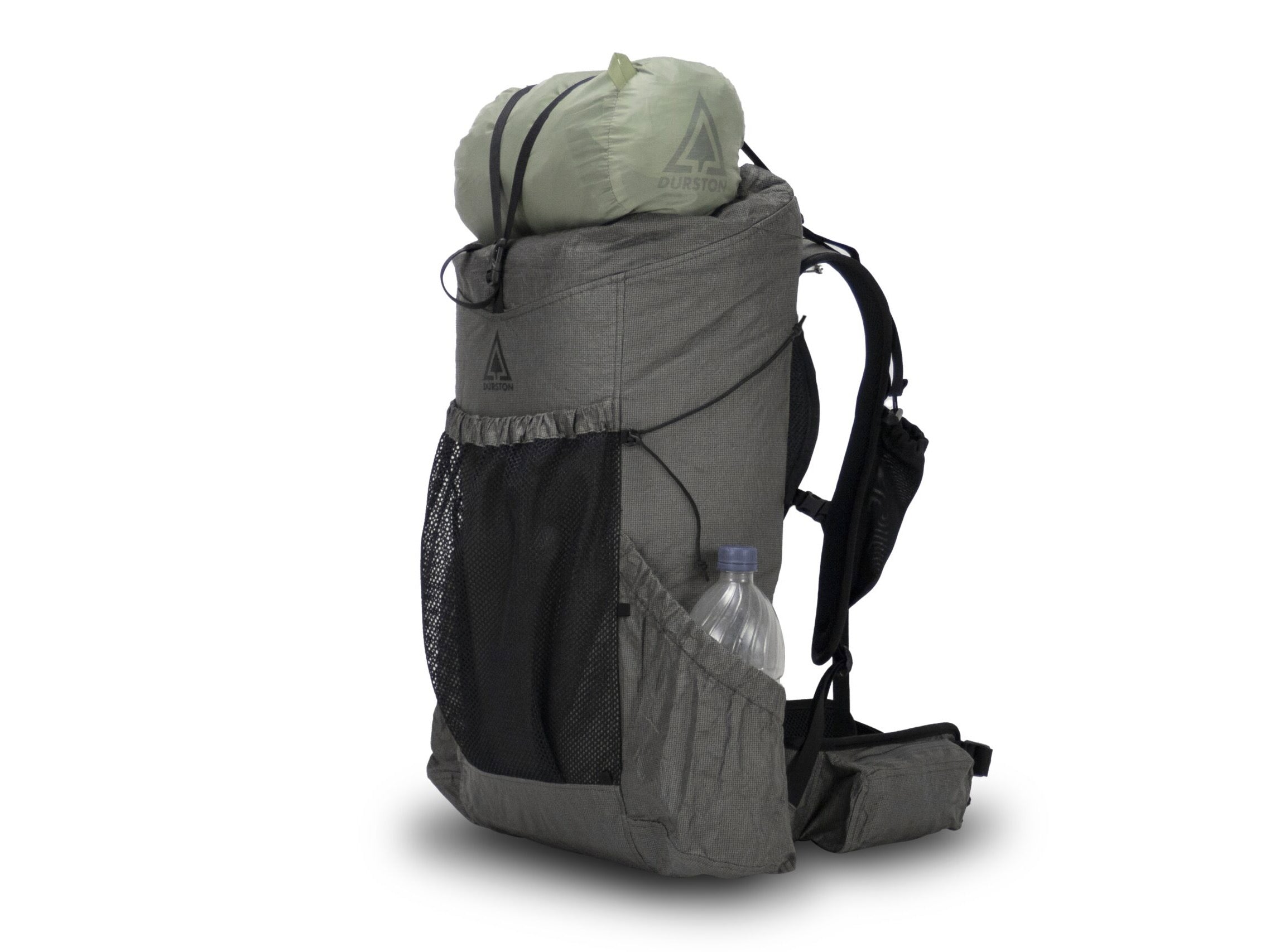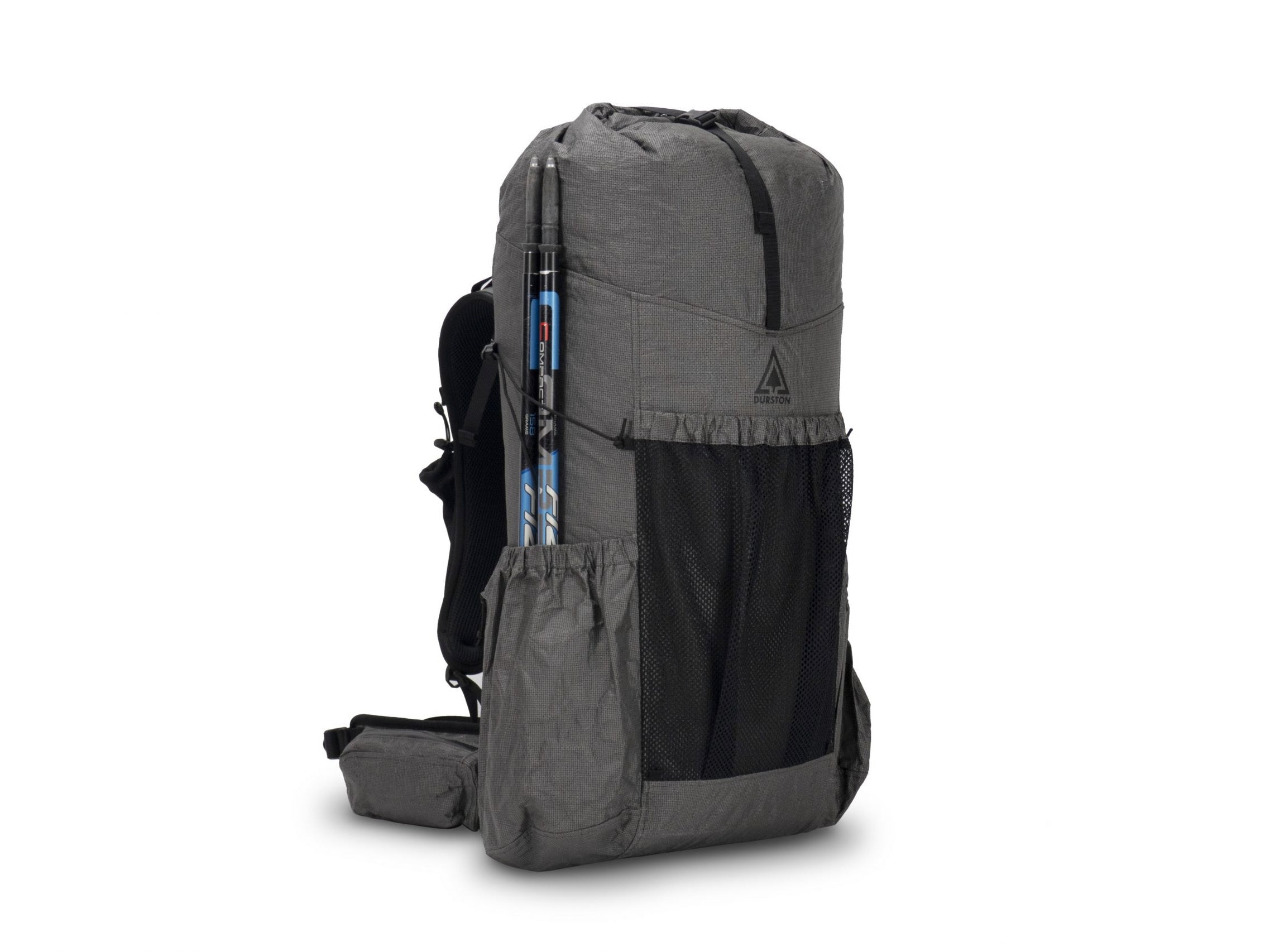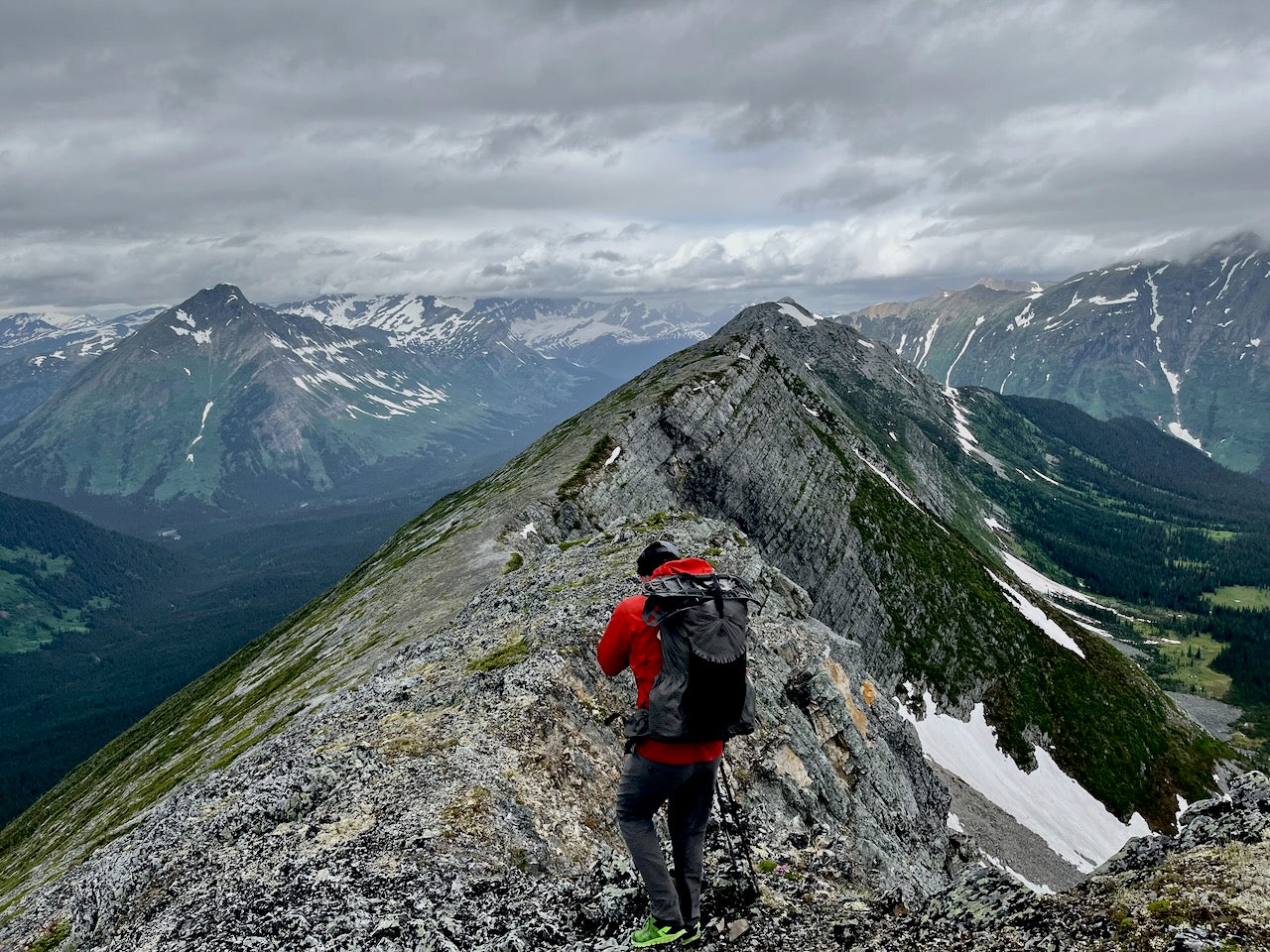 Kakwa 40
---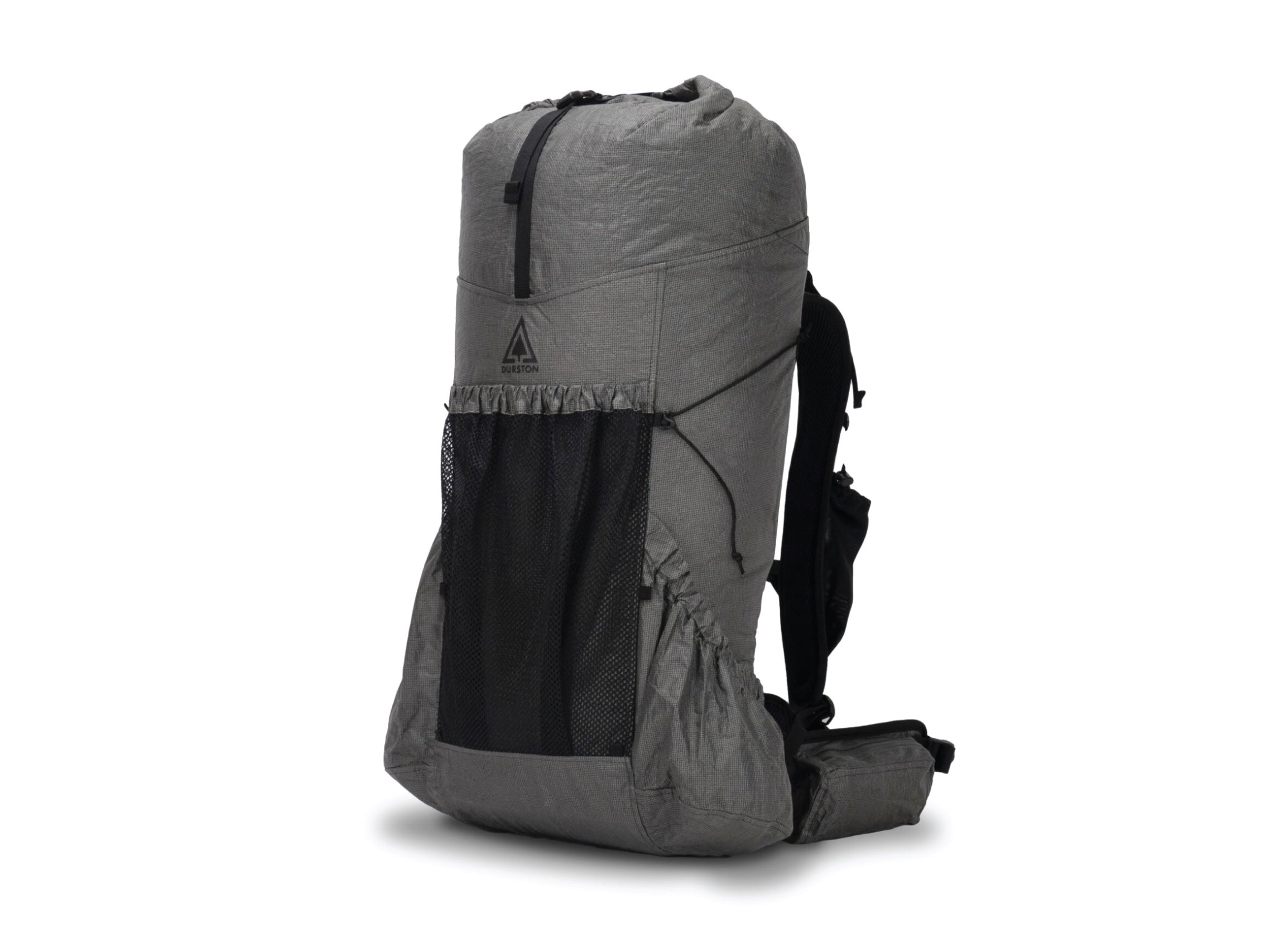 Kakwa 40
Sale price

$250.00 USD
Regular price
(/)
The Kakwa 40 is our premium ultralight, multi-day pack design. Its design is informed by Dan's thousands of miles of backpacking experience to give the Kakwa 40 best-in-class load carrying, materials, pocket design, and quality – all while weighing a mere 27 oz / 775 g.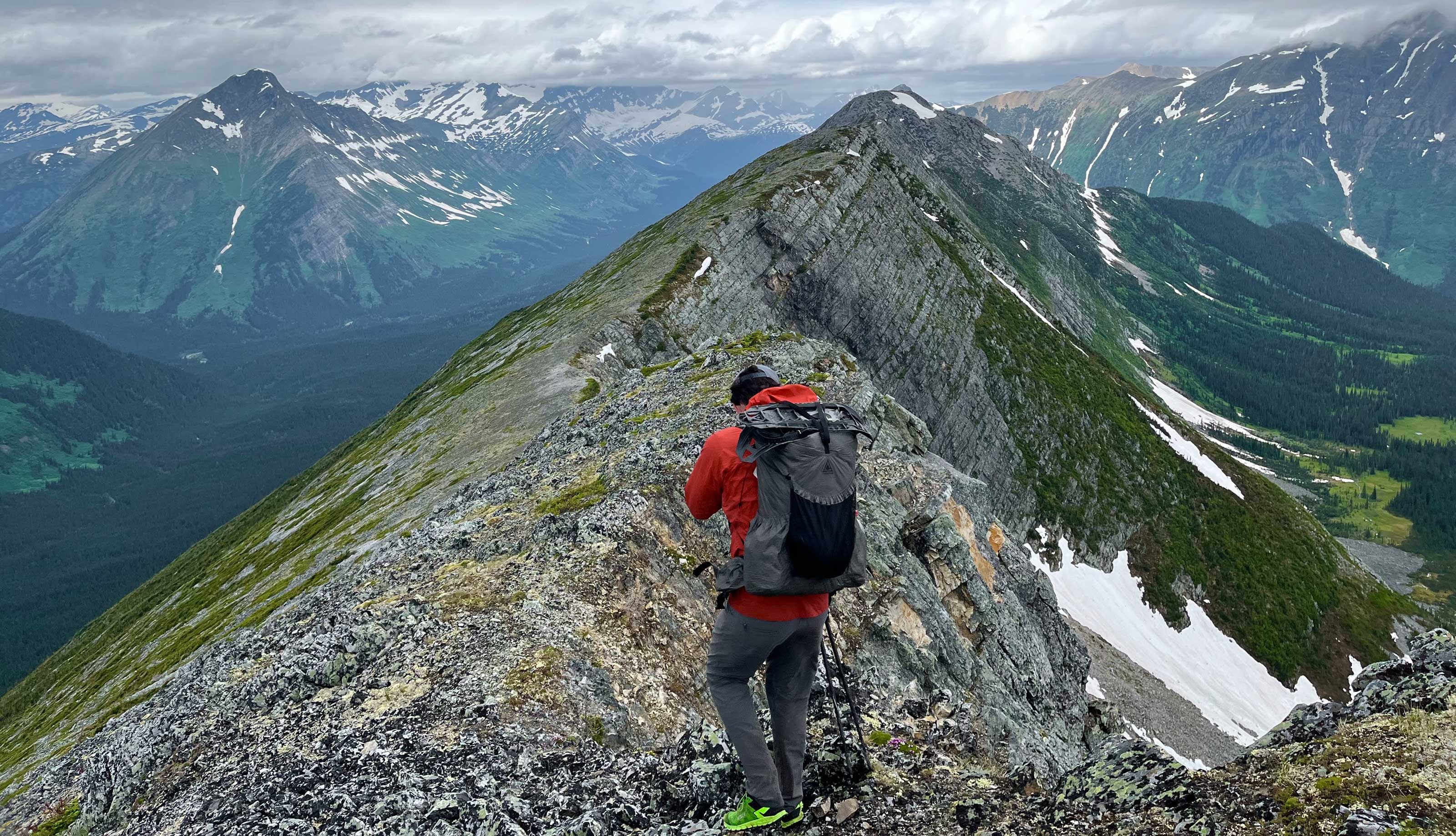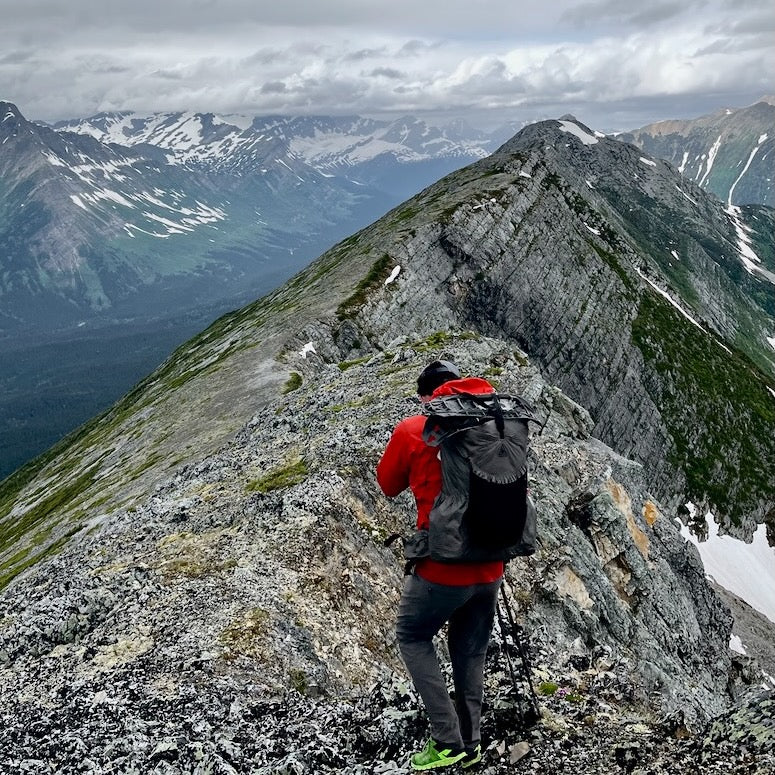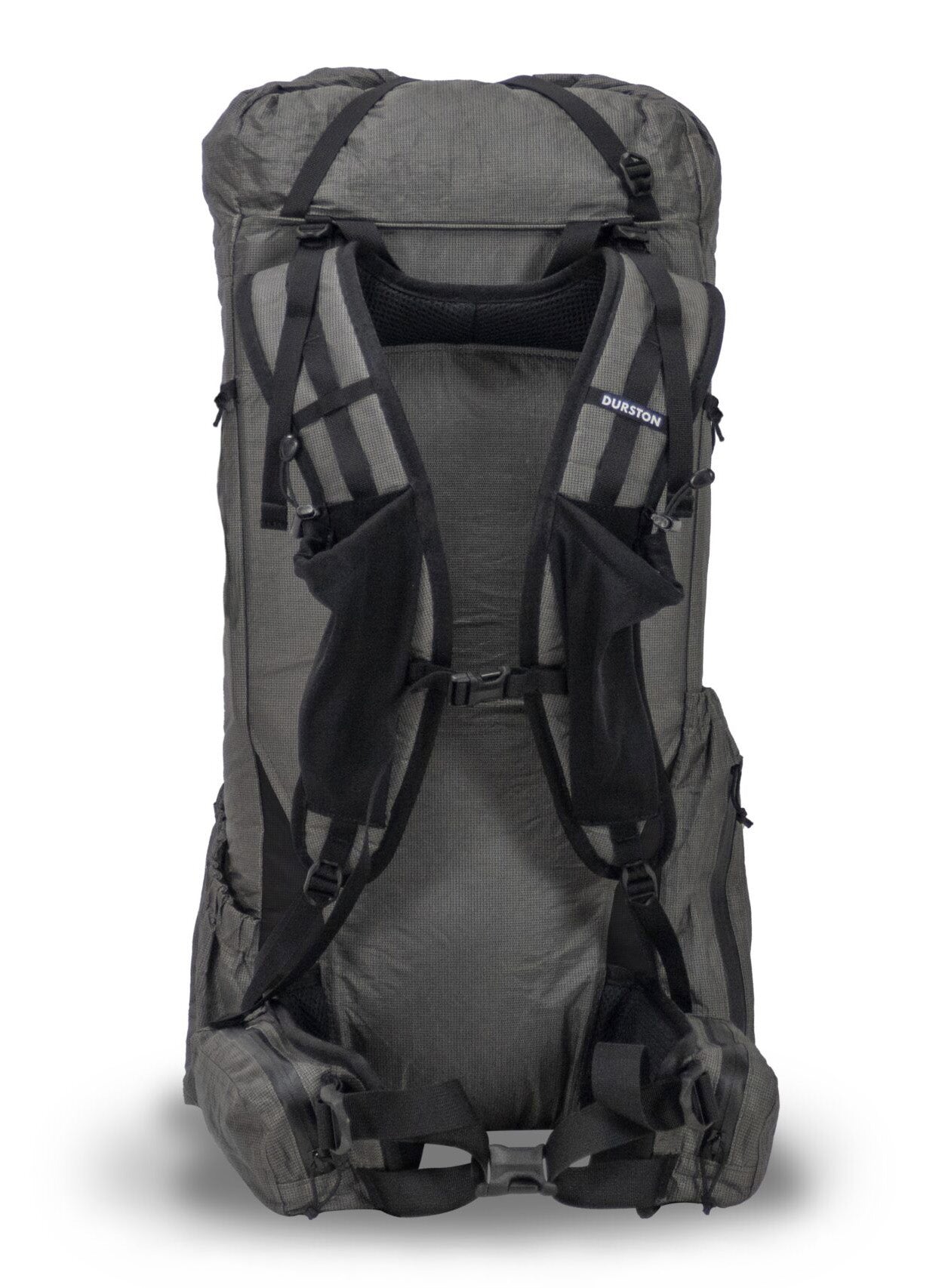 LOAD CARRYING
The load carrying and comfort of the Kakwa 40 is unprecedented for a pack weighing under 2 lbs.
Other packs in this niche commonly sacrifice comfort and load transfer by omitting load lifters, possessing only vertical frame components (no horizontal structure), and relying on rudimentary shoulder strap and hipbelt designs.
The Kakwa 40 is a stark contrast to this. It uses an inverted U shaped frame built of hollow aluminum that is a more efficient use of structural weight than the commonly flat frame stays, and provides a rigid core with both vertical and horizontal structure.
This frame connects directly to the hipbelt for optimal load transfer and directly to the load lifters, which are rare on packs this light yet essential for shifting more of the weight off your shoulders. A robust structure is nothing without an ergonomic connection to your body, which is why the shoulder straps have a carefully developed S shape to contour around your upper body, while the hipbelt uses a dual strap design to cup your hips and with reverse pull leverage for easy tightening. The result is a pack that comfortably and effectively manages loads up to 45 lbs.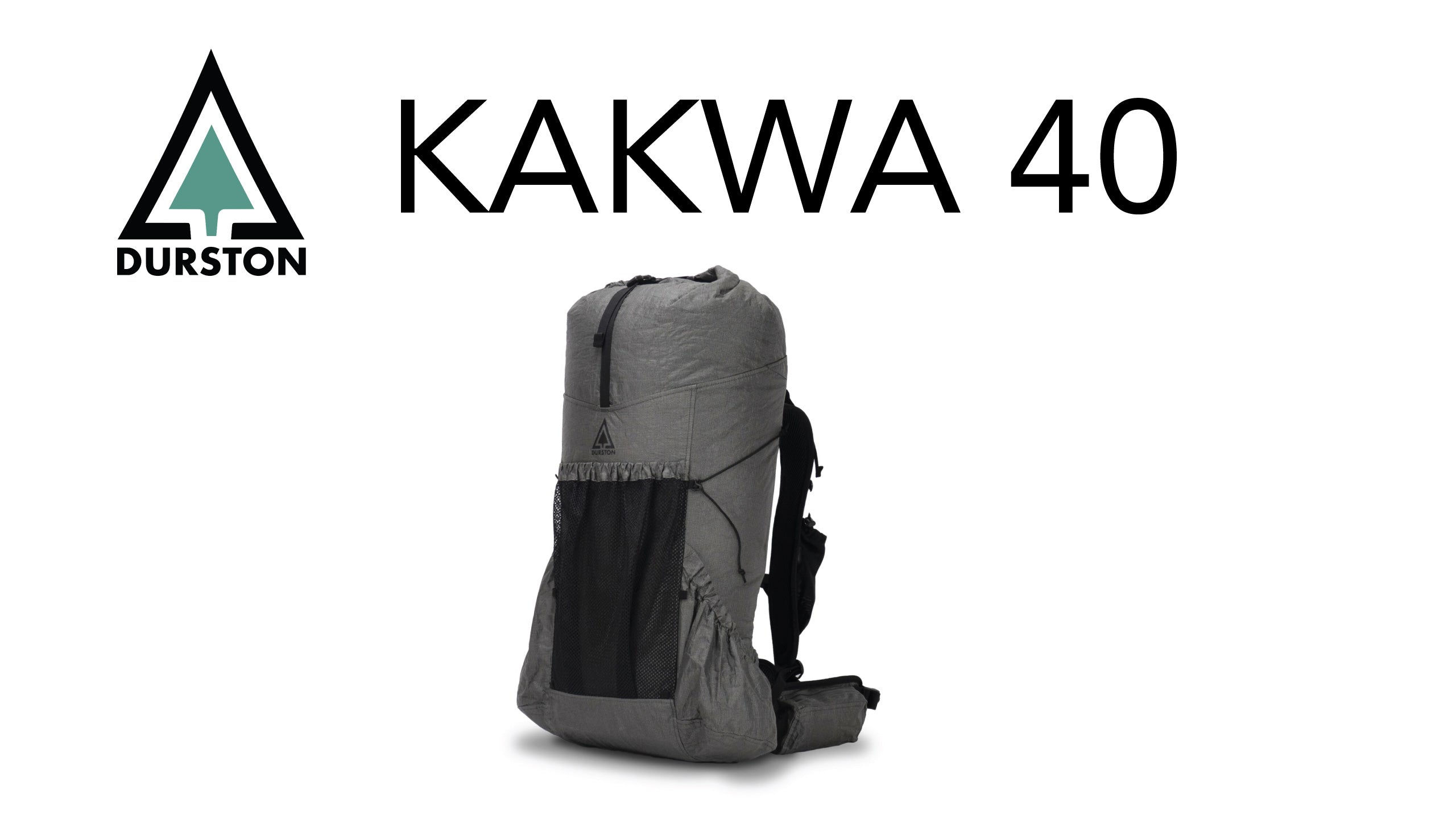 EFFICIENT ACCESS
With an ultralight pack, efficient access to your gear while on the move is a hallmark of good pack design. For this, the Kakwa 40 has four types of pockets to optimize on-the-go access to a wide range of your gear so you can keep covering miles instead of digging through your pack.
That starts with the hipbelt pockets, where a large shape easily accommodates numerous medium sided items such as snacks, sunscreen, and headlamps. That storage is augmented by dual top opening shoulder strap pockets which provide an optimized place for your phone for quick photos and navigation. These shoulder strap pockets also work excellently for bear spray and provide a safe place for fragile items like sunglasses.
Additionally there is the innovative QuickPocket which consists of an easily reached hidden compartment in the side pocket where you can stow items that are too large to be quickly accessed on other packs, such as hats, mitts, large cameras and plus sized phones. Finally, a mesh style front pocket quickly swallows the largest items like jackets and cookwear so you can hike all day without opening your pack.
Collectively, the Kakwa's suite of pockets is carefully thought out and refined to enable rapid and efficient access to everything you need on the move.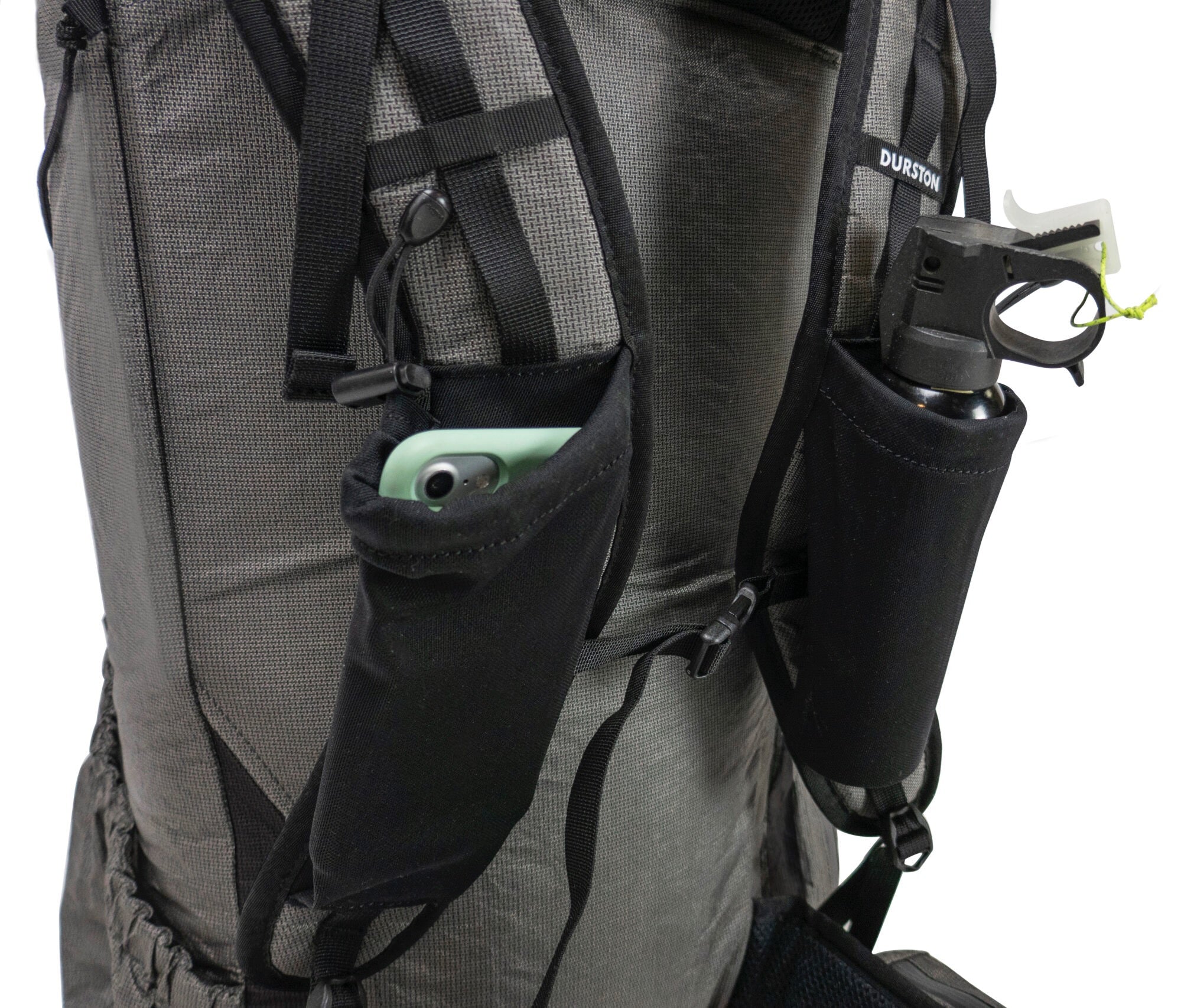 Favorite Carry
"A sleek, pleasing aesthetic....The only backpack in the sub 2 lbs weight class that was capable of carrying more than 50 lbs without torso collapse. This pack has my favorite carry feel".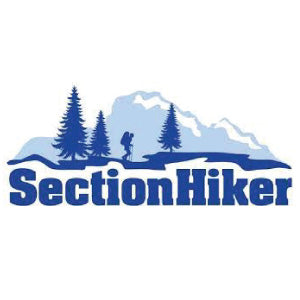 Impressive
"The low weight is impressive for a framed pack....and it provides excellent weight transfer to the hips. The pocketing is fantastic for accessing what you need during the day without stopping."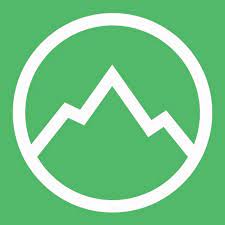 I Could Not Be Happier
"I've become a huge fan. It has smart places to put all the stuff, and carries all that stuff comfortably. I could not be happier to have it for the remaining 2,000 miles of the Eastern Continental Trail this winter."
Incredibly Well Designed
"The Kakwa has a famously excellent load carry. The whole setup is just so dang comfortable and user-friendly. It is in contention for best ultralight backpack on the market."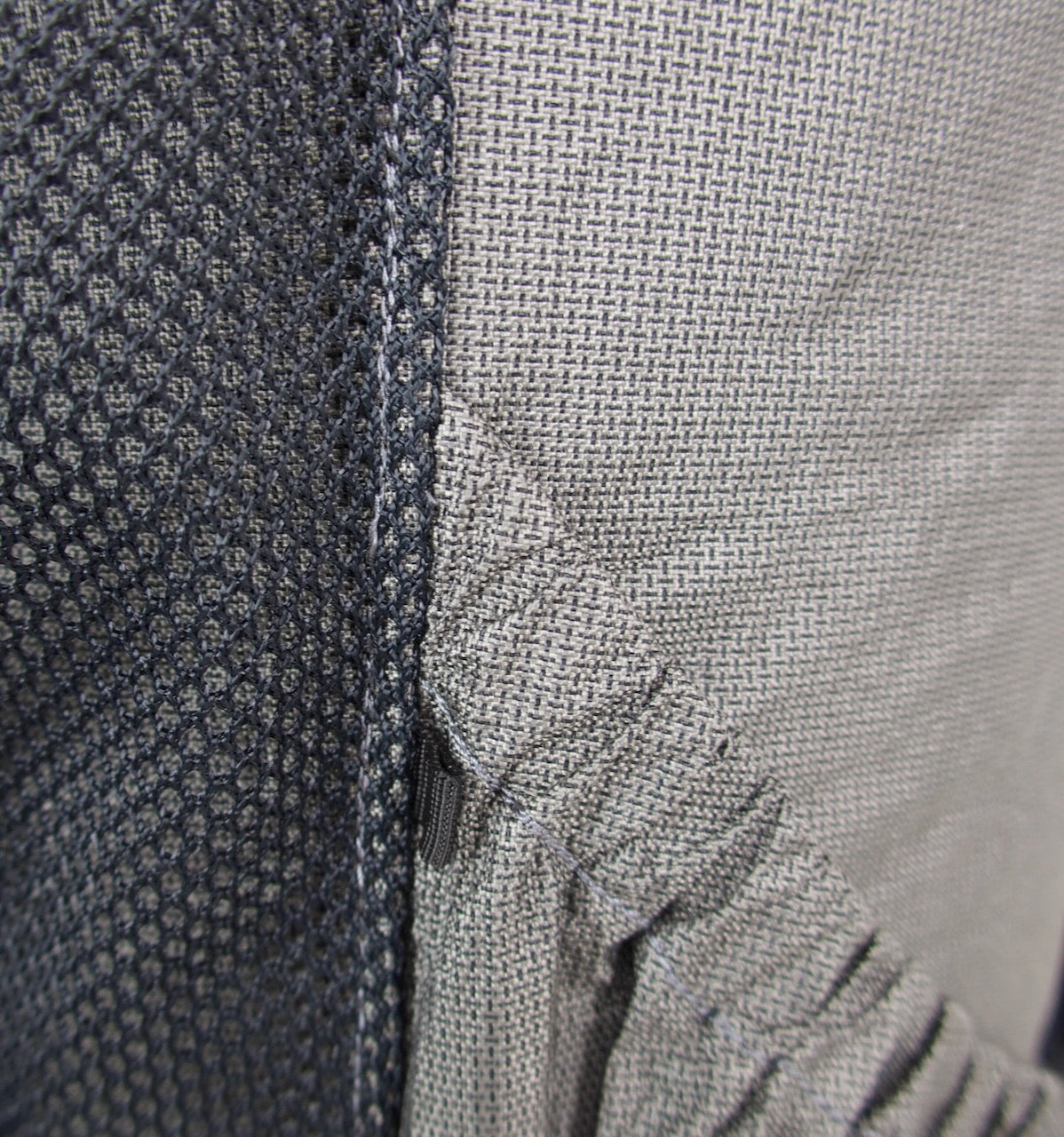 MATERIALS & QUALITY
In our background in the Canadian Rockies we often spend more time off trail than on, so durability in the materials and construction is a top design priority.
With the Kakwa 40 we are using the innovative Ultra 200 fabric from Challenge Outdoor, where the face fabric is dominantly woven UHMWPE fibers (more commonly known by the brand name Dyneema®) which is several times stronger and more abrasion resistant than traditional nylon pack fabrics. This material is laminated with an eco-friendly adhesive to their revolutionary Challenge RUV™ film to give a textile that is incredibly strong, lightweight, and waterproof to 200 psi.
Simply using a tough fabric is not enough if the pack has weak points in the stitching or supporting materials. That why the Kakwa 40 is fully double stitched with heavyweight thread by the same factory that builds packs for Arcteryx. We've also used the same tough Ultra 200 material for the shoulder straps, hipbelt pockets, and side pockets so these exposed areas also have maximum durability. The front pocket is generally less exposed to the brush, but still we've sourced a very durable knit mesh for this pocket that won't stretch out.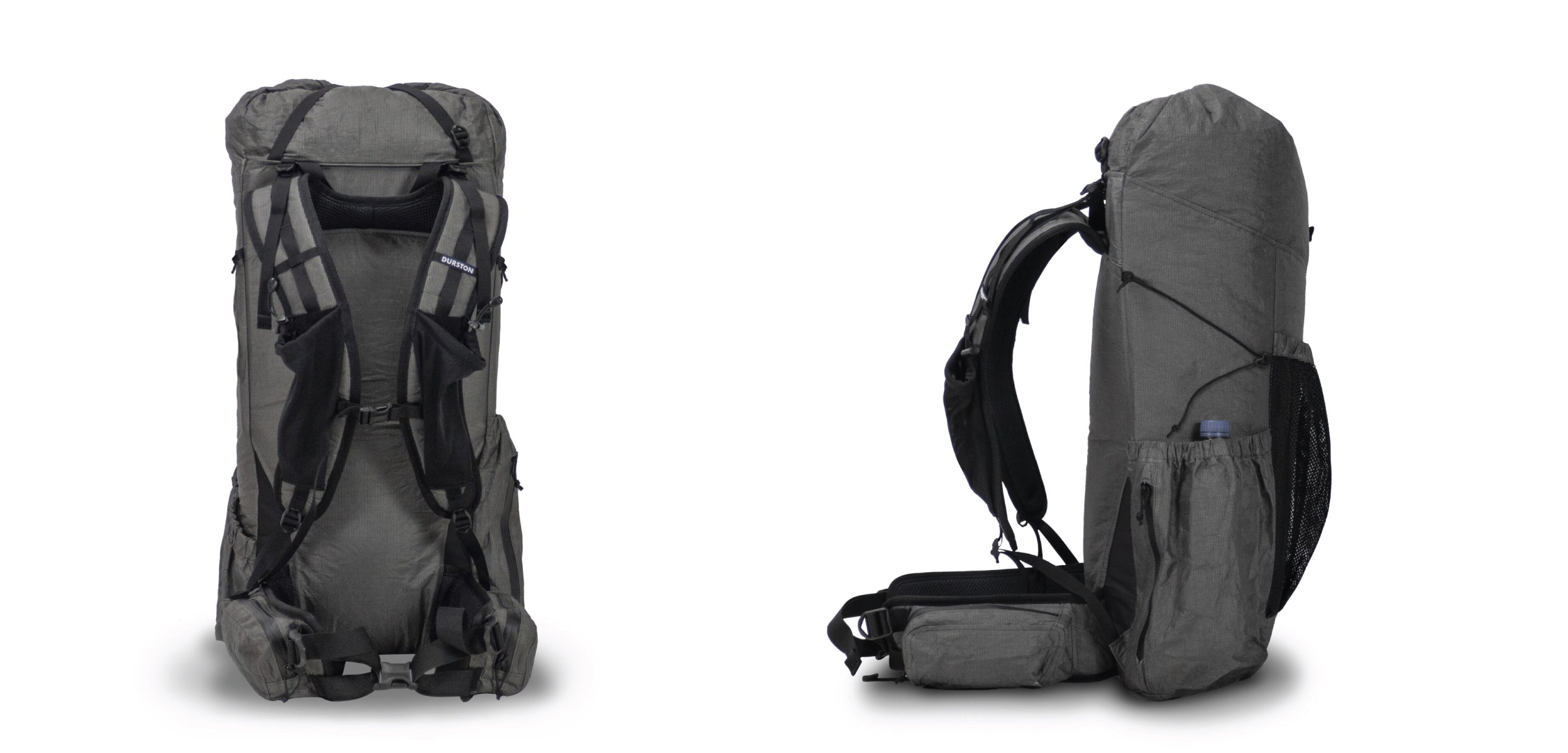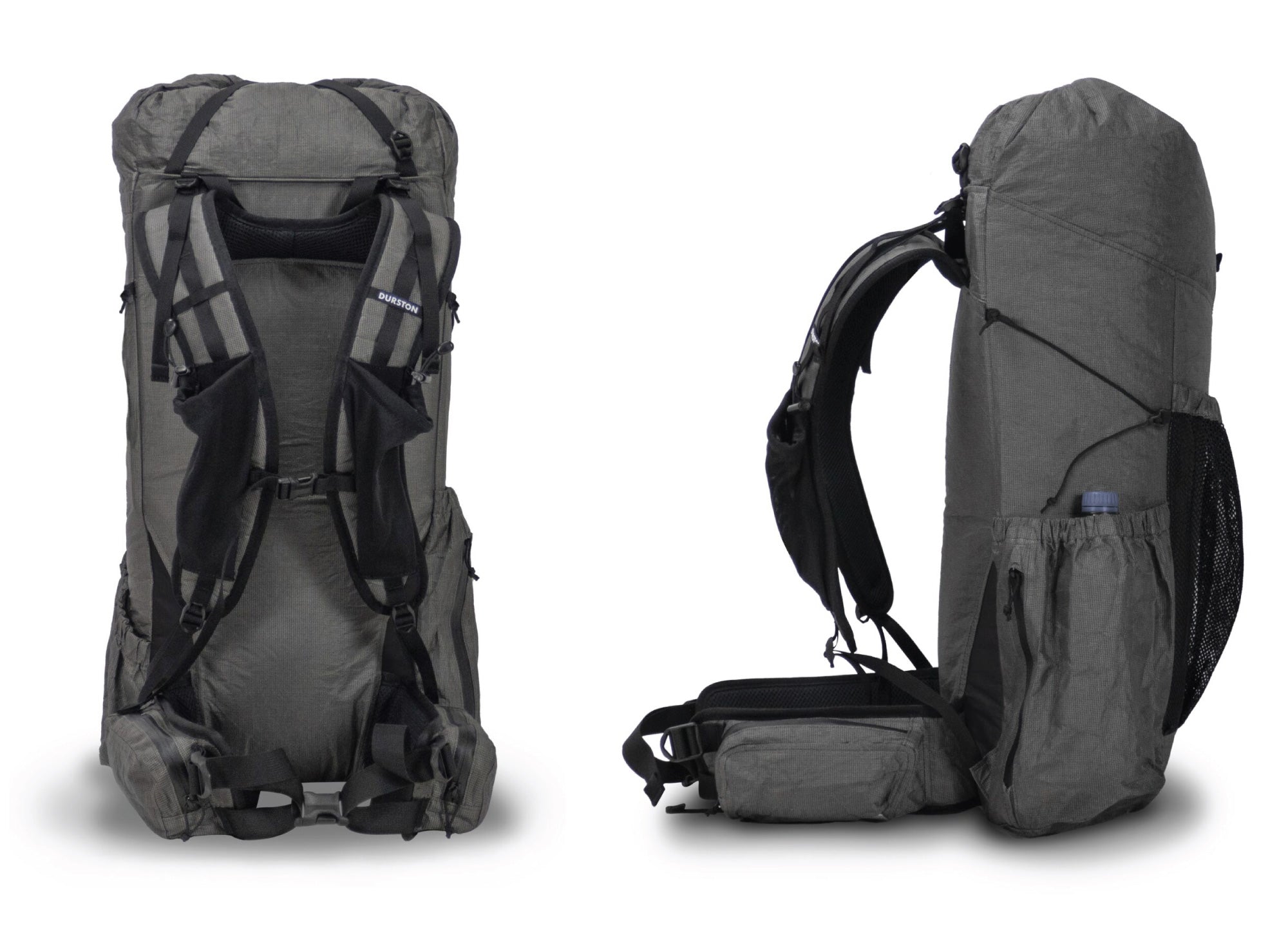 Ultra 200 Fabric
This fabric is dominantly woven UHMWPE fibers (more commonly known by the brand name Dyneema®) which is several times stronger and more abrasion resistant than traditional nylon pack fabrics. This material is laminated to a film backing to make the material waterproof.
Hollow Aluminum U Frame
The hollow aluminum inverted U frame provides vertical and horizontal structure at less weight than frame stay systems for more effective load transfer and comfort at loads up to 45 lbs / 20 kg.
Dual Strap Reverse Pull Hipbelt
This hipbelt design cups your hips, and makes tightening the belt much easier with 2:1 tightening leverage and an ergonomic direction of pull.
Shoulder Strap Pockets
These pockets provide an ideal place for your phone, bear spray, sunglasses, small water bottles and more. We attach them permanently for a more solid and user friendly connection.
Quick Pocket
The Kakwa's unique Quick Pocket is easily opened while on the move and provides quick access to larger items like hats, mitts, oversized phones, maps, and snacks.
This product is rated 5.0 of 5.0 stars.
It has received 9 reviews.
Features
Ultra 200 Fabric
This fabric is dominantly woven UHMWPE fibers (known by the brand name Dyneema®) which is several times stronger and more abrasion resistant than traditional nylon pack fabrics. This material is laminated to a film backing to make the material waterproof.
Hollow Aluminum Frame
The inverted U frame provides both vertical and horizontal structure while the hollow aluminum tubing makes it lighter than flat frame stays.
Load Lifters
Load lifters are often omitted on lightweight packs but are a key component of the Kakwa's exceptional load carrying ability.
Ergonomic Shoulder Straps
The shoulder straps use an ergonomic S shape that fits almost everyone better than straight straps.
Dual Strap + Reverse Pull Hipbelt
The dual strap hipbelt cups your hips while the 2:1 leverage and reverse pull make it easy to tighten.
Y Top Strap
Y shaped top strap allows items like bear canisters and tents to be strapped on top.
Attachments
Eight attachment points around the pack make it easy to attach a wide range of items.
Hipbelt Pockets
Dual hipbelt pockets are standard and have a refined design that operates easily with one hand.
Shoulder Strap Pockets
Shoulder straps pockets are standard and provide handy storage for phones, bear spray, sunglasses, and small water bottles.
QuickPocket
Unique QuickPocket on the left side provides on-the-go access to larger items than previously possible, such as hats, mitts, and maps.
Hydration Compatible
A hydration port enables compatibility with bladders.
Durable Mesh
The front pocket uses a durable knit mesh that creates volume with pleats (folds) instead of using a less durable stretch mesh.
Top Quality
Pack is assembled with the highest quality including double stitching and bound seams at the same factory that builds Arcteryx packs.
Compare
COMPARE
The Kakwa 40 provides best-in-class load carrying, usability, and durability for a sub 2-lbs pack. To illustrate this, the table below compares the Kakwa 40 to what is typically seen in this niche (40L packs under the 2 lbs mark with premium fabrics).
Frame structure
Inverted U frame provides vertical and horizontal support
Flat bars provide only vertical support (prone to barrelling)
S-shaped (ergonomic) shoulder straps
Accessible pocket for larger items
Main fabric
Ultra 200 (dominantly UHMWPE fibers)
Usually Hybrid DCF or UltraGrid (dominantly polyester or nylon fibers).
Double stitched & folded seams
Internal (protected) pocket elastics
Price
$350 - $500 (with similar spec)
Weight
30 - 35 oz / 850 - 1000 g
Specifications
-
Frame (90 g) and backpad (15 g) are included but removable.
-
Heavy duty polyester knit mesh
SIZING
Small: 14.5 - 17.5 " (37 - 45 cm)
-
Medium: 16.5 - 19.5 " (42 - 50 cm)
-
Large: 18.5 - 21.5 " (47 - 55 cm)
-
Hipbelt min & max circumference:
-
Hipbelt recommend waist size:
FAQ
FAQ
Browse the FAQ to learn more or get in touch if you have further questions.
Contact Support
Q) What does the "Kakwa" name mean?

The word "Kakwa" has it's origins in the Cree language where it means porcupine. This word is used to name the Kakwa region in the Canadian Rockies where you'll find Kakwa Park, Kakwa River, Kakwa Falls and more. It's usage to name this pack is primarily a nod to the northern terminus of the Great Divide Trail (the most scenic and wild thru hike in North America) which ends at Kakwa Lake.
Q) What has changed with the 2023 version?

Our 2023 design incorporates user feedback to make a few enhancements and refinements to the pack while shaving a bit of weight. This includes additional lash points on the front and bottom of the pack, longer hipbelt adjustment to accommodate larger waists, and a variety of refinements to improve durability including at the frame ends where we have adjusted the design to avoid the potential for wear points. We have done all this while reducing the pack weight by 1 oz (now 27 oz).
Q) How much can this pack hold?

Ultralight hikers (e.g. <10 lbs of gear) with kits that are compact (e.g. down sleeping quilt) will find they can fit 5-7 days of food reasonably and can stretch that to 10 days with a quite full pack (e.g. strapping the tent on top). Conversely, hikers with light but not ultralight baseweights (e.g. 10-15 lbs) will find it is a good weekend pack. Traditional hikers with ~20 lbs baseweights will find this pack to be too small and should opt for the 55L version.
The Kakwa 40 is the complete package for a lightweight or ultralight hiker. However, it is not ideal for hikers heading out for longer periods or with heavier baseweights who will need a larger pack like our Kakwa 55.

On the other end of the spectrum, hikers with extremely light baseweights and preferring shorter hikes will find the Kakwa 40 excessive for their needs and will be better served by a frameless pack.
Q) Is this pack waterproof?

The Ultra 200 material is 100% waterproof with an impenetrable plastic backing on the Ultra 200 fabric that is much more durable than traditional PU coatings. However some water can seep in via the seams which are not taped. We do not tape the seams partly because we use seam binding which makes them stronger but too bulky to tape, but also because our more capable frame requires seams that are too complex to be seam taped (e.g. many layers of material sewn into the seams). As a result, the pack ends up being water resistant but not fully waterproof. If it rains for hours, a bit of water will seep into the pack.

We suggest to keep your sensitive gear like clothes and sleeping bag in waterproof sacks and then everything else will be fine, but for greater protection you can use a pack liner or seam seal the pack yourself.
This product is rated 5.0 of 5.0 stars.
It has received 9 reviews.
Almost Perfect light weight pack
I had tried numerous other light weight packs that were about the same weight from well respected companies. While I like each of them, they all had 1 or 2 compromising issues that affected how the load carried. For me, the Kakwa 40 carries as much weight as I can store in it and quite well. I think this is attributed to the load lifters, the way the frame is designed to put the load truly on the hip and then the hip belt. The only improvement I hope to see is a larger front pocket, similar to the 55 expanded one. So glad to have found the perfect pack. Thanks Dan
Great pack! Hoping for one tweak...
Have been very impressed with the design and build quality of this pack!
Agree with many of the comments already posted so will not repeat those.
Here's the Desired Tweak: As noted in Jeffrey Levy's 8/31/23 comment, the left side vertical zip pocket is somewhat constrained by what is loaded in the left side open pocket. Suggested Improvement: move the vertical zipper about an inch outward; doing so will help reduce the need to thread and reach your hand around whatever is protruding into the shared space/volume. Perhaps another idea would be to add a small bellows to the zippered pocket near the bottom.
The pocket works as is but could be improved and make a great pack even better!
Thanks for the kind review and suggestion James. I have actually varied the position of the zipper a bit and what I've found is that it needs to be quite close to the edge of the pack because as it moves further away it isn't held in position as well so the zipper becomes hard to operate. In 2022 it was about an inch further away, but trying to open it with one hand would often bind because when you pull on the zipper the pack would scrunch instead of the zipper moving. So I am always looking at ways to improve functionality but I don't think moving it out would be a complete solution. Maybe it could run at an angle so the bottom is still next to the hipbelt where it is well anchored.
Spot On!
I was finally able to get the Kakwa 40 out on a longer 10 day trip through challenging off trail routes in varied terrain and with a full load – no resupply. I was a little reluctant to pull the trigger on the 40L knowing that the 55L going to be back in stock but I am glad I went with the 40L For reference I am 5'9" 165lbs with an athletic build despite my age and got the LRG size and it fits great. My torso is 19.5" and the fit was perfect for me – I also wanted the extra capacity that the large offered as well. Fit and finish are impeccable, it's a good looking pack without lots of straps and loops and extras that add little value to me. I had to readjust how I packed to get all my gear and 10 days of food in, but I was able to pull it off with two rolls on the top closure day one, with nothing strapped to the top or outside. In the back mesh pocket were my maps and rain gear. My primary change to packing was stuffing my quilt into the bottom of the pack directly, sans stuff sack, which is something I wish I had adopted years ago. I have been actively backpacking for 50 years and still learning new tricks.
The comfort and the way it carries are great. I have been through 15 or so packs over the years and all have caused my right shoulder to ache after 6-7 hours on the trail and I then start playing with the shoulder straps and load lifter straps to change the position to find relief. The Kakwa 40 didn't eliminate this but it was at least 80% better to the point that it wasn't really noticeable. I attribute this to how the yoke of the straps keep things aligned and how closely this pack hugs your back along, with the slim profile of the pack ,keeping the load very close and not requiring me to lean forward to compensate for the pull I typically feel with other packs. I have been carrying a ULA Ohm 2.0 for the past 5 years and really like it except for the previously mentioned shoulder pain – not the packs fault as I blew it out many years ago lifting weights.
The "one handed" zip pockets delivered as advertised and are the first pack I have owned that actually worked with one hand. I can also retrieve and replace the water bottles in the right side pocket but really enjoyed the using the shoulder strap pocket for my .5L water bottle. It was positioned outside of my peripheral view but ready for easy access. I haven't liked having a bottle on the shoulder straps with last few packs because of them feeling like they were in my face as I looked down for footing – particularly when off trail. The back mesh pocket could certainly be taller and I would imagine that with the changes to the latest Kakwa 55 in that regard, the 40 will follow suit with the next manufacturing run. It's certainly adequate for my use but would increase capacity and functionality with very little weight.
Just about perfect for me. I do worry about the longevity of the plastic film adhering to the Ultra 200 fabric over time – particularly the top of the pack which is rolled and cinched down. Time will tell but I don't rely on the pack fabric to keep my keep my gear dry, it's more of my memory of all those packs in the 70's and 80's that looked like they had gotten a sunburn and the film was peeling getting flakes all over the contents of the pack. If I could change anything it would be to make the back mesh pocket higher and add two more inches in circumference top to bottom and call it the Kakwa 42. I am very happy without both of those but I thought I'd float that out there. Well done Dan!
Fantastic pack!
I've had the Kakwa 40 for about a year now and I've taken it on several 2-3 night trips, including carrying a BearVault 450. It's very comfortable and easily holds everything. I consider this pack my reward for a few years of shrinking my gear's size and weight.
My only quibble is that the utility of the zippered side pocket depends heavily on what you have in the open pocket - they share the same volume. That said, even with a camp chair and sit pad in the outer pocket, and sometimes hiking poles, I still fit my wallet and keys, a small sunscreen bottle, and a compass into the zippered pocket. Just put them in there first!
Way to save weight without giving up quality
Tried this out on a backpack at Mt Rainier. Poor timing though as I had thought about also getting 55 which was announced when I was on trail/no cell coverage and all sold out by the time I got online. 40's Pro's: lightweight but sturdy, support from pad and U frame, shoulder pockets, clean lines, reasonably priced. Cons: not enough give in back mesh pocket (changed on new 55) or side pockets, could use additional way to secure gear bag on top of pack such as a couple of side loops (will try different approaches to this). For 65+ female, who should have knee replacements - this pack is important in my ability to keep hiking. Thanks. PS Purchased pack from Kaviso, good customer service.