X-Mid Pro 1
$599.00 USD – $609.00 USD
Description
Due to overwhelming interest we are currently sold out of the X-Mid Pro 1 but we have more arriving on Tuesday, April 3 so we will open orders then. Please sign up below for an email reminder when the X-Mid Pro 1 is available:

______________________________
The X-MidTM Pro 1 is the ideal tent for the ultralight backpacker. It combines our maximally weight efficient X-Mid geometry with Dyneema® composite fabrics (DCF) to create one of the most spacious, simple to use, and stormworthy 1 person tents on the market – and yet weighs a mere 1 pound (16 oz / 465 g).
Until the X-Mid Pro 1, if you wanted a 1 person tent at the 1 lb mark, you had to settle for something cramped or lacking in weather protection. The X-Mid Pro 1 changes that. It provides a spacious interior with more headroom, shoulder room, and interior volume than any other 1P trekking pole tent. The generous 90″ floor length combined with steep end walls also provides best in class useable length (suitable for hikers up to 6'8″), while the 32″ floor width easily accommodates the widest pads with room to spare.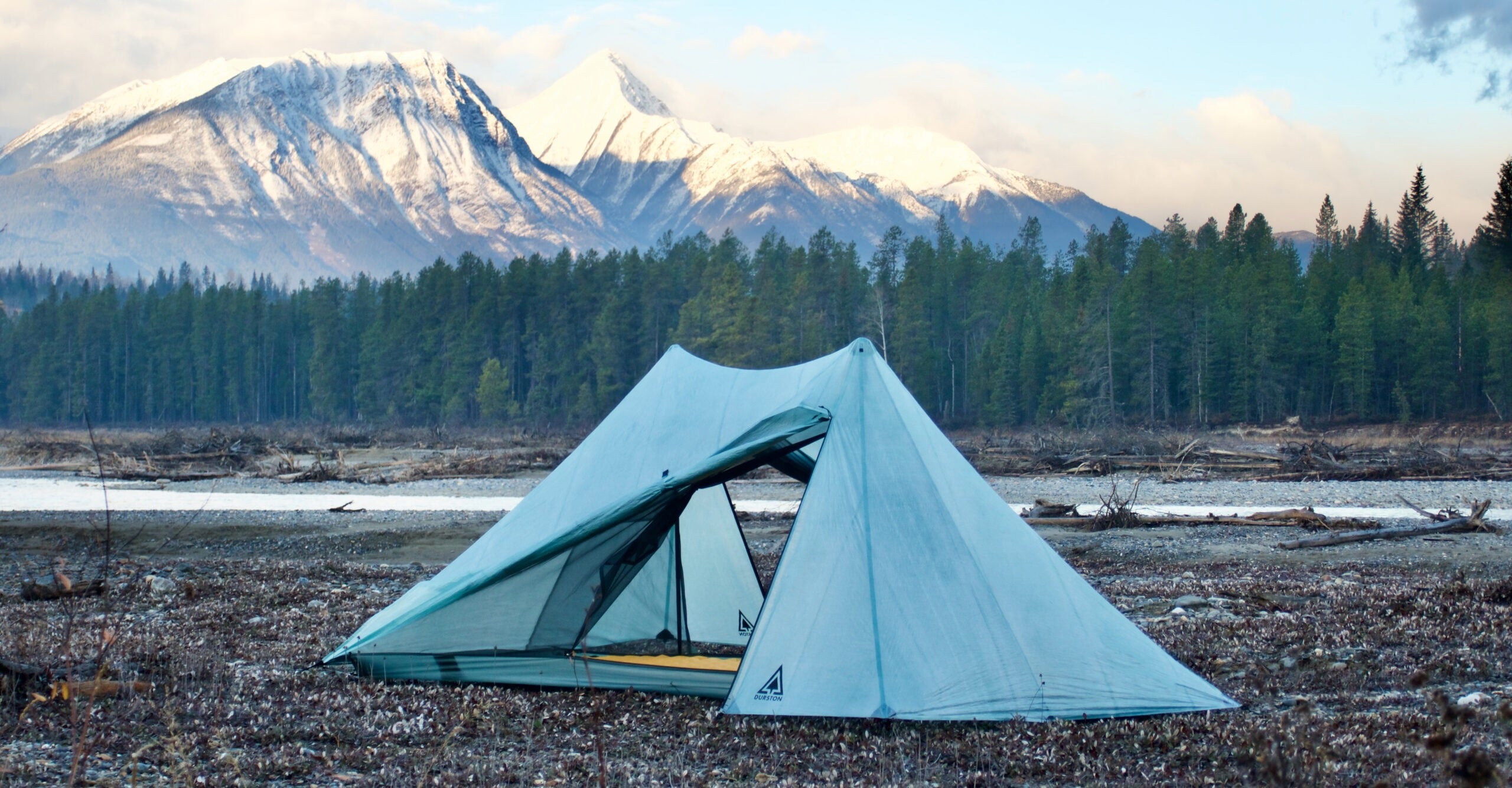 More than just a spacious tent, the X-Mid Pro 1 also provides a robust shelter for harsh conditions. Unlike other tents near the 1 pound mark, the X-Mid Pro 1 doesn't trim away the lower part of the fly for weight savings but instead has a full coverage fly to block drafts and rain splatter while also having the option of raising it higher. Other features found in the X-Mid Pro 1 but otherwise unheard of at the 1 lb mark are peak vents (important to minimize condensation) and zippered doorways (blocks drafts, increases structural integrity). Additionally, X-Mid Pro 1 features ultra strong and highly waterproof Dyneema® composite fabric, dual protected doorways that keep rain off the floor even when open, an abrasion resistant woven floor, and guyout points for up to 12 stakes around the base plus peak guylines and side panel guylines can be attached for stormy conditions.
What hasn't been overlooked is the user friendliness and simplicity that the X-Mid tents are known for.  The X-Mid design was formed in tough real world conditions where you need a shelter that just works and this elegant simplicity continues in the X-Mid Pro 1. That includes an ultra simple 4 stake pitch, magnetic door toggles for one handed operation,  doorways that aren't blocked by poles, large vestibules that put the main area beside the doorway instead of blocking it, a tensioned floor that lies taut and wrinkle free, one handed operating zippers, and dual interior pockets. The X-Mid Pro 1 also packs smaller than any other 1P DCF tent at just 4″ x 12″ and thanks to the absence of poles and struts it packs short enough to store horizontally in your pack.
In addition to the spacious, stormworthy, and simple design, the X-Mid Pro boasts the highest quality. It is crafted at the most experienced tent factory in the world for Dyneema® composite fabrics using premium materials and hot bonded construction.
With best in-class space, stormworthiness, simplicity and build quality, the X-Mid Pro 1 is the ideal ultralight tent for everything from thruhiking the Pacific Crest Trail, to crossing Icelands' wind-swept tundra, to remote adventures on Australia's Bibbulmun Track.
Due to overwhelming interest we are currently sold out of the X-Mid Pro 1 but we have more arriving on Tuesday, April 3 so we will open orders then. Please sign up below for an email reminder when the X-Mid Pro 1 is available:
Additional information
| | |
| --- | --- |
| Dimensions | 30 × 15 × 15 cm |
| Stakes | No, Yes (Aluminum V Stakes x 8) |
Features & Specs
Features
Space
X-Mid geometry provides more interior volume than any other 1P trekking pole shelter (46 vs 25 – 40 cubic ft) including incredible headroom and shoulder room.
Best-in-class useable length makes it excellent for tall hikers up to 6'8″ while shorter hikers can store gear at the ends (the floor is 90″ and even the very ends are 15″ high).
Generous 32″ floor width fits all pads with room to spare.
Dual vestibules are large (11 sq ft) and tall for easy pack storage.
Compact 98″ x 63″ footprint fits into smaller sites.
Vestibules can be collapsed to fit into even smaller tent sites.
Protection
Fly first pitch keeps the sleeping area dry during setup in the rain.
Interior is protected from falling rain even when the doors are open.
Fly extends low to the ground to block drafts and rain splatter, but can also be pitched higher for more ventilation.
Door zippers are easy to operate, block drafts, and increase shelter rigidity compared to clip systems.
Dual adjustable peak vents minimize condensation.
Mesh drain and gutter system ensures even heavy condensation will drain out of the tent.
Optional peak guyouts, side panel guyouts and 8 extra stake points around the base for severe conditions.
Shape offers excellent performance in snow and hail by avoiding flat roof panels.
15D woven floor provides improved abrasion and puncture protection than a thicker composite floor.
Ultra strong Dyneema

®

core guylines.
User Friendliness & Quality
Ultra simple pitch with just 4 mandatory stakes.
Dual doorways are tall and not blocked by trekking poles.
Vestibules are positioned beside the door instead of blocking it so you can fill the vestibule while easily getting in/out.
Dual interior pockets provide convenient storage.
Magnetic fly door toggles for easy operation.
Tiny 4 x 12″ packed size.
Packs short to store horizontally in your pack.
Premium hot bonded construction.
Weight
Tent: 16.4 oz / 465 g
Stuff sack: 0.3 oz / 10 g
Stake sack (available as an option): 0.1 oz / 4 g
Stakes (available as an option): Aluminum V stakes with 4 @ 6″ (8.5 g) and 4 @ 7″ (12 g).
Tent with minimum stakes: 17.6 oz / 499 g
Typical setup (tent, 6 stakes, sacks): 19.2 oz / 544 g
Returns: 30 days in new condition
Warranty: 2 years against defects
Materials
0.55 oz Dyneema

®

Composite Fabric (CT1E.08) in Spruce Green
15D Sil/PEU nylon in grey (floor)
YKK #3 AquaGuard water-resistant zippers (fly)
YKK #3 zippers (inner tent)
Dimensions
Fly: 63 x 98 in / 160 x 250 cm
Fly area: 43 sq ft / 4.0 sq m
Peak height: 45 in / 114 cm
Floor width: 32 in / 81 cm
Floor length: 90 in / 230 cm
Floor area: 20 sq ft / 1.9 sq m
Vestibule area: 22 sq ft (10.8 sq ft x 2) / 2 sq m (1 sq m x 2)
Packed size: 12 x 4 in / 30 x 10 cm
Concept
The goal with the X-Mid was to start with a clean sheet of paper and reason from there to create the optimal trekking pole supported shelter – one that offers maximal functionality, space, storm resistance, and simplicity at the lowest weight.
The most fundamental – and thus first – design question was: What shape should form the tent's base? Most trekking pole supported tents are based around hexagons or even more complicated shapes, but as the number of sides increases, so does pitching complexity, number of seams, stakes, and weight. Typically pitching these complex tents require estimates of stake locations, angles, distances between stakes, pole positions and measuring pole lengths. Setting that up can be fun in the backyard but not fun in a rainstorm. The X-Mid eliminates almost all of this guesswork by opting for a rectangle base – by far the easiest shape to stake out.
The challenge with the rectangle – and reason why it hasn't been used more historically – is that it's hard to implement a good trekking pole structure. Most prior rectangle-based tents have been single-pole pyramids, which are lauded for their simplicity but lack headroom since the pole occupies the only high spot. The single pole near the center also typically interferes in the living space and/or doorways. Other rectangle based designs have used two poles along the perimeter, such as the classic pup tent design. This substantially increases living space but having the poles along the perimeter creates vertical side walls, which catch wind and require guylines and more stakes. It's also a more boxy and inefficient shape, and the poles still typically interfere in the doorways.
Reasoning from first principles, it was obvious that the ideal tent should use two poles rather than one to bolster living space since hikers commonly have two poles on hand, but how to achieve this while avoiding all the common pit-falls was a design challenge that resonated in my head throughout my 2014 PCT thru-hike. It resonated again during my 2017 Great Divide Trail thru-hike until I realized a solution to all of these long-standing issues with the patented X-Mid layout:
The X-Mid layout starts from the realization that two poles can't be positioned near the edges (or you'd have flat sidewalls that require guylines) nor can they be near the center (the tent would lack headroom and have poles on the floor) so they must be a positioned about halfway between the center and the edge. In order to have two poles here and also be able to sleep in the center, there is only one way to do it: place the poles and ridgeline on one diagonal while putting the floor on the opposite diagonal. With this patented layout, the poles provide abundant living space while being out of the way of the doors and living space, and not complicating the pitch. It's a spacious shelter that pitches easily with only 4 stakes and no guylines. This layout also creates vestibules on either side that are more useful because the main vestibule space is beside the door instead of blocking it.
The X-Mid geometry is also lightweight because it is the most volumetrically efficient shape for a trekking pole shelter. If you do the math, you'll find any other comparably sized trekking pole shelter uses more fabric, stakes, or both, resulting in a heavier geometry. Any comparable tent as light as the X-Mid is either much smaller, using more delicate fabrics, or quite a bit less featured.
The X-Mid also provides outstanding performance in stormy conditions. When it's rainy, the X-Mid keep you protected with a full coverage fly to block rain splatter, generous living space, large vestibules with space for cooking and wet gear, no-sag fabric (DCF), fully taped seams, protected entryways that can be left open in light rain, and large vents that open and close easily to reduce condensation. No other tent can claim that entire list.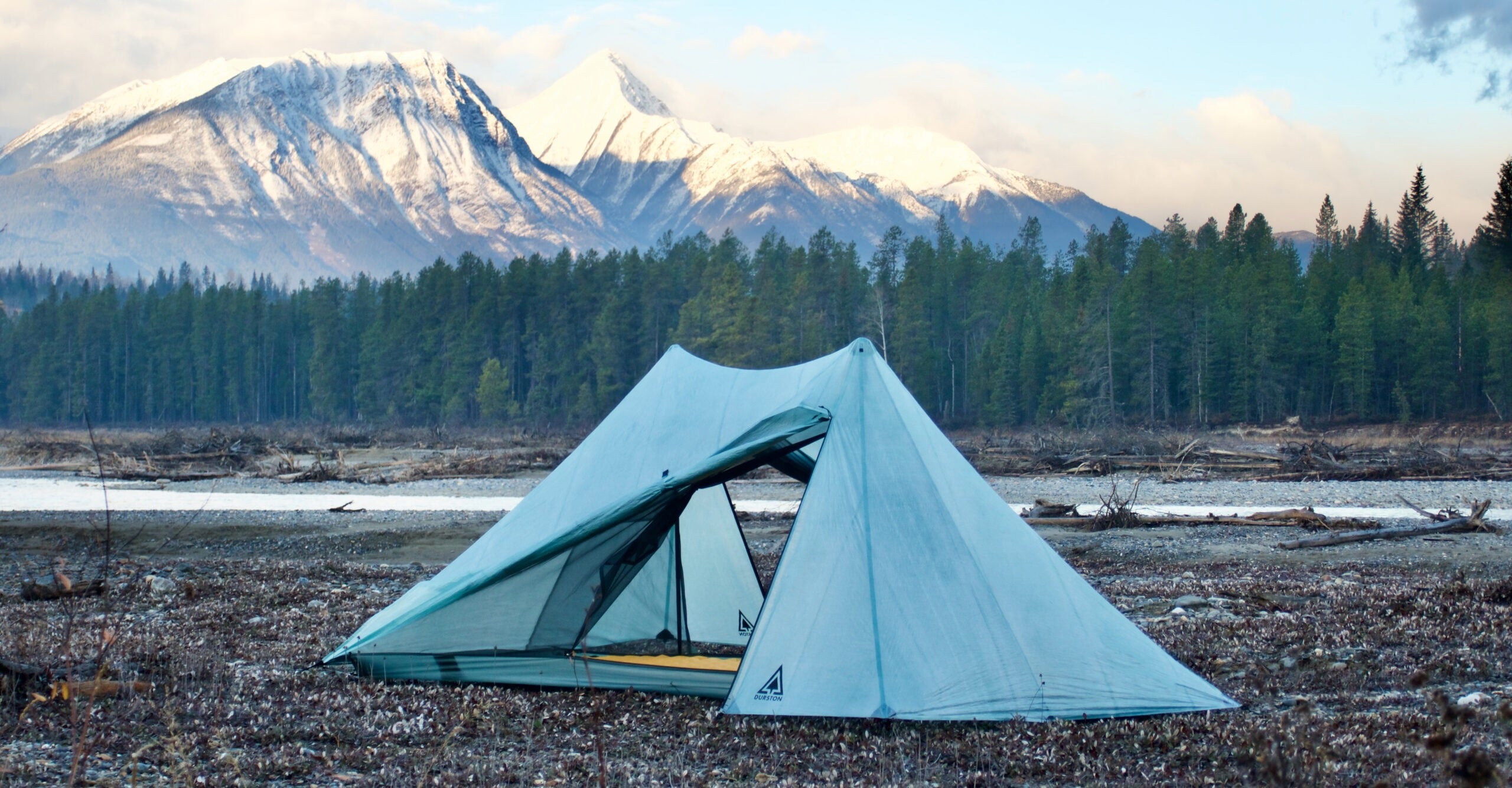 The X-Mid is also stable in the wind and snow due to the weather-resistant shape, durable materials, and additional guyout options. Unlike most tents, the X-Mid geometry results in wall slopes that are highly consistent and moderate. Most tents have quite variable wall slopes (e.g., low angle roof panels but steep sides) so there are often low angled roof panels that accumulate snow yet overly steep sides that catch the wind. The X-Mid is rare in having consistent panels, and importantly, they are all at a moderate slope, which balances performance in the wind and snow. In addition to this high-performance shape, the tent also buttons down solidly in harsh weather with numerous optional stake out points around the base, vents that quickly shut to block wind and snow, and peak guylines that can be deployed to strengthen the shelter further.
Overall the X-Mid layout is the optimal design for a trekking pole shelter because it is maximally simple, spacious, and lightweight while providing robust weather protection.
Compare
The X-Mid Pro 1 provides unprecedented stormworthiness, user friendliness, and space for a superultralight tent. To illustrate this, the table below compares the X-Mid Pro 1 to two of its strongest competitors.
X-Mid Pro 1
Zpacks Altaplex
Tarptent Aeon
Stormworthiness & Durability
Full coverage fly (blocks drafts, rain splatter)
Yes
No
Yes
Fly zippers (blocks drafts, increases rigidity)
Yes
No
Yes
Peak vents (reduces condensation)
2
No
1
Floor material (puncture and abrasion performance)
1.2 oz woven
1.0 oz DCF
1.0 oz DCF
Primary construction method
Bonded
Sewn
Bonded
Space
 
Interior volume
45 cu ft
36 cu ft
32 cu ft
Length (inside fly)
103″
100″
98.5″
Length (floor)
90″
90″
88″
Useable length
(min. 12″ height)
93″
88″
88″
Floor width
32″
36″
30″
Floor area
20 sq ft
22.5 sq ft
18.3 sq ft
Headroom
Excellent
Good
Good
Shoulder room
Excellent
Good
Good
Vestibule area
 10.8 sq ft x 2
8 sq ft x 1
8.1 sq ft x 1
Vestibule position
Beside doorway
Blocking doorway
Blocking doorway
User Friendliness
 
Minimum # of stakes
4
8-10
6
Measuring poles required?
No
Yes
Yes
Overall ease of pitching
Easiest
Hard
Medium
# Doors
2
1
1
# Vestibules
2
1
1
Doorways blocked by poles
No
Yes
Yes
Inner doors fall on ground
No
Yes
No
Tensioned floor
Yes
No
Yes
Magnetic door toggles
Yes
No
Yes
Packed size
4 x 12″
6 x 12″
4 x 14″
Packed volume
150 cu in
340 cu in
175 cu in
Stores horizontally
Yes
Yes
No
Price & Weight
 
Price
$599
$675
$569
Tent weight
16.4 oz / 465 g
15.4 oz / 437 g
17 oz / 490 g
Tent + typical stakes
18.5 oz / 525 g
20.2 oz* / 571 g
19.4 oz / 550 g
*Altaplex weight includes the 10 stakes required for a complete setup and 34 g for a pole extender because almost all trekking poles are not tall enough so this is needed.
Overall, the X-Mid Pro 1 is substantially more spacious than both tents with much greater interior volume, headroom, shoulder room, vestibule area, and useable length. It is also more stormworthy and user friendly with dual doors, dual vestibules, no poles blocking the doorway, smallest packed size, and simplest pitch. The X-Mid Pro 1 accomplishes this while weighing less than both competitors when stake requirements are factored in.
FAQ
Q) How tall of people does the X-Mid Pro 1 work for?
The X-Mid Pro 1 is one of the best 1P tents on the market for length. The floor is a generous 90″ (versus 84″ typically) and the steep end walls mean all of that length is useable. Even at the very ends there 15″ of height and this rises rapidly (e.g. 6″ from the ends there is 24″ of height) so you can sit up almost anywhere throughout the length of the tent. We recommend this tent up to 6'8″. For average height people, this generous length provides gear storage at your head and feet.
Q) What is a singlewall/hybrid tent?
A singlewall tent is when the floor of the tent is sewn to the fly so the canopy has just one layer instead of having a second inner layer of bug mesh or fabric. The X-Mid Pro is singlewall in some parts (ends, roof) but still doublewall in other areas (sides) so it can be called a hybrid tent. The design is 100% bug proof and brings substantial weight savings. The downsides are that you don't have the ability to use the fly and inner separately, and that there aren't mesh inner walls in all areas to prevent you from touching the fly if there is condensation. The X-Mid Pro 1 has every possible advantage to minimize condensation (e.g. large peak vents, spacious) and it is not more prone to condensation than other tents, but if condensation does occur you do need to be more careful not to touch it. The X-Mid Pro makes this easier than most single wall tents because it is more spacious and has steep walls so condensation won't drip.
Q) How does the angled ridgeline affect headroom while sitting?
Most noticeably, the angled ridgeline gives substantially more headroom and interior volume than comparable trekking pole tents.
Single pole trekking pole tents have generally minimal headroom as there is only one high point and you can't sit there because the pole is there. Dual trekking pole tents are much better. In a dual trekking pole tent, the ridgeline is the part with maximum height, so a longer ridgeline means more headroom. In the X-Mid Pro 1 the ridgeline is 53″ long while competiting dual pole tents are all 28-36″ – meaning the X-Mid Pro 1 gets a lot more headroom out of two poles. This allows you to sit up throughout the length of the tent such that two people can comfortably sit together in this tent.
Q) How should I pack the X-Mid Pro?
A) You should roll the tent rather than stuffing. DCF can eventually delaminate over time if it is subject to repeated sharp creasing. Rolling the fabric reduces this and will prolong the life of your shelter.
Q) How durable is X-Mid Pro?
A) DCF is an incredibly strong material with several times the strength of normal tent fabrics. However, it can delaminate if it subjected to bias stretch and it can be puncture and abraded. This is why we reinforce stresses along the bias with DCF backed tape, and we only use DCF for the canopy of the tent which sees minimal abrasion and puncture stress. Provided the canopy is treated reasonably well (e.g. not used to sleep on top of, folded not stuffed) we expect it last 200-300 nights. Floors are commonly the weak link in DCF tents, which is why we have opted for a more durable 15D woven floor. This type of material is common in lightweight tents and will last as long as the canopy when used with the care. With a groundsheet and thoughtful use, this tent could last a lifetime.
Q) Why is the floor nylon instead of DCF?
A) We like DCF but think nylon better suited for a floor than the 1.0 oz DCF that is commonly used.
DCF is super strong Dyneema fibers laid between two sheets of mylar. The dyneema fibers make for a really strong and light material that is great for a tent fly, but because the outer layers are just mylar film the abrasion resistance is relatively low.  To be useable for a floor, most companies switch to the 1.0 – 1.2oz versions of DCF that uses extra thick outer mylar layers. This improves abrasion and puncture performance so it is good but now it has the downside of being bulky since it is about 3x as thick as a woven fabric (this causes the complaints about DCF tents being bulky). We think a woven floor makes sense because it offers similar durability and weight weight at a smaller packed size while also being easily repairable with tapes.
Q) Should I use a groundsheet?
A) The 15D floor is more durable than the floors in many ultralight tents which can be 7-10D fabrics or 0.8 – 1.0 oz composites but it is still a lightweight material that should be used with care. We have selected this 15D material because it is durable enough to use on many surfaces without the added weight and hassle of a groundsheet if care is used, but it can be damaged by harsher surfaces like gravel, pine needles, or rock. For a cleaner floor or use on harsher surfaces, we offer and recommend a groundsheet. 
Q) The appearance of the DCF is uneven. Is this normal?
A) Yes. DCF is an artisan material where the Dyneema® fibers are hand laid. As such, variation in the density of the fibers and the corresponding color of the material is normal. In particular, darker bands every 12-18″ are common where the hand laid strands overlap.
Q) Should I pitch it with the pole tips up or down?
A) The X-Mid Pro 1 is designed to be pitched with your poles oriented handle up. The tips go into the small elastic loops on the sides of the floor. If you pitch your X-Mid Pro 1 with the tips up it can damage the tent.
Q) I don't use trekking poles. What can I do?
A) We offer folding, adjustable length poles called Z-Flick poles that can be used instead of trekking poles. These are the lightest adjustable poles on the market.
Q) How can I repair my X-Mid Pro?
A) DCF can be repaired easily with DCF backed tape, which is widely available from RipstopByTheRoll and other tent companies. We are working on having repair supplies available. For repair of the woven floor or bug netting check out our repair guide.
Q) How does the X-Mid Pro compare to [some competing tent]?
A) The X-Mid geometry is the most volumetrically efficient shape possible. Thus, it is impossible to design a lighter tent unless you use lighter materials, cut features, or make it smaller. With the X-Mid Pro we have designed the lightest possible tent that is still reasonably spacious and functional. Thus, any lighter tent and even other tents at a similar weight will provide less space, function, and stormworthiness for the weight. Commonly those tents are smaller, use more delicate materials, and lack peak vents, a full coverage fly, door zippers, and a tensioned floor. To illustrate this, check out the 'compare' tab.
Q) What is hot bonded construction?
A) DCF is commonly joined together using a double sided tape or sewing. Sewing is the least desirable option because unwoven materials like DCF have poor ability to hold stitching, so the seams are much weaker. Double sided tape works well and is the most common method, but these adhesives still weaken in extreme temperatures. They can slip in hot weather or fail in extreme cold. Hot bonding construction also uses adhesive tape, but with a special heat activated adhesive that is stronger and much more temperature stable. We use a double sided tape between the overlapping panels of material, plus we add single sided DCF backed tape on the outside of the seam. The DCF backed tape is important because it adds Dyneema® fibers running parallel to the seam so the seam does not stretch under load (one of the most common failures for DCF tents is when this step is skipped, leading to the seams stretching and cracking under load). Our tapes are applied at room temperature and then the seam is pressed under heat to set the adhesive. Using a heat activated adhesive and pressing every section of the major seams is a more labor intensive and costly process, but the result is the strongest possible tent with the cleanest look and much better performance in extreme temperatures.
Pitching
The X-Mid tents are very simple to pitch, however, there are some things to consider for maximum performance in stormy weather. Below we describe the basic pitch and then how to troubleshoot issues and get a very robust pitch for stormy weather.
Basic Pitch:
1) Stake out the rectangular base (e.g. stake one end, pull out a 3rd corner at 90 degrees, pull last corner taut).
2) Inspect your rectangle to make sure it's reasonably accurate (not skewed into a diamond). Adjust stake positions if needed.
3) Snug the rectangle tight using the corner tensioners (important so the poles don't overextend).
4) Add the two poles with your handles up and extend firmly until they are taut.
Troubleshooting
Before adding more stakes to beef it it up, it is best to correct any issues with the basic pitch. There are two common issues:
1) Loose Sides
Problem: The rectangular base was not tight when the poles were added. This pulls the corners in and allows the poles to overextend giving an overly tall tent with loose sides.
Solution: Lower the poles, snug up the base, re-extend the poles.
2) Loose Ridgeline or Wonky Canopy
Problem: The base was not staked in an accurate rectangle but instead was skewed into a diamond. Depending on the direction of the skew, the ridgeline will be under or over tensioned.
Solution: As the diagram below explains, use the corner tensioners to adjust the corners back into a proper rectangle. Most likely you will loosen two opposite corners and tighten the two opposite corners.
Storm Pitch
To beef up the pitch for storms, we recommend in approximate order of importance:
1) Make sure your basic pitch is good (tight everywhere). It is best not to use more stakes to compensate for core issues.
2) Add cord to the peak guylines and stake these out along the ridgeline or angled more towards the door walls if the wind is broad side.
3) Replace the shockcord at the door and end wall stake points with static cord (included) and stake these points to better anchor the peak. The static cord eliminates stretch for a more solid pitch.
4) Add cord to the side panel guylines and stake these down on the same angle of slope as the roof panels. Do not pull the sides out substantially.
5) Add the stakes below the main door panels.
Video
If you are the video type, the below video shows how the to pitch the X-Mid 1 but the X-Mid Pro 2 uses the same process.