Description
The 2022 Kakwa 40 has sold out in the M and L sizes, but the S size is still available from our partners at Kaviso.com. We are working hard on another run. Please sign up below to be notified when these packs are back (around January 2023).
_________________________________________
The KakwaTM 40 is the pinnacle of ultralight, multi-day pack design. Its design is informed by Dan's thousands of miles of backpacking experience, to give the Kakwa 40 best-in-class load carrying, materials, pocket design, and quality – all while weighing a mere 28oz / 790g.
Load Carrying and Comfort
The load carrying ability of the Kakwa 40 is unprecedented for a pack weighing under 2 lbs. Other packs in this niche commonly sacrifice comfort and load transfer by omitting load lifters, possessing only vertical frame components (no horizontal structure), and relying on rudimentary shoulder strap and hipbelt designs. The Kakwa 40 is a stark contrast to this. It uses an inverted U shaped frame built of hollow aluminum that is a more efficient use of structural weight and provides a rigid core with both vertical and horizontal structure. This frame connects directly to the hipbelt for optimal load transfer and directly to the load lifters, which are rare on packs this light yet essential for shifting more of the weight off your shoulders. A robust structure is nothing without an ergonomic connection to your body, which is why the shoulder straps have a carefully developed S shape to contour around your upper body, while the hipbelt uses a dual strap design to cup your hips and with reverse pull leverage for easy tightening. The result is a pack that comfortably and effectively manages loads up to 45 lbs.
Effective Pockets
With an ultralight pack, efficient access to your gear while on the move is a hallmark of good pack design. For this the Kakwa 40 has four types of pockets to optimize on-the-go access to a wide range of your gear so you can keep covering miles instead of digging through your pack. That starts with the hipbelt pockets, where a large shape easily accommodates numerous medium sided items such as snacks, sunscreen, and headlamps. That storage is augmented by dual top opening shoulder strap pockets which provide an optimized place for your phone for quick photos and navigation. These shoulder strap pockets also work excellently for bear spray and provide a safe place for fragile items like sunglasses. Additionally there is the innovative QuickPocket which consists of an easily reached hidden compartment in the side pocket where you can stow items that are too large to be quickly accessed on other packs, such as hats, mitts, large cameras and plus sized phones. Finally, a mesh style front pocket quickly swallows the largest items like jackets and cookwear so you can hike all day without opening your pack. Collectively, the Kakwa's suite of pockets is carefully thought out and refined to enable rapid and efficient access to everything you need on the move.
Materials and Quality
In our background in the Canadian Rockies we often spend more time off trail than on, so durability in the materials and construction is a top design priority. With the Kakwa 40 we are using the innovative Ultra 200 fabric from Challenge Outdoor, where the face fabric is dominantly woven UHMWPE fibers (more commonly known by the brand name Dyneema®) which is several times stronger and more abrasion resistant than traditional nylon pack fabrics. This material is laminated with an eco-friendly adhesive to their revolutionary Challenge RUV™ film to give a textile that is incredibly strong, lightweight, and waterproof to 200 psi.
Simply using a tough fabric is not enough if the pack has weak points in the stitching or supporting materials. That why the Kakwa 40 is fully double stitched with heavyweight thread by the same factory that builds packs for Arcteryx. We've also used the same tough Ultra 200 material for the shoulder straps, hipbelt pockets, and side pockets so these exposed areas also have maximum durability. The front pocket is generally less exposed to the brush, but still we've sourced a very durable knit mesh for this pocket that won't stretch out.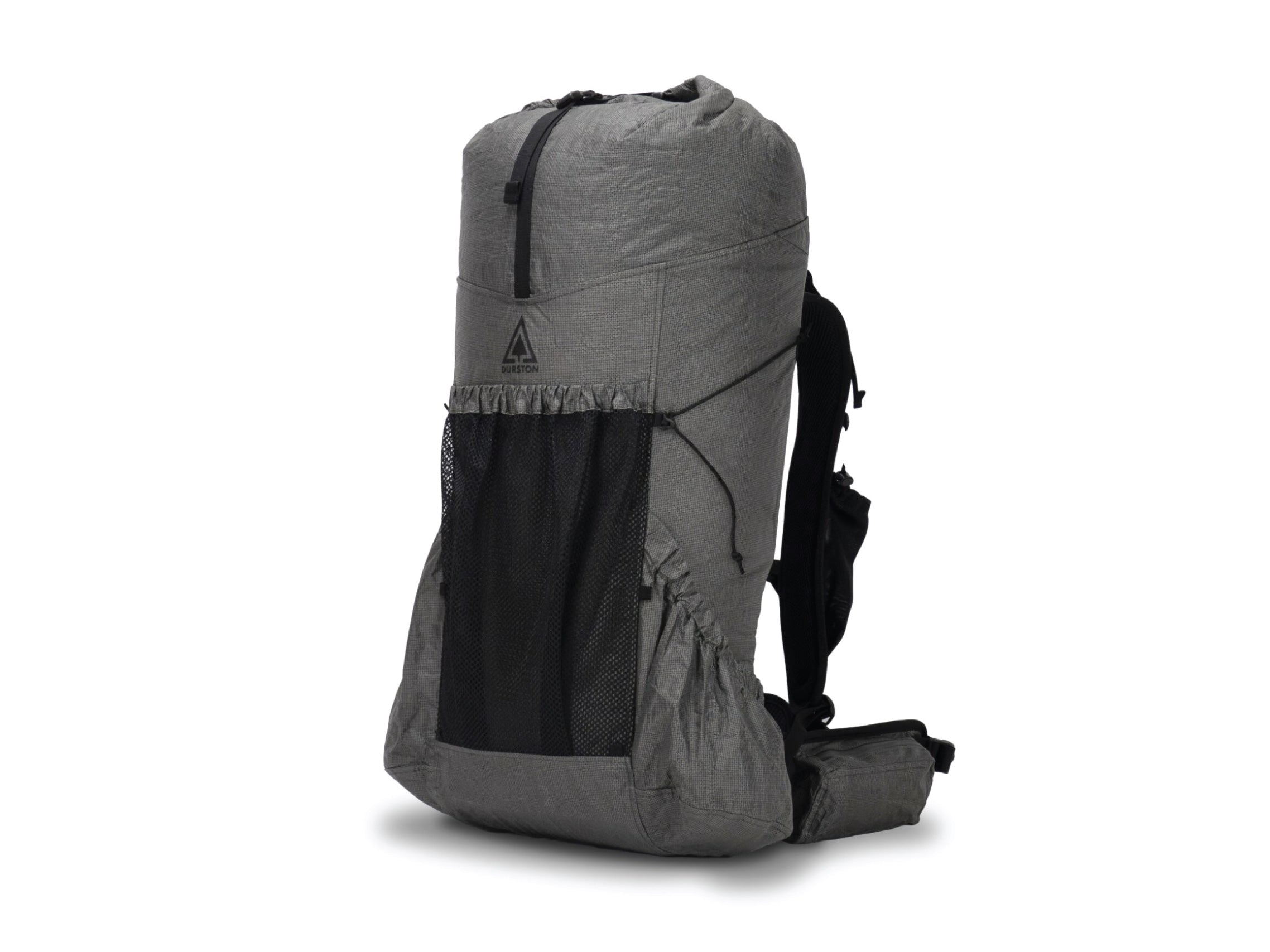 The Kakwa 40 genuinely offers the highest performance in a 40L multiday pack to enhance your adventures. When similarly optioned, comparable packs are heavier, less durable, and more expensive while still lacking the quality, best-in-class load carrying, and refined feature set of the Kakwa 40. It's everything you need in a pack for just 1.75 lbs /790g.
Availability: 
The 2022 Kakwa 40 has sold out in the M and L sizes, but the S size is still available from our partners at Kaviso.com. We are working hard on another run. Please sign up below to be notified when these packs are back (around January 2023).
Features & Specs
Features
Ultra 200 fabric is extremely durable and lightweight (3.5oz/yd)
Inverted U frame of 8mm hollow aluminum for vertical and horizontal structure
Load lifters for optimal load transfer
Ergonomic S shaped shoulder straps
Dual strap and reverse pull hipbelt provides 2:1 leverage for easy tightening and cups your hips with a wider contact area
Y-shaped top strap for bear canister
Hipbelt pockets are high capacity with one handed operation
Shoulder strap pockets are optimized for quick access to phone and bear spray
QuickPocket on the side allows access to larger items while on the move
Hydration bladder compatible (has hydration port)
Front pocket with durable mesh allows access to large items.
Seams are fully double stitched and seam bound
High quality construction from same factory as Arcteryx
Sizing
Small: 14.5 – 17.5″ / 37 – 45 cm
Medium: 16.5 – 20″/ 42 – 51 cm
Large: 19 – 22″ / 48 – 56 cm
Hipbelt is a single size that adjusts from 28″ – 42″ circumference.
Weight
Complete backpack:

Small: 770 g / 27.1oz
Medium: 790 g / 27.8 oz
Large: 810 g / 28.5 oz

The frame (100 g / 3.5 oz) and backpad (15 g / 0.5 oz) are included in the above weights but are removable.
Materials
Ultra 200 fabric in gravel grey
Heavy Duty polyester knit mesh
YKK AquaGuard zippers
Dimensions / Capacity
Unrolled height: 31″ / 79 cm (S), 33″ / 84 cm (M), or 35″ / 89 cm (L)
Top circumference: 36″ / 91 cm
Bottom circumference: 31″ / 78 cm
Internal volume: 38 L (S), 41 L (M), 44 L (L)
External volume: Approximately 15L
Warranty: 1 year against defects
Compare
The Kakwa 40 provides best-in-class load carrying, usability, and durability for a sub 2-lbs pack. To illustrate this, the table below compares the Kakwa 40 to two of its best competitors – the highly respected HMG Junction 2400 and Gossamer Gear Mariposa.
| | | | |
| --- | --- | --- | --- |
| | Kakwa 40 | Junction 2400 | Gossamer Gear Mariposa |
| Load Carry & Comfort | | | |
| Vertical frame structure | Yes | Yes | Yes |
| Horizontal frame structure | Yes | No | Yes |
| Frame connects directly to hipbelt | Yes | Yes | Yes |
| Load lifters | Yes | No | Yes |
| Ergonomic S-shaped shoulder straps | Yes | No | No |
| Dual pull hipbelt | Yes | No | No |
| Reverse pull hipbelt | Yes | No | No |
| Max rated load | 45 lbs | 40 lbs | 35 lbs |
| Usability | | | |
| Hipbelt Pockets | Yes | Yes | Yes |
| Shoulder Strap Pockets | Yes | Optional | Optional |
| Accessible pocket for larger items? | Yes | No | No |
| Mesh front pocket | Yes | Yes | Yes |
| Y-shaped top strap | Yes | Yes | No |
| Durability and Quality | | | |
| Ultra 200 packcloth | Yes | No | No |
| Fully double stitched | Yes | No | No |
| Bound seams | Yes | No | Yes |
| Seam taped | No | Yes | No |
| High durability mesh | Yes | Yes | No |
| Protected (internal) pocket elastics | Yes | No | No |
| Price & Weight | | | |
| Price | $250 | $320 / $400* | $285 / $315* |
| Weight | 28.3 oz / 805 g | 30.1 oz / 853 g | 30.5oz / 865 g |
| Comparable* Weight | 28.3 oz / 805 g | 32.9 oz / 933 g | 33.2 oz / 942 g |
*After adding optional shoulder strap pockets to make it more comparable to the Kakwa 40 which has these standard.
In summary, compared to both of these packs the Kakwa 40 is 2-5oz lighter while offering better load carrying, premium materials, durability, and a more comprehensive feature set while costing $65-150 less for the comparable spec.
FAQ
Q) What does the "Kakwa" name mean?
Kakwa refers to the northern terminus of the Great Divide Trail (the most scenic and wild thru hike in North America). Kakwa is a park in the Canadian Rockies where you can find Kakwa Lake.
Q) How do I remove/reinsert the frame?
The frame slides into two sets of reinforced channels (upper and lower) inside the pad sleeve. It is easy to open the flap and remove the frame and/or pad. When reinserting the frame it is best to have the pad removed. Guide the frame into the upper channels and then insert it several more inches until it extends to the lower channels. Reach your arm inside and guide each end of the frame into the lower channels (failure to do this can damage the pack). You may need someone with a skinnier arm to do this. Once the frame is in the lower channels, insert it the rest of the way and then slide the pad into place and close the flap.
Q) Is the 40L volume including the external pockets?
The Kakwa 40 has a genuine 40L of internal volume, not counting what is provided by the exterior pockets which can hold approximately 10-15L. The internal volume does vary based on the size of the pack, so the actual interior volume is 38L (small), 41L (medium), or 44L (large). That assumes you have closed the pack via the minimum of two folds in the roll top.
Q) How much can this pack hold?
Ultralight hikers (e.g. <10 lbs of gear) with kits that are compact (e.g. down sleeping quilt) will find they can fit 5-7 days of food reasonably and can stretch that to 10 days with a quite full pack (e.g. strapping the tent on top). Conversely, hikers with light but not ultralight baseweights (e.g. 10-15 lbs) will find it is a good weekend pack. Traditional hikers with ~20 lbs baseweights will find this pack to be too small and should wait for the 55L version coming in 2023.
Q) What is not to like?
The Kakwa 40 is the complete package for a lightweight or ultralight hiker who will find they can hike from 2-8 days depending on how compact their gear is. However, it is not ideal for hikers with heavier baseweights and bulkier loads since you will need a larger pack (we hope to offer a 55L version in 2023). On the other end of the spectrum, hikers with extremely light baseweights and preferring shorter hikes will find the Kakwa 40 excessive for their needs and will be better served by a frameless pack.
Q) Is this pack waterproof?
The Ultra 200 material is 100% waterproof with an impenetrable plastic backing on the Ultra 200 fabric that is much more durable than traditional PU coatings.  We think it is functionally waterproof since the fabric is waterproof and the roll top closure keeps out water, but trace amounts of water can get in via the seams which are not taped. We do not tape the seams partly because bound seams are stronger, but also because our more capable frame requires seams that are too complex to be seam taped (e.g. many layers of material sewn into the seams). You will only find seam taped packs with frameless or more rudimentary frame designs. If you would like to take your pack from extremely water resistant to truly waterproof, we recommend seam sealing the pack.
Reviews
The Kakwa 40 is a new pack and just starting to get reviews, but so far third party reviewers are finding the pack to have excellent comfort, materials, and user friendly design.

Section Hiker: "Load transfer to the hips is excellent….the pocketing is fantastic….we think there are a lot of users who will find the Kakwa to be an excellent pack."
BackpackingLight: "The Kakwa 40 proved to be the only backpack in the sub-two-pound weight class that was capable of carrying more than 50 pounds without torso collapse…..this pack has my favorite carry feel."