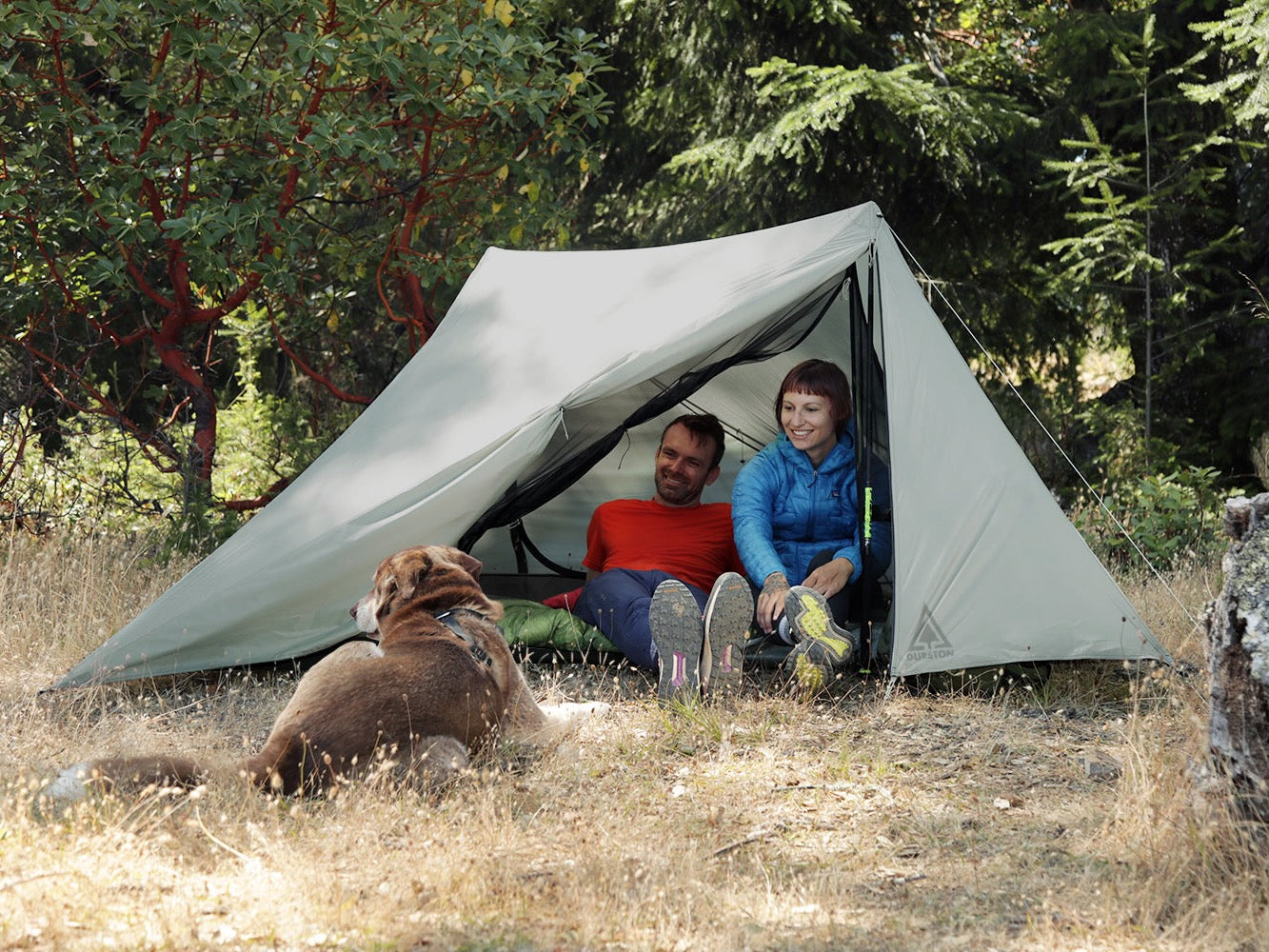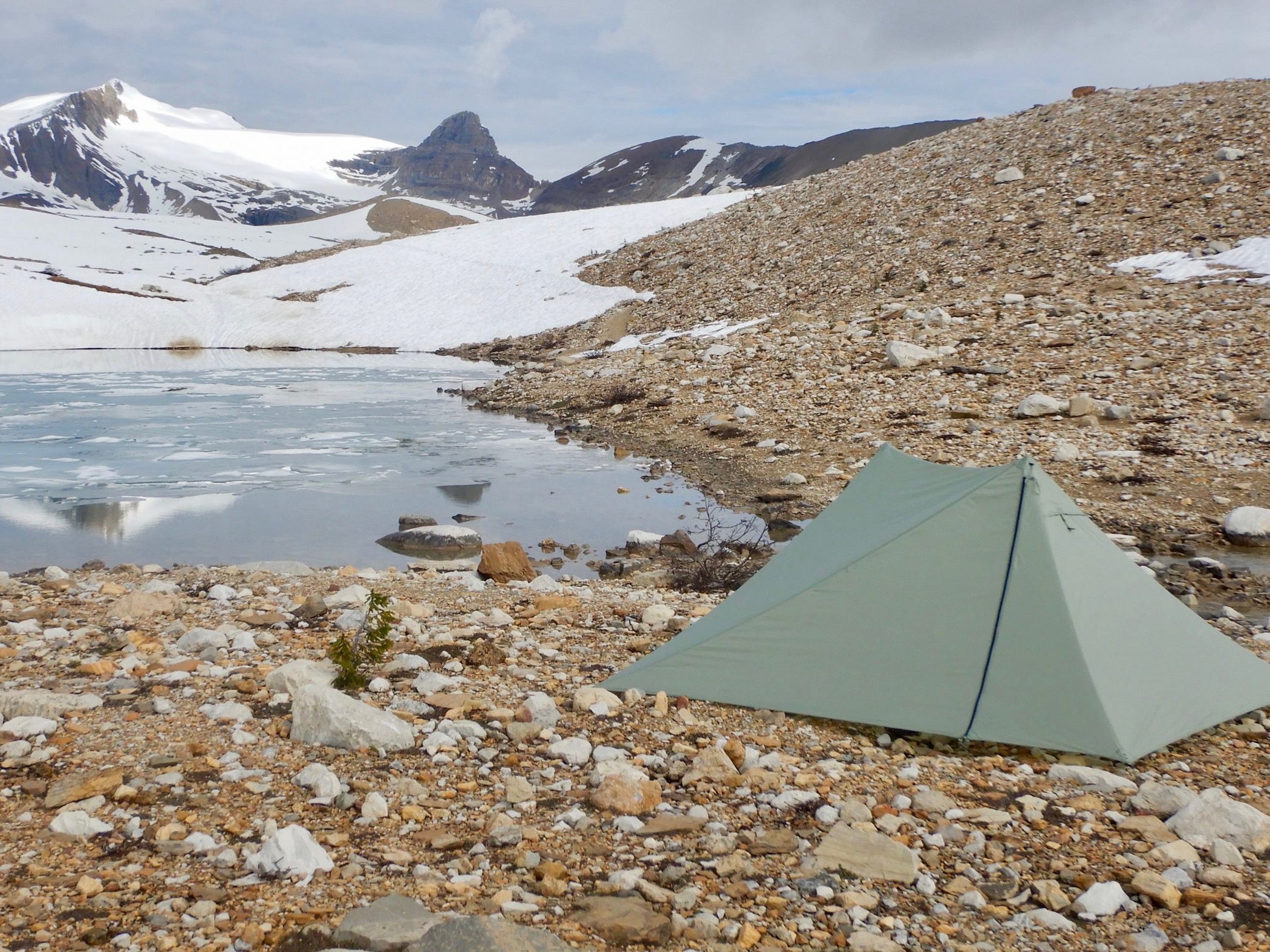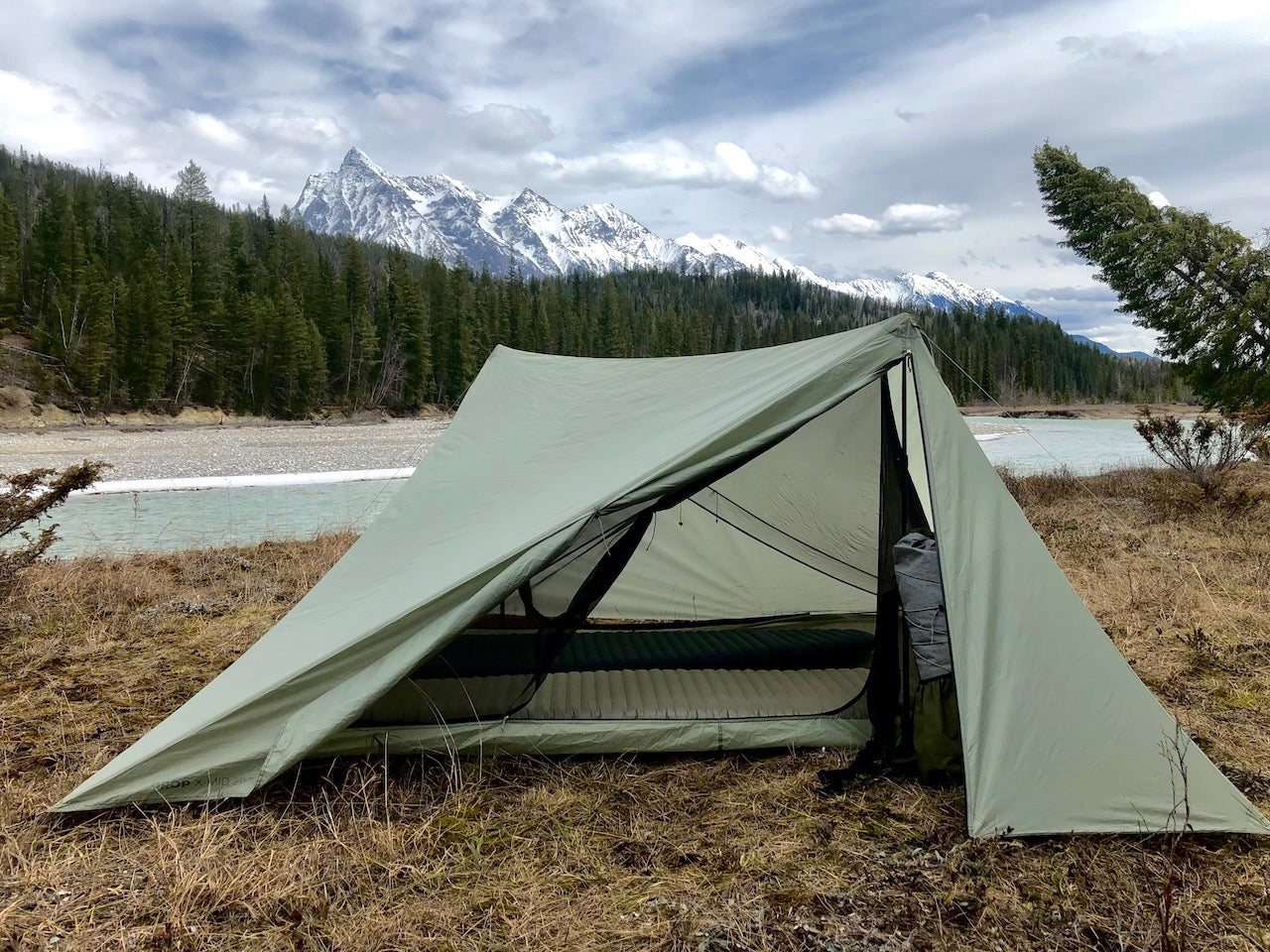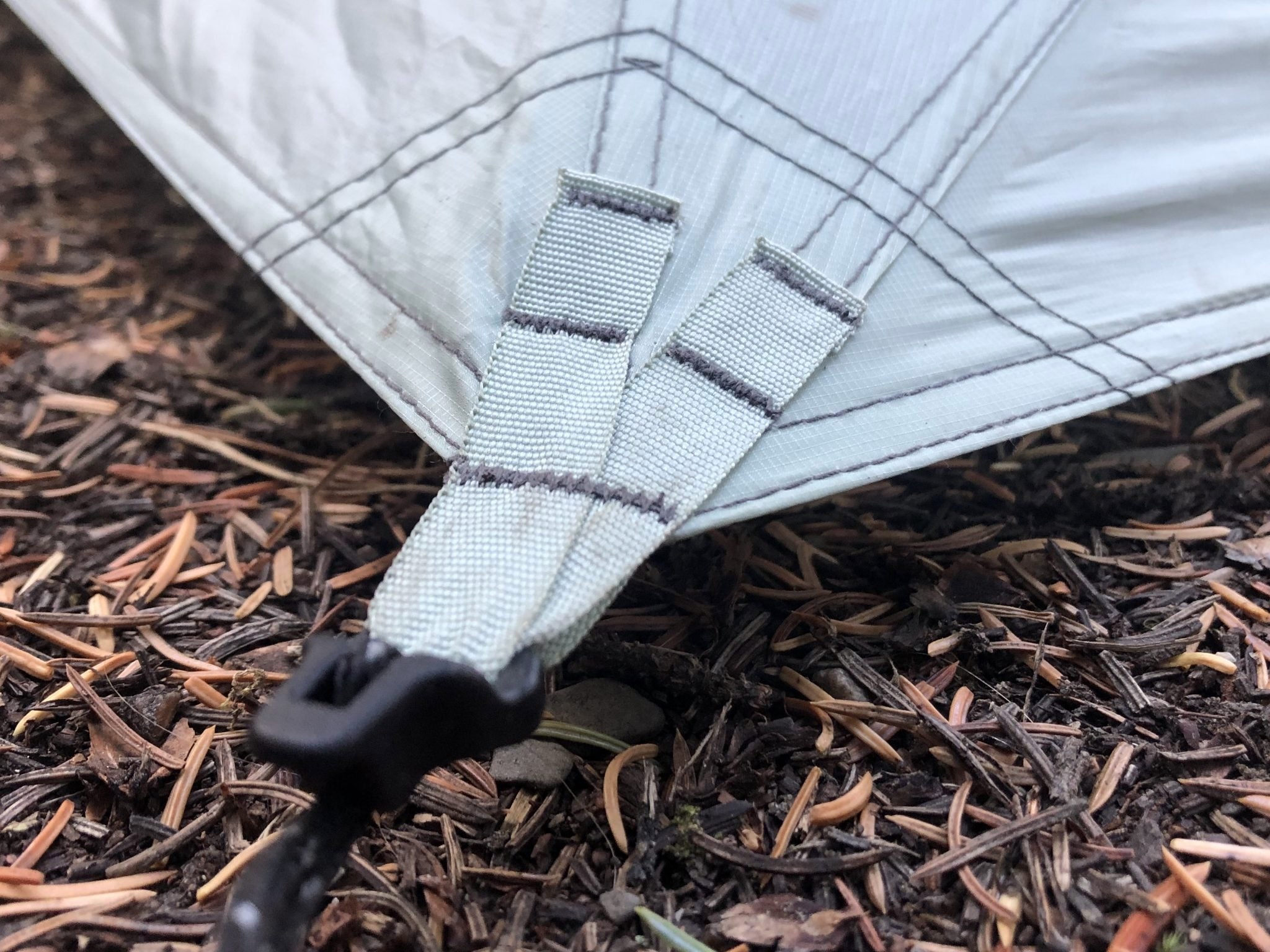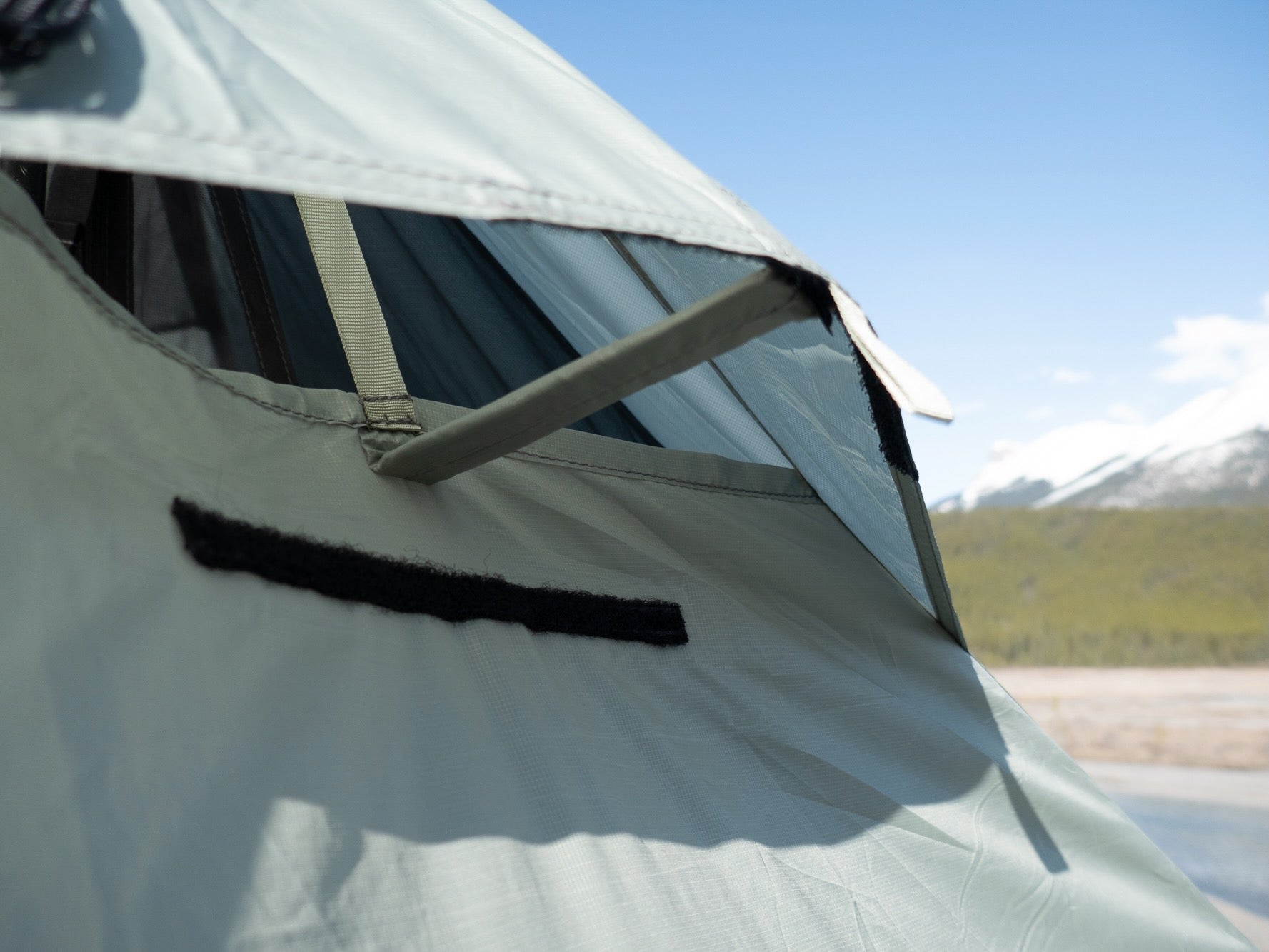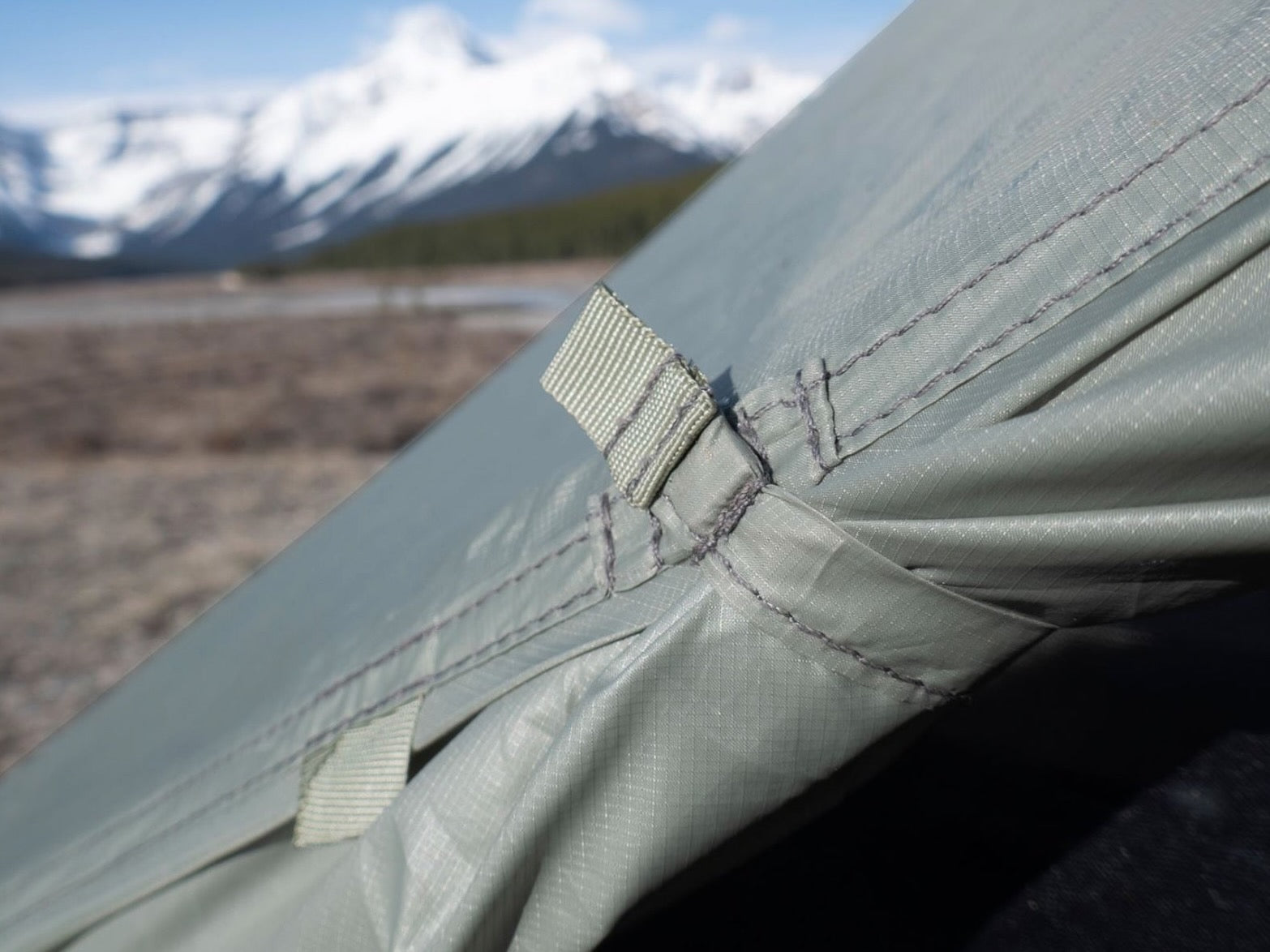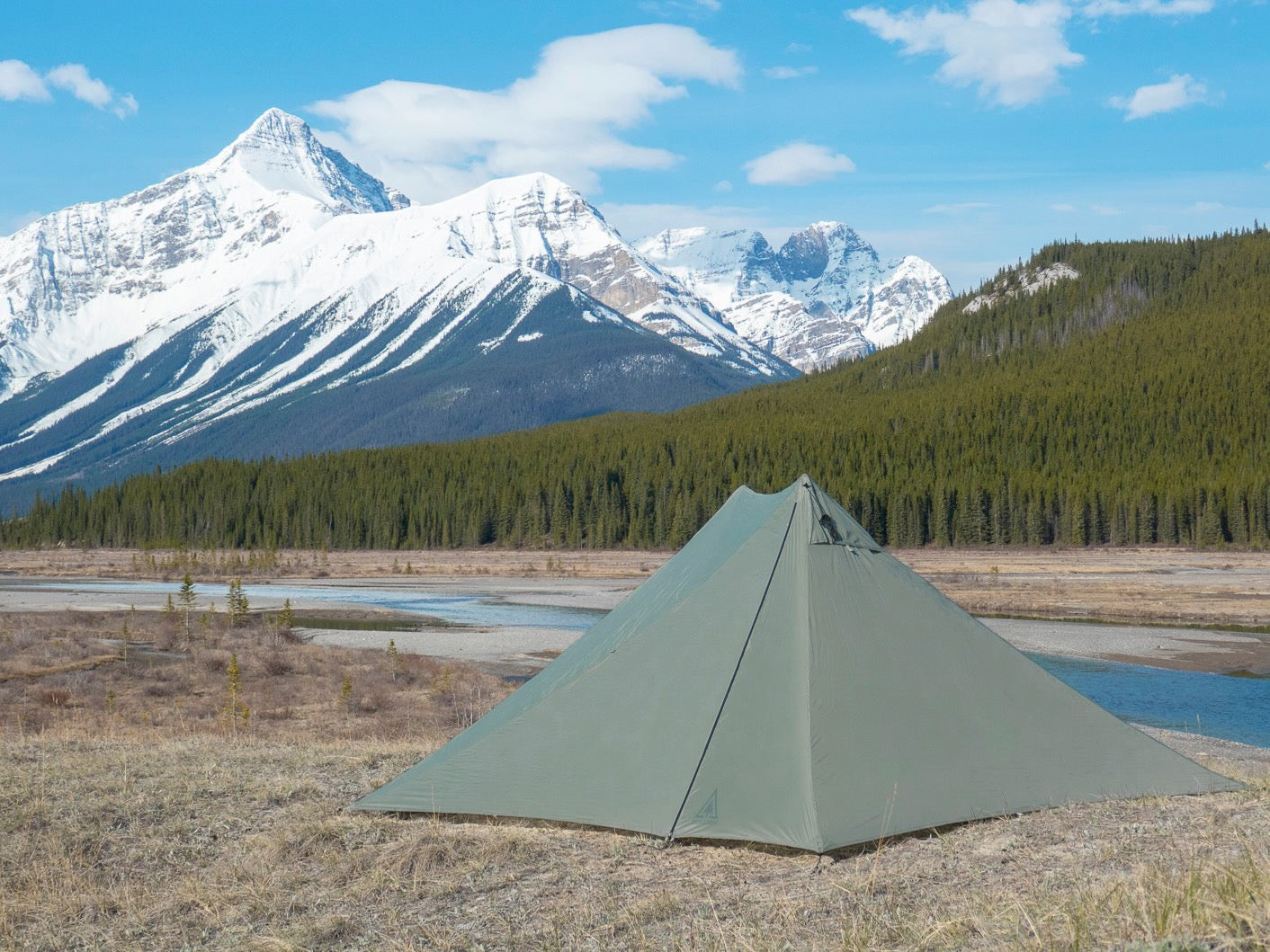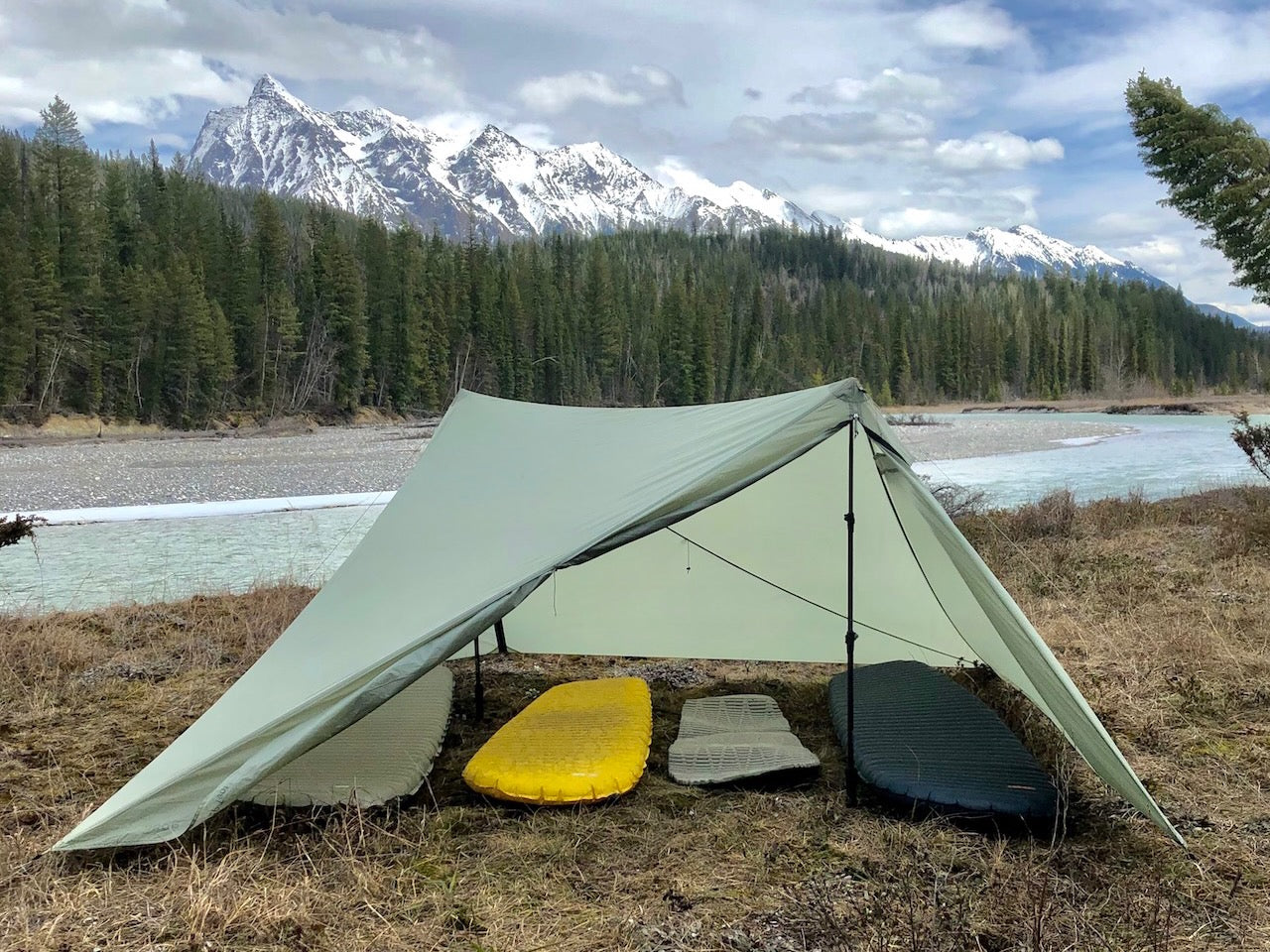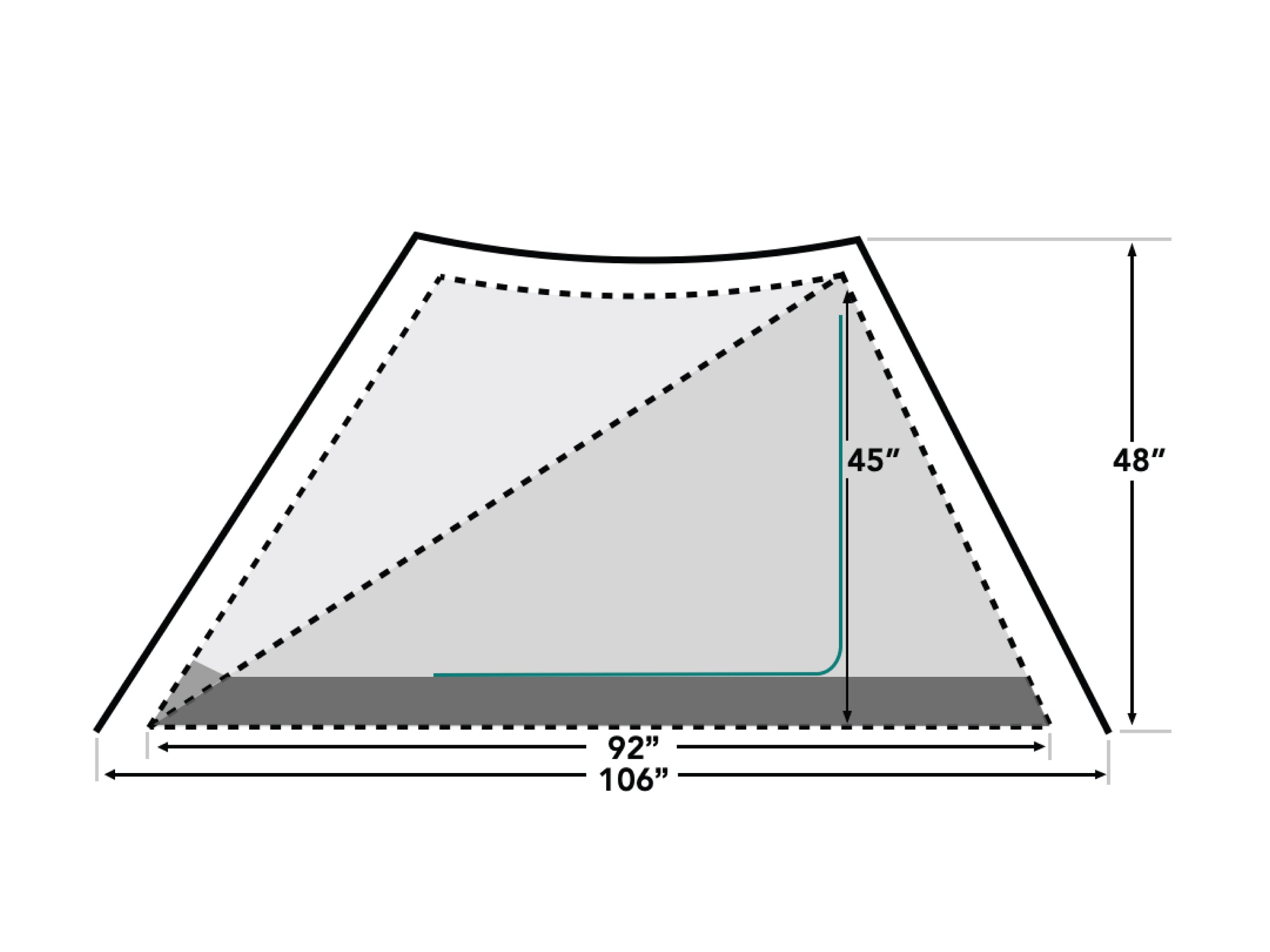 X-Mid 2
---
X-Mid 2
Sale price

$300.00 USD
Regular price
(/)
Pinnacle of Lightweight Tent Design
The X-Mid 2 has been developed from the first principles of geometry to be the most weight efficient and functional design for a trekking pole shelter. Its innovative and patented geometry makes the X-Mid 2 exceptionally stormworthy, spacious, and simple at the lowest weight. No other tent offers this level of space and protection for just 35 oz (1005 g), which is why the X-Mid 2 has become one of the most popular tents on demanding trails and one of the most highly awarded tents in recent years including top awards from BackpackingLight and Section Hiker.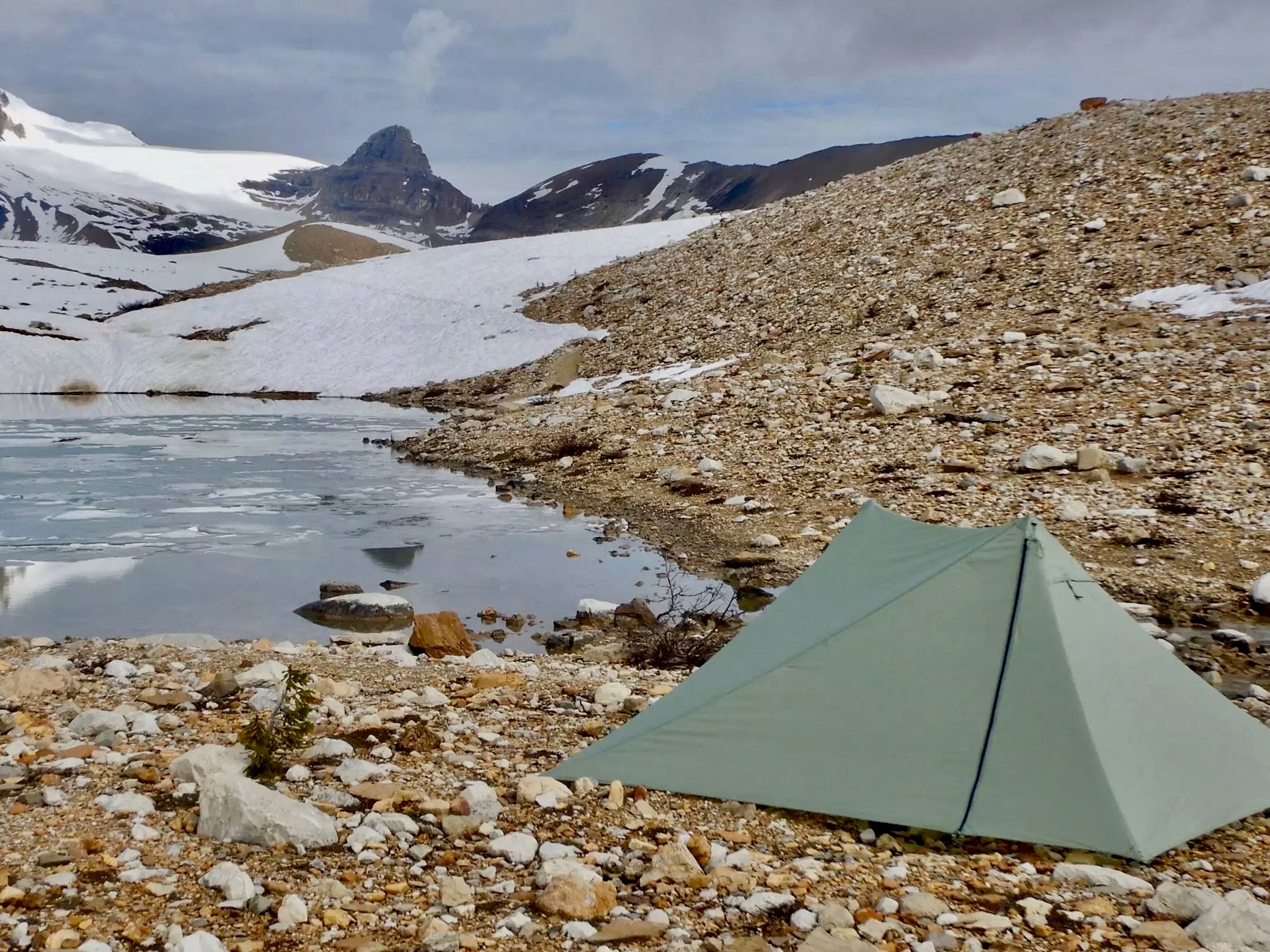 STORMWORTHY
Most ultralight tents achieve their low weights by shrinking the size and trading durability and stormworthiness for weight savings. In contrast, the X-Mid 2 saves weight through efficient design including a trekking pole structure that eliminates tent poles while being stronger, and a geometry that maximizes the volume possible from the fabric area. In doing so, the X-Mid 2 achieves its low weight while also being a robust shelter for tough conditions.
X-Mid 2's long list of protections include a doublewall design, full coverage fly (extends low to the ground to blocks drafts and splatter), fly first pitch (keeps the inner dry during setup in the rain), polyester fabric (doesn't sag and loosen like nylon), large adjustable vents, robust waterproof coatings, durable 20D fabrics, factory waterproofed seams, and protected doorways that keep rain out even when open. No other tent offers this full list.

In addition to this set of protections, the X-Mid shape is well suited for windy and snowy conditions because every panel is at a consistently moderate slope. Other tents have flatter roof panels that catch snow and flatter sidewalls that catch wind, while the X-Mid 2 puts every panel at a balanced 50-55 degrees to deliver strong all around performance.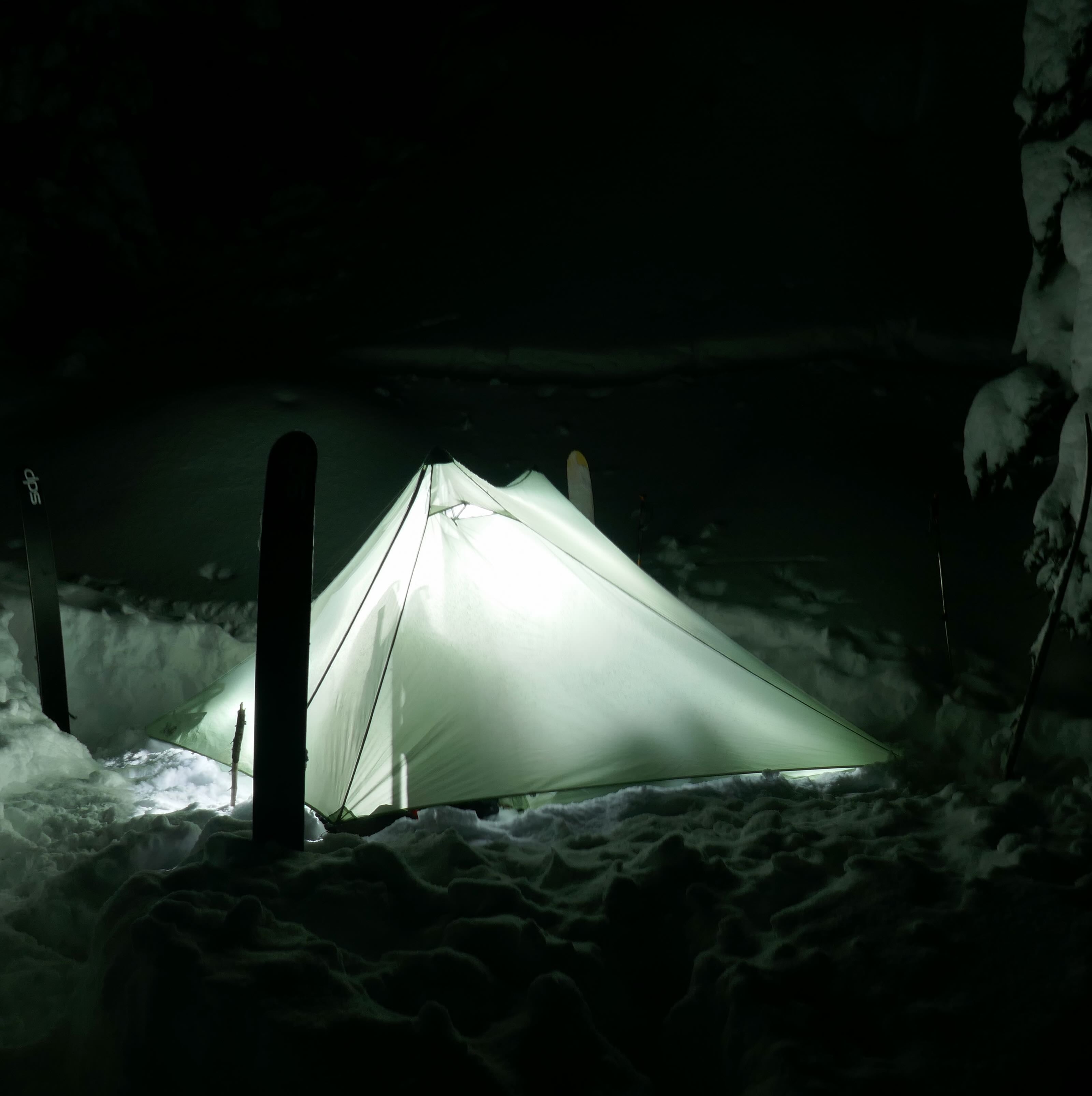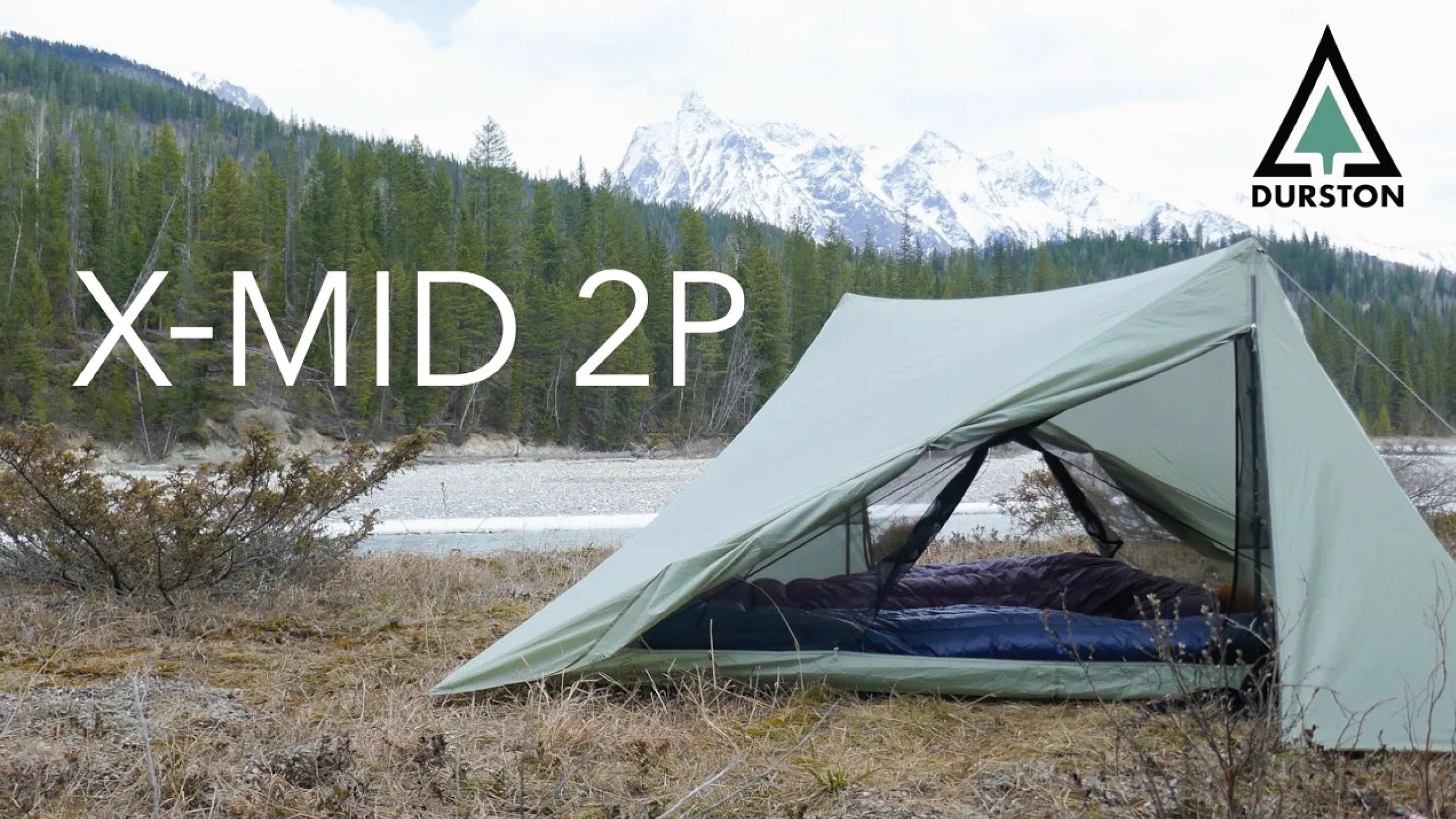 USER FRIENDLY
In tough conditions you need a tent that just works. To achieve a tent that is simple and intuitive, obsessive attention to detail, combined with extensive backcountry experience, have gone into making the X-Mid 2.

It all starts with a simple pitch that only requires 4 stakes. The setup has no mandatory guylines and nothing to measure, which is a stark contrast to most trekking pole tents that require numerous stakes, guylines, and struts as part of a pitching process filled with measuring and estimating.

The ease of use continues when the tent is set up with large doorways that are not blocked by trekking poles, roomy vestibules that are located beside the doors instead of blocking them, magnetic door toggles, 4 pockets, and one handed operated zippers.
Even the packed size of the tent has been carefully considered. It's compact size fits into a short stuff sack that can store horizontally in any pack.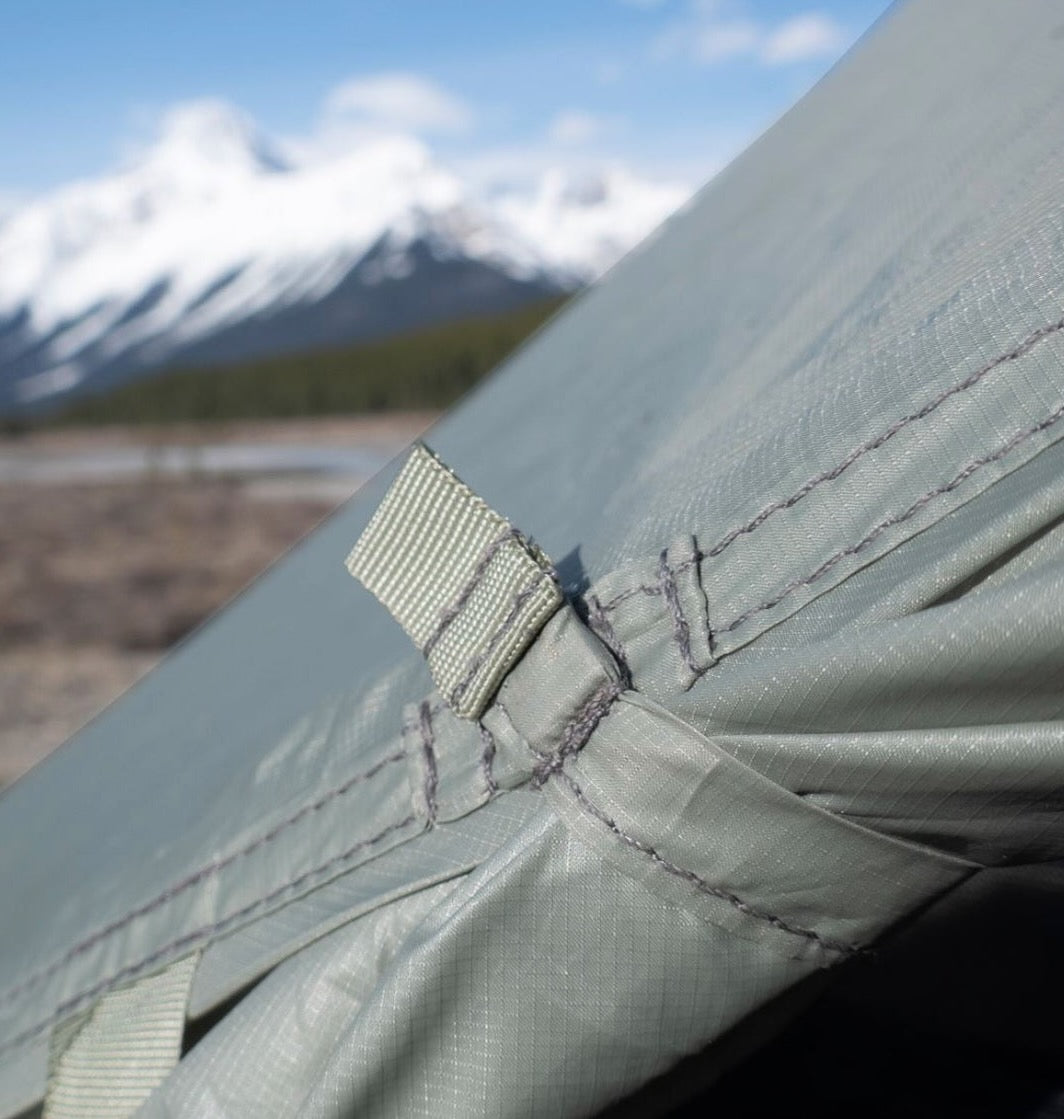 Highly Recommended
"Exceptionally high quality. Field performance was outstanding. Overall, it has simply been a joy to use."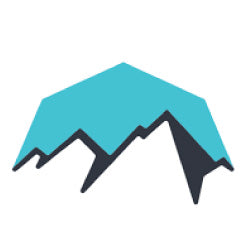 Surpasses the Hype
"The Durston X-Mid 2 is one of the most hyped products in the ultralight backpacking world, and it lives up to, and maybe even surpasses, that hype."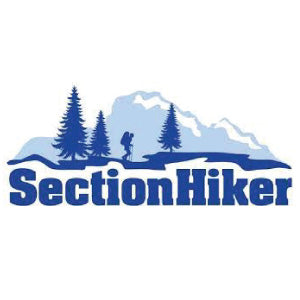 10 Best Backpacking Tents
"It's shape makes it extremely weather and storm-worthy. The all-mesh interior tent has offset peaks to maximize headroom"
Top Pick
"A winning combination of low weight, a ton of livable area and great condensation control."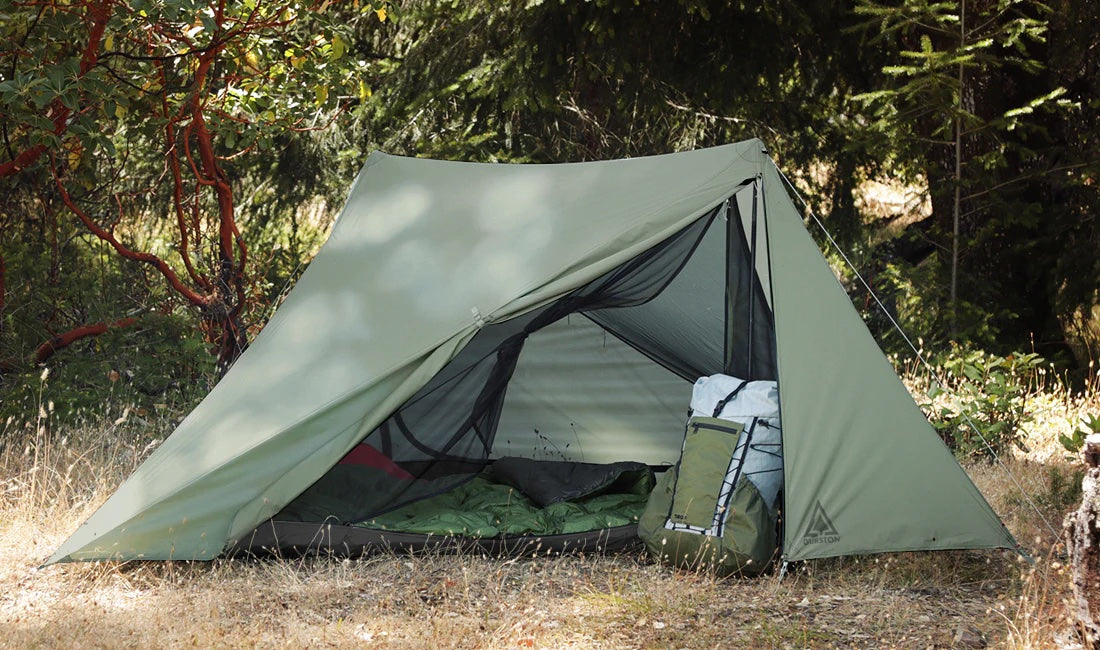 SPACIOUS
The patented X-Mid geometry is the most space and weight efficient architecture possible for a trekking pole tent. It accomplishes this with an innovative double diagonal design that puts the floor on one diagonal while the ridgeline is on the opposite diagonal. In doing so, the two poles are set further apart to increase volume without requiring struts, yet remain setback from the edges to avoid a boxy shape that would be less stormworthy and require more fabric.
The result is a 'real' 2P tent that provides comfortable space for two occupants. That includes a generous 52" wide floor and a long 92" length that accommodates hikers up to 6'4". The diagonal ridgeline increases headroom and allows the two occupants to move further apart for greater personal space.

Additionally, the dual vestibules are generously sized and easily accommodate packs and other items without blocking the doorway or creating a long reach to close the fly doors.
QUALITY
A quality tent is one you can trust in tough weather. A high quality tent will hold up, and quality is important at Durston Gear. The X-Mid 2 is built at the most experienced premium tent factory in the world who have been building nothing but tents for nearly 70 years.

Here, we go beyond normal standards to specify premium components and robust construction methods including full double stitching, double folded edges, and generous bartacking. We know of no other tent that uses double stitching as extensively as we do.
This focus on quality gives the X-Mid 2 a higher cost of production than competing tents, yet the X-Mid 2 is priced affordably. This is possible because we sell directly to you with no retailer markup and only a slim markup ourselves.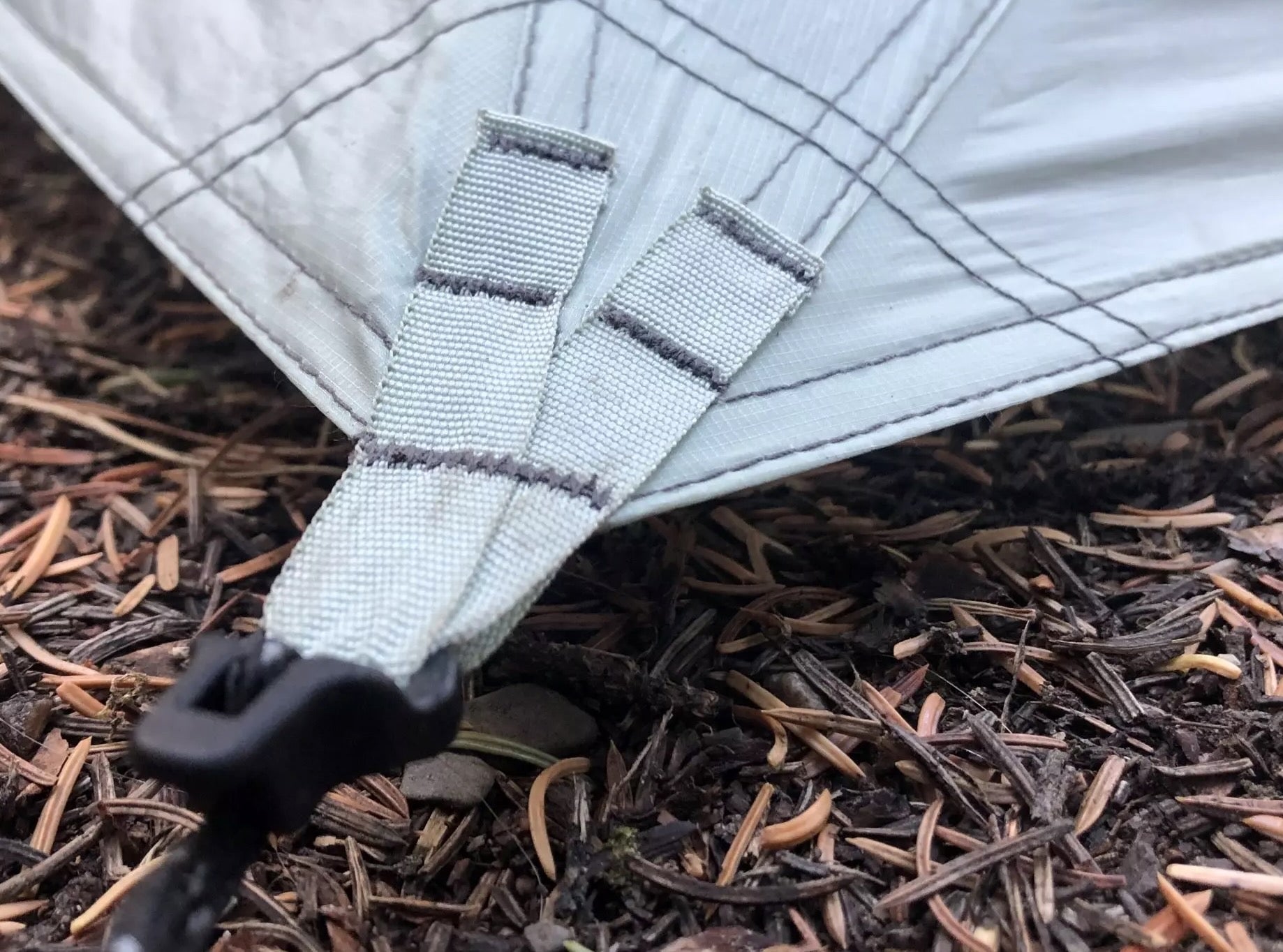 Magnetic Toggles
Magnetic door toggles with pull tabs provide easy one handed-operation.
Large Doorways
Unlike most trekking pole tents, the doorways are large and not blocked by trekking poles. They also have a protected design to keep rain out even when open, and can be propped open with a stick or pole to create a 'porch'.
Full Coverage Fly
The fly extends low to the ground to block drafts and rain splatter, yet can be raised higher for more ventilation. Other tents cut away the bottom of the fly to save weight but it leaves you more exposed.
Stormworthy Shape
The X-Mid provides the ideal shape with consistent and moderate panel slopes. All the panels are an ideal 50 - 55 degrees which balance wind and snow shedding to provide excellent all around performance. Most tents are less consistent with a mix of shallower panels (worse for snow shedding) and steeper panels (worse for wind performance).
Ample Headroom
The X-Mid's offset poles provides a longer diagonal ridgeline that extends the headroom over more of the tent. There is ample clearance to transition from laying down to sitting up without hitting the tent, and room to sit up anywhere in the tent.
PATENTED GEOMETRY
The X-Mid shape has been developed from the first principles of geometry to be as weight efficient, simple, and functional as possible.
Our unique design has been successful in avoiding all the common pitfalls of trekking pole shelters such as a complicated pitch, mandatory guylines, poles blocking the doorways, and a lack of interior volume.

Read the story about how the X-Mid geometry was developed: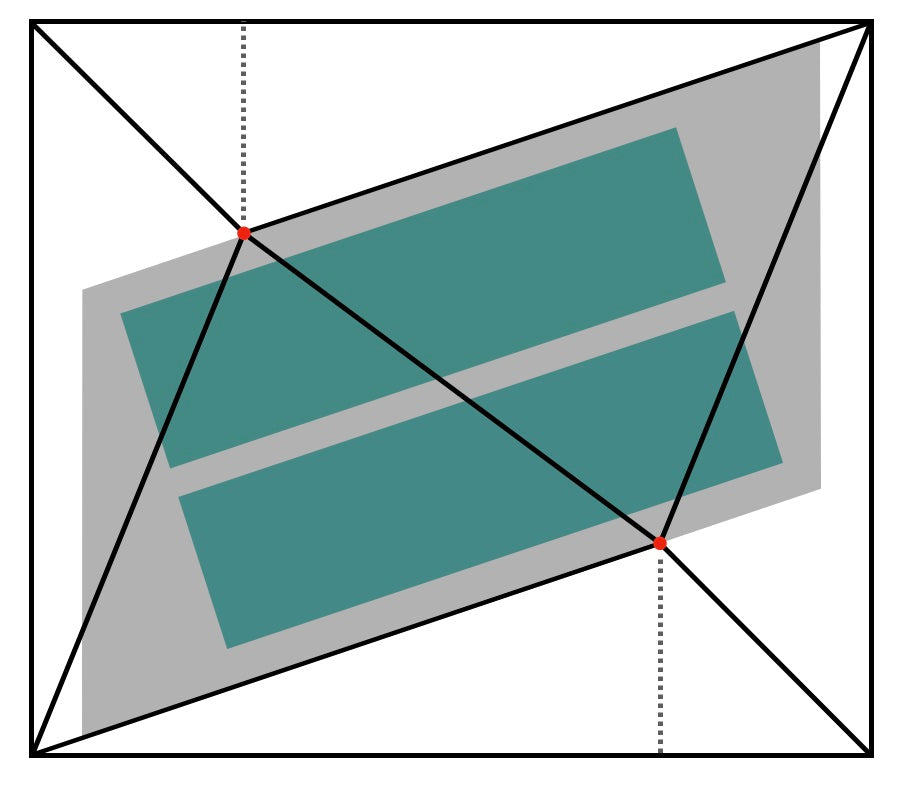 The X-Mid 2 is an ultralight tent that is spacious, simple, and highly stormworthy. It's the ideal tent for a wide range of conditions from long treks on the USA's Continental Divide Trail and remote adventures in Alaska's Brooks Range, to a circuit of Europe's Tour de Mont Blanc.
This product is rated 4.8 of 5.0 stars.
It has received 24 reviews.
This product is rated 4.8 of 5.0 stars.
It has received 24 reviews.
The search is over...
After scouring the interweb I decided to give this tent a try. I have experience with the Nemo Hornet and much prefer this tent. It is far roomier and better storage and the extra features really set it apart. Thank you for creating this tent
Slumpy
I don't know if there is such a word but it fits this tent. It doesn't stand up. The photos they show on this website are not what I get no matter how many additional strikes I add. Last time I took it out I had to wear a baseball cap because the tent was that close to my face. Nothing I did made a difference. The rain fly sits on the tent which made everything much damper. Really irritating. I've written and asked for a refund no response yet. Yes, the guide wires were tight and nothing changed when the zip was closed all the way.
Sorry to hear that you haven't had a good experience. It looks like there are substantial issues with the pitch since the tent should not be loose like this. Have you watched our new pitching guide video?
https://www.youtube.com/watch?v=fOJ4BKIoKGs
The keys to a good pitch are (1) staking out the base in reasonably accurate rectangle, (2) snugging that up tight before adding the poles, and then (3) extending the poles firmly. Additional stakes can be added but shouldn't be needed for a good pitch. In your case the fly is very loose so I don't think the fly is being adjusted tight after it's staked out, and also the poles need to be taller as they aren't tensioning the fly now.
If you are willing to give it another chance, I think our pitching guide video is a really good resource and could enable you to have a much better experience with the tent.
Warm regards,
Dan
love this tent
I've owned this tent for 2 years now and it's everything I could ask for in a backpacking tent. Ultralight, small, simple and fast to setup. For the price you won't find another tent with all these features. Thanks Dan for designing a tent that just can't be beat in my opinion.
Rain, rain is falling down....
Hi, wé are thé 11th of September. I'm trekking with m'y wife un South of France. And we having à big rain right now.. M'y tent is thé xmid 2 solid. M'y son is living un Georgia and he both it this spring and bring it to me un may.
The water is actually enter un the tent. My stuff is wet. And for the privé, I've paid I'm really unsatisfyd. And I have to say that i've watch all the videos of Dan explaining how to set up the tent..
I'm really not sure to keep it, when m'y nature hike mongar is better under à big rain...
M'y phone is [****] France
I'm sorry my English is Not very good...
Hi Chris,
Sorry to hear about this experience. If you send us an email at support@durstongear.com we can help you solve it directly. I am not sure what is happening here, but it may be that it is cold/humid conditions where condensation is forming on the inside of the fly and then if the fly is not pitched tight then it could flap against the inner tent and transfer the water. We have a new pitched video release recently that explains how to pitch it much better so you may find that helpful:
https://youtu.be/fOJ4BKIoKGs?
Warm regards,
Dan
Newbie Backpacker: I LOVE This Tent
Prior to my first backpacking trip, I watched LOADS of YouTube videos in which I first saw the X Mid. I mistakenly thought this tent was made strictly for thru hikers and backpackers who put hundreds of miles in regularly and that it was a complicated set up, too much for me as a beginner. Long story short, I purchased another tent touted as "beginner backpacking friendly" and after setting it up in my living room, I HATED it. This is about the same time Dan released the new pitch video for the X Mid that just happened to pop up on my YouTube feed. I watched the video and realized I was wrong, this tent is a simple pitch! So I ordered it and it arrived just a couple of days later. After a couple of practice pitches in my yard, I was ready to take it on trail. It's AMAZING!! Such a simple set up (watch the video for troubleshooting tips!) and I was the first one all set up in the group I was hiking with. I got the 2P and it's so spacious inside, I could practically stand up all the way to get dressed. There's plenty of room for all your gear inside and large vestibules to put stuff outside. I am in love with this tent. The weight and price is perfect for me as a beginner!